G.Skill unveils flagship Trident Z5 RGB DDR5 memory modules
Trident Z5 DDR5 will feature 6400MHz speed and CL36 timings - using Samsung DRAM and new dual-texture heatspreader
Updated: Oct 14, 2021 5:43 pm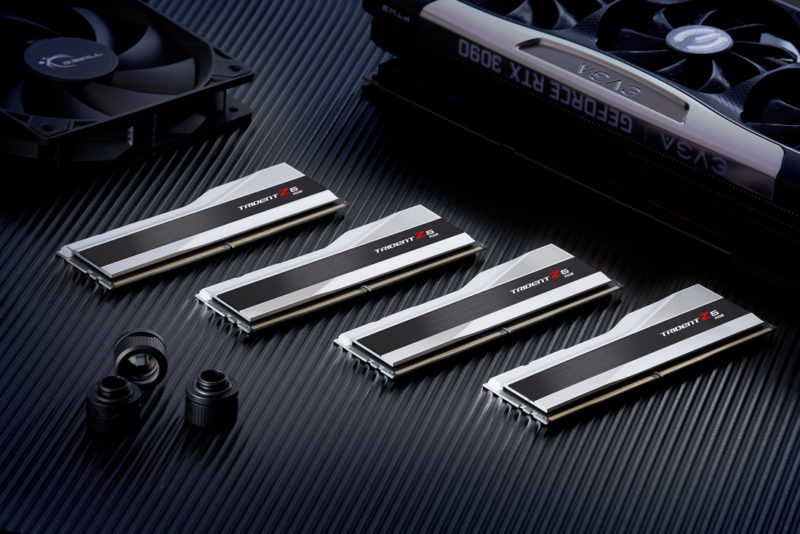 October 13th marked the official unveiling of G.Skill's new flagship Trident Z5 DDR5 memory modules. The new extreme performance memory kits will be split into two variants, Trident Z5 RGB and Trident Z5 – tailor-made for the upcoming next-gen Intel platform.
G.Skill's latest offering will feature a high-performance design that will suit flagship systems, engineered with high-quality memory ICs and speeds up to an impressive DDR5-6400MHz. Furthermore, at the peak of the memory specification stack sits a DDR5-6400 CL36-36-36-76 16GBx2 kit that utilizes the latest Samsung DDR5 memory ICs.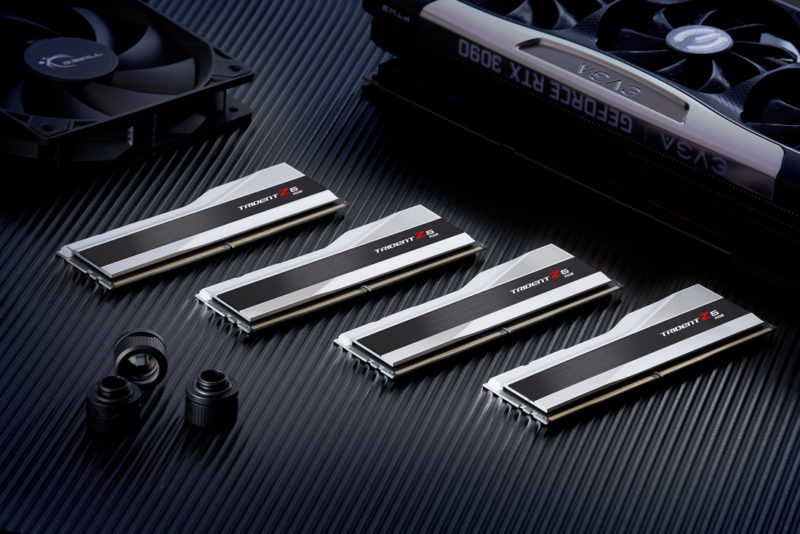 G.Skill Trident Z5 family specifications
The Trident name has been synonymous with extreme performance and high-end overclocking over the years, and the Trident Z5 DDR5 generation will be no exception. Amongst high-end performance specifications, the new Trident Z5 will also feature DDR5-6400MHz frequency alongside 36-36-36-76 CL timings. That said, there will be two additional variants launched at the same time, both with slower frequencies. All three will launch with a 16GBx2 kit capacity design.
| Frequency | CL Timing | Kit capacity |
| --- | --- | --- |
| DDR5-5600 | 36-36-36-76/40-40-40-76 | 16GBx2 |
| DDR5-6000 | 36-36-36-76/40-40-40-76 | 16GBx2 |
| DDR5-6400 | 36-36-36-76/40-40-40-76 | 16GBx2 |
Each of the variants to launch will provide power that far exceeds the previous generation of memory – while requiring less voltage and power consumption. Other variants within the Trident Z5 family will feature DDR5-4800 CL40 timings, pushing even entry-level Trident Z5 offerings to new heights.
G.Skill Trident Z RGB – high performance, high build quality
G.Skill go on to discuss the new era of memory performance that the Trident Z family will deliver. However, it isn't all about performance with G.Skill's new RAM, they will also feature the highest build quality alongside a new premium dual-texture heatspreader design.
G.skill themselves say that the Trident Z5 will "incorporates hypercar elements into the iconic Trident heatspreader design, creating a sleek and futuristic exterior". The heatsink will feature a black-on-silver styling that looks both sophisticated and premium. The black section of the heatspreader will be brushed aluminium while the silver exterior will be a smooth finish. A translucent bar can be seen at the top of the heatspreader for RGB purposes, helping you customize the aesthetics of the RAM to match the interior of your build.
Revolutionary power management and performance
Trident Z5 memory will be designed to fully utilize the faster frequency speeds and boosted data transfer rates of next-gen RAM by making use of new DDR5 ICs that feature twice the amount of banks and bank groups. Trident Z5 will also feature doubled burst length, at 32 banks across 8 banks with a burst length of 16. Designed with a module layout comprised of two 32-bit sub-channels, next-gen DDR5 RAM delivery more data than DDR4.
Furthermore, DDR5 memory modules are designed with an on-board PMIC (power management integrated circuit) chip that allows better granular power control and more reliable delivery. This is to help deliver improved signal integrity at higher frequency speeds.
G.Skill Trident Z5 release dates
G.Skill finished the unveiling of the Trident Z5 DDR5 memory by announced a worldwide distribution to partners by November 2021.
---