Update 23/09/2020:
Receive $50 off of RDY Systems over $999 when you use code: RDY at checkout on www.iBuypower.com! Expires 26/10/2020
Update 16/09/2020:
Receive $50 off of RDY Systems over $999 when you use code: RDY at checkout on www.iBuypower.com! Expires 19/10/2020
iBuyPower is a well-known brand in the PC gaming community, and that's because their prebuilt gaming PCs are some of the most reliable and easy to use on the market today. So, when you learn that they are holding a fall sale event, with some of their stellar machines being put on sale with major discounts, you should defiantly pay attention.
If you want a little more information about iBuypower before you start scrolling through their different deals don't worry – we have several articles where they feature in our recommended list of prebuilt PCs, and we even did a full review of the iBuyPower SLIIRG201 – but to save you a click or two, I can tell you that we are fans, with the SLIIRG201 alone giving out solid gaming performance, impressive boot times and even a good looking appearance for the low price that it would cost you. Basically, iBuyPower know what they are doing when it comes to putting together gaming PCs.
So, below you can find all of the different deals that iBuyPower have live on their site right now. Make sure you have a look through everything on offer before making your choice, as these deals are only going to be live for a limited time before they disappear – so you don't want to miss out!
iBuyPower Gaming RDY TMRIIRG203: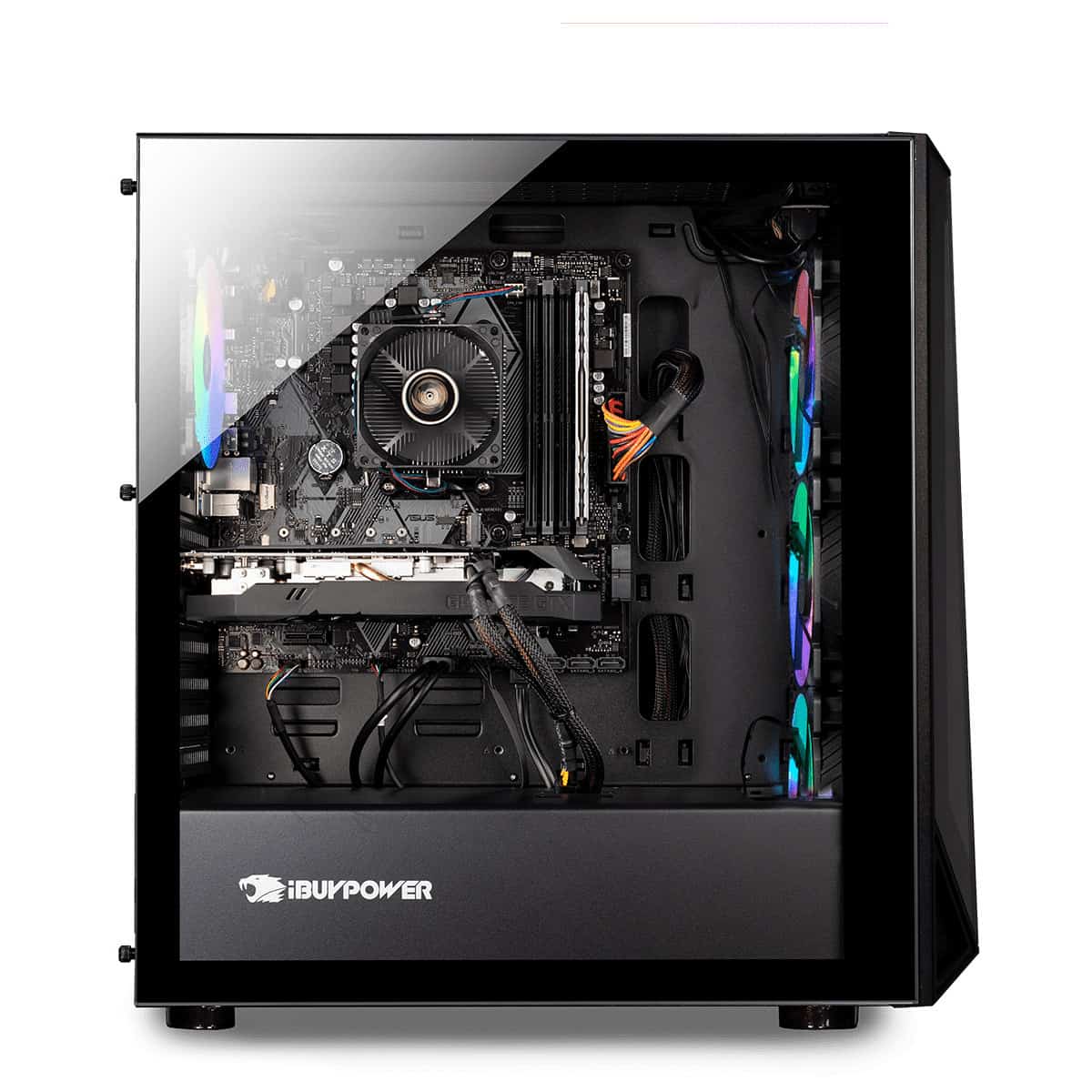 The RDY TMIIRG203 is a great example of a budget gaming PC that is capable of playing popular triple-A games with up to 60FPS in-game whilst displaying at 1440P. Basically, you are getting a great bang for your buck here, with the TMIIRG203 loaded with a Ryzen 3 CPU and a GeForce GTX 1650 Super that are both more than capable of giving you reliable contemporary gaming experiences – with the systems low cost leaving you a much more attainable upgrade path if you wanted one!
iBuyPower Gaming RDY TMRIIRG204:
What was great in the RDY TMRIIG203 is even better in the TMRIIG204, with the likes of its CPU upgraded to a Ryzen 5 3600 and its graphics card beefed up to a 1660 Super – meaning that you are getting superior in-game performance on the games you love. Want specifics? This machine can play Fortnite at a comfortable and stable 75 FPS at 1440p, which for a machine currently costing under $850 is seriously impressive.
iBuyPower Gaming RDY TMRIIBG201:
If you want Intel-powered gaming performance coupled with a reliable Nvidia GPU (in the form of a 1660Ti) that's capable of playing titles like Fortnite, Apex Legends, Valorant, and Overwatch all at 1440P with an FPS sitting comfortably well over 60FPS, then this is the machine for you. Combine the fact that it has a DeepCool ARGB air cooler and 500GB of SSD inside, you are going to find that the TMRIIBG201 is a gaming PC that will support long gaming sessions at high-performance settings comfortably, and for a totally reasonable price.
iBuyPower Gaming RDY TMRIIBR201:
If you aren't looking for Nvidia based graphical power, but you still want to see amazing in-game performance? The TMRIIBR201 can do just that for you, with this machine outfitted with a Radeon RX 5700Xt, an incredible and reliable graphics card that is going to kick out elite-level gaming in titles like World Of Warcraft, with a stable 185 FPS at 1440P in-game, whilst being completely capable of displaying ultra level graphics. Speaking of Warcraft, you can get it and the latest update to the game (World of Warcraft: Shadowland) as well as Godfall free with the purchase of this machine!
iBuyPower Gaming RDY ELIBG215: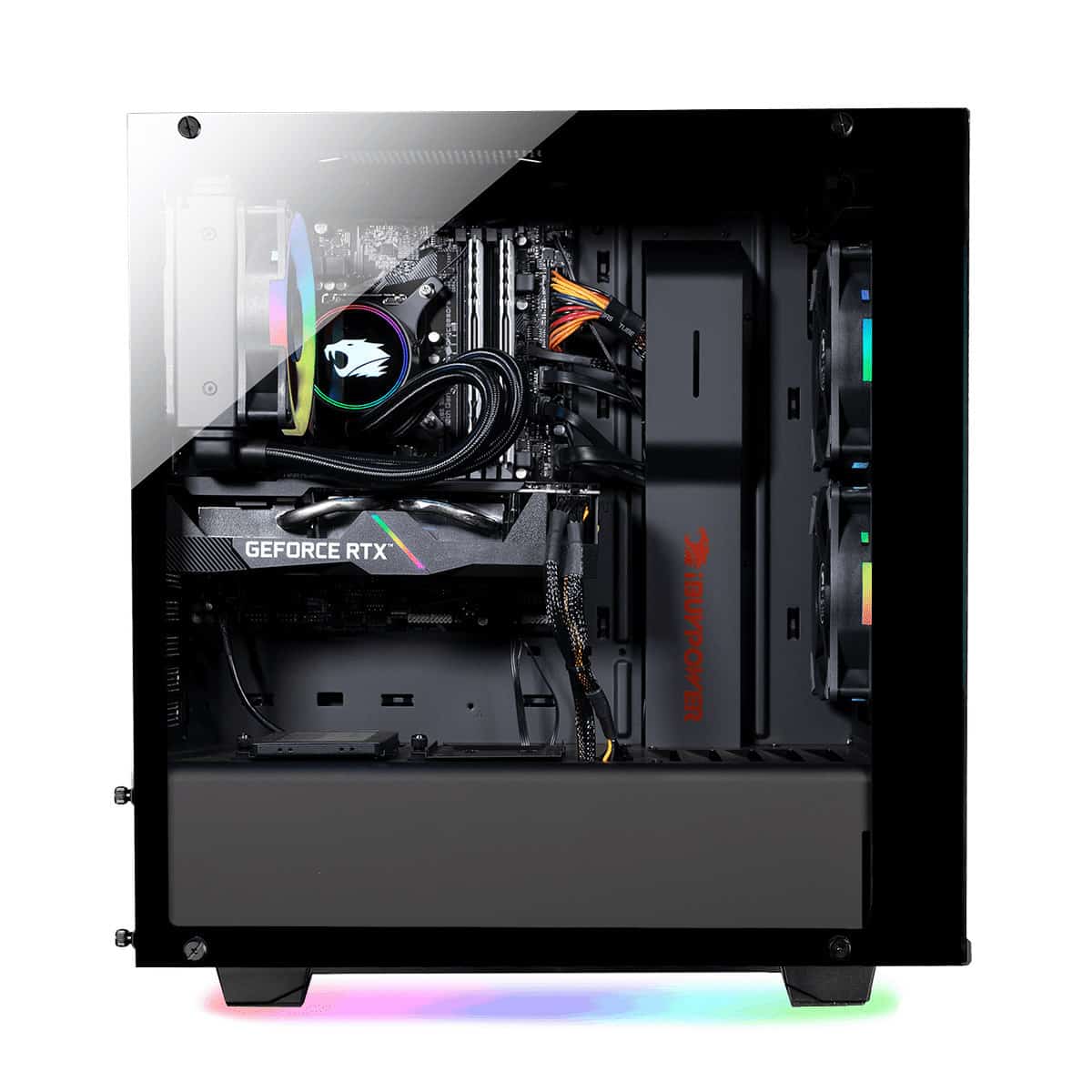 If you are looking for 4K gaming performance in a machine that comes ready-made and raring to go right of the box, then you should consider the RDY ELIBG215 a steal. outside of the fact that it has an Intel Core i7 10700F doing its thinking (which comes bundled with a copy of the new Avengers game), this machine is outfitted with a Nvidia GeForce RTX 2060 Super. The bottom line here is that this PC will comfortably run games like Doom Eternal at 4K at 60FPS, with liquid cooling and nearly 1500GB of combined storage to boot.
iBuyPower Gaming RDY Element P2:
Just like the ELIGB215, this machine is ready to give out 60FPS 4K gaming performance, with a few slight differences. The first being that this machine has a Ryzen 7 3700X and Radeon RX 5700XT, so it stands as the 'competition' to its RTX 2060 and Intel equivalent – but don't think that means you have to expect a drop in performance. Again, iBuyPower is adding to the value here by including liquid cooling, 500GB of SSD NVME memory, and an additional 1TB of hard drive space to store the free copies of Godfall and World of Warcraft Shadowlands that come with this PC.
iBuyPower Gaming RDY LCIIBG207: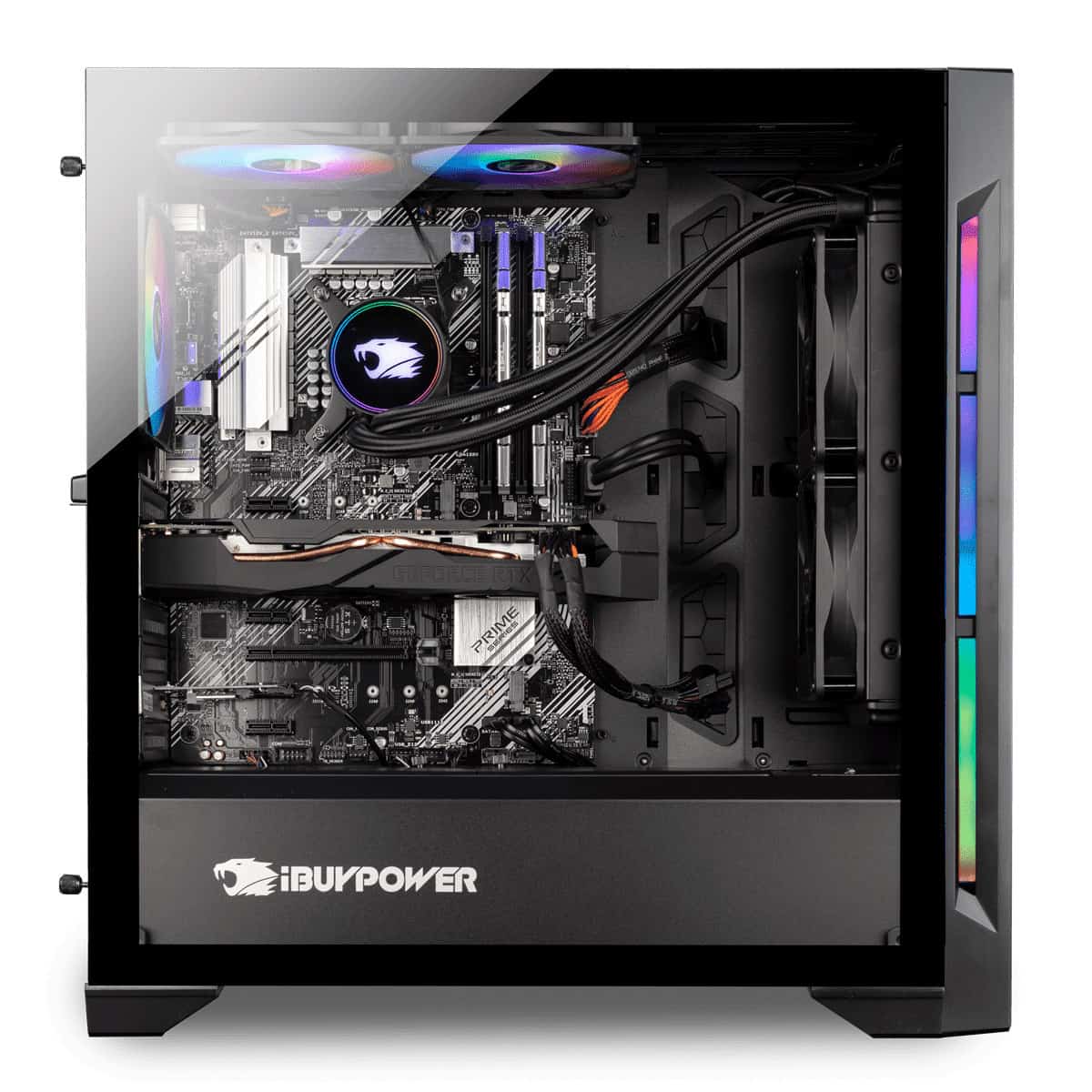 RGB Liquid cooling, an Intel i7 10700-KF, an RTX 2060 Super, with 16GB of DDR4 RAM with 500 GB of SSD space and an additional 1TB of HDD space all enclosed in a Lian Li RGB case. There are the specs, so you can fully understand that this machine is a performance beast in comparison to its price. Bear in mind that with these parts, the LCIIGB207 not only capable of pumping out 60FPS in-game performance at 4K, but that it's also ready to tackle VR titles as well, meaning that this is a gaming PC you can rely on for a long time.
What Else Comes With The Gaming PC?
If these savings alone aren't enough for you, then you should be aware that every single system listed above doesn't just ship with the computer on its own. You can also expect to receive both a gaming mouse and a gaming keyboard with your purchase, making the choice of what peripherals to buy yourself alongside your new gaming PC obsolete as iBuyPower has already taken care of it.
Then there is the standard warranty that comes with iBuyPower's gaming PCs. Check the model of the computer you are looking at for the amount of time their warranty is valid for, as it can vary, but its always good to know that you are covered by the company you are buying from should you encounter any issues in the running of your gaming PC after you buy it.
And then there are the gaming bundles. They vary from gaming PC to gaming PC, but you have to remember that games these days aren't cheap, so receiving something like the new Avengers game for free alongside your new computer means you are already set to experience a triple A level title that might have otherwise cost you up to $60.
All in all, iBuypower's Fall sale is offering a lot in terms of discount gaming PCs – but it looks like the value goes far beyond that.