Intel Comet Lake-S 10-Core CPU Benchmarks Released
The first benchmark for Intel's 10th-gen Comet Lake-S processors has appeared recently in the Geekbench 4 database. 
The benchmark reveals the chips' core counts, base and boost clock speeds and L2 and L3 cache. 
What Specs Does The Benchmark Show?
Comet Lake-S will be replacing the current Coffee Lake refresh lineup. Comet chips will continue to make use of Intel's 14nm process node. However, it looks like they will receive a bit of an upgrade and will be based on the 14nm++ process instead. Alongside this, Comet Lake-S are expected to have higher core counts and more cache. 
The Comet Lake-S processor details shown below will sport 10 cores and 20 threads. It will also support 640KB of L1 cache, 2.5MB of L2 cache and 20MB of L3 cache.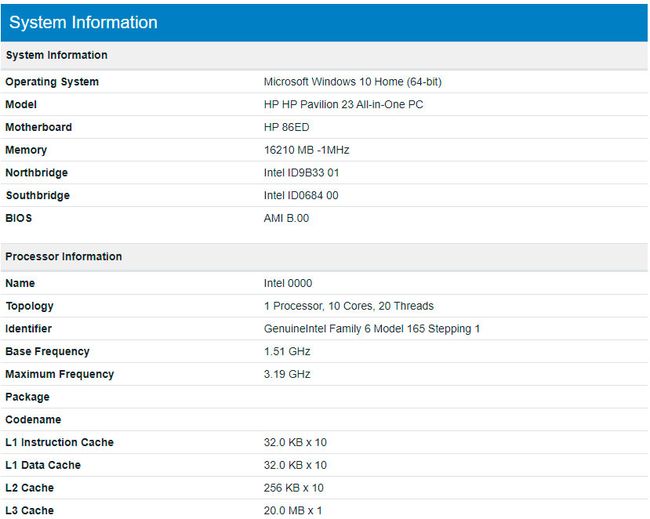 The Geekbench 4 database shows the processor having a 1.51GHz base clock and 3.19GHz boost clock speed. 
Another currently unknown Comet Lake-S listing has six cores and 12 threads, 384KB of L1 cache, 1.5MB of L2 cache and 12MB of L3 cache. It reaches a 1.99GHz base clock and 2.89GHz boost clock speed. 
Graphics Specifications 
The Geekbench 4 report showed that both Comet Lake-S processors will come with Intel's UHD Graphics 630. This is the same GPU that we saw debut with the Coffee Lake series. 
Interestingly, the card only looks like it'll have 23 EUs (execution units) for both Comet Lake-S processors when we already know that the graphics card mentioned will be able to offer up to 24 EUs. 
Other details show that the 10-core chip's iGPU has a 1.2GHz clock speed, whereas the six-core one has a speed of 1.5GHz.
Final Word
It will be interesting to see where the Comet Lake-S series comes out in the market, with AMD's lineup already surpassing the core count and performance levels with the AMD Ryzen 9 3950X.