LG launch world's first bendable 42-inch OLED TV
Move aside Corsair, there's another OLED bendable TV in town
Updated: Dec 6, 2022 4:30 pm
It's been less than a week since the announcement of Corsair's new Flex gaming monitor, and LG is also announcing its own 42-inch bendy TV – the LG OLED Flex LX3.
BUY NOW: Samsung Ark launches in US
The new model will be called the LX3 and will feature a high-performance EVO OLED panel designed by LG Displays. While full specifications are still unknown, LG has made it very clear that the LX3 will feature a customizable bend – with 20 levels of curvature to choose from.
Alongside a stunning 42-inch bendable OLED panel, the LX3 will also feature a lightning 0.1ms GTG response time, low input lag, and the company's impressive Alpha 9 Gen 5 intelligent processor – more commonly used in the brand's new LG C2 TVs.
While official release dates are unknown, LG has stated that availability will be ready this November.
READ NOW: Best HDMI 2.1 monitors
LG go toe-to-toe with Corsair Flex gaming monitor
As expected, the LG OLED Flex will also feature some of LG's best eye-care technology, including flicker-free and glare-free certifications. The Flex will also include LG's super anti-reflection coating which is custom-designed for large curved panels – helping reduce some of the annoying reflective artifacts that do occur when viewing curved displays.
LG also states that the OLED Flex will feature a customizable stand to help users find the perfect viewing position. With 10/5 degrees tilt and 140mm of height adjustment, users should be able to seat comfortably in front of this 42-inch panel.
Additionally, LG is considering all gamers with this new bendable gaming TV – stating that it will come equipped with an image resizing feature that allows users to transform the large 42-inch display into a more tailored 27-inch competitive gaming screen.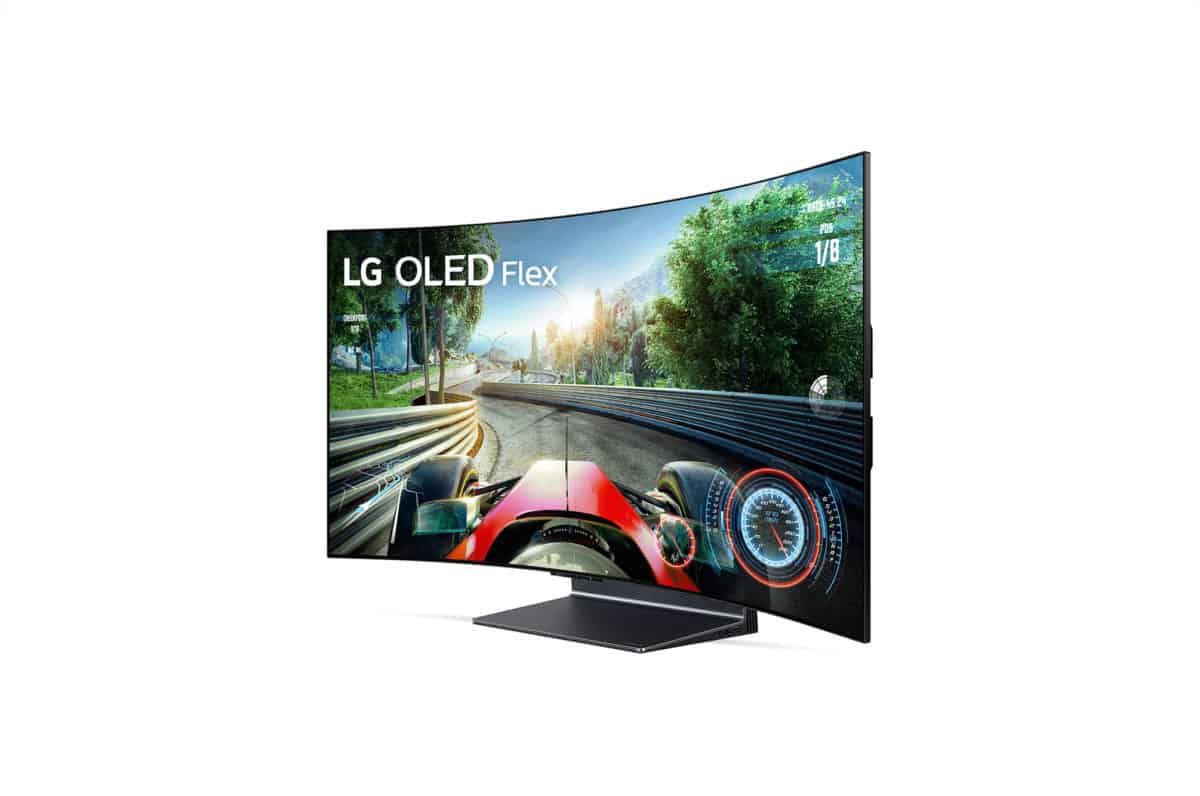 READ NOW: Best OLED gaming monitors
Is the LG Flex OLED a monitor or a TV?
One of the big questions we've seen flirting around the various tech forums regarding the LG 42LX3QPUA is, is it a TV or a monitor?
It's a good question as many of the marketing materials showcase players using the LG Flex OLED as a gaming display. That said, it is being billed as a TV – and therefore comes with all the relevant TV features.
As you can imagine, this separates the LG Flex OLED from other flexable gaming monitors – such as the Corsair Flex monitor.
LG OLED Flex gaming features
A new game app also looks set to be deployed in this TV, allowing users to set customized screensavers, shortcuts to popular apps, and providing a list of connected external input devices. A dedicated game sound setting page can also be found within the TV's OSD, enabling users to fine-tune the audio quality to their exact needs.
The LG OLED Flex will also feature full support for next-gen console gaming via its HDMI 2.1 ports. It will support full 120Hz @ 4K gameplay, alongside Variable refresh rate technology, low latency mode (ALLM), and AMD FreeSync Premium/G-Sync compatibility.
Pricing, availability, and release dates are still unknown at this early stage. That said the LG OLED Flex will be on display at this year's IFA – giving eager fans a chance to see what it has to offer.
READ NOW: Best mini-LED monitors
---