New World countdown: When does New World go live?
Here is the New World Countdown until the game's official launch on September 28.
Updated: Sep 24, 2021 2:39 pm
Amazon Games Studio has announced when the New World servers go live. The announcement solidifies that New World is indeed releasing on September 28, meaning players can finally enter Aeternum and play one of the hottest upcoming MMOs without more delays or restrictions.
New World countdown
If you're wondering when does New World go live, Amazon Games published a New world countdown blog. The New Worlds servers go live at varying times across the world, which is strange because most games now use synchronised global launches. Here is the New World countdown for each of the regions.
EU Servers – 08:00 CEST
South America Servers – 08:00 BRT
US East – 08:00 ET
US West – 08:00 PT
Australia – 21:00 AEST
t appears that every region has a fairly decent launch time, other than Australia, which gets it in the late evening local time. It's not so bad if you live in Perth who is slightly behind, but it is still not ideal for Australian MMO fans.
Read More: New World servers for release.
Amazon Games state that the late Australian launch time is so that it launches around the same time at the exact same time that the Brazilian servers go live. It means that the first region to get access to New World is Europe. So go us Europeans, I guess. You can find the statement from Amazon on their official New World countdown article on the game's website.
Moreso, Amazon Game revealed that those who have already pre-ordered New World may download New World from September 27. That way, you can have New World downloaded and ready for the New World countdown.
New World Twitch drops Vinespun weapon skins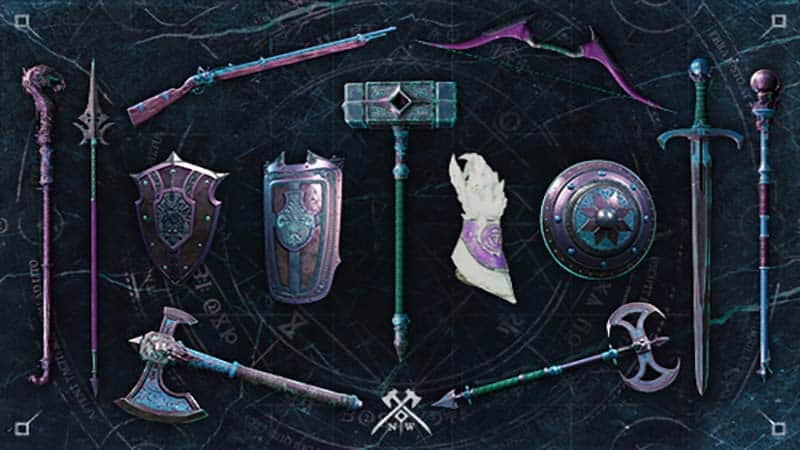 When New World does finally go live, you can tune into Twitch streams and watch any New World streamer to earn an exclusive launch skinline. Amazon Games offers players who tune in the Vinespun weapons skin set, featuring a bright blue, pink, green and purple colour scheme skin line for each weapon in the game.
The Twitch Streamers taking part in the promotion are the same 66 streamers who competed in the Battle for New World promotion event during the Closed Beta. These streamers include Syndicate, Naguura, Josh OG, and more.
New World Prime Gaming rewards
Furthermore, Amazon Games has revealed that New World will make frequent appearances as part of the Prime Gaming rewards. You will find New World content every month, with the first New World Prime Gaming content drop being a pirate-themed skinline.
The first Pirate pack will go live when the New World countdown wait is over, while the second pirate pack goes live on October 12. It is worth noting the first pirate pack comes with 5,000 Marks of Fortune, the premium currency for New World's cosmetic cash shop. Both pirate packs will be available until November 1.
And there you have it; this is all the information you need on when does New World go live. We hope you enjoy the countdown till New World and get to experience the pre and post-launch events coming with New Worlds full release o September 28.
---