Overwatch 2 Release Date, Rumors, and News
Fans of the Overwatch game will have been anxiously awaiting a sequel for a while now. After a series of leaks and rumors, the sequel was finally officially announced at BlizzCon 2019. 
Last month, we finally got a glimpse of Overwatch artwork which showed some of the heroes, both old ones and brand new ones. 
Overwatch 2 Release Date
Overwatch 2 is still currently in an early development stage, so, unfortunately, there is no firm release date as of yet.
Game director Jeff Kaplan said at the reveal panel at BlizzCon 2019: "I don't know. I have no idea. Like, just let us make it great, that's what we care about more than anything. We don't have a date in mind."
Overwatch 2 Trailer
There were two trailers revealed at this weekend's BlizzCon, a cinematic trailer and a gameplay trailer
Overwatch 2 Gameplay
The gameplay trailer pulls us right into the action. We see a series of different missions and characters defeating enemies in a brand new mode.
Overwatch 2 will introduce a brand new map type called Push, which will be the center of a lot of conflicts. Teams will need to fight to take control of a robot in the middle of the map and push it towards the enemy base.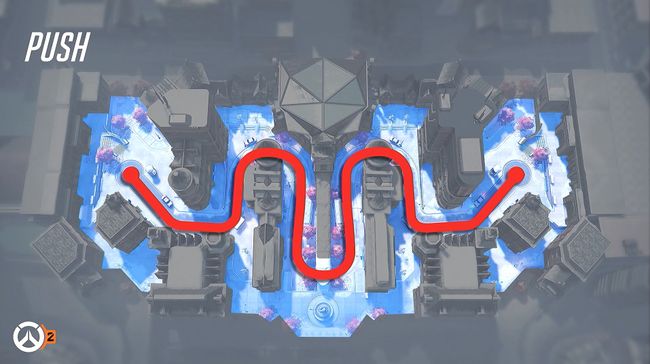 Gameplay will also feature a series of four-player co-op missions. With these missions, players will have to take on Null Sector. 
During story missions, players will need to pick up items, which can change a hero's playstyle. The three ones that were shown in the trailers include an HP generator, a barrier shield, and a corrosive grenade. 
Hero Missions are separate from the story and are easily replayable. Within this mode, players are free to level up heroes while unlocking several customization options that will modify their abilities. The example in the gameplay trailer shows Tracer using a Pulse Bomb explosion to defeat multiple enemies. 
The trailer also introduces us to brand new heroes alongside popular characters such as Tracer, Brigette, Reinhardt, Mei, Winston, Genji, and Mercy. We finally get a good look at Echo, the flying robot first introduced over a year ago in the Overwatch 2 trailer. 
Those of us who may have been disappointed that heroes such as Lucio and Torbjorn weren't in the original trailer, appeared in this new one. 
For those who like customization, Overwatch 2 will let players customize and power-up hero abilities that are specifically for co-op play. 
Overwatch 2: What's New?
Overwatch 2 reveals an expansive PvE mode where four players can team up together to fight against enemies such as the Null Sector faction. This makes a significant shift from the player versus player (PvP) mode. 
Overwatch 2 will feature a complete overhaul to the Overwatch engine and visuals. Those who may not have been a big fan of the first game's cartoony feel will be pleased to see that visuals have been greatly improved. This new overhaul will apply to both Overwatch and Overwatch 2, so you will get a chance to see the previous game newly improved. However, the new PvE mode will be exclusive to Overwatch 2. 
Final Word
While we have two trailers to look at, we've still got a long wait ahead of us to find out more about the story and what to expect. 
A new multiplayer friendly PvE mode is something to be excited about, however, as well as the overhaul of the visuals. 
Will you be purchasing the game when it finally gets released? Let us know your thoughts.