Razer deals for Easter: Huge discounts on gaming keyboards
Looking for a new gaming keyboard? The Razer deals over Easter might be the opportune moment for you
Updated: Apr 8, 2022 1:43 pm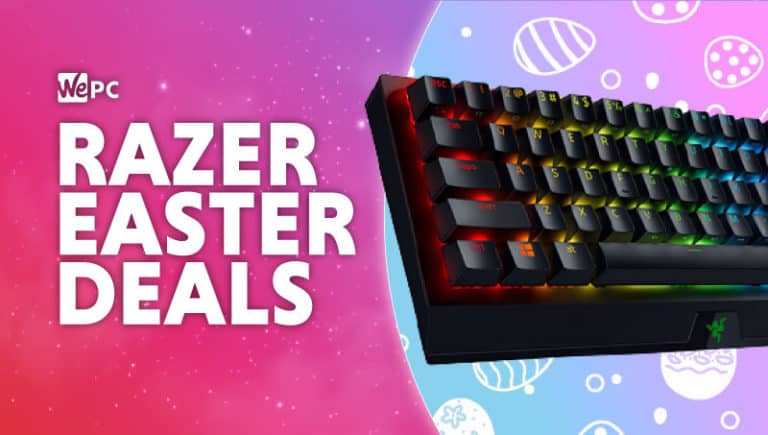 Veteran gaming peripheral giant Razer has unveiled some very appealing discounts on some of its flagship gaming keyboards for the Easter period, and the prices are amongst the best we've seen since Black Friday. We are always on the lookout for great deals here at WePC so we're very excited as we are big fans of Razer's gaming keyboards, mice, and headsets. Let's take a closer look at what's on offer and how much you'll be saving.
Razer Deals for Easter – gaming keyboards
We are very familiar with Razer's keyboards here at WePC and they are generally excellent, with good variance in size, layout, and functionalities, we don't have the space to list every Razer Keyboard discount here, but we've covered a few of the best for you down below.
Razer BlackWidow V3 – 45% off
One of the best Razer deals going on right now is a massive 45% discount on the superb BlackWidow V3 Pro mechanical gaming keyboard. It features wildly tactile and clicky Razer Green key switches and the productive and convenient 100% form factor, with Razer's supreme hyperspeed wireless technology, the V3 also takes advantage of Razer's Synapse 3 software, allowing for deep customization and control of that glorious RGB lighting. We actually reviewed a previous variant of this fantastic board and were very impressed by it.
OnBoard Memory
Hybrid onboard storage – up to 5 profiles
Razer BlackWidow V3 Mini hyperspeed – 41% off
Of course, small gaming keyboards are all the rage these days, and Razer hasn't forgotten the compact crowd so the Razer Blackwidow V3 Mini Hyperspeed is also getting a spicy 41% price cut. We particularly like this board for the 65% layout, which gets rid of the superfluous Numpad and Fn keys but retains the arrow cluster. This makes the V3 Mini Hyperspeed an ideal mix between full-size and compact. Additionally, it features three modes of connectivity with 2.4GHz, Bluetooth, and USB Type-C, meaning it's ideal for those who travel for work or just like changing up their setup.
Razer Blackwidow V3 Mini Hyperspeed Phantom Edition
Connectivity
2.4GHz, Bluetooth, USB-C
Lighting
16.8 Million color RGB, customizable with Razer Chroma
Battery Life
Up to 200 hours W/O lighting
Razer Cynosa Lite – 41% off
Razer hasn't forgotten the budget crowd either. Their excellent entry-level Cynosa gaming keyboard has received a significant 41% drop in price. This makes their most affordable keyboard even more affordable. yes, it may have membrane switches so there won't be as much tactile feedback as a mechanical keyboard like Razer's BlackWidow line of boards, but membrane switches do bring some advantages. These take the form of more affordability and significantly better protection against incidental spillage. Additionally, it benefits from RGB single-zone lighting, and a full set of customizations courtesy of The aforementioned Razer Synapse software suite.
When does the Razer Easter sale end?
Unfortunately, all good things must come to an end, so these big discounts won't last forever. However, dear reader, there's no sense to worry as all we have it on good authority from Razer that all of these deals and more will continue until April 24. So you have plenty of time to browse their whole range of deals and find the bargain you're looking for.
---