Rogue Company patch notes added in Umbra, the latest Rogue and the Winter's Bash
The Rogue Company patch notes add in some Christmas cheer for Umbra and the other boys and girls.
Updated: Dec 14, 2021 6:23 pm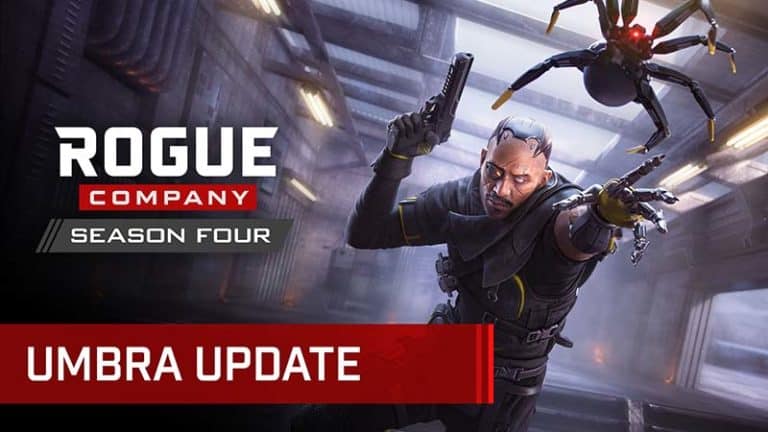 HiRez Studios has deployed the latest Rogue Company patch notes, adding in new festive content and a new Rogue. The latest Rogue Company patch notes are now live, and players can get all the new content right now.
Read More: Cannon was the last Rogue the second most recent Rogue.
Rogue Company Patch Notes – Umbra edition
Umbra is by far the biggest part of the new patch notes. The new Rogue features a DMR and SMG for his weapons, more specifically the Bishop DMR and the LMP-X SMG. The secondary weapon for the character is the Executioner, the Deagle of the Rogue Company arsenal. As for his gadgets, you can get the Bounce Grenade and Smoke Grenade purchase options.
If you're more interred in his abilities, Umbra comes with the a-RC-nid and the Siphon. The RC is a remote-controlled drone, which looks like a Spider. Use the RC spider to seek out enemies and blow them up with its are damage, and scare them if they have arachnophobia too.
The second ability is the Siphon passive, which allows you to gain more max health when you down, eliminate or assist an enemies death. This should make him the ultimate duelist snowballing Rogie in the game.
As for his perks, you can expect to buy the following:
Berserker
Hunter – NEW PERK: Detect the fresh footprints of walking or sprinting enemies.
Padded Steps
Stalker
Replenish
Life Drain
Rogue Company Winter's Bash
Umbra is not the only thing coming in the Rogue Company patch notes. The Winter Bash is Rogue Company's festive event, adding Christmas cheer for the Rogues to fear. The event features plenty of new Christmas themed cosmetics, featuring skins for Vy, Scorch, and Saint, while giving players the chance to buy Christmas themed weapons kins, along with a Rudolph Hoverboard.
To accompany the festive skins, you'll get a whole new LTM. The new LTM is Battle Zone, which pits two teams in a fight to the death. Only the last one standing will win. You start off in a ring, however, the rings get smaller every round, so there's less room to camp and behind your favorite cover. Players who get pushed out of the ring take even more damage, forcing them into small pits of death until one player wins. And, the game mode is even more punishing, as there is no health regen, but you get new weapon crates and a new shop instead The game lasts for seven rounds, by the way, allowing you to use the new LTM shop.
If you're interested, you can head over to the RoCo website, and read up more on the new update.
---