RTX 4090 is in production according to leaked documents
Could an announcement be round the corner?
Updated: Aug 24, 2022 4:08 pm
Although it's been uncertain if the new RTX 4000 series was coming out this year, there are new leaks showing it still might. Harukaze on Twitter shows leaked documents from the Baidu forum showing the apparent RTX 4090 production schedule.
Such a timeline is from a potential AIB factory manufacturing the new flagship of the new series. The schedule suggests the new card has been in production since the 18th of August.
However, the column suggesting when the production is meant to finish is not complete. The only hint is it is sometime in August still.
This could mean we may see the card soonish with a potential announcement in the coming months. With the schedule, there are also specs for the card.
It is potentially coming with 24GB of memory and 3x DisplayPorts and 1x HDMI for its display outputs.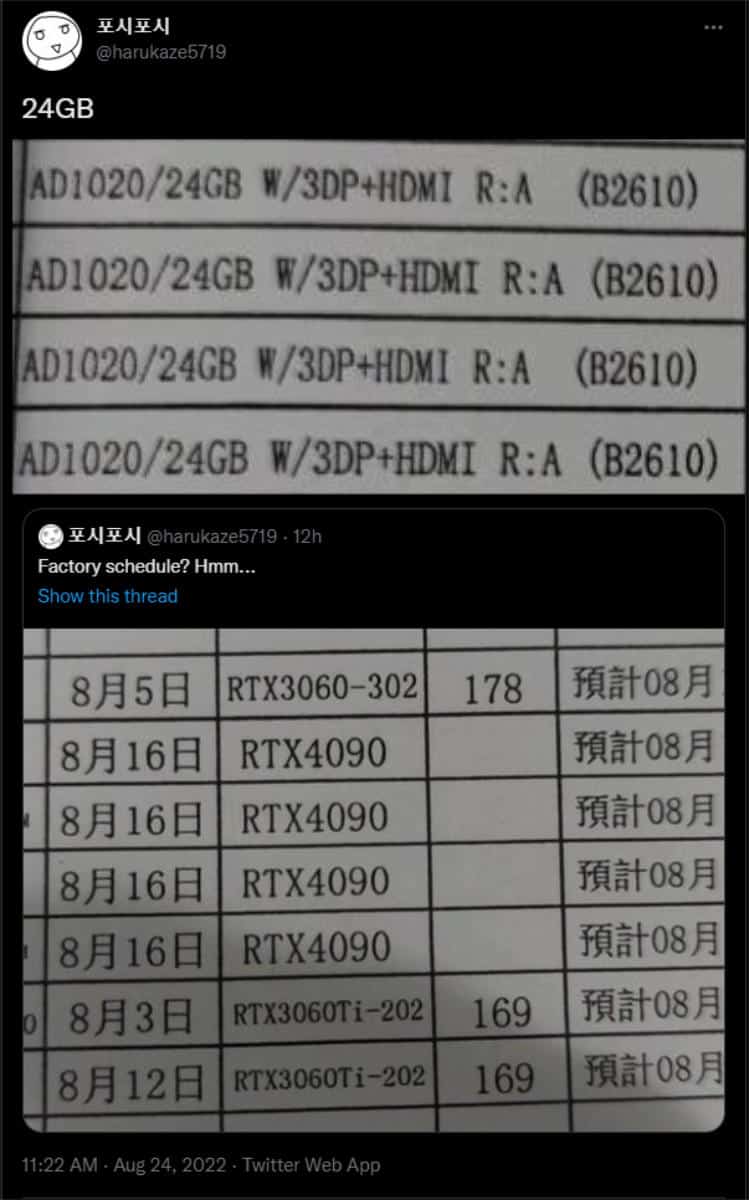 RTX 4090 specifications
There is still potential for some changes still before the actual release. But there are some leaks and rumors to suggest what the final spec of the 4090 might be.
Currently, the suggestion is the card be an AD102 chip made with TSMCs 5nm process. And it will feature 16,384 CUDA cores.
These will then be clocked at a potential 2,235 MHz and boost up to 2,520 MHz. As the leak shows it will feature 24GB of memory, which is likely to be GDDR6X.
The VRAM may be clocked at 21 Gbps across a 384-bit memory bus. Whilst coming in at a toasty 450W.
This leak also suggests what the FE card will have in terms of IO. Since other speculation and history show the leaker to work on Nvidia FE cards.
Which will be one HDMI and three DisplayPort. There is no confirmation if this will be an improved HDMI and DP spec from the current gen which would be good for the newer monitors and improved performance.
---