Attack on Titan Secretlab gaming chair announcement: Pre-orders, pricing, release date
Everything you need to know about the New Attack on Titan x Secretlab collab
Updated: Feb 9, 2022 4:02 pm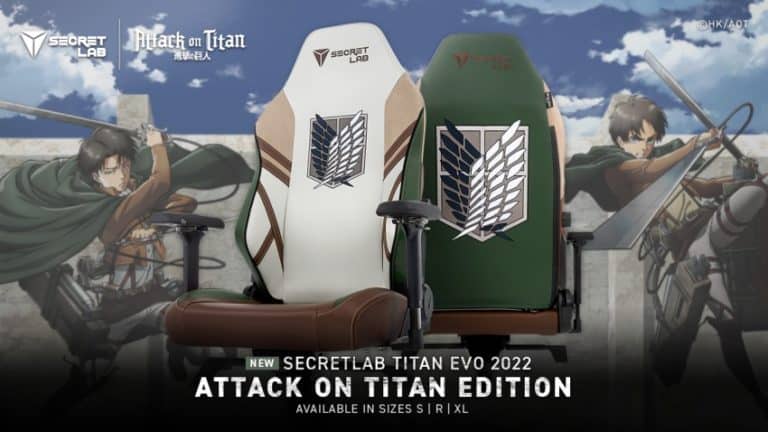 Fans of the world-famous anime rejoice! The veteran gaming chair manufacturer Secretlab has just announced its collaboration with Attack on Titan on a limited edition gaming chair. The chair has been designed directly with Funimation, the company that brought the acclaimed TV series to the west, helping cement its position in the cultural anime zeitgeist.
Attack on Titan Secretlab gaming chair news
Earlier today, the well-known gaming chair designer, Secretlab tweeted a somewhat cryptic, yet hint-heavy 10-second teaser on their official Twitter account. The teaser featured their Titan EVO 2022 series gaming chair being struck by anime-esque lightning bolts and the caption accompanying the teaser reads 'Tatakae.'.
Fans of Attack on Titan will recognize this as the catchphrase/meme from the lead character, Eren Yaeger. Tatakae, meaning 'fight' in Japanese is a mantra oft-repeated by the protagonist for the purposes of self-motivation. Probably.
Attack on Titan Secretlab gaming chair pre-orders are live right now
Yes indeed. As soon as the announcement broke, the Attack on Titan Secretlab gaming chair became available for pre-order on the official Secretlab Website. Each purchase comes with leather cleaning wipes inspired by the ever-popular and beloved side character, Cleaning Levi. This is particularly advantageous as you normally have to purchase these wipes additionally.
The chair itself features a two-tone design bearing the 'Wings of Freedom'. This is the logo of the scout regiment known as the Survey Corps, an elite group of expeditionary soldiers who brave the dangers beyond the wall to find fight the Titans and learn of their origins. Lead character Eren Yaeger Joins this group after a disastrous Titan attack leaves him with no choice but to fight.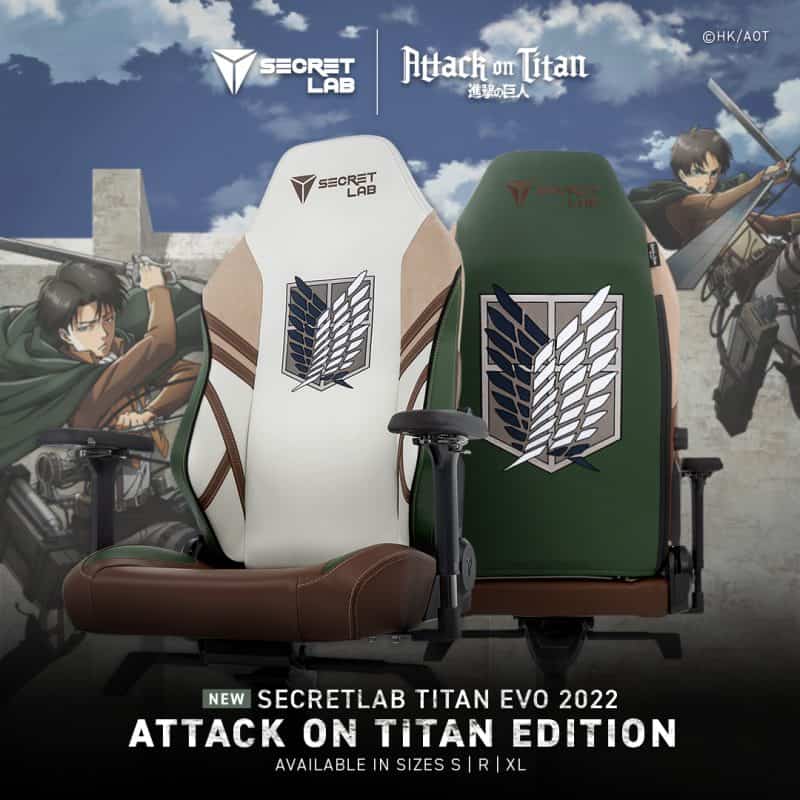 Where to pre order the Attack on Titan Secretlab gaming chair
Secretlab only sells directly through their websites, so that's the only place you'll find this excellent new collaboration for pre-order.
Attack on Titan Secretlab gaming chair price
As with previous Secretlab special edition chairs, the Attack on Titan design will start at $624 / £499 for pre-orders. The stock is very limited so you'll want to act fast to make sure you don't miss this one-of-a-kind collaboration between the renowned chair maker and the equally famous anime.
There's no doubt that this collab is going to prove one of Secretlab's most popular yet. Since premiering in April of 2017, it's taken the world by storm, growing and retaining a passionate, active, and massive international fanbase. Considering the large amount of intersection on the Venn diagram of gamers and anime fans, we are 100% sure that this chair will be hugely coveted. So don't dilly dally and get your hands on it before it's gone.
Tatakae.
---