Steam Deck shipping times updated: systems scalped on eBay for over $2,000
Valve has a hit on their hands.
Updated: Mar 8, 2022 2:23 pm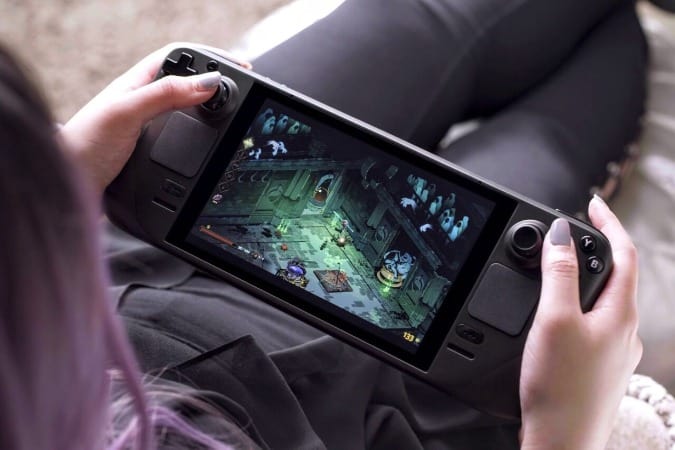 The Steam Deck officially launched last week, but those who actually have the device on hand are few and far between. With many people's orders being originally marked in Q1, Q2 and 'After Q2', Vlave has seemingly now updated these shipping times to be reflective of the time to ship the device, with backorders all the way to 'After Q3 2022', which means that many people who have already paid for a deposit on the Deck could be waiting until 2023 to lay their hands on a device.
Valve comments on Steam Deck's popularity
This is bad news for anyone ogling one of the latest Steam Deck reviews and thinking that they will be able to quickly purchase one for a bargain price. Unfortunately with the current ongoing global chip shortage in addition to the capacity of losses Valve can make when producing a Steam Deck, you're going to be waiting for a little while. Valve UX designer Lawrence Yang revealed in an interview with IGN that Valve has been struggling to keep up with demand for the Steam Deck, as reservations continue to pour in for the cutting-edge handheld device.
'We had to delay for supply chain reasons; those continue to be issues but we are surmounting them' Yang commented, but he further goes on to say 'We imagine that the launch is going to ramp in production terms. It'll ramp very quickly'. But, while Valve has now figured out their production capacity, we now have a better view on the Steam Deck's sales, and production. Yang also commended that 'In the first month we'll be in the tens of thousands, by the second month we'll be in the hundreds of thousands'.
Therefore, you can ascertain that Valve will be producing at least 200,000 Steam Decks each month, and with the numbers quickly piling up, you may still be in for a long wait, since it appears that the console is much more popular than Valve first anticipated. It also inspires hope in a successor to the Steam Deck in the coming years. Who knows, maybe the users who have been waiting for the current Steam Deck will eventually be upgraded to a slightly newer, shinier model.
Users lament their wait for the Steam Deck
While indeed some users have more clarity on just when they might be able to get their Steam Deck, other users have cried out at the fact that they could be waiting until the end of the year, or beyond to get the handheld. Some users over on Reddit claimed that they reserved way back in July of last year, and even then only have a Q3 estimate for their devices to arrive, with many others having an 'After Q3 2022' moniker on there too.
'I reserved 5 mins after they went live. I'm Q3' said one user, 'I'm close to cancelling to be honest' they continued. The reality for consumers who are excited about the Steam Deck is somewhat deflated by the reality of Valve's approach to their reservation system, which can easily be manipulated, as it was with the next-gen console launches to go to bots and scalpers, even if the hurdles are slightly higher than before.
eBay scalpers have their fill, selling Steam Deck for over $2,000
It's pretty much a given at this point that many people who were in the first wave of orders for the Steam Deck were simply wanting to resell the device after it releases, this is a pretty common tactic amongst many, and was one that was employed throughout the launch of the current generation of consoles in the Playstation 5 and Xbox Series X. Now it appears that this is unfortunately being repeated with the Steam Deck, with legitimate customers beintg passed up for the scalpers, who are making an enormous amount of cash selling the Steam Deck on eBay for multitudes more than its MSRP.
Unfortunately, since people are there to placate the high prices set by the scalpers, there's always going to be people willing to part with more of their cash to get a product immediately. This is not helped by the fact that the Steam Deck is a device that is clearly in short supply, which will ultimately push prices up further until you get yet another situation like we've seen previously with GPUs.
Valve, please make more Steam Decks
Honestly, this device is incredibly cool, and with it being essentially a version of Linux that you can take on the go and use as a fully-fledged PC in addition to the applications that we're seeing here, you can expect to see much more from the Steam Deck when it comes to actual usability outside of simply running SteamOS and launching games. The device is essentiually a laptop, and it's only a matter of time before we eventuially see Windows ported to it, or entire desk setups built around the versatility that the Steam Deck affords, it looks like that unless you want to pay a silly price for one, then you might have to just twiddle your thumbs and wait through Valve's reservation system.
We're currently queued up for getting one after Q3 2022, so we're going to be in the same boat as hundreds of thousands of people, itching to get their hands on Deck as soon as it eventually arrives. Don't support the scalpers, though. It's just not worth it. Spend your cash on a device like the AYANEO Next or OneXPlayer instead.
---