Thrustmaster announces new Xbox ESWAP S PRO modular controller
The Thrustmaster features a new precision gamepad design and is fully licensed by Xbox
Updated: Apr 20, 2022 3:15 pm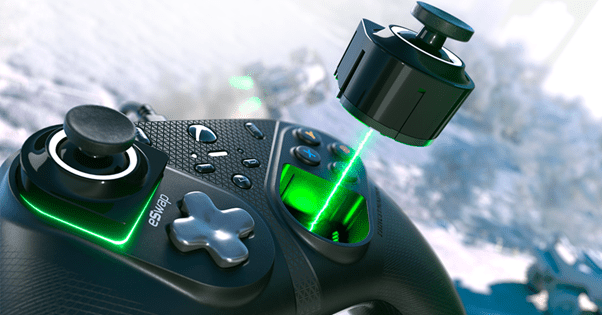 Thrustmaster, a brand synonymous with high-end flight sim gear comes to the table with this brand-new modular Xbox controller. The ESWAP S Pro is officially licensed and comes equipped with a fully modular interface, responsive macros/ buttons, and next-gen thumbsticks.
The ESWAP S Pro is smaller than its predecessor (X variant), making it more comfortable for a wider range of hand sizes. The hot-swap technology onboard is by far one of the more exciting prospects of this Pro controller, giving gamers the option to truly customize it to their playstyle. This style controller is clearly aimed at those that take gaming extremely seriously, the competitive types who seek an edge on other players at every turn.
So what can you expect from this pad?
With T-MOD technology and the unique Hot-Swap feature, you can replace your mini-sticks instantly.
Optimized next-generation (NXG) analog mini-sticks, for enhanced precision and an extended lifespan of 2 million activations.
A D-pad with 4 tact switches with an activation distance of just 0.02 inches / 0.45 mm.
Responsive buttons with a reduced activation distance to 0.01 inches / 0.3 mm, rated for 5 million activations.
The ThrustmapperX software will allow you to configure the following:
Create made-to-measure profiles, specifically designed for particular games or characters.
Map and remap as many buttons as you like.
Configure the sensitivity curve of the analog mini-sticks.
Change the shape of the curve for the dead zones on the analog mini-sticks.
Adjust the power of the vibrations for the controller's handles and triggers.
On Xbox, ThrustmapperX appears directly in the console's menu for quick and easy use.
Thrustmaster Xbox ESWAP S PRO modular controller release date
The ESWAP S Pro controller will be available commercially on the 28th of April, 2022. You can pre-order the ESWAP S Pro from the 14th of April and it will retail at £109.99 / $129.99 / €129.99.

The controller will be available to the following regions: Europe / Asia / the Middle East / North America.


---