I couldn't quite believe it when I found out, we're now up to the eleventh installment in the Ghost Recon age. For a game series that first arrived 18 years ago, that's not too bad a release schedule. Speaking of, the Tom Clancy's  Ghost Recon Breakpoint release date is fast approaching.  
Tom Clancy's Ghost Recon has always held a reputation of being one of the better tactical shooters out there. Very early on it changed the gameplay up by making you act as more than just one man. You had a squad to use to your advantage, but also to take care of.
Tom Clancy's Ghost Recon Breakpoint Release Date
Ghost Recon Breakpoint is going to make you feel more vulnerable than past titles. Acting as a direct sequel to 2017's Wildlands, Breakpoint will take place in an open world environment on a fictional island in the Pacific Ocean. 
The E3 trailer didn't give too much away though, focusing mainly on antagonist Cole Walker (voiced and modeled by Jon Bernthal). We got a chance to hear from the antagonist giving a speech to his troops firsthand. 
With the game being set on a remote island it only makes sense that the gameplay will feature a lot of survivalist elements. You will suffer injuries (that have lasting impacts on gameplay), utilize resource management and engage in crafting – the standard survival tropes. It appears that you will be hunted down by a group of opponents who have armed themselves with advanced technology. 
For singleplayer users, you will have access to some tech of your own in the form of a drone that you can use to make your way through the varied environments. Tying into the survival aspect you will also have a camouflage ability that you can use to your advantage when opting for a stealth approach. 
When Can We Play?
There isn't too long to wait before you can get your hands on this title If you want to grab a taste of the action early though there is an open beta running this month. 
Throughout September 26-30 players will get their chance to explore the regions of Auroa in a co-op setting and tackle five of the main missions together. There will also be an "Elimination 4v4 PVP mode" set on three maps, "PMC Camp, Skell Port, and R&D Center" 
The full title will be released on October 4th, 2019. This isn't too long to wait before you can jump in and gives you more than enough time to catch up on the previous titles if you haven't yet finished them. 
Pre-Order Tom Clancy's Ghost Recon Breakpoint PS4
Pre-Order Tom Clancy's Ghost Recon Breakpoint Xbox One
Final Thoughts
With the game set to release next month, we thankfully won't have much longer to wait before we can get our hands on it. Being a direct sequel to the popular Wildlands will make for an interesting link between the two games, we should see interesting developments in how the game has evolved from its predecessor, especially with the new desert island setting.
Ubisoft has also announced that they will continue to support the game post-release with an already announced roadmap of content. The studio has announced that every four months there will be new content added to Breakpoint – all of which include new stories, equipment, and special events. This will be good news for some, but if the game doesn't live up to expectations on release, it'll be a wonder why they didn't add this content in beforehand.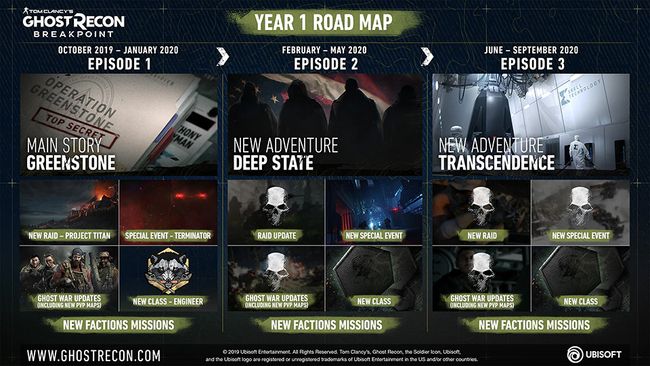 (Image credit: Ubisoft)
What are your thoughts on this release? Do you think the change of setting will be enough to keep players interested long enough to wait for the seasonal content to land? Do you agree with companies announcing that they have extra content for the game in the works before it's even released? Let us know in the comments below.