Where is the AMD Ryzen 7 7800X?
Every single Ryzen launch has seen an (x800X) variant, but when the Zen 4 CPUs were revealed it was nowhere to be found.
Updated: Apr 18, 2023 10:51 am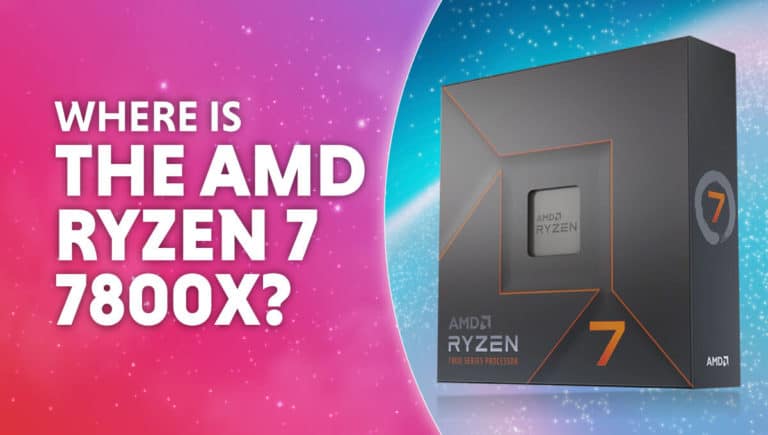 Where is the AMD Ryzen 7 7800X? AMD released its Zen 4 Ryzen 7000 series CPUs to the world in September 2022. We saw the Zen 4 line-up and exactly what it's capable of. However, of all the Ryzen 7000 series CPUs released, none of them were the Ryzen 7 7800X. So Is there a Ryzen 7 5800X? or has AMD forgotten it completely?
Now read: Zen 4 what we know.
AMD held an event on its YouTube channel called "together we advance PCs" on the 29th of August 2022. At this event, AMD's CEO Dr. Lisa Su, and staff gave us the rundown of the new Ryzen 7000 series Zen 4 CPUs.
This information included Zen 4 SKUs, some vaguely detailed CPU specifications, the performance of the 7950X and 7600X, and the release date and price of each Zen 4 7000 series CPU. Yet there was no mention of the Ryzen 7 7800X.
AMD Ryzen 7000 series officially announced
As we previously mentioned, AMD CEO Dr. Lisa Su officially unveiled the names, prices, and release dates of all Zen 4 CPUs that are launching on the 27th of September 2022.
The names and prices of each Zen 4 Ryzen 7000 series CPU are as follows.
If you're interested in picking up one of these CPUs, you can take a look at our "Where to buy" pages linked above.
As you may notice, there's no AMD Ryzen 7 7800X. There's been a Ryzen 7 (x800X) SKU in every single desktop Ryzen launch thus far. Is AMD done with the x800X processor?
AMD Ryzen 7 7800X
So, is there a Ryzen 7 5800X? We strongly believe that the Ryzen 7 7800X is being held to debut at the release of the Zen 4 3D V-cache processors.
AMD plans on releasing the Zen 4 3D V-cache variants later this year/early next year (2023). Although we do not have anything solid on that release date.
The reason we suspect this is that we know AMD is planning on releasing Zen 4 with their new 3D V-cache technology from previous presentations and roadmaps made by AMD.
If Zen 4 3D is going to see the light of day next year, we'd have to say that it will be unveiled at CES next year, But this is purely speculative and not set in stone, it's just us thinking out loud. So take all this with a grain of salt.
Zen 4 3D
The Ryzen 7 5800X3D from the last generation managed to beat out the 12900K in some benchmarks per our testing, despite its lower clock speeds and overclocking lock. You can check out a review of the 5800X3D if you'd like, we delve far further into the 5800X3D's performance there.
So, with the projected performance of Zen 4 already it's going to be amazing to see what an impact 3D V-cache has on a Zen 4 chip.
The performance gains the 5800X3D had over the standard 5800X were astonishing, around 15% on average.
So, with titans like the Ryzen 9 7950X hitting 23% better performance in some games, it's going to be amazing to see how high a 3D stacked cache can push that.
Since it's in the gaming department that we see the most improvement from a cache of this type.
Hopefully, we won't see the same issues we saw with the Zen 3D stack. The 5800X3D was met with a wave of complaints about its lower, locked clock frequencies.
Final word
Hopefully, the 7800X is not gone forever, and we see it make a valiant return armed with the latest and greatest caching technology. Ready to blow away any and all that stand in its way – in terms of performance, of course.
We can't wait to get our hands on the Zen 4 line-up and with the base release less than a month away, our excitement only grows with every passing day.
Rest assured, we'll be putting the Ryzen 7 7800X through its paces.
Ryzen 7000 series release date?
The release date of the Ryzen 7000 series CPUs has been officially confirmed by AMD CEO Dr. Lisa Su as September 27th 2022.
Is there a Ryzen 7 7800X?
There, unfortunately, has not been any news of the Ryzen 7 7800X, this is even after the release of the Ryzen 7 7800X3D. It's not looking good for this SKU.
---