Intel has recently dropped their new line of 10th generation processors, and there is a lot to unpack with the incredible variety of the CPUs on offer. With 32 different processors being released all at the same time, it can be a bit overwhelming when it comes to choosing the right CPU for your PC.
Don't worry though – Intel released a handy chart that details the specifications of the newly released tenth gen CPUs to make it easier to decide which CPU is right for you: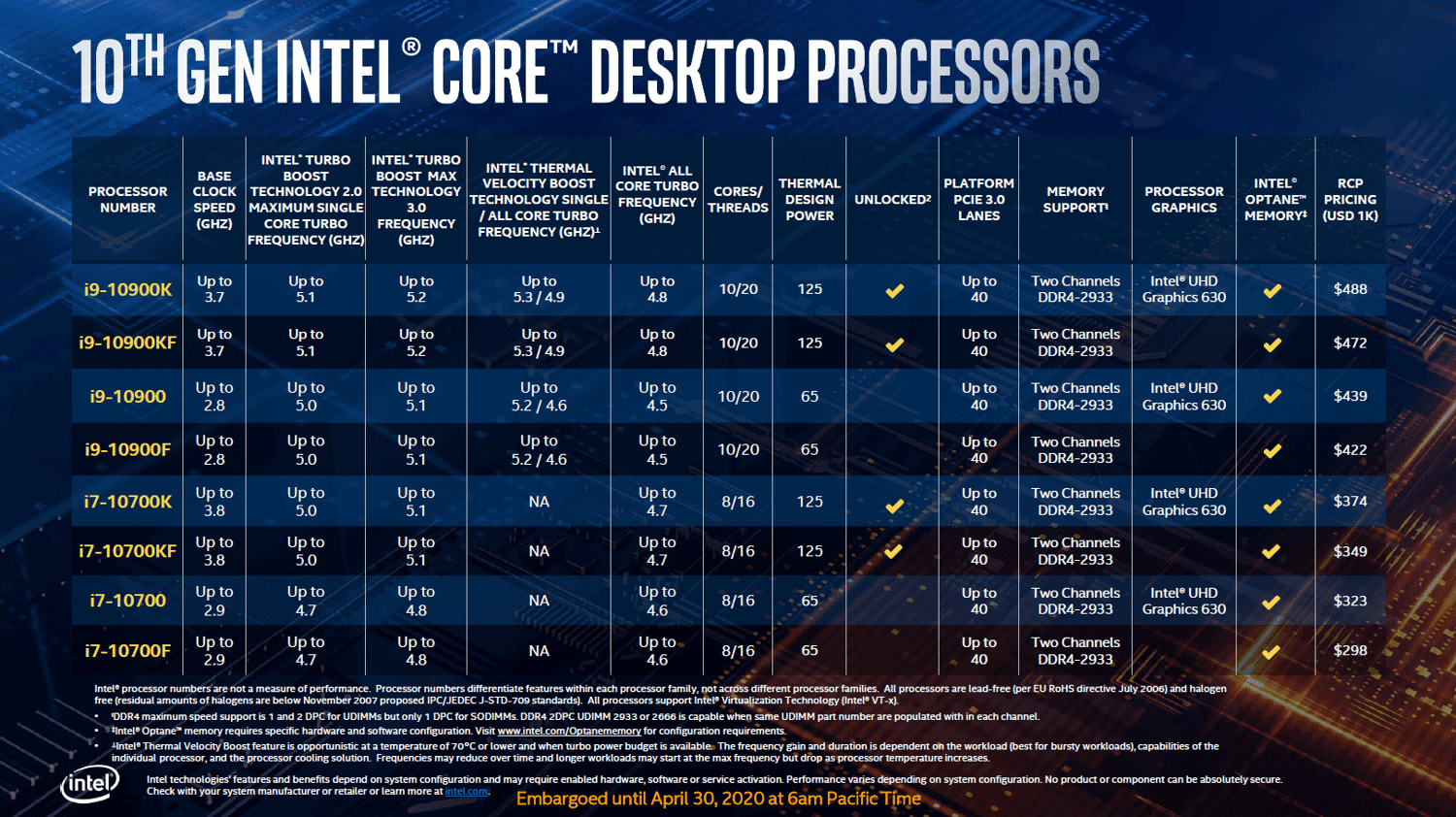 The only other thing you will need to consider if you are looking to buy a 10th gen Intel CPU is that these CPUs will only fit inside an L200 socket, so you may well need to upgrade your motherboard to match your CPU upgrade.
Is There A Big Difference Between the F and K CPUs? 
Really, the only difference between the 10th generation K and F Intel CPUs is that the K series comes out of the box unlocked and is pre overcooked, whereas the F series isn't, and they also have no integrated graphics.
Where Can I Buy Intel's 10th Gen Processors
On this page, we will be listing major retailer links for different countries so you know exactly where to go to purchase the new 10th generation Intel Processors
We will be updating this page with new information as it comes on, with the best places to buy the tenth generation of Intel CPUs from around the world. 
Intel's 10th Gen CPUs
: USA
Intel's 10th Gen CPUs
: Canada
10900K – Order Page
10900KF – Order Page
10900 – Order Page
10900F -Order Page
10700K – Order Page
10700KF – Order Page
10600KF -Order Page
10600K – Order Page
10400F -Order Page
 10400 – Order Page
Intel's 10th Gen CPUs
: UK
If you are looking for retailer links in any other country, please let us know in the comments and we will add them in.