World of Warships: Legends patch notes launches Theseus' Bane Campaign
Find out how to add the mammoth HMS Minotaur to your fleet and more in the WoWS holiday event patch notes
Updated: Dec 21, 2021 10:40 am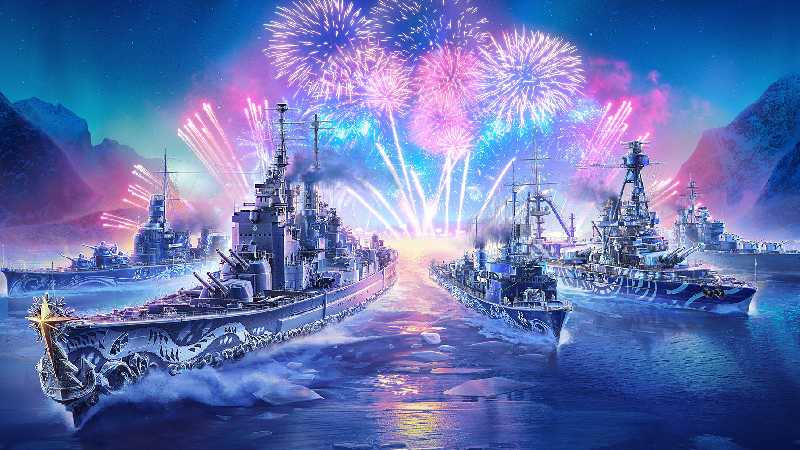 In the true spirit of Christmas, World of Warships: Legends has a new holiday update with more gifts than you could imagine. Here's a rundown of the update 3.10, Chilling with the Beasts patch notes and everything you can unwrap with the WoWS Holiday update.
According to a post on the World of Warships: Legends blog, the latest update to the game will last for 6 weeks, bringing with it a shipload of rewards, challenges and freebies. There's the chance to rent ships to give them a try without the commitment, the all-new Theseus' Bane missions and rewards, and a Winter Gift Flurry! Let's get into the details.
World of Warships Chilling with the Beasts patch notes
Theseus' Bane Campaign
In the latest, and most ambitious, Campaign to come to World of Warships, there are six weeks of missions, totalling 130 levels of progression. With Admiralty Backing, this campaign allows you to work your way up to the new Legendary Tier Cruiser – the Minotaur. You'll also earn plenty of Global and Commander XP, Credits and Camos, and even the new Secret Santa and Super Santa containers.
Even better, if you miss a week or start the Theseus' Bane campaign late, there's nothing to worry about thanks to the catch-up feature, meaning you can complete previous weeks' challenges at any time in the six-week period, ending January 31st.
Rent-a-ship
During the six-week holiday season, you can now rent a Legendary ship you've been considering without having to give up on your current research. It will set you back a cool 2 million credits for each ship you rent, but it will be worth it to try out those Legendary Warships with ease.
Winter Gift Flurry
It's the season of giving, and the Winter Gift Flurry in World of Warships: Legends is the perfect event for virtual gift giving. Get involved by signing up at the Gift Flurry site, and start giving and receiving Christmas gifts to players across the globe. Level up by giving and by decorating the Holiday tree, and you'll earn even more rewards, including crates and bonus XP.
New containers, skins and a brand-new port
There are two sassy new Commander guises available this Christmas in the form of the alluring Miss Santa (American and British Commanders) and Snow Maiden (Soviet and European Commanders). And that's not all. A brand-new port has been introduced as well to help get you in the festive spirit. Set sail from the London Harbor, where festive decorations surround you as you traverse the Thames.
As mentioned as part of the Theseus' Bane campaign, there are also two new container types for the holidays, the Secret Santa and Super Santa crates. These new crates can reward you with gifts aplenty, such as Premium ships, doubloons, and even a special superprize. As well as being able to earn containers, you will have the chance to redeem a Secret Santa crate every day in the in-game store's daily rewards. Check out the full list of rewards on the WoWS blog.
World of Warships redemption code for free Holiday camos
In order to redeem free Holiday-themed camos, use code PZ81NKE01C at the World of Warships redemption site.
The incredible Chilling with the Beasts holiday update in World of Warships doesn't end there, either, and there's so much more to discover. Check out the full patch notes on the official blog to find out more.
---