WWE 2K22 Clowning Around DLC release time predictions
Don't miss out on any of the action with the latest WWE 2K22 DLC
Updated: Jun 28, 2022 2:40 pm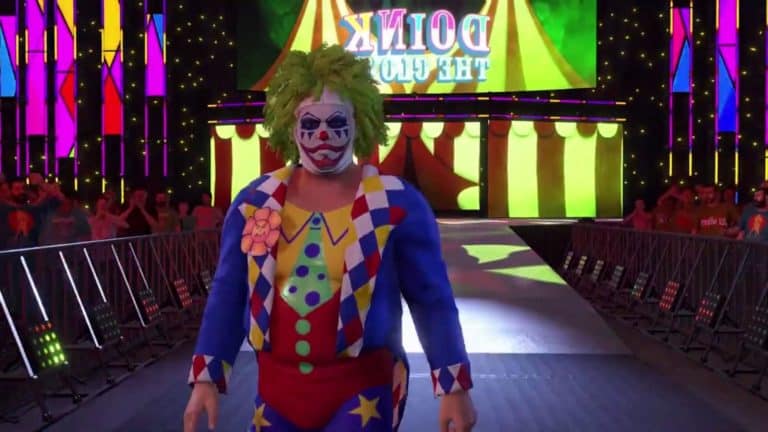 A new lineup of exciting and outlandish wrestlers will be joining the WWE 2K22 roster via the latest Clowning Around DLC pack. It's dropping today (June 28th) and we have all the latest updates you need to know about.
WWE 2K22 has already received a bunch of DLC packs since its release back in March, and today, we're set for another cool little pack that offers some exciting new characters. Better yet, if you're a Season Pass holder, you'll be getting the pack for absolutely nothing once it becomes available. If you want to purchase the Clowning Around DLC pack on its own, it'll set you back $9.99.
In this guide, we'll be going over the official release time for the Clowning Around DLC pack so you don't miss out on any of the action.
Does WWE 2K22 Clowning Around DLC have a release date & time?
The latest downloadable content pack for WWE 2K22 will officially release on June 28th, 2022. At the time of writing this, there is no official time set for the DLC pack, so we'll just have to wait until it becomes available.
Of course, we'll be keeping this page up to date with all the latest news on the Clowning Around DLC so you don't miss a thing.
WWE 2K22 Clowning Around: new wrestlers
The main draw of the Clowning Around DLC will be the new wrestlers that it brings to the table.
Below we've listed all the new characters that will arrive with the latest Clowning Around DLC:
Doink the Clown
Ronda Rousey
The British Bulldog
Mr. T
Doudrop
Rick Boogs
As you can see, the new DLC comes with a plethora of big names including; "The British Bulldog", "Mr. T", and everyone's favourite UFC champ, "Ronda Rousey". While Rousey is arguably the most relevant name in the lineup, most of the spotlight leading to the arrival of Clowning Around has been Doink the Clown – and it's easy to see why.
WWE 2K22 Clowning Around trailers
British Bulldog entrance
Ronda Rousey entrance
Doudrop entrance
Doink the Clown entrance
Rick Boogs entrance
---