Zen 4 CPU leaked with 5.2GHZ Boost & RDNA 2 iGPU
Intel, be ready… AMD is not messing around.
Updated: Oct 20, 2022 3:35 pm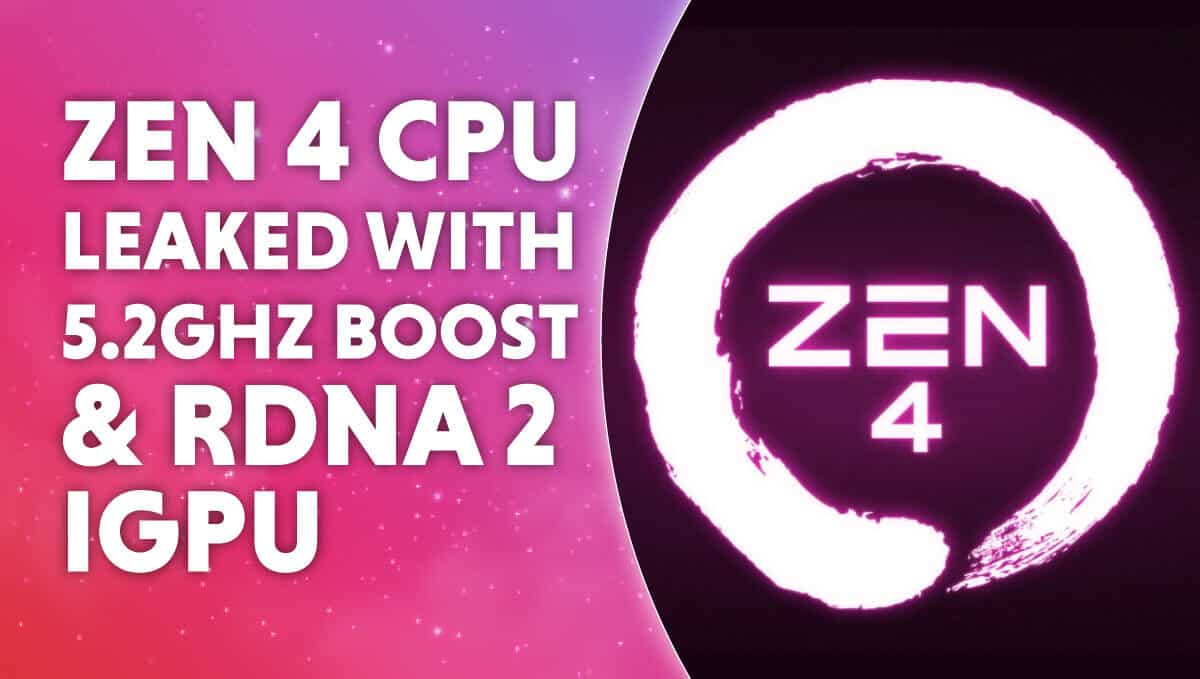 A new Zen 4 CPU has been leaked on the popular benchmarking site OpenBenchmark. Data was posted around the new engineering sample, and we have to say that things are looking very promising for the new 5nm chip hidden deep inside OpenBenchmarking.org's database.
Update: The listing on OpenBenchmarking.org has now been removed.
A Twitter leaker named Petykemano posted the listing on May 9, 2022, asking "is this legit?" when referencing the post on OpenBenchmark.
The Ryzen 7000 series CPU, which goes by the catchy 100-000000666-20_Y identifier, possesses a mighty eight Zen 4 CPU cores, all with full SMT support. Assuming AMD hasn't reworked its hierarchy this time around, this CPU should belong to the Ryzen 7 7800X family, because of the number of cores, threads, and clock speed. During its CES keynote in 2022, AMD teased a Ryzen 7000 series CPU obtaining an all-core boost speed of over 5GHz in Halo Infinite. Could it be the very same CPU?
Zen 4 CPU leaked: What's new?
The 7000 series CPU from the OpenBenchmark submission is definitely an engineering sample, but that doesn't seem to stop it from breaking current records. The CPU boasts an impressive 5.21GHz boost clock, that's higher than every single AMD CPU SKU on the market. The current record for the highest AMD boost clock goes to the 5950X, with a boost clock of 4.9GHz.
The impressive thing to note is that engineering samples are almost always worse than their retail counterparts, meaning there's still room for improvement when it comes to the clock speed and performance of this CPU.
AMD's Zen 4 CPUs are all built upon TSMC's 5nm manufacturing process, which promises a massive 30% increase in power efficiency and up to 15% better performance. Not only that, but there's a 1.8X increase in transistor density over AMD's current 7nm Ryzen 500 series CPUs, lending its hand to much higher IPCs.
iGPU – RDNA2
Moving onto iGPU for a second, the GPU quoted in the OpenBenchmark listing was "GFX1036", which runs between 1,000 to 2,000 MHz. The clock speed on the GPU looks pretty standard with much room for improvement, however, as the recent AMD Radeon 680M, which powers Ryzen 6000, tops out at around 2,400MHz. AMD uses the GFX1030-series ID to refer to its RDNA 2 GPU architecture. There's no doubt in our mind this GFX1037 is part of the RDNA 2 family.
AM5
The leaked 100-000000666-20_Y was comfortably seated in what was only described as the "Splinter-RPL," motherboard. This has to be the code name or identifier given to the new AM5 motherboards, as we know the new Zen 4 CPUs are designed for the new LGA-based AM5 platform. No other details were given apart from "16GB RAM," however, various sources and leaks have detailed that the AM5 platform will only launch with DDR5 RAM support.
That's about all we can deduce from this leak. We will remain vigilant for any other information that may arise. In the meantime, if you would like to check out our articles on AM5 and Zen 4, we have plenty of information in there to keep you going until Computex 2022, when we expect much more detail to be revealed around Zen 4 and AM5.
---