Best 4k TV for Gaming
Purchasing a 4K TV for your gaming needs was once considered bank account suicide. Gaming enthusiasts would willingly hand over thousands of dollars in exchange for one of the latest 4K displays in order to experience their favorite games in a truly immersive fashion.
The best 4K TVs for gaming would showcase superb features such as OLED technology, great viewing angles, excellent color accuracy, true HDR output, and most importantly, a huge 4K screen resolution for crystal clear picture quality. They were and still are the best way to experience your TV and game content. Well, until 8K TVs become affordable!
4K TVs are nothing new though. LG released one of the first 4K displays back in 2012 which, at the time, retailed at a staggering $20,000. I know, pricey right? Since that day, however,  we've seen the 4K TV become more commercialized, and you can now pick one up for as little as $200.
That being said, the current market is flooded with hundreds of options, and choosing the right one for your needs can be a time-consuming task. For that reason, we've decided to give you a comprehensive breakdown of what we believe are the best 4K TVs for gaming money can buy.
Let's take a look at some of the recommendations:
What to Look For in a 4K TV For Gaming?
Several different factors make a 4K gaming monitor a great one. There are also a lot of different aspects that you need to take into consideration when looking at purchasing one.
We understand this and have decided to outline some of the more important areas that require your consideration.
Let's start by taking a look at the two primary types of TV you're most likely to find when looking at 4K gaming TVs. OLED and LED. There may only be one letter difference in their names; however, the technology that makes both of these panel types work is completely different.
OLED TVs for those that aren't very tech-savvy is a panel type that is categorized as emissive screen technology. This means the pixels, unlike LED, generate their own light by having an electrical current pass through them. Each pixel operates individually to create its own light, meaning you can achieve true black by simply cutting the electrical current to those pixels. The contrast ratio of OLED TVs is much higher than LED TVs and, generally speaking, has a much better image output.
LCD and LED, on the other hand, have a completely different method of light production. Backlight and image generating layers are incorporated into an LED panel to create the final picture, which you view. To try and achieve the same levels of true black as the OLED, manufacturers started to design backlights which were broken into individual sections. These are more commonly known as local dimming zones. If you ever see this specification on a TV, know that more is better than less.
New technology has seen the QLED display come to fruition. Samsung brands certain qualifying TVs with the QLED tag (quantum dot LED TV). These TVs have been designed with an extra layer of quantum dots which enhances brightness and provides a greater color spectrum for a more immersive experience.
Many of you will already have a pretty good understanding of what HDR is. We have also published a couple of articles on HDR and how they affect you from a gaming point of view.
However, to summarize those articles, HDR stands for high dynamic range and affects how realistic your display's final image is. It has the sole purpose of balancing the contrast between bright and dark (the dynamic range) while maintaining a wide color gamut.
HDR is much more desirable than non-HDR displays for this very reason. However, not all HDR monitors display true HDR. When looking at an HDR monitor, check the contrast ratio and the color gamut the monitor can display. If the monitor displays true HDR, you see a native contrast ratio of 3000:1 or above. The two color gamuts you should be looking for with HDR are DCI-P3 (the standard HDR) or REC.2020 (considered ultra HD).
Making The Most Out Of a 4K TV
A 4K TV isn't any ordinary purchase; it's an investment. It's crucial to understand exactly how to get the most out of your TV because you will be using it for several years. It isn't just gaming you'll be using the TV for either. Below are some great tips on how to make sure you're getting the most out of your 4K TV.
Most of the TVs in this list will come equipped with some form of cable to connect your TV to your gaming/ media device. Understanding which of the cables is best suited to your needs, however, is something they don't explain.
There are a couple of different cable types, the most popular though, are HDMI and DisplayPort. These are the most widely used and have very different characteristics. HDMI is the most well-known cable and offers 4K display, great. However, if you want to make use of higher refresh rates or true free sync/Gsync, then you will want to use the DisplayPort.
A DisplayPort may not come included with your TV, but you can pick one up for a relatively cheap price, and it might make all the difference; depending on the TV.
Providers are slowly but surely producing more 4K content. A lot of the newer content uses the HLG (Hybrid Log-Gamma) HDR instead of HDR10, 10+, Dolby Vision, or advanced HDR. The newer TV's have HLG support. However, some of the older models require a firmware update to utilize this technology. Check with your TV to make sure you're up to date.
Netflix, Amazon Prime, Youtube, and Mixer all now provide a plethora of 4K content for your viewing pleasure. A lot of the TV's on this list will have built-in smart TV technology, and the apps will be ready to use. Some, however, won't. Just check to make sure you have these facilities so that you can relish in as much 4K content as possible.
Note: It's worth mentioning that if you want to utilize these services for their 4K content, you will need a strong internet connection to do so. Netflix recommends that you have an internet strength of 25mbps as a minimum to achieve enjoyable viewing. 
Best 4K TV for Gaming
Product
Details

Best 4K Gaming TV

LG C9 OLED

size: 55" 65" 77"
panel type: OLED
refresh rate: 120hz
hdr: Dolby Digital HDR 10

Check Current Price

Runner up

Sony X950G

size: 55" 65" 75" 85"
panel type: LED
refresh rate: 120hz
hdr: Dolby Digital HDR 10

Check Current Price

Value Pick

VIZIO 65″ Class P-Series

size: 65"
panel type: LED
refresh rate: 240hz
hdr: Dolby Digital HDR 10

Check Current Price

QLED Pick

Samsung Q80/Q80R QLED

size: 55" 65" 75" 82"
panel type: QLED
refresh rate: 120hz
hdr: Quantum HDR 1500

Check Current Price

Budget Pick

TCL 6 Series

size: 55" 65" 75"
panel type: LED
refresh rate: 60hz
hdr: N/A

Check Current Price
LG C9 OLED
TECH SPECS
Size

55" 65" 77"

Panel Type

OLED

Local Dimming Zones

N/A

Refresh Rate

120hz

HDR

Dolby Digital HDR 10
PROS
Very good gaming performance
Extremely low input lag
Quick response time
Stunning contrast ratio
We've crowned the LG C9 OLED the best 4K TV for gaming and for good reason. This superb OLED TV not only offers fantastic picture quality, but it also comes with excellent gaming performance and some cool additional gaming features too.
One thing I noticed when comparing the LG C9 OLED was that it couldn't achieve the same levels of brightness as other LED TV's. However, thanks to HDR game technology, that doesn't really matter as the game will automatically adjust the game's brightness to match your monitors peak.
Additional features include HDMI 2.1 support as well as HDMI Forum's new variable refresh rate technology. It can achieve 120hz at 4K but will require a firmware update for this.
One downside to quickly mention is the burn-in effect that all OLED's are at risk of. The TV is at risk of this when it is exposed to static hood elements for too long. So, it's worth bearing this in mind.
Sony X950G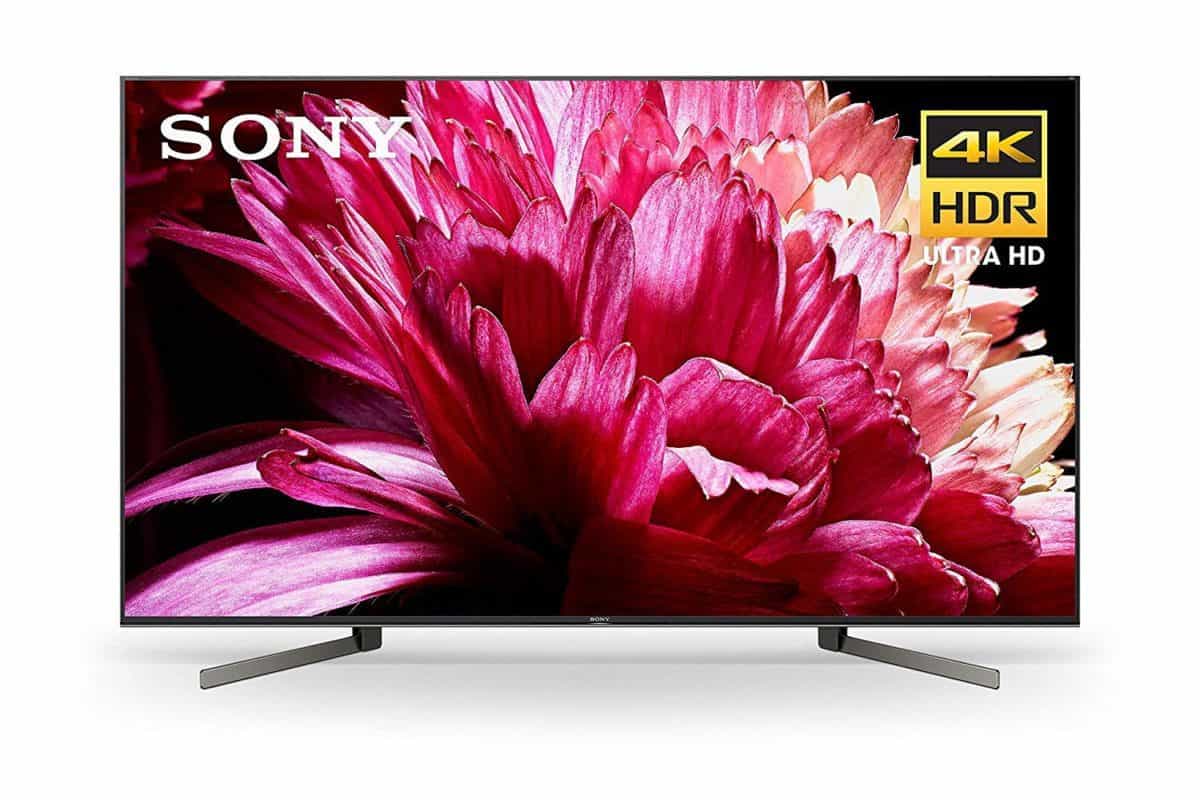 TECH SPECS
Size

55" 65" 75" 85"

Panel Type

LED

Local Dimming Zones

N/A

Refresh Rate

120hz

HDR

Dolby Digital HDR 10
PROS
Very realistic colour accuracy
High quality brightness
Great motion handling
Impressive HDR display
CONS
Has some input lag
Average black levels
The Sony X950G gets our runner up spot, but not by much. If you're looking for extremely realistic color accuracy, then the Sony X950G is the TV for you. It looks superb. And, it delivers the highest pre-calibration color accuracy in this list, pretty impressive when you consider the lineup.
The X950G comes equipped with a VA panel which delivers deep blacks in dark spaces. Unfortunately, it lacks the free sync support you get with other TVs on this list. This being said, Sony has once again produced a monitor with superb picture quality. It has excellent brights which look outstanding in several bright environments.
It has superb HDR performance and can display highly vivid colors thanks to its wide color gamut. The input lag is very low when gaming which means you get an extremely responsive experience. It has next to no motion blur and maintains a crisp image even in the most hectic of backgrounds.
Overall an excellent runner up on this list and one that is worthy of anyone's consideration.
VIZIO 65″ Class P-Series
PROS
Very good value for money
Excellent picture quality
200 Dimming Zones
Built in Alexa
The VIZIO Class P-Series is our value pick and one that showcases superb performance amongst a plethora of other great features. The Class P- Series is by far one of the most affordable on this list. It offers a great HDR gaming experience, without the possibility of burn-in! That feature is always welcome.
From a design point of view, it doesn't look half as good as some of the other TVs in this list neither does it provide the same levels of picture quality. It also has a higher input lag which is never desirable when gaming. It does, however, have a much brighter picture than others on this list and still makes use of a wide color gamut.
If you're looking for a great monitor at an affordable price tag, look no further.
Samsung Q80/Q80R QLED
TECH SPECS
Size

55" 65" 75" 82"

Panel Type

QLED

Local Dimming Zones

N/A

Refresh Rate

120hz

HDR

Quantum HDR 1500
PROS
Great Response time
Excellent picture quality
High Peak brightness
Very good viewing angles
Supports freesync
Samsung's Q80 QLED is the only monitor that comes to shelves boasting the QLED technology. On paper, this is easily one of the best monitors on this list; however, when you consider the price, it's hard to justify putting this monitor in the number one position.
It doesn't offer the same perfect blacks as the LG above, but the Q80 does provide superb picture quality none the less. Furthermore, it offers excellent peak brightness and a wide color gamut. Gamers are sure to enjoy the excellent response time and the low input lag when gaming in HDR.
The Q80 supports AMD's FreeSync technology for almost completely tear-free gaming and comes equipped with the all-new 'ultra viewing angle' tech no less.
Ultimately, If you're looking for a QLED panel that has almost zero screen tearing and a fantastic overall picture, the Q80 could be exactly what you're looking for.
TCL 6 Series
PROS
Great value for money
High Peak brightness
Good local dimming
Low input lag
We finally come to our budget pick, the TCL 6 Series. It is by far the cheapest TV on this list and one that clearly shows that in its own features and benefits.
Unlike the other TVs in this list, the TCL 6 Series has had to clearly make some sacrifices in order to reduce the cost down so drastically. Not a bad thing necessarily. If you're looking for a budget 4K monitor, this is the reality.
The TV itself can produce very bright pictures which are definitely a plus. It displays HDR content very well with a rich array of colors and brightness highlights. It has plenty of local dimming and a good native contrast ratio which creates a very natural picture.
The input lag is quite low and gives the user a very responsive gaming experience. Overall, if you're looking for a budget 4K monitor, you will do well to find anything a great deal better.
Ultimately, choosing the right 4K TV for gaming comes down to a few fundamental factors. Is it within your price range? Does it have the specifications that you require? Does it perform how you would like? Making sure the TV can achieve these simple goals is key to making sure it's the right one for you.
These are what we consider to be the best 4K TV's for gaming, let us know what you thought by leaving a comment in the section below.