Best CPU Cooler for i9 9900K
Five Coolers perfect for the i9 9900K
Updated: Mar 28, 2023 1:38 pm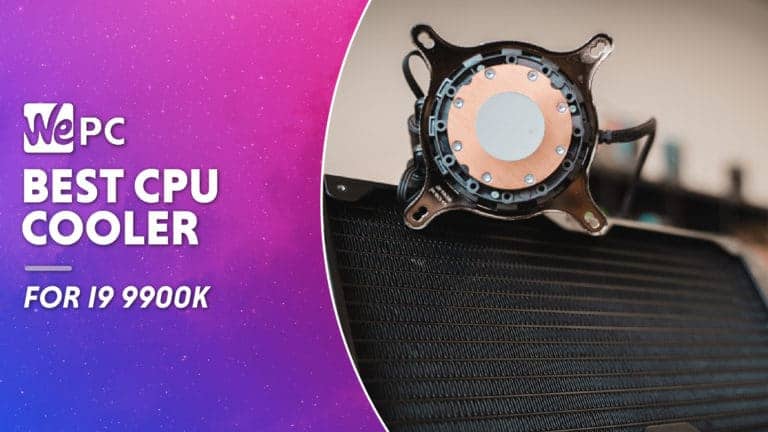 01

The Best CPU Cooler for i9 9900K

Editor's Pick

Noctua NH-D15 Chromax Dual Tower CPU Cooler

02

The Next Best CPU Cooler for i9 9900K

Corsair iCUE H150i Elite Capellix Liquid CPU Cooler

03

Another Great CPU Cooler for i9 9900K
The octa-core i9 9900K may be older now, but it's still considered one of the best CPUs for gaming on the market. Boasting incredible single-core performance and backed up with 16 threads for seamless multi-tasking, it's a formidable processor capable of challenging most other top-tier CPUs for gaming superiority.
It's also renowned for that desired 5GHz overclocked rate, but this kind of boosting potential comes at a cost. When pushed, the i9 9900K can build up some pretty spicy temperatures that you'll need to eliminate if you want to maximize performance and service life.
Best CPU Cooler for i9 9900K: our top picks
01

The Best CPU Cooler for i9 9900K

Editor's Pick

Noctua NH-D15 Chromax Dual Tower CPU Cooler

02

The Next Best CPU Cooler for i9 9900K

Corsair iCUE H150i Elite Capellix Liquid CPU Cooler

03

Another Great CPU Cooler for i9 9900K
That's why we've got you covered with this comprehensive guide to the best CPU coolers for the i9 9900K. No matter your budget or desire, we have you covered with our selection of CPU coolers for the i9-9900K
Best CPU Coolers for i9 9900K
Noctua NH-D15 Chromax Dual Tower CPU Cooler
Corsair iCUE H150i Elite Capellix Liquid CPU Cooler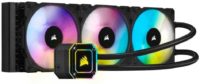 15.63 x 4.71 x 4.71 inches
NZXT Kraken Z73 RGB AIO CPU Cooler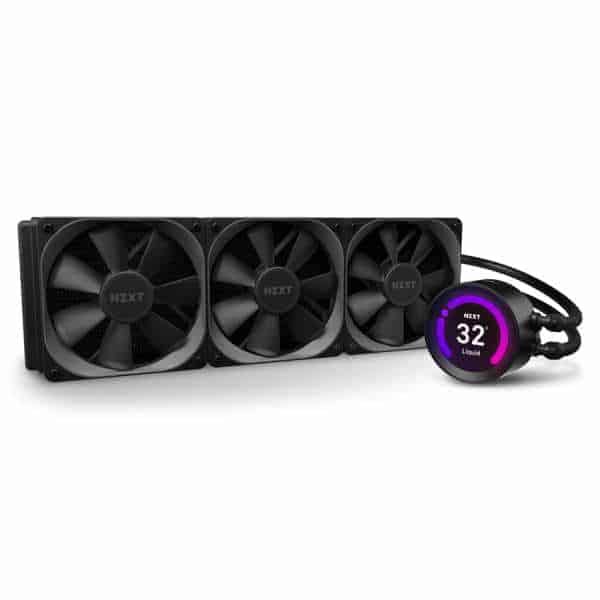 18.43 x 7.09 x 5.91 inches
be quiet! Dark Rock Pro 4 BK022
5.35 x 5.74 x 64.09 inches
Cooler Master Hyper 212 Black Edition
(H)120 x (W)77 x (D)158.5 mm
Best CPU Cooler for i9 9900K: reviews
The Best CPU Cooler For I9 9900K
Editor's Pick
Noctua NH-D15 Chromax Dual Tower CPU Cooler
Silent – Even quieter than some AIO systems.

Ultimate Cooling – Dual fans and heavy heatsink dissipate heat extremely efficiently.

Single Fan Mode – SFM enables 64mm clearance for RAM.
Price – Expensive for air cooling (but still cheaper than liquid)

Installation – The weight can make installation tricky.
The Noctua NH-D15 is an awesome air thermal solution capable of providing liquid level cooling. Featuring two 140mm PWM fans with 7 wide blades a piece, you can dial in their performance to suit your needs exactly. Combining those two wind warriors with their award-winning heatsink, Noctua ensures running volume rarely exceeds 24dBA. That's literally whisper-quiet, nothing to distract you from winning.
The beautiful thing is that it doesn't sacrifice potency to achieve such a hushed performance. This fan is powerful enough to keep even the most volcanic CPUs running cool as a river no matter how adventurous you get while overclocking.
The problem with these big dual-tower coolers is that they can block your RAM expansion slots, but thanks to low-profile fin architecture, in single fan mode, you have 64mm clearance space to play with. Even with both fans whirring away, your mobo will be able to accommodate 32mm sticks.
It can be kind of tricky to install, but offering unparalleled air cooling for a fraction of the cost of an AIO system, the stealth-styled Noctua NH-D15 is the best in the biz!
The Next Best CPU Cooler For I9 9900K
Corsair iCUE H150i Elite Capellix Liquid CPU Cooler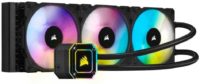 15.63 x 4.71 x 4.71 inches
Quiet Running Volume – This system should rarely break 36dBA.

RGBs – bright and punchy, these RGBs will breathe new life into your case.

Pump Design – A split-flow copper cold plate and a ton of micro-skived fins enable you to push your CPU to the limit.
Price – You may have to liquidate your assets to afford this liquid asset.

Installation – The fans can be difficult to screw into place.
The Corsair H150i thermal solution is a match made in heaven for high-end i9 9900K builds. Boasting three 120mm PWM fans, you can adjust output via iCUE between 400 and 2400 RPM, ensuring you'll rarely hear their 36dBA maximum volume. When their service isn't required, they automatically stop, amounting to a very zen gaming experience.
They're also packed full of RGBs, 33 to be precise, and they're incredibly bright too. Even in a sunlit room, they really pop, which is a rare achievement.
If you disassemble the pump, you'll find what's known as a split-flow copper cold plate for dissipating heat from the liquid as efficiently as possible. Peering deeper into the design, you'll discover a high-density stack of micro-skived fins that kill off any residual warmth the plate misses.
The fans aren't the easiest thing to screw into the radiator as the drill holes aren't well threaded, but performance-wise, this is the best liquid thermal solution for the i9 9900K by a country mile.
Another Great CPU Cooler For I9 9900K
NZXT Kraken Z73 RGB AIO CPU Cooler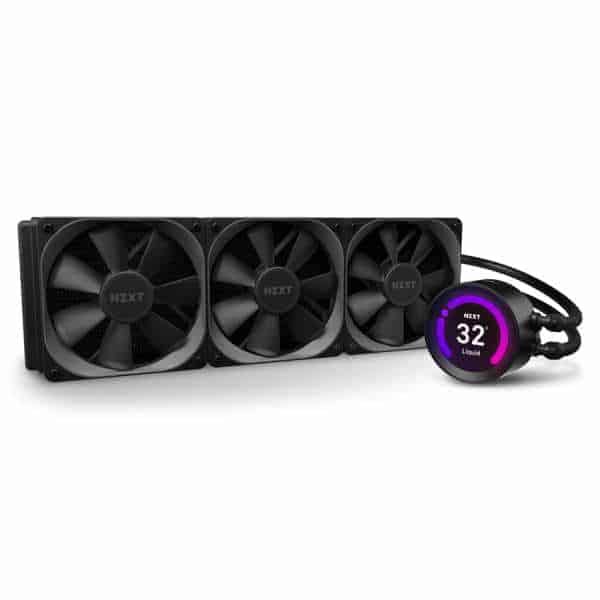 18.43 x 7.09 x 5.91 inches
Super Quiet – 21dBA is nothing. You'll probably be breathing louder than that.

LCD Screen – The customizable screen is a little different to the usual RGB overload.

Top Quality Fans – Chamfered intakes, fluid hydraulic bearings…these fans are the bee's knees
Price – The Kraken demands a monetary sacrifice!

Dimensions – This AIO cooler takes after its namesake in terms of sheer girth. It won't fit in smaller cases.
Featuring three 360mm fans, this AIO cooler isn't for the faint of heart and small of case. You're going to need a lot of surface area to install these, but if you've got it spare, we highly recommend the NZXT Kraken.
The fans can be adjusted to run between 500 and 2100 RPM, enabling a brilliantly dynamic performance, saving energy, and keeping volumes below 21dBA. That's right, folks, you read that correctly. This is one of the quietest coolers in the world.
They also feature chamfered intakes, an enclosure shaping that maximizes airflow, which is perfect as you're gonna need all the help you can get to keep the 9900K's fiery temperament at bay.
Plain as the fans may be, the pump features an awesome 3.36" LCD screen that you can customize along with fan RPM via the user-friendly CAM software. It's guaranteed to have your friends gawking in awe. We know we were.
be quiet! Dark Rock Pro 4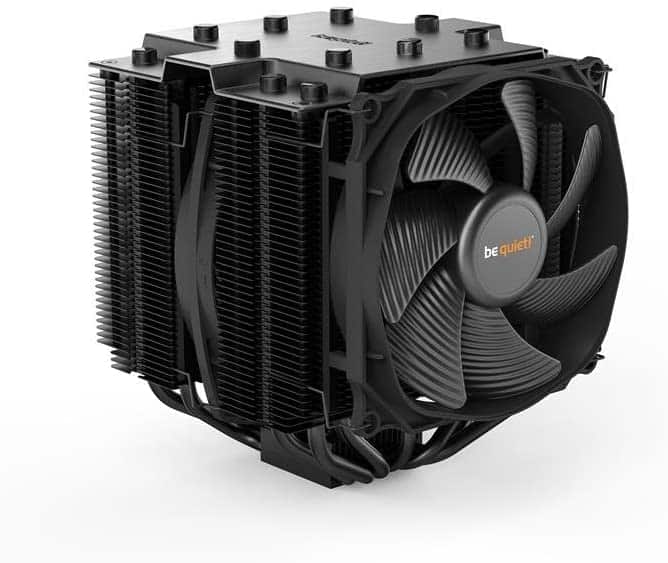 Multi-socket Intel: LGA 1150 / 1151 / 1155 / 1156 / 1366 / 2011(-3) square ILM / 2066. AMD: AM2(+) / AM3(+) / AM4 / FM1 / FM2(+)
Measurements without mount (L x w x H)
Silent Running Volume – Maximum volume will never go beyond 24.3dBA even under 100% load.

Price – The price:performance ratio makes this cooler a very enticing prospect.

RAM-Optimized Fins – The fins are concave in order to make room for more RAM.
Overclocking – Don't be surprised for your CPU to hit 90°C with this cooler.

Clearance – Even with the cutout in the fins, you won't fit tall RAM such as the Corsair Vengeance or the Trident G-Skill in beside it.
Here's another dual-tower cooling solution with an almost unbelievably quiet performance for those that wish to steer clear from liquid. be quiet's proprietary Silent Wing fans are built on fluid dynamic bearings and never breach 24.3dBA. If you've got a case with a sound dampening tempered glass panel, you won't even be able to hear if they're working.
Unfortunately, it doesn't have all that much clearance for tall RAM sticks with large heat spreaders, but if you're rocking the shorter sticks, there shouldn't be any problems at all. The airflow optimized fins feature cutouts in order to reduce the Dark Rock's footprint.
It does struggle a little bit when you push the i9 9900K with intensive overclocking, allowing it to near the 90°C zone, but seeing as the i9 9900K doesn't even start throttling until it reaches 100°C, you're within spec and fine to continue pushing.
We'd describe this as a high-performing mid-level cooler. It's not quite as efficient as the big money options, but it's capable of keeping the i9 9900K under control which is the name of the game here.
Cooler Master Hyper 212 Black Edition
(H)120 x (W)77 x (D)158.5 mm
Heatsink – Large fin array and four copper heatpipes dissipate a lot of heat.

Price – Best budget option by far.

Volume – 26dBA is still super-quiet for a cooler of this price.
Overclocking – Won't handle intensive tinkering.
The Cooler Master Hyper 212 may only have a single fan, but the expansive heatsink with four direct-contact copper heat pipes ensures it devours plenty of heat, giving your CPU the chance to spread its silicone wings.
Another benefit of dropping a fan is that you have more clearance for tall RAM, so if your system is already stacked with sticks, this should be a good fit.
It's a 4-pin PWM fan, so you can adjust the RPM for a nuanced performance, but it maxes out at 42 CFM with a running volume of 26dBA. It's nice and quiet, but not quite strong enough to handle extreme overclocking.
The 212 is considered somewhat of a controversial option considering the wallet-friendly price tag, but if you're a little light of pocket after forking out for the i9 9900K, this is the best budget option to hold you over for the time being.
How We Choose
Here at WePC, we love nothing more than pushing hardware to its limits. We're like that annoying spotter in the gym we pay for a membership to and never visit. We don't just want more frames and higher overclocks…we demand them, but before we can release our inner Mickey Goldmill (Rocky's trainer, for the uninitiated) on our CPU's, we have to ensure they're taken care of in the thermal department.
Through our thirst for performative excellence, we've experimented with hundreds of different coolers, and being that the i9 9900K is a particular favorite of ours, we're pretty well acquainted with the best possible pairings for pushing it to the limits and reaching that fabled 5GHz OC.
What we have here for you today or the cream of the cooling crop, both air and AIO. they'll give you the headroom you need to tweak your way to peak CPU form.
Things to Consider
Air vs Liquid
The main decision you'll have to make is whether you want to cool your CPU using air and fans, or if you'd prefer to use a liquid loop.
Liquid AIO cooling is more effective and a lot quieter than fan cooling, making it the thermal solution of choice for serious overclockers that like tinkering as much as they like playing games. The only issue is that liquid cooling can carry a steep price tag.
Fan cooling systems aren't as efficient, but they tend to be a lot cheaper, and if they're well designed, they still do a great job of keeping your CPU nice and chilled.
PWM vs DC vs Molex
These terms refer to the functionality of a fan. PWM stands for pulse width modulation. You can change the RPM of these fans to suit your needs and keep running volumes down. DC fans are a PWM variant that can rarely slow down to below 40% of their maximum RPM. Molex fans don't allow any customization whatsoever. It's all or nothing with Molex. You install them, and they're either stationary or running at full capacity. These are the noisiest, but also the most affordable of the bunch.
Socket
Compatibility isn't just an issue when trying to pair a motherboard with a CPU, it's an issue with anything you wish to hook up to your mobo. For your thermal solution to work, it needs to have the correct socket.
Many coolers have universal attachments that fit most modern motherboards, but some are special devices designed for one socket in particular. To avoid the devastation of buying an incompatible CPU cooler, keep your motherboard socket in mind while shopping around, and never buy before you've seen a list of the cooling system's compatible sockets.
Here are some CPU cooler reviews that will fit the i9-9900K
Dimensions (Clearance Space)
There are a few different kinds of fan, each with different dimensions that require different clearance. Some CPU coolers are low-profile designs that need very little clearance. They won't block RAM slots or rest too close to the case wall.
Other designs like dual tower fans are very efficient but incredibly bulky. You'll need to take accurate measurements of the clearance space in your case before buying one.
Volume
You only need to worry about the volume of fan cooling systems as liquid loops run very quietly. Generally speaking, if you've got loads of fans running at high RPM, your CPU will be feeling fine, but your case is going to sound like a jet engine.
You can avoid this cacophonous fate by opting for a larger fan that's been specially designed to run quietly. Some may even feature automatic fan stop technology ensuring they turn off when no longer necessary.
Many gamers use headphones, so noise isn't a huge factor, but if you prefer to use standard audio playback, you should absolutely consider fan running volume.
RGB
RGB stands for red, green, and blue. They're a type of LED lighting capable of emitting millions of different shades by combining different levels of these three primary colors. Sort of the Marmite of the PC gaming world, people seem to either love them or despise them. Here at WePC, we subscribe to the former.
Fans with RGBs allow you to customize your case and give it a bit of personality. By syncing your RGB peripherals, you can create mesmeric light sequences that can make gaming even more intense and enthralling.
Final Word
In our humble opinion, the NH-D15 is not just the best air cooler for the job, but the best cooler in general, but don't just take our word for it. It only takes a quick Google search to find out just how revolutionary this fan has been. It's quite literally a game-changer.
That said, if all you like to hear are the screams of your vanquished foes when you game, the Kraken is a little pricey, but so quiet, if it wasn't for the LCD screen, you'd forget it was even there.
For those looking for liquid at a lower price, get the Corsair Elite. There's no question about it. It's quiet, incredibly effective, and satisfies the RGB sweet tooth to the fullest extent.
We'd say the Dark Rock is the minimum requirement for pushing the i9 9900K, but if you just want to be able to get by and enjoy your CPUs stock settings, you can't go wrong with our budget-friendly Hyper 212.
---