The Best GeForce RTX 2060 Graphics Cards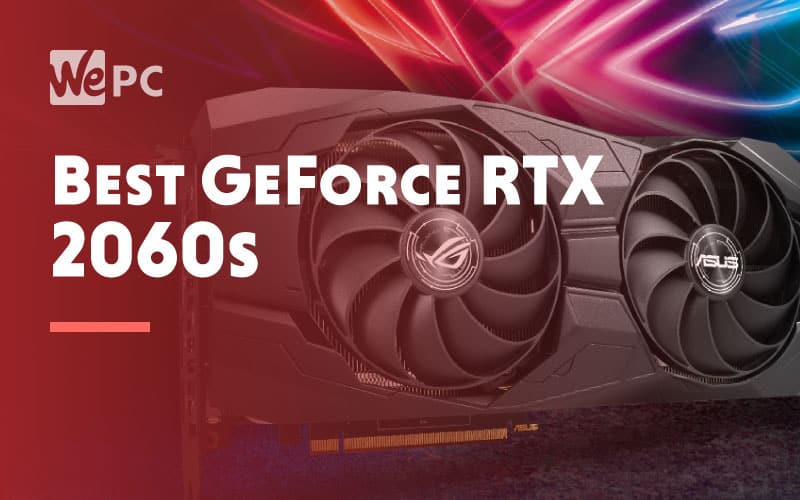 If you are looking for a graphics card to help push your games to the next level, the GeForce RTX 2060 delivers some pretty impressive performance for its price. 
As with all graphics cards, there are a lot of different aftermarket solutions available to choose from. This can make it very difficult to decide which one is best, especially with each of them listing different cooling solutions and clock speeds. 
We've created this comprehensive guide to help you choose the best RTX 2060 graphics card as well as to understand some of the technical speak the manufacturers use.
How We Choose The Best Graphics Cards
When we're looking for the best components for our build guides, we like to have a good look at them first. Whether this is a CPU, graphics card, or even a keyboard, it's not an easy task. 
Only after hours of product research, testing and benchmarking are we confident in recommending a product. A lot of people don't have the time and resources to do this when designing a new build - that's where we come in!
At WePC, we have a team of tech enthusiasts that take care of all the hard work for you, bringing you detailed and most importantly, researched reviews for products.
We try to avoid recommending products that we haven't tested first ourselves. In order to make sure that we produce the best build guides, we like to take a look at multiple options in each category. 
Most of the products we write about and recommend here at WePC have been through a strict testing process that looks at everything ranging from performance to price. We like to push each product to the limit when testing and benchmarking because we know that's what our users will do!
Only by doing this can we be confident in the products we recommend. Doing this enables us to give accurate reviews that help you decide whether the product is a worthy investment.
When looking at the aftermarket models available we like to take a look at the following things to see how they weigh up. Each card will have a different set of pros and cons, usually taking shape in the form of VRAM, clock speeds, and cooling solutions. 
In a competitive graphics card market, it's important to understand both how a product works and what you should be looking for. Saying this, let's take a quick look at some of the things you'll want to consider.
Obviously, price is at the forefront when it comes to creating a new build. It's easy to look at reviews and decide what you want to include but it still has to fit into your budget. 
If you're looking at purchasing an RTX 2060 you'll notice it isn't the cheapest graphics card out there. Unfortunately, more performance usually comes with a higher price tag!
When looking at the performance of a card you'll want to have a general idea of what you'll be using it for. If you're only looking to game 60 FPS and a 1080p resolution, the RTX 2060 will easily handle this, but so will plenty of cheaper alternatives.
If you are looking for a card that can push titles to the limit and want to start upping the resolution to 1440p and beyond, that's where you'll have to pay a bit extra. It can come to a point where your money is seeing diminishing returns when it comes to performance, be sure to compare the RTX 2060 with other cards to check you're getting a good deal.
Be careful to make sure that the rest of your build lives up to the performance of your GPU. There's no point having a card that can push settings to ultra if you're only able to afford 4 GB of RAM. There's nothing worse than having a build that's bottlenecked by other components.
We'll tend to spend a lot of our time focusing on cooling solutions when comparing aftermarket products. This is usually where the main differences between cards in the same line come from. 
With each manufacturer offering a different cooling solution it can be hard to decide which to choose. As long as you are going to be running the card stock, the cooling included by the manufacturer will be adequate for the card. 
If you are going to be overclocking however, you might want to look into an aftermarket solution as your running temperatures will be a lot higher.
When it comes to size, we'll be talking about the physical dimensions of the graphics card. 
At this stage, you may be looking at your empty case and thinking, "anything I buy will surely fit in there". Be warned though, some of the higher-end GPUs with extravagant cooling solutions are often larger than standard models.
You may want to take a tape measure and just double-check the room you have to work with before committing to a card.
When we get down to the reviews there may be some terms you're not sure of. We want you to be able to take as much from these reviews as possible so we're going to include a quick 'jargon buster' section before we move on to them. 
If there's anything you're not sure about, be sure to drop us a quick comment below and we'll respond as soon as possible.
The main selling point of these cards will be the clock speeds that they can achieve. This usually comes in two forms, the base clock, and the boost clock. The base clock is what each card will be able to achieve out of the box and the boost clock is what you can potentially overclock it to - more on this later. 
The clock speed is simply the speed in which your microprocessor can perform each instruction sent to it. Each GPU can be clocked at slightly different speeds and while it may be easy to think that a higher clock speed equals greater performance, there are other factors to take into account such as the card's onboard memory.
When we talk about VRAM we are talking about the amount of video RAM (random access memory) the card holds.
VRAM works in the same way as the RAM does in your system. It stores any data that your graphics card may need to access at any time. The higher the capacity you have in VRAM will result in more access to data without having to use the CPU. 
When running games that have a higher resolution you'll likely need more VRAM to help with the workload. Thankfully, the RTX 2060 comes with 6 GB of VRAM which helps ease the workload.
We mentioned overclocking in the clock speed section when talking about performance. Overclocking simply refers to the act of pushing the clock speeds higher in order to gain more performance. 
This is great for squeezing every last bit of performance out of your card but you'll want to make sure you have an adequate cooling solution as this will push temperatures higher than usual.
The Best GeForce RTX 2060
Now we've got some of the key terms and things to look for out of the way, it's time to take a look at some of the best GeForce RTX 2060 offerings available.
ASUS ROG Strix GeForce RTX 2060 EVO
The ROG cards are usually the favorites for PC enthusiasts around the world and for good reason. This card comes in with a clock speed of only 1680 MHz but with the ability to overclock to 1710 MHz. While this isn't the highest on the list, it does come with more customization options than some of the other cards. 
You have the ability to run a dual BIOS with this card, which is a feature a lot of us are looking for these days. The ability to run in a 'quiet' mode also makes the card use a less aggressive fan curve for quieter operation at medium temperatures.
If you want one of the best RGB experiences available, the Aura Sync allows the many RGB LED strips to light up with a number of different effects, including breathing, strobing, and even matching the color of your GPU temperature. Also included is a stealth mode that has a physical button that can be pressed to turn off the lights completely. 
The Axial-tech fan design is the latest iteration of cooling for top-end ROG graphics cards. These fans make use of a smaller hub with longer blades to increase downwards air pressure. Like other cards on this list, they will also shut off completely once temperatures are low enough. 
EVGA GeForce RTX 2060 XC ULTRA BLACK GAMING
Clocking in just a little bit lower than the ROG offering, the EVGA RTX 2060 focuses on its cooling solution to get the most out of the card. An improved baseplate, heatsink, and fans help keep temperatures low throughout. The heatsink features up to 58% more 'fin area' to allow for better heat dissipation throughout. 
The XC ULTRA card is a little bit longer than others on this list, so be sure to check it fits into your case. This allows for a better airflow at slower speeds when using two fans. If you are looking for more horizontal space, check out the XC version of this card.
Gigabyte AORUS GeForce RTX 2060 XTREME 6G
Coming in with the highest clock speed on our list, the Gigabyte AORUS GeForce RTX 2060 lives up to its XTREME branding. While this can be further overclocked, the speed you get straight out of the box means you'll likely have no issue with performance.
The Windforce stack cooling system is Gigabyte's way of making sure this card runs at the lowest temperature possible. Using three 100mm stack fans that spin in an alternating pattern helps to solve the problem of turbulent airflow seen in cooling systems. These fans will also idle when temperatures are low enough, so you get the quietest gaming experience possible. 
If you want to add a bit of color to your build, this GPU comes with RGB Fusion 2.0 that allows you to choose from 16.7 million color options that light up the LED X in the middle of the card.
MSI GeForce RTX 2060 GAMING Z 6G
MSI's offering comes with an impressive 1830 MHz boost clock as well as their Twin Frozr 7 thermal design to keep the card as cool as possible. The TORX fans use dispersion fan blades to accelerate the airflow around the card, increasing the effectiveness.
This card also comes with its own variation of RGB lighting, which is controlled by the Mystic Light software. There are a number of RBG effects to choose from, including rainbow, breathing, and flashing. 
This is altogether an impressive looking card with a stylish brushed steel backplate stamped with MSI branding on. The rest of the card is finished in a gunmetal black and grey, which is accentuated by the RGB sections.
That's all the cards we have for you today. While we haven't covered every card out there, these are the top models from some of the better-known manufacturers. 
We know it can be an extremely stressful task picking out a new graphics card for your system. We recommend comparing the models available to the type of games you wish to run and reading multiple reviews. 
Out of the cards we looked at, we quite like the Gigabyte AORUS GeForce RTX 2060 XTREME 6G for its higher clock speeds and impressive cooling solution. It also includes a bit of RGB as well if you want to add some color to your build.