Are you looking for the best Intel motherboard of 2022? Maybe even the best Intel motherboard for gaming? Well then, you came to the right place, We've done all the research into Intels finest chipsets to find the best motherboard for you. Motherboards play an integral role in today's PCs, in every PC in fact. Motherboards are not just limited to gaming PCs and high-end workstations, you'll be hard-pressed to find a PC that does not contain a motherboard.
The motherboard is the foundation of the computer and it's the component in which the whole system is built, the motherboard or (mainboard) as it's sometimes called serves as a bridge between the components in the PC ensuring all components operate in perfect synergy. And in this case, we're looking at all the motherboards that support Intel processors.
Whether you fancy taking a Z690 by the horns or saving some cash on a B550, we've done all the hard work for you. With Intel just releasing it's 12th gen CPU and 600 series boards accompanying them we have plenty of motherboards to choose from.
Are you looking for the best 12th gen Intel motherboard? We have an article for that.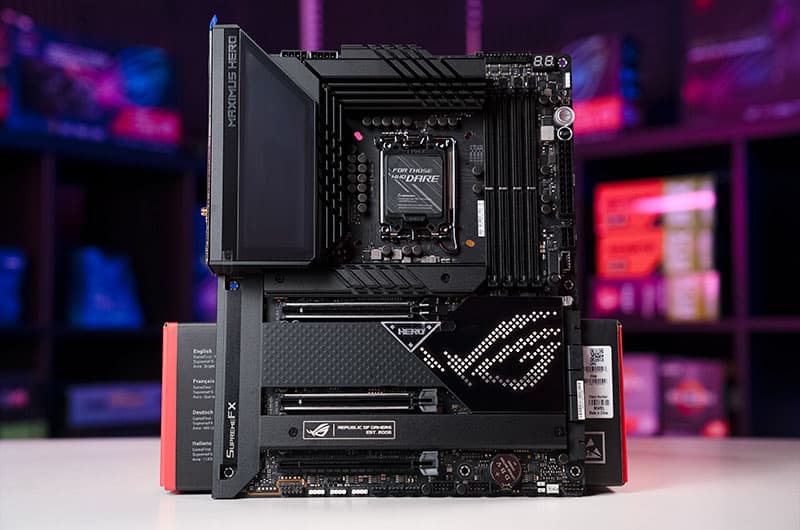 The best Intel motherboard
ASUS ROG Maximus Z690 Hero WiFi
Enthusiast Intel motherboard
GIGABYTE Z690 AORUS Master
ROG Maximus XIII Hero Z590
How We Choose

The recommendations we have here are considered the best Intel motherboards for Intel CPUs alike and have been hand-selected to bring the best out of your chosen processor. Firstly, we conducted a thorough search to discover which motherboards gamers tend to prefer while trying to balance those with the highest reviews against those with the lowest price tags.

How We Test

We like to get hands-on with all the hardware we recommend, testing the products is a huge part of our overall selection process and it is a way we can be sure that a specific option is the best for the job.
Products must pass our testing which is largely a lot of gaming, with some other boring stuff but most if not every recommendation will have gone through a strict testing process.
With motherboards regardless of the chipset, we need to assess build quality, performance, and finally, value.
Things to consider

It's important that you ask yourself what exactly you need your motherboard to do, most motherboards are all assembled in slightly different configurations to allow themselves to cover all consumers bases. Think about what your needs are, are you going to be doing much video editing? Or are you going to be gaming? What devices are you going to have connected to your PC?

Once you ask yourself these questions and figure out a firm use case for your PC in general you can then select a motherboard you feel comfortable will suit all your needs. If you're an avid gamer then maybe you want a board with some better more refined overclocking support, if you're a content creator you might want a motherboard with more onboard USB slots.

We've made it a little easier navigating these uncertain waters and given you an idea of what you'll need to look out for when selecting a motherboard.

Different chipsets

There are many chipsets to choose from when taking motherboards into consideration, and that's especially true when referring to Intel boards.
All of these choices can be a little overwhelming when aiming to acquire a new motherboard, especially if you don't know what a chipset is or what it does.

Chipsets can be complicated in operation but understanding what chipsets are can be quite simple when you know what to look for. Chipsets have a hierarchy in place, categorized by letters and numbers. Very simply put the higher the number the better the chipset, these numbers are also accompanied by a letter.

The intel chipset hierarchy is as follows.

Z – Best, aimed at enthusiast PC builders.
H (70) – Median, aimed at mainstream PC builders.
B – Median, aimed at mainstream PC builders.
H (10) – Worst, aimed at budget PC builders.

Intel recently introduced two levels of H board, the H board followed by a '70' is the mainstream option. The H boards followed by the number '10' are the lowest budget boards.

For example, the H570 is better than the H510 and the Z690 is better than the Z490. the first number represents the generation and the second two numbers represent the iteration of the board in that generation. The higher the second number the better the board is in that generation.

For example, in the 500 series of intel boards, there were 4 iterations.

H510 – worst, least features.
B560
H570
Z590 – best, most feature-rich.

Please note: When we say worst we do not mean bad, it's just a comparative term. It is the worst of the set, supporting fewer features.

The main difference between all of these chipsets is outlined by how many features the chipset can support or how fast the buses are that support those features. The chipset contains a small controller that manages devices and the hardware in your PC, and the number of devices the chipset can support is limited by the chipset itself.
For example, a Z590 will be far more feature-rich than an H510 and will be considerably more expensive. The Z590 might have integrated VRM heatsinks, support 8 USB ports and have 3 PCIe 4.0 slots. The H510 might have no VRM heatsinks and only support 3 USB ports and only 1 PCIe 4.0 slot. Same generation but fewer features. This is an incredibly rudimentary example but it serves its purpose well as an example. The real logistics are far more complex and the exact same can be applied to AMD boards also.

Form factor

The form factor of a motherboard is something you will need to consider as "form factor" refers to the literal size of the motherboard. Whichever way around you have purchased the components, you need to make sure that your motherboard fits in the case you have on hand ready to house your Intel based powerhouse.

There are a few different motherboard form factors that all have different dimensions, the list is as follows.

Mini – ITX | 6.7 x 6.7 Inches
Mini – ATX | 5.9 x 5.9 Inches
Micro – ATX | 9.6 x 9.6 Inches
ATX | 12 x 9.6 Inches
eATX | 12 x 13 Inches

Fun fact – Intel released the first-ever ATX board way back in 1995. Since then it has been considered the 'Standard' motherboard form factor. Some motherboard form factors such as an ITX may have fewer features, but that's a compromise that you will have to make if you are looking to build a small system. The smaller something is the less room you have to populate with features.

Socket

"What actually is a socket?" we hear you say. A socket refers to the CPU socket situated on every motherboard. The CPU socket is the component on the motherboard that houses the CPU, for this guide we're only going to be concerning ourselves with what is considered 'intel' sockets, (LGA1200, LGA1700)

A CPU socket is like a shape that only a CPU matched to a corresponding socket will fit into. An i9-12900k belongs to the socket LGA1700 and will only fit into a motherboard attributed with the same socket LGA1700.
A really easy way to check what socket your Intel CPU is is just to google it, but below will be a short list of the most recent Intel CPUs and the socket they belong to.

Intel CPU and socket type

LGA1700 – Alder lake

Celeron – G6900T, G6900, G7400, G7400T
Core i3 – 12100T, 12100F, 12100, 12300T, 12300
Core i5 – 12400T, 12400F, 12400, 12500T, 12500, 12600T, 12600, 12600KF, 12600K
Core i7 – 12700T, 12700F, 12700, 12700KF, 12700K
Core i9 – 12900T, 12900F, 12900, 12900KF, 12900K

LGA1200 – Comet lake

Celeron – G5900, G5900T, G5905, G5905T, G5920, G5925
Pentium Gold – G6400, G6400T, G6500, G6500T, G6600
Core i3 – 10100, 10100F, 10100T, 10300, 10320
Core i5 – 10400, 10400F, 10400T, 10500, 10500T, 10600, 10600K, 10600KF, 10600T
Core i7 – 10700, 10700F, 10700K, 10700KF, 10700T
Core i9 – 10850K, 10900, 10900F, 10090K, 10090KF, 10900T, 10910

What is meant by "Intel" socket?

When we refer to a socket as an "Intel" or "AMD" socket, we don't actually mean that those sockets specifically are theirs, as both companies have several different socket types under their belt. What we mean is a socket that fits "X" brand of CPU into it.

Memory

Ensuring you have selected a motherboard that supports or will support your RAM of choice is imperative, as you don't want incompatibilities affecting performance or wasting your hard-earned cash.

You need to take into consideration the motherboards rated memory speed sometimes called "Memory support" and you need to make sure you obtain memory that falls within the limit stated on the motherboard. If you obtain RAM outside of the motherboards RAM compatibility speed then your RAM will default to the highest speed it can possibly perform on the board it's connected to. This will force the RAM to perform at a slower rated speed, diminishing its value.

RAM speed isn't the only factor when choosing a motherboard, you also have to consider the motherboards RAM capacity.

Certain motherboards, especially those of smaller form factors sometimes trim down the number of RAM slots to save on space, this means that a great number of ITX motherboards only support 64GB of RAM.
Because of this, it's especially important when opting for a smaller build that you ensure your motherboard will support not only the amount of RAM DIMMs you have but the density of each DIMM too.

Double-check your motherboard supports the amount of ram you wish to install to your PC even if its a full ATX board, some of them cap out at 128GB while others exceed this.

PCI/PCIe slots

There are two types of expansion slots on a motherboard, PCI and PCIe. (PCI Express) the PCIe slot is a larger and faster version of the small PCI slot. All motherboards ship with a number of these expansion slots and they serve a very important role.
These expansion slots are where you will seat your precious GPU, however, GPUs arent the only occupants of expansion slots, there's a plethora of expansion cards that can accommodate a PCI or PCIe slot.

Some examples of additional expansion cards are:

WiFi card
Capture cards
USB expansion cards
High-end sound cards
NVMe expansion card

For average use case and gaming, two PCIe slots should suffice, it's incredibly rare you'll ever need more than two as SLI isn't making a comeback anytime soon. Unless, however, you're looking to add more storage or functionality to your gaming rig with a fancy expansion card.

Most motherboards ship with integrated sound chips that negate the once necessary sound card installation, however, if you're in the music profession you may still want to consider this option, if you're a gamer or streamer then maybe you want to leave a PCI slot open for a capture card. It's important to put some forethought into your components and pick up a motherboard that's going to enable you to work your industry/niche.

This mentality applies to all expansion cards, we're certainly not saying you head out and pick yourself up a WRX80-SE-SAGE that comes equipped with a massive 7 PCIe slots, we're just saying you need to put some thought into your components and more importantly the motherboard that's going to be supporting them.

There are a few more advanced issues you may run into when selecting a motherboard such as bandwidth and saturation, be mindful when you use cards like expansion cards not to overload the bus you're connecting them to. For example, if you have four M.2 MVMe SSDs in an M.2 expansion card then you may run into some speed issues should you try and access more than one of those cards at once.

Think about it in terms of traffic, because essentially it's a similar situation. If you have four cities connected to one highway and two or more of those cities are sending cars all at once, things are bound to slow down.

With all that hardware installed onto your motherboard, it's important that you keep things cool for fear of turning your computer into the words fastest space heater.

Fan headers

Fan headers support the operation of cooling components such as fans, AIOs and in some cases, small pumps. The more fan headers you have soldered onto your motherboard the better, as with anything, make sure, especially when opting for a smaller form factor motherboard that you have enough fan headers to supply adequate cooling. Smaller form factor motherboards sacrifice a lot of features to save space and fan headers are certainly one of them, be mindful of this before you buy.

If you're planning on assembling a small power plant of a PC, the kind of PC that boasts the latest and greatest hardware then you're going to need to make sure that you pick up a motherboard that will not only support all of these powerful components with excellent VRM integration and power staging but with adequate cooling potential to.

Increasing a PCs power increases its TDP and the higher the TDP the more powerful of a cooling solution you need to dissipate all that heat. Having more fan headers on your motherboard will ensure that you have enough cooling potential to support such a beastly system. Another factor affecting cooling is overclocking.

VRM cooling, good power phases and plenty of fan headers is a recipe for success when keeping a ramped-up system from turning up the heat. Overclocking causes massive temperature spikes when paired with inadequate cooling so it's imperative that you make sure your cooling capacity is up to scratch before making an attempt.

If you do not wish to overclock however and you're building a PC on the more tame side of the performance chart then fan headers can be lower on your list of priorities. However, it's always a good suggestion to leave room to upgrade in all areas when building a PC and cooling capacity is no exception.

ASUS ROG Maximus Z690 Hero WiFi
GIGABYTE Z690 AORUS Master

ROG Maximus XIII Hero Z590

Asus Z590 TUF GAMING Z590-PLUS WIFI

ASUS ROG Strix Z690-I Gaming WiFi
The best Intel motherboard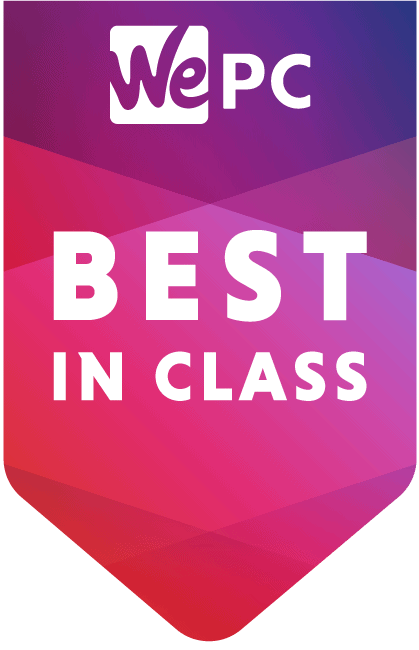 ASUS ROG Maximus Z690 Hero WiFi
Less power stages than more premium boards
The ASUS ROG Maximus Z690 Hero WiFi is one of the best options on the market currently and it certainly is a fantastic option and more than makes up for what it lacks in Ethernet bandwidth and power stages.
The ASUS ROG Maximus Z690 Hero's design is much different from the Hero boards we're used to seeing, sporting incredible personalisation potential with the polymer lighting I/O cover and additional fully customizable RGB lighting. The Z690 Hero comes equipped with 20+1 power staging and intelligent control, which is ASUS' Ai overclocking feature packed full of performance and almost unrivalled in today's industry.
Cooling on the ASUS ROG Maximus Z690 Hero is headed by the aluminium heatsink and large integrated aluminium I/O cover. M.2 cooling is covered by large thermal pads to increase contact surface area, three heatsinks and two backplates to dissipate all that heat generated by super fast storage.
There are a plethora of additional features that matter for everyone whether they are a gamer or not. Full PCIe gen 5 support, DDR5 support up to 6400Mhz, dual thunderbolt 4 ports and a fully-fledged ROG hyper m.2 card, giving you connectivity where you need it the most.
Enthusiast Intel motherboard
GIGABYTE Z690 AORUS Master
20+1+2 Direct Digital VRM Design
The GIGABYTE Z690 AORUS Master is certainly one to keep in mind when shopping for your next best intel motherboard, with price aside the Aorus Master is irrefutably one of the best choices on the market for the most avid PC enthusiast.
The design of the GIGABYTE Z690 AORUS Master is much improved over the previous generation, bringing a dashing, aggressively beautiful I/O cover and matching heatsink. Featuring an incredible 20+1+2 Direct Digital VRM design making power delivery much cleaner and more efficient, it's hard to see why you wouldn't overclock on this board.
The thermal 'reactive' armour uses nano-carbon fins to vastly increase the cooling potential of the thermal armour aided by the direct touch heat pipe and a nano-carbon backplate.
The GIGABYTE Z690 AORUS Master supports the all new DDR5 RAM up to speeds of 6600Mhz, this motherboard allows for some serious speed.

ROG Maximus XIII Hero Z590
Impressive Power delivery
The Asus ROG Maximus XIII Hero Z590 is a fantastic motherboard, packed full of quality features on the LGA 1200 socket type.
With the ROG Maximus XIII Hero, we see an incredibly spacious layout, plenty of thermal armour and an impressively stylish design visually. The robust power delivery solution consists of 14+2 power stages with larger VRM heatsinks to keep the power up and the temperature down.
The aesthetics of the ROG Maximus XIII Hero are stunning with it's incredible PCIe armor and beautiful integrated aluminium I/O cover. It's certain this motherboard is meant for the most serious of gamers or avid enthusiasts.
The features don't stop there, the armour of the board combines beautifully with Asus' signature ROG RGB lighting we've all come to love. Some more notable features of this motherboard are PCIe 4.0 Thunderbolt 4, and Wi-Fi 6E, delivering connectivity wherever you may need it.
Best last gen enthusiast Intel motherboard

Asus Z590 TUF GAMING Z590-PLUS WIFI
The Asus Z590 TUF GAMING Z590-PLUS WIFI has upped its game recently with a new iteration of one of Asus' favoured motherboards. This latest design not only looks stable, rugged and well built but it has that signature look and feel of a TUF board that screams industrial quality.
The Asus Z590 TUF GAMING Z590-PLUS WIFI now ships with a much update power delivery method and 16 DrMOS power stages kept cool by an enlarged aluminium heatsink enabling more intense power delivery without sacrificing thermal performance.
Now supporting DDR4 memory faster than ever before at 5133MHz you'll blaze through anything thrown at your PC when it's built upon the Asus Z590 TUF GAMING Z590-PLUS WIFI.
On top of all these amazing features we have PCIe 4.0, USB 3.2 gen 2 and Thunderbolt 4 connectivity, Furthermore, this board comes with Wi-fi 6 and a 2.5 Gb ethernet port.
Best Intel ITX motherboard

ASUS ROG Strix Z690-I Gaming WiFi
2x Thunderbolt 4 USB Type-C
Less power and features than ATX models prices similarly
The ASUS ROG Strix Z690-I Gaming WiFi is definitely one of the best mini-ITX motherboards on the market, it's well designed, reliable and, full of features.
The z690-I comes equipped with DDR5 RAM support and PCIe gen 5 but also with two fully-fledged Thunderbolt 4 ports. Power delivery is handled by an amazing 10+1 power stages on an ITX board, it could be better for this price point but again impressive it's packed onto an ITX board. With that in mind, it's still an incredible feature-rich motherboard. Thermal design has been improved drastically with an integrated I/O cover and enlarged VRM heatsinks that feature high-conductivity thermal pads to keep unwanted high temperatures at bay.
This motherboard also supports HDMI 2.1, in addition to high fidelity audio. This small board means business.
Shopping for a motherboard the best Intel motherboard and best Intel motherboard for gaming in 2022 can be an often somewhat stressful task, brewing dread in the heart of any novice PC builder, but fear not. Armed with the knowledge of this article you now know how to properly select a motherboard to suit your needs and integrate it perfectly into your rig in terms of size, features and functionality.
Motherboards are an essential component of any PC, they're the very foundation of PCs as we know it. So it's imperative you choose the right one for you. Select the correct form factor to suit a specific size, select the correct chipset for your shiny new central processing unit and even the correct amount of PCI/PCIe expansion slots to suit your industry/niche. All results of you first asking yourself "what do I need from my motherboard?"
Hopefully now after perusing our top five picks for best Intel motherboard 2022, you found a motherboard that suits your style, needs and use case. Hopefully, as we come to the end of the article we managed to cover all of your bases and answer all the questions you quietly ponder. Happy building.