Top 5 Best Ultrawide Gaming Monitors of 2020 (120Hz, 144Hz, 240Hz, 4K, G-Sync & FreeSync)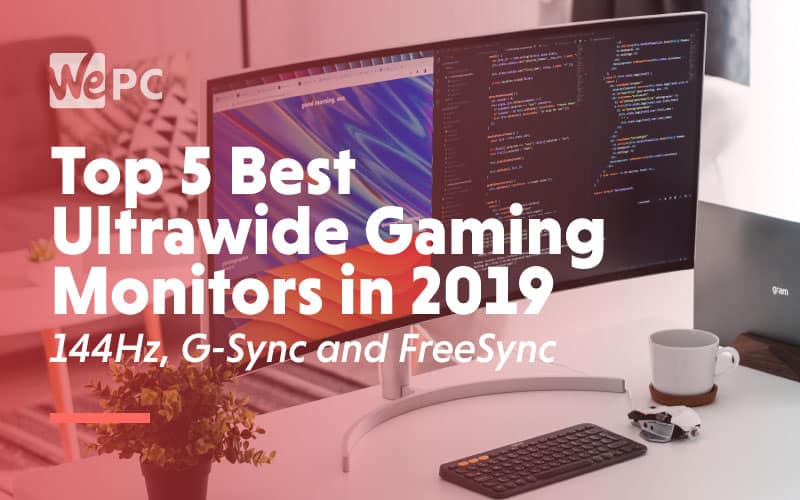 We've seen ultra-wide gaming monitors increase in popularity exponentially over the last couple of years thanks to technology advancements now allowing us to fully utilize their services. A lot of interest for ultra-wide monitors has come from the dual monitor user community who previously needed 2 screens to accommodate their specific work/gaming needs. However, with 21:9 aspect ratio and 3440 x 1440 higher resolution now all bundled onto a 34" screen, the need for dual monitors is no more.
There are some fantastic benefits to the new ultra-wide monitors which is why they've become such a fan favourite amongst the gaming community. Decent refresh rates, solid response times and wide colour gamut's are all available in most of the newly released panels which boast a much higher immersive experience than regular gaming monitors or curved monitors.
Below we've put together a buyers guide on, what we believe are, the best ultra-wide gaming monitors available in today's market. Each of them has been custom picked with gamer's in mind and have their own specific pro's and con's.
Let's take a brief look at the contenders.
Best Ultra-wide Gaming Monitors
Product
Details

Dell Alienware AW3418DW

size: 34.1"
refresh rate: 120Hz
response time: 4ms

Check Current Price

LG 34GK950F-B

size: 34"
refresh rate: 144Hz
response time: 5ms (GtG at Faster), 1ms MBR

Check Current Price

Acer Predator Gaming X34P

size: 34"
refresh rate: 120Hz
response time: 4ms

Check Current Price

ASUS ROG Swift PG27VQ

size: 27"
refresh rate: 144Hz (OC to 165Hz)
response time: 1ms

Check Current Price

BenQ EX3501R

size: 35"
refresh rate: 100Hz
response time: 4ms

Check Current Price
Above are the top 5 best ultra-wide gaming monitors and have been selected based on a number of different factors such as refresh rates, response times, price and features. We update our list regularly to make sure what we recommend is both up-to-date and relevant.
So, you've seen the products, now lets see how they perform in the testing studio.
#1
Dell Alienware AW3418DW
PROS
Supports G-sync technology
IPS Panel with 120Hz (Overclocked)
Zero lag with some cool additional gaming features
Some of the lowest response times we've seen on benchmarks
CONS
Contrast ratio on the low side
Expensive
The Dell Alienware AW3418DW has got to one of the best gaming monitors I've used in a long time. 3440 x1440 ultra-wide resolution, 120hz Refresh rate and 4ms all wrapped up in a stunning IPS panel make this monitor our best ultra-wide gaming monitor this 2019.
The first thing that struck me with this monitor was how good it looks just sat there on the desk. The aesthetic, 1900R curve looks superb and luxurous. The stand looks well built using decent materials and has good functionality with it's ability to move up down, tilt backwards and forwards and swivel left and right.
For such a large monitor you'd expect a fair bit of wobble when gaming with it, this wasn't the case with the AW3418DW though. The stand has been designed in such a way to eradicate any unneccesary screen wobble. Even when forced it was extremely sturdy which is always comforting when it comes with such a high price tag.
Connectivity options are decent in this monitor as it comes equipped with multiple USB 3.0 ports, an upstream port, HDMI and DisplayPort as well. It also has a headphone jack port if you want to plug directly into the monitor.
The display itself is fantastic and provides 99% of the sRGB colour spectrum with a 1000:1 contrast ratio. The brightness is 300cd/m and it has an 8-bit colour depth which when all paired together produce a truly spectacular looking display for both gaming and media viewing.
The monitor comes with G-sync so you won't have to worry about any screen tearing. The display when gaming was really smooth across all the games we tested it on and overall looked hugely impressive.
Finally, no top monitor would be complete without RGB. The Alienware comes with a number of different RGB zones which look superb.
Overall, I found this monitor superb for both gaming and working for long periods of time. The 4ms/120hz specs give gamers a highly immersive experience which they will not be disappointed with.
TECH SPECS
Size

34"

Refresh Rate

144Hz

Response Time

5ms (GtG at Faster), 1ms MBR

Panel Type

IPS

Max Resolution

3440 x 1440
PROS
Supports Freesync technology
IPS panel with 1ms MBR
Brilliant curved aesthetic design
Colours that cover 98% of the DCI-P3 colour space
CONS
G-sync compatible but questionable performance
Expensive
The LG Ultragear 34" 950F is a purpose built ultra-wide gaming monitor that has a bunch of cool features and benefits such as a super quick refresh rate and a brilliant IPS panel.
The 34GK950F falls short of the alienware as an overall product, however, in terms of performance, LG's offering is at the top of our list. The panel is a nano cell technology display which inevitably increase colour depth and vividness. It's refresh rate is an impressive 144Hz which rivals some of the best gaming monitors currently on offer. Super quick 1ms response time creates a smooth overall gaming experience with almost zero ghosting in the most extreme of settings.
Connectivity is good with several options which include dual HDMI, 2 USB 3.0 ports, headphone jack and Displayport. The stand is extremely sturdy and is very easy to set up out the box. The monitor did wobble slightly but nothing out of the ordinary.
We tested this monitor across a number of different games and found it to be extremely pleasing for both long and short sessions. Gameplay was really smooth and colours seemed decent and not overpowering in terms of brightness and vividness.
The look of this monitor is probably not as appealing as the Dell but it still looks fantastic on the desk.
It was a tough decision choosing between these two displays for the best ultra-wide gaming monitor, but ultimately, either monitor is going to make a fantastic addition to your gaming setup.
#3
Acer Predator Gaming X34P
PROS
Supports G-sync
IPS Panel with 120Hz Refresh rate (Overclocked)
Very low lag
Good response time in testing
CONS
Stand could be more functional
Expensive
Acer have come a long way in the last few years and have now bridged the gap between themselves and top brand monitor manufacturers in the quest to provide the best display possible.
The Acer Predator X34 is one of the best looking monitors in this list, only beaten by the Alienware above. They have altered their design down the years and have finally produced something that looks both cool, luxurious and gamer esq.
The stand looks stylish and has a nice angular design which promotes it's gamer feel. It offers a solid, sturdy base and is easy to setup out of the box with little to no fuss required.
The real draw of this monitor is surely it's spec's though, 34" curved ultra-wide display, 3440 x 1440 high resolution for increased image quality, 120Hz refresh rate and 4ms all combine to create a truly immersive gaming experience. Additionally, the X34 comes with g-sync technology which ultimately makes your overall gaming experience much smoother.
Using this monitor in game was a joy and we experienced absolutely no screen tearing or image stutter. G-sync helped with this aspect. The colours were vivid and very life like thanks to it's wide colour gamut which was best received in the latest AAA game titles and high resolution movies.
Overall a great monitor and one that requires some solid consideration when choosing the ultra-wide monitor which is right for you.
PROS
G-Sync compatible
Can overclock refresh rate up to 165Hz
Responsive (1ms)
The Asus ROG Swift PG27VQ follows suit with top monitors and is packed full to the rafters with features however this one comes with a TN panel. TN panels aren't seen so often these days however this offers the quickest response time. Having a serious amount of top features with a monitor unsurprisingly comes with a top price and this monitor is not short of features. This monitor is a really nice bit of kit with the clear bright images of the large display always looking crisp. The monitor is, of course, G-sync ready with ample connection types to satisfy most but it doesn't feature HDR.

Ok so you are getting a QHD resolution through this 27-inch display and it features ultra-low motion blur too. The G-sync module is a brilliant touch giving gamers the option of tear-free gaming which is much more effective than Freesync. When you pair the G-sync module with the 144HZ refresh rate and fast response time (1ms) you get a great monitor not only for those single player games in ultra settings but also for some competitive FPS titles too!
Out of the box, the colours may not be considered the best but this can be easily corrected and the fact it is a TN panel didn't really seem to matter that much as it will still provide a premium gaming experience regardless. a Good mid-tier card can achieve decent enough FPS with this monitor the overall picture quality is excellent and it is chopped full of features making it a great G-sync curved monitor.
#5
BenQ EX3501R (ultra-wide page)
PROS
Supports Freesync technology
VA panel with 100Hz refresh rate
Supports HDR
Fantastic colours
BenQ have bought another fantastic monitor to the table in the shape of their EX3501R ultra-wide display. The 350, as we'll call it, ticks a load of boxes when it comes to choosing a gaming monitor and gets itself into 2 of our best of guides.
It's the largest monitor in the list at an impressive 35" and comes with a bunch of gamer related features and benefits. Let's discuss the design first.
Looking at this thing on the desk, the first thing you think is how big it is, but upon switching it on, you almost forget about it's size as you get sucked into it's immersive quality. The design is sleek, stylish and well built by the feel and sturdiness. The monitor was easy to put together out the box with minimum to no fuss.
The refresh rate of this monitor comes in at 100Hz which, as far as a gaming monitor is concerned, is considered to be on the low side. However, it is a huge step up from other monitors in it's price range which have 60Hz. The response time is 4ms which is more than acceptable from a gaming and movie watching point of view. Unfortunately this monitor does not come with free-sync or G-sync so manually capping your FPS may be your only option if you experience screen tearing.
You get 2 HDMI ports and a single DisplayPort with this monitor along with additional USB 3.0 ports and an audio jack. The VA panel which this monitor is designed with does a great job at producing rich, life like contrast in game and helps boost it's immersive qualities. Even though we believe VA to not be as advanced as IPS it is still a great choice for a gaming monitor.
Ultimately, the EX3501R is not the best in our list, but is a worthy contender at a cheaper price point than some of the others whilst still offering decent refresh rates, response time and image quality.
How to Choose the best ultra-wide monitor?
Selecting the correct monitor for your specific needs and requirements can be a stressful experience. Fear not though, our team have tried and tested the best ultra-wide gaming monitors in today's market to make the choice much easier.
Below we have listed the key areas that need consideration when looking to purchase a gaming monitor:
Screen resolution, in a nutshell, is how many pixels can be displayed at any one time on the monitor in reference. As a general rule, the image quality of a higher resolution monitor will be far greater than that of a lower resolution monitor. So, to put that into context with ultra-wide monitors, higher resolutions mean more information on the screen and crisper images overall. However, be aware, these resolutions will be much more taxing on your PC's GPU.
Resolutions in ultra-wide monitors vary from 2560×1080, 3440 x 1440 and 3840 x 1600 (better known as 4k). Each one will perform differently within real world gaming situations so making sure the screen resolution matches your PC's performance is an area which could save you hundreds of dollars respectively.
Ultimately, choosing the right screen resolution for your needs is going to come down to budget and PC specifications. If you can accommodate for both these factors, you're laughing!
As most will probably already know, aspect ratio is a proportional measurement between an images height and width. In monitors, aspect ratios vary depending on the shape of your display and allow consumers to decide whether that monitor is right for their needs.
Common aspect ratios include:
4:3
16:9
21:9 (Ultra-wide)
If your looking to buy an ultra-wide display, specifically to serve as a gaming monitor, it's worth making sure the games you're looking to play can accommodate the wider aspect ratio. If not, you'll find your viewing experience tarnished by black dead space either side of the display.
Many modern game titles will support these wider ratio's but it's always worth checking before making a purchase.
Refresh rates & response times
If you're a gamer, you'll fully understand the importance of both these factors and how they impact your gaming experience. However, for those that don't, we'll start with refresh rates.
Refresh rate is a measurement of how many times your screen refreshes it's image per second. Modern monitors have rates between 60 and 240 and are measured in hertz. This is particularly important for gamer's as a low refresh rate can produce what is commonly known as screen tearing.
Screen tearing occurs when your GPU sends more frames per second to your monitor than it can handle, producing 2 images in one refresh. To combat this, you either cap your FPS to the refresh rate of your monitor or buy a monitor with a higher refresh rate which matches your FPS. However, you can see how this could be problematic if you need to decrease your FPS.
G-sync and free-sync are technologies that have been incorporated into new monitors to help reduce the effects of screen tearing.
Response time is a measurement of how fast your monitor's pixels can display a change from black to white, and back to black again. It can also be measured in GTG, (Grey-to-grey) which refers to how fast your monitor can change from one shade of grey to another.
Milliseconds are the standard form of measurement for response time and can vary from anything between 8ms to 1ms. As you've probably worked out by now, a lower response time is much better than a higher one.
So, how does this affect me as a gamer? Good question.
Longer response times can result in display ghosting which is where you can see the remains of trails from a moving image because your pixels took too long to change. As a gamer, who wants to be completely immersed in their games, screen ghosting is a real problem as they produce quite obvious visual defects.
If you're looking for a great gaming monitor we would highly recommend purchasing a display with 4ms or under to help eradicate any distracting, off putting visual defects caused by screen ghosting.
Panel type can be a little daunting and seen as quite technical by some people, but it's really not. Different panels offers different features and benefits and drastically alter the final price of the monitor in question. It will contribute to the response time and image clarity as well.
TN - Twisted nematic panels have the lowest response times but don't have the best image quality or viewing angles.
IPS - In-plan switching panels have brilliant viewing angles, solid colour reproduction and as a general rule have higher response times than TN.
VA - Vertical Alignment panels are a compromise and mixture of the 2. Not considered the best for gaming but do offer a solid budget option.
Our recommendation when looking at buying a gaming monitor is to stick to IPS as they offer the best image quality and colour reproduction. However, if you're on a budget there's nothing wrong with the VA or TN panels if you find the right one.
That's our break down of the best ultra-wide gaming monitors available in today's market. We tried to provide an option for all kinds of consumers but ultimately if you're looking for the best ultra-wide gaming monitor then you're going to have to pay the price.
The Dell was our stand out, all round favourite but not the highest in terms of raw performance. That crown goes to the LG. The BenQ and Acer Predator offer good, cheaper alternatives but nevertheless are still north of $500.
We feel they're worth it but we'd love to hear what you have to say. Leave us a comment below letting us know your thoughts on our best of guide.