We love a Fractal Design case here at WePC, and today we are going to be looking at their latest edition to the highly regarded Define 7 series – The Fractal Design Define 7 Compact. As you can probably tell from the name, it is a smaller version of the mid-tower we reviewed not so long ago. Now you are probably wondering why bother if we already had a mid-tower option, well, the truth of the matter is, the Define 7 was still a bit big for some.
This is brand-spanking new and comes from a long line of superb Define cases. While the Define 7 original is still my personal favorite, there is something for everyone in this range (nearly). The Define 7 XL caters for those looking to create monster builds, the original has enough versatility for a standard build or an elaborate water-cooled setup and this follows suit, only the size has been compacted, much like the older Meishfy C.
It honestly wouldn't surprise me if Fractal Design has a Define 7 Nano in the making but enough chit-chat, let's take a closer look at this PC case.
Video Review
[mks_col]
[mks_one_half]
Pros
Premium, high-quality case
Spacious, open layout
Great acoustic performance
Tool-free panels and cable management
High-quality dust filters
Very easy to cable manage
Comes with extra top panel for cooling configuration option
[/mks_one_half]
[mks_one_half]
Cons
Expensive
Loses 5.25″ bay
Loses fan hub
Loses dual layout interior
Paying for a top panel you may not use
[/mks_one_half]
[/mks_col]
Specifications
| Case Type | Mid-Tower |
| --- | --- |
| Dimensions (mm) | 427 x 210 x 474 (L x W x H) |
| Materials | Steel, Aluminium, Tempered Glass, Plastic |
| Available Colours | Black, White, Grey |
| Weight | 8.76 KG |
| Front I/O panel | Power Button, Reset Button, USB 3.0 x 2, USB 2.0 x 2, USB Type-C x 1, Audio jack x 1, Microphone Jack x 1 |
| Expansion Slots | 7 |
| Drive Bays | 2 x 3.5"/2.5" + 2 x 2.5" |
| Motherboard support | Mini-ITX, MicroATX, ATX |
| Cooling (Front/Top/Rear) | 3 x 120 or 2 x 140 mm (1 x Dynamic X2 GP-14 included) / 2 x 120/140 mm / 1 x 120 (1 x Dynamic X2 GP-12 included) |
| Maximum GPU length | 360 mm (305mm with a 280/360mm rad at the front) |
Main Features
ModuVent panels

Tempered Glass

Silent Operation

Tool-less
USB Type-C
Inside the Box:
Fractal Design Define 7 Compact PC Case

Accessory Box
The Outside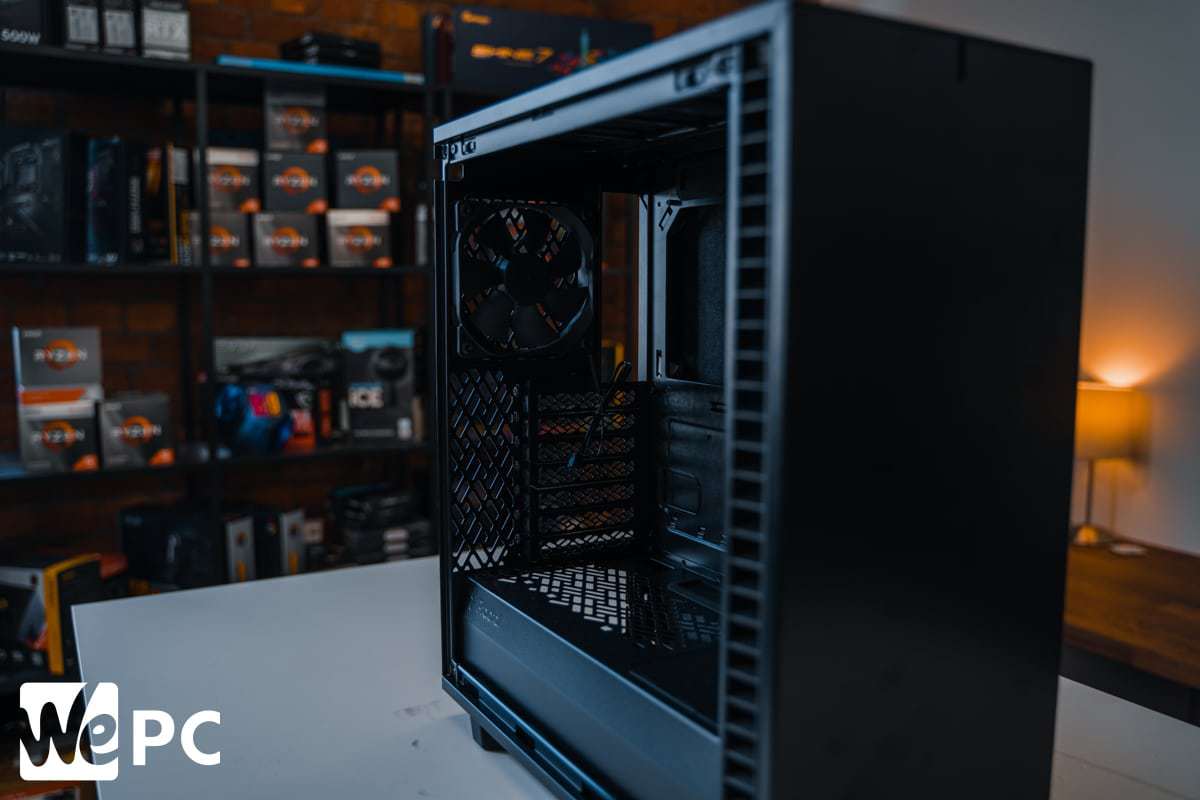 You can instantly see this is a smaller version of the original Define 7 and, if I'm honest, it doesn't make the same visual impact but you can clearly see the quality in one glance. This PC case features that same simplistic approach many love Fractal Design cases for. There is nothing flashy, just clean angles, and a premium finish.
At the front, we see the door has been scrapped although the design still appears like this swings open. The door has been dropped for obvious reasons, it isn't needed. To cut space Fractal has lost the 5.25" drive bay, rendering the door useless, and it's a smart move seeing as many no longer use CD/DVDs.
While there is no door, the front is still a solid panel, leaving the cooling performance at the same level as its bigger brother, average. The Define series has always been built for stealth though, so the industrial padded front panel will do a good job for acoustics and an elaborate fan setup may not be required for your specific build. On the bigger Define 7, there is a filter behind the door, making the clean up of dust buildup a doddle. This case features a similar system on the ventilated sides either side of the front panel. These filters can be removed and cleaned after you have taken off the front panel first.
Just behind the front panel, we see a pre-installed Dynamic X2 GP-14 14mm fan. These fans come with most Fractal Design cases and do a sufficient job for airflow, meaning you can add to this if you want to but there is no need to replace this fan. There is space for two 140mm fans at the front or alternatively three 120mm instead. This may be compact but there is still room for a radiator up to 360mm long. That being said, if you go for a 280 or 140mm rad, be sure to follow the max-width of 145mm from the case specifications to save yourself from any disappointments.
At the very bottom, we see the standard lower dust filter that pulls out from the front. The filter is full length from the front to the back and is one of the best unsung heroes of most Fractal cases. This makes cleaning so easy compared to a lot of the competition simply because it pulls out from the front. Take note case manufacturers that's how you help your consumers.
Rear
A clear cut sign of quality can often be easily seen at the back of any case. The back of the Define 7 Compact is just like the others in the series, solid. There is zero flex anywhere on the back with the sheet metal feeling thick and premium.
The ModuVent upgrade we saw with the original is here too, with Fractal's latest way of removing side panels. The clips you see, simply slide, and pop, your side panel is off. This may sound like the panels will just fall off but the design is clever enough to deal with that and they are on tight so no need to panic when you are removing the tempered glass side. The tempered glass panel features a black tint at the top and bottom to further improve the aesthetics of your finished build. This new way of taking off panels is a welcomed change for me as I have always hated thumb screws, even Fractals large thumbscrews I found a bit irritating and would often just leave them off entirely.
While the original Define 7 features a 7 + 2 expansion slots, this version has been reduced to just seven, so no vertical GPU mounting with this case I'm afraid. At the rear is where we see the final included fan, a 120mm Dynamic fan just like the one at the front and again, it does a stellar job of pumping heat out of the case so no need to replace unless you need the space for a 120mm AIO. Towards the bottom we see the same PSU bracket included with most Fractal Design cases, generally making it easier to install your PSU and another welcomed feature.
The Top
The top is where we see the biggest improvements from the older R6, with the new interchangeable panel design and enhanced look. The ModuVent may technically be an extra panel you are paying for but never using, but for many, this extra bit of versatility is an incredible touch. The ModuVent has always been a nice idea but it looks as though the designers have had another look and improved it tenfold. 
The top now pops off with little force required, making it even easier to switch out your top panel for a different configuration. The top panel that comes attached features the same sound dampening materials we see on the other side panels, so swapping this out will lower the acoustic performance. That is the beauty though, changing the configuration of your case to best suit your acoustic or cooling needs is a breath of fresh air for premium cases.
The top is where we see the front I/O, which consist of:
Power Button
Reset Button
Audio Jack
Microphone Jack
1 x USB Type-C
2 x USB 2.0
2 x USB 3.0
The top panel is completely uninterrupted aside from those I/O ports and looks as clean as the NZXT line of cases. If you switch the top panel for the ventilation panel, it allows this case to support more fans or another radiator at the top. It is perfect for those looking to add an AIO but the acoustic performance will, again, suffer. There is room for up to two 140mm fans or, of course, a 280mm radiator. It is worth noting that if you are going to install anything at the top, make sure it's 40mm and under.
The Inside
As mentioned, to get inside you simply pop off those delightful side panels. It has never been easier (with the Lian Li O11 being an exception) to get into a PC case. While I still prefer the hinged door as we see on the Phanteks Enthoo 719, these side panels really make PC building a lot simpler plus any later upgrades or cleaning sessions that may follow.
As you can imagine the interior is smaller but there is no wasted space, in fact, the default layout feels open. The logical layout can accommodate for motherboards from ITX up to ATX, with E-ATX being left to the bigger models. Dropping E-ATX in a mid-tower makes a lot of sense as it was always going to feel cramped even in the original Define 7. To test this case properly I installed an ATX board and it fits in with ease, giving me plenty of room to manage my cables in an effective way through the grommets.
The rubber grommets mentioned above are of the highest quality. Not only do these allow you to pass the thick 24-pin cable through with ease but they don't come off as you do so! I can understand why some find grommets annoying but the ones, in this case, are solid and barely move.
The bottom is covered by the PSU shroud from front to back. The shroud features cutout ventilation sporting Factal's new design due to the basement being able to accommodate a fan or 120mm radiator. Whether this makes much difference in the thermals I'm unsure but I'm a fan of this design over the solid alternative. As part of Fractal Design's modular efforts, we see the removable plastic parts to the PSU shroud. These easily clip off in case you wanted to install a pump/reservoir or, of course, a large radiator on the front of the case.
You cant switch this out to be a more storage based system like you can with the bigger versions, in fact, there is limited space for storage altogether. I was using an M.2 drive in my build but I'd say there are adequate options for most gamers in this case. You get two SSD caddies out the back and a further two HDD cages in the basement of the case. There is space to mount SSDs on top of the PSU shroud but the brackets are sold separately and this tends to make builds look a bit messy. If you plan on water cooling your build and need the space where the two HDD cages sit, you can obviously remove them or install them inside at the top of the case. For me, it would look a little strange having the HDD cages in that position but it's always good to have options.
The Back Panel
The integrated cable guides are in an even better position due to the fact this doesn't have all that space for storage drives. These are removable but they sit in line with where the cables would naturally drop and you can reposition them to the right of the rubber grommets (like me) if you are going a bit overboard with your cable management. These cable guides remind me of the NXZT H510's, only these accommodate for the thicker 24-pin.
Cable management was incredibly easy and that was largely down to the high quality, malleable cables. These cables go exactly where you want them and look clean without too much fuss. There is around 28mm (maybe a bit less) of space to work with at the far left of the back panel but I found there was enough room on the right of the grommets too (17mm) if managed properly.
Features
Fractal Desing cases are never shy of features and just because this is "Compact" doesn't mean it falls short of this either. This case comes offering a plethora of nice to have features, let's take a closer look.
Sound performance – The Define series has always been built with stealthy gaming in mind. The old R5 opened our eyes to clean, premium, acoustically gifted cases, and the line has continued this trend.  The case features high-density padding in the front, top, and back panel to dampen the sound of the system inside. We have the tempered glass version here, so the sound performance isn't as good as the plain paneled one but it still outshines a lot of cases in this area.
Modularity – While this Compact version may not be as modular as the other models, it still comes with the swappable ModuVent top panel. The new and improved ModuVent system is a welcomed addition to the case, making it easier than ever before to whip that top panel off for the included alternative.
This modularity lets you, the consumer, choose between sound performance or extra cooling. If you swap out the default panel you can take advantage of extra space for a radiator or fans. Obviously, if you change the configuration you will lose some acoustic performance as the other top panel features ventilation cutouts and no sound dampening materials.
With the case being a lot smaller there is no option for a storage-based interior, leaving you with just the default "open layout".
Tool-less – The top-latching panels offer quick access into your case without the need of screwdriver or keeping track of where you placed that thumbscrew. The panels also prevent any accidental drops with a clever design. The back also features removable cable clips and velcro ties, to give you all the cable management you need without having to use cable ties or tie bases to get a clean looking setup.
Our Verdict
The Define 7 series of cases is one of the best I've seen in recent times. Fractal Design continues to add functionality and features that make sense without taking anything away from consumers. The Compact addition to the series makes a lot of sense, with many seeing the original Define 7 as being a little on the large side.
This compact version brings all the clean-cut style and premium essence of the original and packs it into a more manageable mid-tower, giving your average builder a more sensible PC case. 
I still prefer the original Define 7, however, while the Define 7 Compact may be smaller it still comes with plenty of features.  A truly great case and I look forward to the Define 7 nano (if it ever exists).