iBUYPOWER Element 9260 Gaming PC Review
Updated: Mar 17, 2022 1:21 pm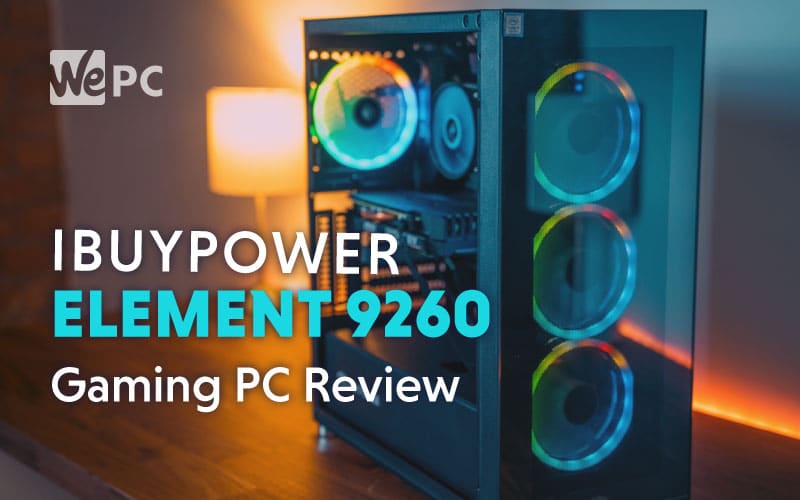 iBUYPOWER has been kind enough to send us another one of their high-performance gaming PCs to see how it stacks up against some of the other well-priced competitors currently available. This is their Element 9260 gaming PC. It comes equipped with a powerful Intel CPU (i7-9700F) and one of NVIDIAs latest GPUs, the 1660Ti.
Today we'll be putting the iBUYPOWER PC through its paces to see how it performs in several different scenarios, which include the latest games, heavy multi-tasking workflows, creative tasks, and general everyday usage. We'll also see how equipped this build is for upgrades and whether or not it's futureproofed as well.
So, with all that in mind, let's take a closer look at iBUYPOWER's Element 9260 Gaming PC!
How We Tested
Like the last iBUYPOWER PC we reviewed, this one was also sent to us for review purposes. Don't think that makes us biased towards their products, though. This prebuilt gaming PC will be tested like every other hardware component we receive. That means putting it through several different testing scenarios to ensure it not only meets our requirements, but yours too.
We like to begin by benchmarking a variety of games and then recording the average FPS scores across a selection of different resolutions and settings. To provide us with a better overall picture of the gaming PC, we then put it to work with general tasks. To speed this process up, we run the system through application benchmarking tools such as POV-Ray, Cinebench, and Puget Systems.
Specifications
| Hardware Device | Model Description |
| --- | --- |
| Case | iBuyPower Element Case |
| Power Supply | Channel Well Technology 500W 80+Bronze rated PSU |
| CPU | Intel i7-9700F (3.0Ghz - 4.7Ghz) |
| Motherboard | ASUS TUF B365M |
| Cooler | Deep Cool 92mm CPU Cooler |
| Memory | 16GB [8GB x 2] DDR4-2666MHz Apacer |
| Primary Solid State Drive | 240GB Apacer SSD |
| Backup Hard Drive | 1TB Western Digital SATA III |
| Graphics | MSI VENTUS GeForce GTX 1660 Ti - 6GB |
| Operating System | Microsoft Windows 10 Home Advanced 64 Bit |
Build Overview
As you can see from the specs above, the iBUYPOWER is a bit of a mixed bag when it comes to the component list. The guys who put this prebuilt gaming PC together clearly wanted to prioritize gaming performance over anything else – making use of a powerful GPU and CPU combination. Having said that, cutbacks have also been made with the Element 9260 gaming PC – most noticeable being the RAM, PSU, and SSD.
I wouldn't let that put you off, though; this is still a great prebuilt gaming PC. It's going to be able to run pretty much every game in 1080p at around 100FPS and can perform some light multitasking as well. As for 1440p, you will see a decent drop in fps, but most titles are still very much playable.
Features
Now that the specs are out of the way, it's time to take a closer look at the main features this PC comes equipped with. iBUYPOWER always like to go the extra mile, so let's waste no time and take a look at some of the standouts.
VR Ready
The first thing worth mentioning with this build is that it's VR ready. That's right. The virtual world will be at your fingertips with this PC, all you need to do from here is purchase a VR headset, and you're ready to go. It might not be as graphically accurate as say, playing the latest Call Of Duty in the more conventional style, but it's certainly a fun little feature to have.
VR has become hugely popular over the last few years thanks to some pretty impressive leaps made by the brands at the forefront of the tech. While the games are becoming much more realistic in both graphics and mechanics – the gear used is becoming more advanced and affordable by the day. The bottom line is, whether you're into VR or not, this PC will be able to handle it if you decide to see what it has to offer.
Aesthetics
A lot of the time, aesthetics can be one of the most significant deciding factors when it comes to buying a PC. Luckily, this one comes with a design that is both sleek and stylish – not to mention being covered in RGB fans. The two sides of tempered glass work extremely well with the RGB, and the footprint is relatively small as well, which makes finding a spot for this PC to live a little easier than other iBUYPOWER PCs of the past. The Element case is also fairly well built, but we'll touch upon that shortly.
iBUYPOWER Element: Pros & Cons
So, before we dive into the performance benchmarking of this prebuilt gaming PC, let's quickly go over some of the pros and cons we discovered through testing this rig.
Pros
High Performance – Runs AAA game titles very well in 1080p
Excellent Aesthetics – Tempered glass and RGB fans
Good Value for money – Comes at a price point that certainly showcases good bang-for-your-buck
Onboard Wi-Fi – Unlike many PCs of this price point, this one comes with Wi-FI support
Cons
Cable management is less than desirable
Gaming at 4K is a no-go
As we mentioned earlier in the article, the components iBUYPOWER have selected for this build have clearly been tailored towards gamers. You have the ability to play pretty much any AAA game in 1080p – great for people looking to play highly competitive esports – and most titles in 1440p as well.
The CPU is ideal for high-intensity gaming but is also fully equipped to handle some light multitasking and creative workflow tasks as well. That makes this build a great little all-rounder and one that showcases pretty good value for money too.
Like all iBUYPOWER PCs, this one comes with their standard 1-year parts & labor warranty – fantastic if any issues do occur within that initial period. The system is all set up with Windows and even comes with a keyboard and mouse, meaning you can plug and play right out the box – if you have a monitor, that is.
So, with all that being said, let's take a closer look at how this thing performed in the WePC testing studio. Furthermore, let's answer the big question surrounding a PC of this ilk – is it worth your hard-earned cash??
Hands On Results
We've already speculated what this gaming PC should be able to do, now let's take a closer look at how it performs in real-world situations. Like we said above, even though this PC was sent to us for review purposes, don't think we're going to sugarcoat the results if they aren't up to scratch. That will not be the case. It will go through the same strict testing procedures as everything else, and if it's not worth your hard-earned cash, we'll be the first to say.
We tested the iBUYPOWER Element 9260 gaming PC in several different scenarios that included gaming, workflows, multitasking, rendering, and general use.
So, without further ado, let's get into it.
Gaming
The first, and potentially most crucial benchmark we put this PC through, was gaming. The following games were all tested in numerous settings and resolutions to see how it performed in both low and high intensive situations.
Below are the games we tested:
Each of the games was chosen because they bring a slightly different demand to the PC. That way, we can cover games that require more from single and multi-core processing – alongside games that are more graphically demanding as well.
One thing I'll say straight off the bat is, I was extremely surprised with the gaming performance this PC offered when we tried playing in 1440p. We had already speculated that the iBUYPOWER PC would perform highly in 1080p – which it did. However, it was more than capable of handling games in 1440p as well. Even 4K was an option when tweaking the settings just right.
First up, we'll be taking a look at the popular title from Rockstar, Red Dead Redemption 2. It's one of the most demanding games on this list, so it's a great place to start. It'll give us a baseline for what we can expect going forward. It should also give us a pretty good indication of how less intensive games run as well.
If you haven't played Red Dead Redemption before, it's worth mentioning that the graphics menu isn't like other games where you get to select low/med/high. Red Dead uses a slider style approach that allows you to prioritize between performance and quality.
With that in mind, we tampered with some of the different variations and found that the lower end of the quality spectrum (in 1080p) yielded around 100FPS. That was pretty good considering the graphical demand this game puts on your system.
Slowly cranking up both the resolution and the graphics slider saw a dramatic drop in FPS, with as little as 30 frames per second being the average in 4K and 1440p.
Testing Call Of Duty: Modern Warfare saw some good FPS figures in 1080p at low/med/high. Even 1440p wielded well over 60FPS in most graphical settings – including high. Trying to push into 4K did see a rather dramatic drop in frame rate, but that was to be expected. Overall I was pretty impressed with how well this PC handled what is considered a fairly intensive game.
Metro Exodus was next up, another fairly demanding title. As you can see from the benchmarking figures, the iBUYPOWER PC was able to push 70FPS+ in 1080p across most graphical settings, even when pushed to "extreme". Moving to 1440p was a little more demanding and we saw FPS drop below 50 for the first time when in "extreme". 4K was playable, just. But, we had to reduce the graphics down to medium – even then, we saw regular drops to sub 20. So, probably not the best idea.
CS:GO was very similar to Rainbow Six Siege in both performance and graphical demand. It's an extremely light intensive game, so it was no surprise to see the iBUYPOWER push well over 200FPS in almost every graphical setting. Seeing as though CS:GO runs on pretty much every PC out there, we won't say much more in regards to the performance it provided. Like Rainbow Six Siege, it's still nice to know that if you want to pair this PC with a 240Hz monitor, it'll be able to provide the frames required for smooth gameplay – in CS:GO that is.
Next up was the relatively demanding Total War: Warhammer II – a game that has really tested some of the builds we've trialed over the last 6-12 months. As for the iBUYPOWER, the game seemed to run well on lower settings, especially in 1080p and 1440p. We were seeing healthy FPS figures of up to 143 in low and were pushing 80 on medium in 1440p.
Once you surpass that graphical limit, though, it's pretty much downhill as far as FPS goes. If you're happy to play at around 50FPS, you will be able to crank the graphics up to high on 1440p. Having said that, that's probably the peak of what this PC can do. 4K sees FPS drop below 50 at the lowest settings, so it's not really cut out to perform this game at that level.
We saw a huge increase in performance when switching to Rainbox Six Siege – as you'd expect – with the iBUYPOWER PC producing well above 150 FPS in 1080p, and over 90 FPS in 1440p, respectively. We tested a ton of different graphical variations for Rainbow Six Siege, and each one was met with decent in-game performance. Having said that, when pushing the game into 4K resolution, we did see a decent drop in FPS to around 30-50.
Of course, this is a lesser demanding game that should run on many systems out there. However, considering its competitive esports nature, it's always good to know that this PC can push over 200FPS – especially if you plan on purchasing a high-performance 144hz+ monitor.
Multi-Tasking And Media Editing
The following section will see us benchmark the iBUYPOWER in a number of different multi-tasking scenarios. This, in turn, will test the CPU's single-core and multi-core CPU performance. Whereas gaming is more demanding in the graphics department, the following tests will be a more comprehensive benchmark of the PC as a whole.
To give us a better picture of how this PC runs in CPU intensive situations, we will be testing the following software:
Cinebench
Handbrake
Blender
POV-Ray
Photoshop
Premiere Pro
V-RAY
Corona 1.3
Even though this build has been tailored towards gaming, we still like to check the PCs we receive in other scenarios – multi-tasking and media editing being two prime examples. Unlike the new line of Ryzen chips, the Intel i7-9700F that this build comes equipped with doesn't make use of hyperthreaded technology. That means, theoretically speaking, the 9700F should be much worse in the workload department when compared against its Ryzen counterpart.
Luckily, we recently tested an iBUYPOWER PC with a Ryzen CPU. That means we'll be able to get a much better idea of how the two compare CPU's compare against each other.
As you can see from the charts above, the 9700F is fairly comparable with the Ryzen 3600 when it comes to multi-tasking workflows. However, in certain applications such as POV-Ray and V-RAY, the 3600 far outperforms the 9700F.
Another area where the i7-9700F falls short is in the streaming department. The 3600 outperformed it massively across pretty much every game – based on a system with similar specs (identical GPU). Having said that, the i7-9700F wasn't a complete flop. It did offer good streaming over a number of different graphical settings.
Would We Recommend?
So, onto the big question surrounding this iBUYPOWER PC – is it worth your hard-earned cash?
Well, let's look at this from a gaming point of view. The iBUYPOWER is an extremely good PC if you're looking to play most games in 1080p. If you're into competitive first-person shooters (Rainbow Six Siege or CS:GO), you'll be happy with the performance this PC provides. It will easily push 150+ FPS in most settings, meaning you'll be able to pair this with a high-performance 144Hz monitor – and utilize G-Sync/ FreeSync to its fullest.
If you're looking to play more immersive single-player titles in 1440p, you'll be pleased with the performance that the iBUYPOWER provides too. It might not be the best in the world, but it'll play lesser intensive titles in high at around 70-100FPS. If you want to play high-intensive games like Call Of Duty and Red Dead Redemption 2, you might want to look for a prebuilt with a slightly more powerful GPU.
Unfortunately, this PC isn't fully equipped to handle 4K – unless you're looking to play CS:GO, that is. It'll struggle with most titles, and you'll struggle to hit more than 50FPS.
So, all-in-all, if you're looking for a decent little gaming PC for most needs at 1080p and 1440p, this is well worth your money.
On the flip side, the CPU this PC comes equipped with (i7-9700F) isn't the best when it comes to multi-tasking workloads. We saw somewhat larger dips in performance when comparing it to the iBUYPOWER PC that had a Ryzen CPU. It struggled to stream while gaming and was a little sluggish when it came to the photoshop benchmarking.
In this scenario, I would have to say that this build is probably not worth your cash.
Final Word
So, there you have it, our comprehensive review of the iBUYPOWER Element 9260 gaming PC.
Ultimately, this is a PC tailored to gamers. It'll provide a great experience for anyone looking to play games in 1080p and 1440p. It has the ability to perform some light multi-tasking workflows, but nothing too strenuous.
On the flip side, this PC falls a little flat when it comes to high-intensive games at 1440p and 4K. It also struggled with streaming at higher graphics and in some workflow benchmarking.
So, to sum up. If you're looking for a nice little starter PC that handles a ton of games in lower to medium settings, this PC could be exactly what you're looking for. Anything more intensive, and you'll probably need to seek out something more powerful.
Let us know what you thought of this build by leaving us a comment in the section below. Better still, why not head on over to Community Hub where you can discuss everything PC related with like-minded individuals.
iBUYPOWER Gaming PC Computer Desktop Element 9260
Storage
240GB SSD & 1TB HDD
---