Razer DeathAdder V3 Pro review
Razer's worst-kept secret finally landed on our desk
Updated: Aug 22, 2022 1:01 pm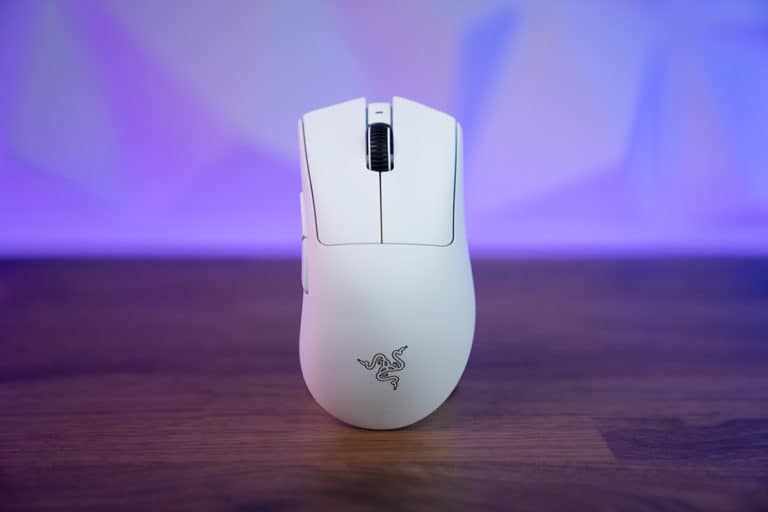 Razer has been on the march with their gaming mice recently. They put their ambidextrous Viper on a diet to create the performance-focused Viper V2 Pro and now they've set the coaches on to the DeathAdder.
The result is the DeathAdder V3 Pro, and we've been testing it out to see if the subtractions, additions, and alterations have ruined a fan favorite, or produced a new king. Let's shine our own light and figure out wagwan.
Razer DeathAdder V3 Pro specs
Razer DeathAdder V3 Pro wireless gaming mouse
Focus Pro 30K Optical Sensor
Improved shape over the previous DeathAdder

Long battery life

Simplistic, subtle design
Feature-light for the price
Focus Pro 30K Optical Sensor
What's in the box & setup
Razer DeathAdder V3 Pro
Wireless USB dongle + USB dongle adapter
Type A to Type C Speedflex cable
Razer Mouse Grip Tape
Important Product Information Guide
Letter from the CEO
Razer appears to be targeting the Logitech G Pro X Superlight with this mouse. Not just in terms of weight and performance, but even the unboxing experience.
NOW READ: Logitech G Pro X Superlight review
The lid lifts off to reveal the mouse sitting in a plastic cradle with no apparent packaging to protect it. However, flipping the lid over allows you to find the small circular puck of high-density foam.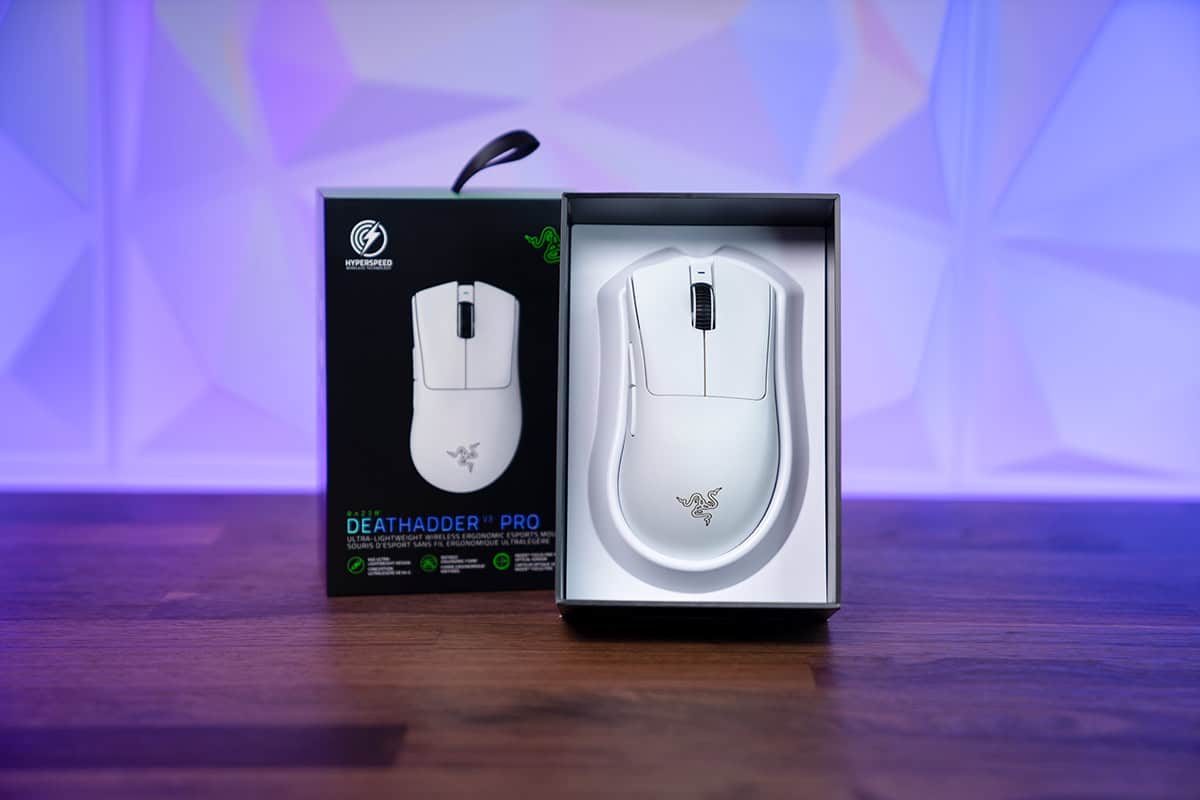 This is positioned to press the mouse down into its cradle, completely immobilizing it for the duration of its journey.
It's a good system that results in very little waste, however, we'd still like a bit more packaging just for peace of mind. Moving on to the setup we find a straightforward process identical to that of other 2.4GHz wireless gaming mice
As the DeathAdder V3 Pro is wireless simply grab the dongle and plug it into a vacant USB port. Alternatively, attach the included adapter to the USB Type-C Cable, and plug the dongle into the adapter. This will save you a USB port and keep the cable close by for emergency charging scenarios.
Try not to look at the dongle too closely, however. It's got a shortened version of 'DeathAdder V3' on it, but it actually just looks like the dongle is called Dave.
Downloading Razer Synapse will, as usual, allow you to experience more of this mouse. You'll need to download an update for Synapse that will be pushed as soon as you plug the mouse in for full control and customization.
At this point, the experience of getting the Razer DeathAdder V3 Pro is quite literally identical to the G Pro X Superlight, so let's move on to the design, where we might see some variance.
DeathAdder V3 Pro shape and design
This is a make-or-break aspect of the DeathAdder V3 Pro. Mouse shape is a huge deal to competitive gamers, meaning that millimeters matter.
We mentioned earlier that the DeathAdder has a very beloved shape, with many gamers finding it prohibitively difficult to adapt to new shapes. So the DeathAdder V3 Pro has to be carefully designed to avoid alienating long-time users.
When initially compared to older DeathAdders, it's hard to notice any difference at all, but when we started going back and forth, the differences in feeling quickly became apparent.
The most notable difference can be found in the 'ergo tilt'. This refers to the asymmetric shape of the shell, in this case, the right-handed design of the mouse.
The prominence of this hump has been increased a tiny bit, which results in it filling the hand more than in previous versions. Depending on your preference this can either feel more comfortable or result in unpleasant pressure on the palm of the hand.
Another change we noticed was a significant reduction in the flares on the mouse buttons. This might sadden the mouse community somewhat as the flared mouse buttons were one of the defining features of the DeathAdder shape.
However, in our opinion, they were superfluous and didn't add any ergonomic or performance benefit, and were purely there to add some flair.
The DeathAdder V3 Pro still has slightly flared mouse buttons, but it's so subtle that you probably won't even notice. So far it seems that all the changes are preparing the DeathAdder V3 Pro for battle with the Logitech G Pro X Superlight and upcoming Glorious Series One Pro.
NOW READ: Glorious Series One Pro
This is not to say that the DeathAdder's design has veered too far from what we've seen previously, retaining some of the key characteristics that we've all become familiar with, but with small alterations to improve the shape and presumably save weight.
One example of this is the buttons on the thumb side, they've been repositioned slightly higher, becoming more difficult to accidentally press in the heat of battle.
However, they haven't moved so far as to become difficult to hit at pace, so it's clear that Razer has some talented and ergonomically knowledgeable people in their design department. Remember, millimeters matter.
Another change we're a big fan of is the scroll wheel. It's been lifted further out of the shell of the mouse. We can't put our finger on it, but it just feels nicer, and maybe a little more tactile. Additionally, seeing the spokes from the side is cool.
It's worth noting here that the Razer DeathAdder V3 Pro is designed exclusively for FPS games as it only has 5 buttons (including the scroll wheel). All of them are programmable, but let's be honest, you won't be using this mouse for MMOs or other button-heavy games.
Build quality
Much like when we reviewed the Viper V2 Pro, we are pleasantly surprised that such a light mouse can still feel robust enough to stand up to the rigorous slapping of salty FPS players.
Our standard heavy squeeze and shake test revealed quite literally no creaks or rattles, which is impressive as most gaming mice have at least some give when it comes to these tests.
Whatever finish they've used to coat the surface of the mouse is excellent too. It's difficult to describe but it's got a very fine texture, almost imperceptible, in fact.
This results in the mouse being both smooth and grippy simultaneously. Again, this is very similar to the Viper V2 Pro. The similarities continue too, with RGB lighting being entirely absent from the DeathAdder V2 Pro
It's replaced by a simple black triple-snake logo, which is slightly smaller as compared to previous illuminated versions and we think it looks elegant, which isn't a word we expect to use to describe Razer products.
READ NOW: Razer Viper V2 Pro review
Gaming performance
As you'd hope from a $150 ultralight gaming mouse, using it to game is a fantastic experience. It tracks flawlessly and we experienced no spinout or angle snapping whatsoever.
Additionally, the 63g/2.2oz weight made for effortless movement, and it glides across a mousepad with no resistance at all. Razer also equipped the PTFE mouse feet with a bevel from the factory, meaning there is no scratchy breaking-in period. However, this might mean that the feet wear out faster than you'd like.
We mentioned earlier that the thumb-side buttons have been slightly repositioned in order to cut down on accidental presses and we can confirm that this has worked a treat.
The main mouse buttons are lovely too, with the clicks producing some nice audible and tactile feedback. They've also been separated from the main shell of the mouse too. Our best guess as to why is that it makes them easier to press from fingertip players.
Additionally, if you frequently utilize the drag-clicking tactic, this mouse is great for this as the grippy texture and angle of the mouse buttons combine to make it honestly pretty effortless.
Final verdict – Razer DeathAdder V3 Pro
We don't envy Razer on this one. The DeathAdder V3 has a legendary award-winning shape and they've had the tricky task of trying to improve it while keeping fans of the original happy. Let's not forget that PC gamers are some of the most easy to anger people out there and they can be pretty merciless via Reddit and Twitter.
Despite this risk, we think they've absolutely nailed the Razer DeathAdder V3 Pro. The wireless functionality works great, the shape remains iconic but has increased in comfortability, and the performance is top-tier.
They've done all that while managing to shave over 20g in weight, which is doubly impressive when we remember that the DeathAdder V3 Pro still feels rock solid, and will probably last for years to come.
Razer DeathAdder V3 Pro wireless gaming mouse
Sensor
Focus Pro 30K Optical Sensor
---