Sahara C500 Series PC Case Review
Today we're going to be sitting down with one of Sahara's latest gaming cases, the C500 series mid-tower PC case. It comes to shelves boasting an array of cool features that include; three sides of tempered glass, a tonne of mounting points for fans, water-cooling accessibility, decent cable management options, and more.
That being said, this is still a case that resides within the budget category. And like all budget PC cases, compromises have been made along the way.
We're here to see whether or not the Sahara C500 stacks up against some of the competitively priced alternatives. We're also going to be looking at what it's like to build in, a closer look at the features, and whether we feel it's worth your hard-earned cash.
So, with all that in mind, let's jump into it!
Pros
Plenty of mounting points for fans
Access for water cooling + AIO coolers
Plenty of space for cable management
Attractive design with three glass panels
Fairly easy to build in
Cons
Build quality in places feels a little budget
Screws to secure side panels don't match up too well
Fans, all though attractive, can be loud
Specifications
| Case Type | Mid-Tower |
| --- | --- |
| Dimensions (mm) | 400 x 215 x 465 (W x D x H) |
| Materials | Steel, Plastic, Tempered Glass |
| Available Colours | Black |
| Weight | 8.5 KG |
| Front I/O panel | 2 x USB 2.0, 1 x USB 3.0, Microphone, Headphone, Reset Button, Power Button |
| Expansion Slots | 7 |
| Drive Bays | Up to 5 2.5" drives and up to 2 3.5" drives |
| Motherboard support | ATX, Micro-ATX, Mini-ITX |
| Cooling (Front/Rear/Top) | 3 x 120/140mm (2 x 140mm included)/ 1 x 120/140mm (1 x 140mm included)/ 3 x 120 or 2 x 140mm |
| CPU cooling clearance | System 1: 180mm |
| Maximum GPU length | 360 with front fans mounted |
What's in the box
The case arrived in a fairly standard brown box with some simple artwork on the front and specifications down the side. Like all cases, the C500 came housed in two fairly robust polystyrene safety protectors. Inside was the case, wrapped in plastic, with more protection found inside the case itself.
This case comes with a number of different buying options which include the following choices:
Case + 4 x 12cm ARGB Pirate Turbo + Sync RGB and Standalone RGB
Case +  2 x 20cm ARGB Tornado fan + Sync RGB and Standalone RGB
Case +  3 x 14cm Typhoon ARGB fan + Sync RGB and Standalone RGB
Case + 4 x 12cm ARGB Duo Rings + Sync RGB and Standalone RGB
We got sent a combo package that included 4 x 120mm ARGB Pirate turbo fans, 3 x 140mm Typhoon ARGB fans, a controller box, and a Sahara CPU cooler as well – all of which will be looked at in the following guide.
We also received a box of accessory screws which included fan screws, cables ties, and long screws.
Design
The Outside
On first impressions, the C500 looks fairly decent. It offers three tempered glass panels (front, side, and back) which create a sleek and refined aesthetic – a huge plus for me straight off the bat. The glass is of decent quality and offers a more luxurious feel than the price tag would suggest. To remove the front panel you can simply pull it from the bottom with force. This gives users access to the mounting position of the fans. The I/O ports have been positioned on top of the case which gives the front a stylish final look.
As you can see from the images, there's a large gap between the front glass panel and the start of the case. This allows a decent amount of room for mounting fans and an AIO cooler (up to 360mm) and shouldn't affect airflow too much.
Rear
As you'd expect from a case of this price point, compromises have been made along the way to keep costs down. For example, the expansion slot covers are breakaway, which means once used you won't be able to reconnect them. Not a huge issue for most people, but certainly something to consider if you swap out hardware regularly. A mounting mechanism has been implemented in this case which some people find useful. That being said, I just found it a bit of a pain.
The rear fan mount can play host to a 120mm or 140mm fan depending on your preference – great for a case of this price point.
Side on
The side panel is held in place via two thumbscrews which, if truth be told, felt a little cheap. Let's just say they required a decent amount of force to unscrew. To gain access to the inside of the case, users must use a "pop slider" that Sahara has equipped to the rear of the case – something I actually liked as far as "mini" features go. Once the screws are removed, simply use the slider to pop the tempered glass side panel off. It felt fairly uneasy in it's housing once the panel had been removed, which kind of sets the scene for some of the build quality this case comes equipped with.
The Top
The top of the case is fairly uncharacteristic. You do have the option to mount a radiator (up to 280mm), 2 x 140mm fans or 2 x 120mm fans in the roof of the case. Cleverly, Sahara has positioned the radiator mounting point in such a way that it won't interfere with the motherboard's VRM's, your RAM kit, or the CPU cooler. Well played, Sahara, well played. The mounting point has a magnetized dust filter that sits on top as well. The I/O panel is located near the front and offers USB 3.0, USB 2.0, 3.5mm headphone jack, Microphone port, reset, power, and an LED button for RGB.
The buttons all feel pretty solid (when compared against cases of similar price) and offer ease of use for the most part. The LED and reset buttons are on the small side, but nothing too ridiculous that I would consider them a con.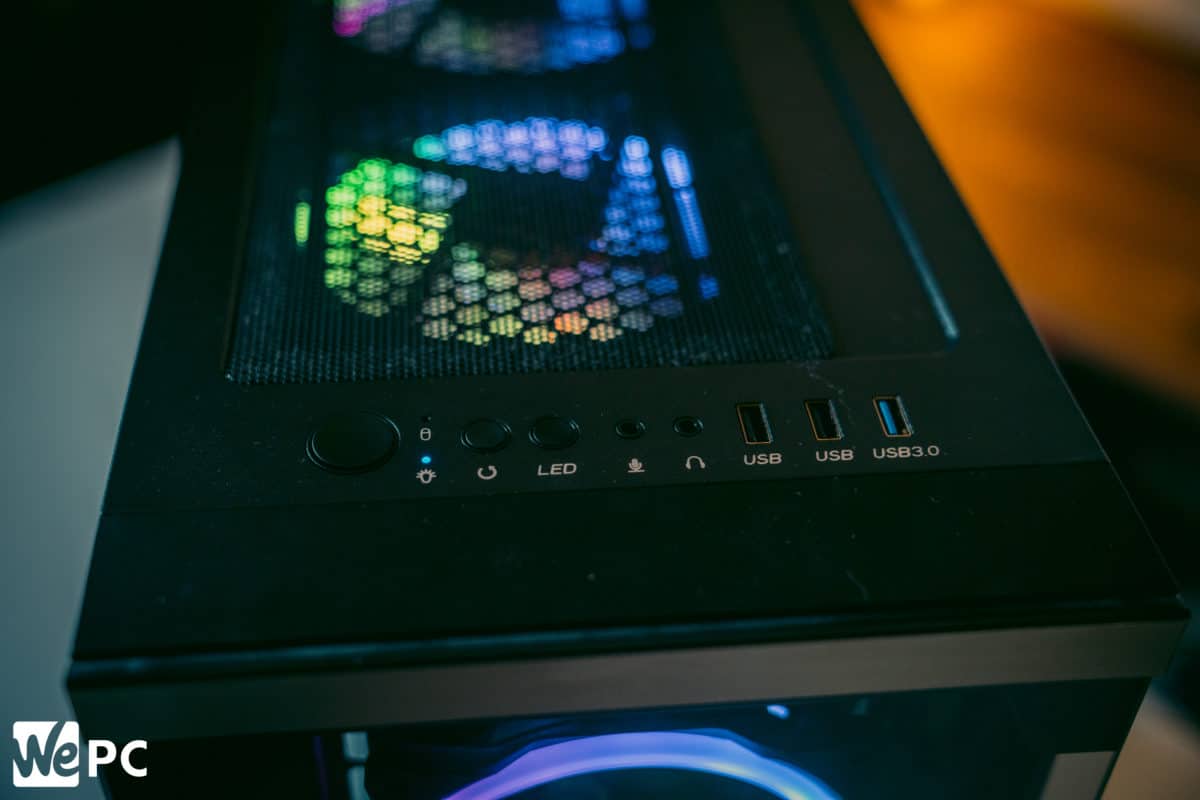 The Inside
One of the first things I noticed about the interior of the C500 was the accessibility for cooling and cable management. The guys at Sahara seems to have resolved some of the issues raised in their other budget offerings, which is extremely encouraging right off the bat. The chassis seems well built, making use of steel for the most part. It can accommodate ATX, Micro-ATX, and Mini-ITX motherboards – with ATX and Micro-ATX being better suited.
As for interior cooling, users will be able to mount 2 x 120mm fans on the PSU shroud – great if you're looking to achieve the highest levels of airflow. Furthermore, the interior has been well thought out for ease of building, with a tonne cable cut-outs available. Having said that, Sahara hasn't equipped this case with any grommets – but that's to be expected with a case of this budget.
The Back Panel
The back of the interior has also been well thought out to make the build process a bunch easier. The cables for the I/O ports have all been finished in black and are long enough to allow users to choose between several cut-outs depending on your preference. Having said that, the HD Audio cable is only just reaches the slot on the motherboard – but can be cable managed with a touch of force. The PSU housing is wide open and has up to 170mm of clearance. Underneath the shroud, we find a 3.5mm HD mount, with the option to install a second on top of it. An SSD caddy is also located on the rear of the case as well. Having said that, when fully installed the SSD is extremely close to the tempered glass panel which could be problematic for some users.
To finish on a plus, Sahara has equipped the rear with plenty of tie bases to increase cable management – something you'll definitely want to do considering it's transparent.
Features
When you consider the price of this case, you'd probably think it'd be lacking in the features department. However, that isn't necessarily the case – mind the pun. One of the reasons we feel this case displays good value for money is because of the features it comes equipped with. Below are the stand out features that the C500 has to offer:
Design – The case has clearly gone through a heavy amount of quality control to ensure some of the older issues got resolved. And at first glance, they seem to have done a pretty good job on the design. It was relatively easy to build in and offered plenty of cable management for tidying up at the end. With room for a tonne of fans on the front, rear, base, and roof, this case also made cooling a real joy. There was a small issue when trying to feed the CPU power cable through the cutout, but apart from that, it was fairly uneventful.
Water cooling – Now, Sahara says that this case has been designed with water cooling in mind, which is great. It has mounting points for a reservoir of up to 200mm. However, having used this case for a build myself, I'd feel pretty confident in saying that this probably isn't the case to go for if water cooling is high on your agenda. Water cooling is an expensive thing to achieve. For me, you'd probably want to get a case that's a little more premium and has the additional features needed for water cooling. That being said, it does offer the option of water cooling which, similarly priced cases, steer well clear of.
Fans – Depending on what package you decide to go for, one of the big pluses for me were the fans. Whether you go for the 4 x 120mm or the 3 x 140mm kit, you're going to more than happy with the airflow and RGB they provide. You can really ramp up the airflow with these fans, especially on the 140mm kit, to bring internal temps down. Be aware though, they can be quite noisy on max capacity. From an RGB standpoint, both kits offer the same levels of RGB which looks pretty damn good. You'll have a bunch of options to choose from which can be controlled via the RGB controller or the LED button on the I/O panel.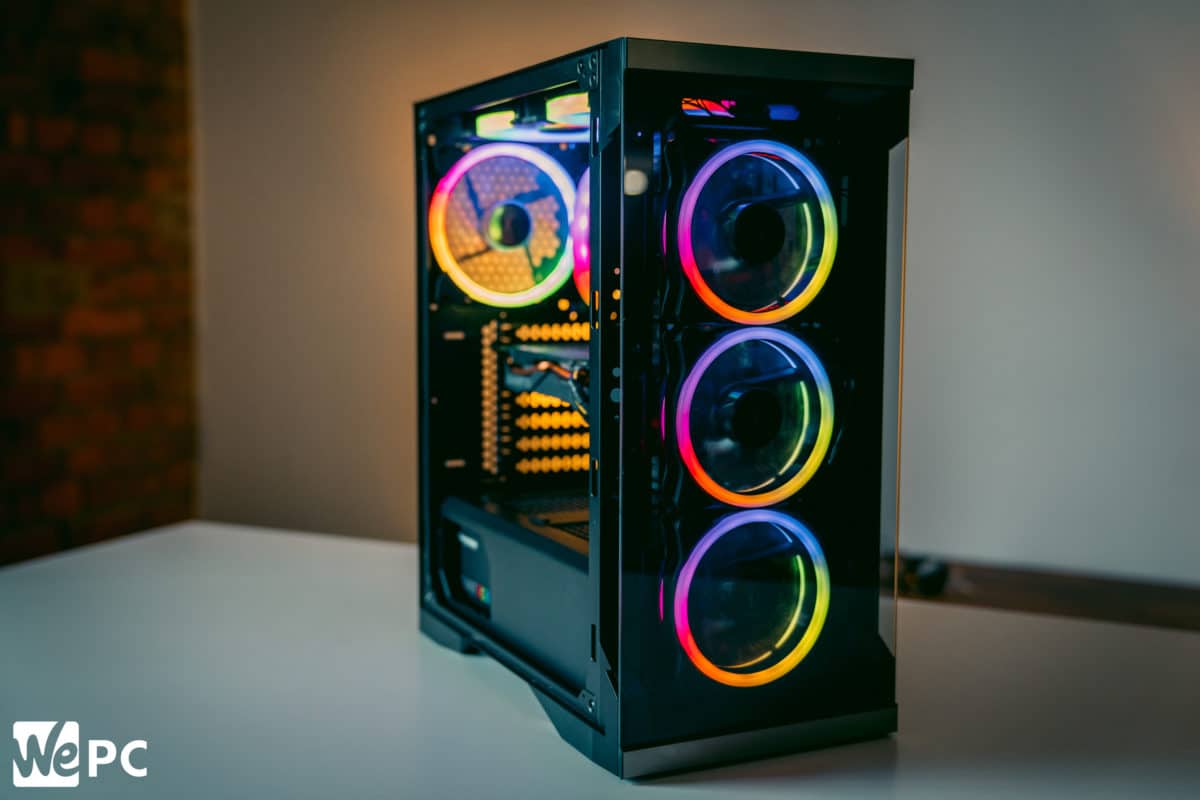 Our Verdict
There are two ways in which you can judge this case – its aesthetic appeal and its build quality. Unfortunately, the C500 doesn't quite tick both boxes on this occasion. But let's start with the pros.
For me, Sahara has given this case a really nice design. The tempered glass gives the case a more luxurious feel than what you'd normally expect from cases of this price point – a huge plus. Secondly, the fans also look superb and have a tonne of RGB customization to choose from. They work extremely well with the tempered glass and actually produce a decent amount of airflow – even if they are a little on the loud side.
As for the cons, the case does feel a little cheap in areas. For example, the holes used to screw the panels into place don't really line up properly which is a huge gripe for me. Some of the internal features feel a little tacky too, especially the rear pop mechanism and mounting guard. The cutouts inside have been well thought out if truth be told, however, some of them were much tighter than I'd like and were a real pain to access – with some being completely out of bounds with the fans installed. The glass back panel is extremely close to the cables when screwed into place which meant cable management was a little trickier as well.
All that in mind, I actually thought this case was pretty good value for money. It offers a great design, one of the best in its price range, and some of the features inside were well done. However, considering some of the poor build quality that the case displayed, it might not be everyone's go-to choice.
Anyway, hope you enjoyed our comprehensive look at the Sahara C500 gaming case. If you did, why not drop us a comment in the section below. Better still, head on over to our Community Hub where you can discuss everything case related with like-minded individuals!
Sahara C500 Series PC Case Review
Summary
If you prioritize aesthetics and cooling over features and build quality, then the Sahara C500 is probably going to suit your exact requirements.