Streamlabs Prime – enhance your streaming experience
Streamlabs Prime can help you take your stream to the next level
Updated: Jul 12, 2022 10:12 am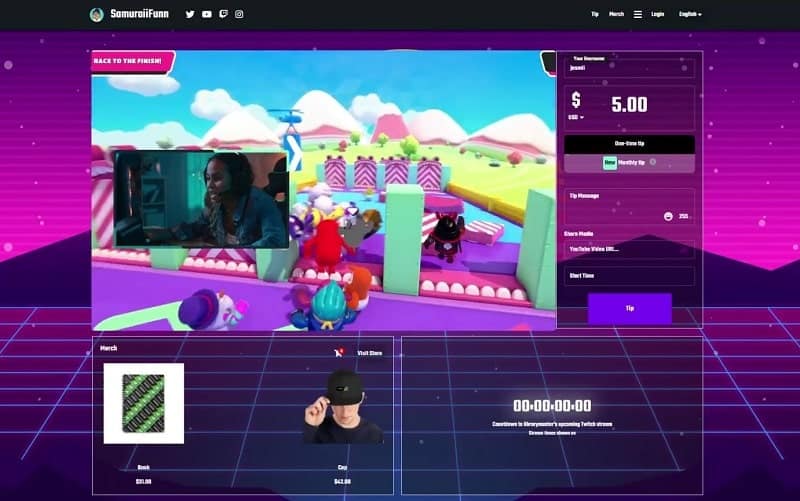 Sponsored Post
Open Broadcaster Software or OBS is an open source streaming program that was designed by Hugh 'Jim' Bailey and a community of volunteers. It is also used as the base for other streaming tools like, well, Streamlabs OBS.
Streamlabs OBS is a sleek framework built around OBS, that is designed to let streamers easily use features like showing chat in the video window, or letting them add animated subscriber alerts and charity goals without putting in loads of effort.
Streamlabs Prime is a subscription-based add-on that opens up a raft of new features, and there's some pretty cool stuff included. Streamlabs OBS is already a powerful streaming tool that increases support for viewer interaction, chat management and tip donations when compared to its namesake. It's further enhanced by Prime's paid collection of widgets and doodads that just make being a streamer easier, especially if you're a person just starting out without much experience in image manipulation or video editing.
These are what we think the main benefits are of having Streamlabs Prime in conjunction with the Streamlabs branch of OBS…
There are Stream Overlays, Alerts & Widget Themes
After installing Streamlabs OBS and setting up your camera and microphone, the streaming software will offer you a selection of premade overlays and themes. If you've got Streamlabs Prime, you'll get access to hundreds more created by professional graphic designers.
Overlay themes tend to also include animated transitions that let you move between screen layouts in a sleek and stylish way. Installing an overlay or a stream element only takes one click, so this feature is likely to be especially useful for someone just starting out that has yet to establish their own branding. You can use as much or as little of an overlay as you'd like, so if you just want fancy alert boxes then that's an option too.
One thing we liked about setting up our stream was that you could easily duplicate layouts and drag-and-drop stream elements around on the fly, based on whatever game you were playing. That made things nice and simple when we had to move our camera so as not to cover up the fighting action on nWay's Power Rangers: Battle For The Grid.
You can Multistream
Multistream is exactly what it sounds like. If you've got accounts for YouTube, Twitch and Facebook, then you'll be able to stream to all of them at once in a single application. This was incredibly easy to set up, and we were pleasantly surprised to find out the activity feed and chat updates were aggregated in one place, regardless of what service people were using.
This might also be the best reason to use an on-screen chat display, as it will let people using different video websites interact with each other — and your stream — in real time.
You can use anything on the Streamlabs App Store
Streamlabs Prime includes every app on the Streamlabs App Store, some of which can really add to the production values of your livestream. We particularly liked the 'Lower Thirds' app by Hexeum, which is designed to quickly explain who people are and where you can find them on social media sites like Twitter and Instagram.
That sort of app could be very useful for a podcast, or even a stream with a lot of rotating hosts, and could save a video editor hours of asset creation or video editing time. If that one doesn't sound interesting, then there are over 40 other apps on the Streamlabs App Store, so we're sure you'll be able to find one that suits your needs.
There are paid sponsorship opportunities
After spending a few hours on Streamlabs OBS we received a notification informing us about Pillar, which was previously called Athlane. Pillar is a platform backed by streamers Ninja & Y Combinator that provides livestream content creators at all levels with brand deal offers. You get instant access to it with Streamlabs Prime, thanks to a partnership between the two companies.
Streamlabs Prime also provides immediate access to Powerspike, who also provide brand deals for companies like Coolermaster and Sazerac. We can't promise your channel will get accepted onto marketing campaigns, but it is nice that there's an easy way to apply.
There's a Logo Maker and Intro Maker
Streamlabs has a Logo Maker, which is good news for people that don't know or understand Adobe Photoshop, but would like recognisable branding. Streamlabs Prime users can quickly and easily make a logo with simple shapes and text, modify a starting template, or go a little bit further and use the tools to remix their uploaded graphics. While it was actually really easy to move a logo made in the Logo Maker to the alerts, merchandise and overlays, we still don't think we'll be using it to replace our own company logo any time soon.
Also interesting was the video intro creator, which lets Streamlabs Prime users modify templates to quickly create intro videos for Twitch and YouTube that match with their personal brands. It wasn't hard at all to change the font or add any icons or images that showed whatever information we needed the video to show, so we could see it being more handy on the fly than, say, making a new intro video on Adobe Premiere whenever we had something new to say.
YouTube Thumbnail Maker
If you're just starting out or just don't have experience with image editing software, then Streamlabs Prime is exceptionally useful as users can make thumbnail graphics for YouTube videos with the software's Thumbnail Maker. Much like the animated overlays, professional graphic designers have gone ahead and uploaded many templates that you can put on top of a frame from your video. You can edit the text to whatever you want, so you can let your personality shine through (or perhaps include a choice quote from the video) there too.
Twitch Panel Maker
We can also see the value in the Twitch Panel Maker, which handles the design and coding for buttons that you can put below your video feed. These can link to your various social media sites and help you build your following, or even push viewers towards your Streamlabs tip jar. With the Panel Maker you can ensure that all the buttons on your page have a consistent style, without taking all day to make them yourself.
Streamlabs Prime is available for $149 per year or $19 a month. Streamlabs OBS can be downloaded here for free.
---