Updated 8th December: It's finally the release of the Radeon RX 6900XT A.K.A Big Navi. Excited? Well, same, for now at least. No links added just yet but we will be continuing the search all day.
Updated 7th December: We are one day away from the launch of AMD's greatest ever GPU, the Radeon RX 6900XT. You'd like to think fewer people will be scooping this card up but it is likely to be a case of fastest finger first when it comes to securing one. We will be filling this page with GPU links as they go live.
Updated 4th December: While we expect the stock to follow the same suit like all the other launches, this enthusiast level card may be the easiest of all to actually buy. Many people have already caved and purchased a next-gen GPU, so it should be interesting to see if this release date can put a smile on people's faces.
Updated 3rd December: Another day closer to release, have you cracked and bought something else yet?
Updated 2nd December: It's another big month for hardware release with today being the official launch for Nvidia's RTX 3060 Ti GPU.
Updated 1st December: Not long now until the release of the Radeon RX 6900XT. Have you caved and gone for Nvidia or is stock still a major issue? These cards will have a smaller demand than the RX 6800 & 6800XT but will there be enough?
Updated 20th November: Added product link for the Sapphire Radeon RX 6800XT on Amazon US
Updated 19th November: Added product links for individual RX 6800 & RX 6800XT models from MSI, ASRock, Gigabyte Sapphire, and XFX
Updated 18th November: Launch day for the RX 6000 series is finally here!
Updated 17th November: Added European and Canadian Amazon links for the Radeon RX 6000 series
Updated 16th November: Added Amazon US and UK links for the Radeon RX 6800, 6800XT, and 6900XT.
Updated 15th November: The RX 6800XT is still looking to offer the best value but for just a few hundred more the power of the RX 6900 is incredibly tempting.
Updated 14th November: We are still scouring the web to find any Radeon RX 6000 series GPU listings. One thing to look out for is a discount on the Radeon RX 5000 series after release!
Updated 13th November: We are a day closer and the search continues to find listings for the Radeon RX 6000 series GPUs.
Updated 12th November: With the Ryzen 5000 CPUs benchmarked, we cannot wait to get our hands on the RX 6000 GPUs to see what the full potential behind Smart Access Memory truly is.
Updated November 11th – Our team is constantly scouring the net for links, so make sure you check this page regularly as they can appear at any time during the day when we spot them. We are only a few days out from release now so excitement is beginning to hot up.
AMD's latest launch for the highly anticipated Radeon RX 6000 series graphics cards has finally taken place. These cards, also known as BIG NAVI, feature AMD's RDNA 2 architecture and are going to be the most powerful GPUs AMD has ever made.
We are going to be breaking down the event, taking a look at the Radeon RX 6000 series specifications, release dates, and prices to see what AMD fans can expect from the all-new lineup.
Where to Buy Radeon RX 6000 series Graphics Cards
AMD Radeon RX 6000 Series: Lineup & Specifications
We saw AMD announce three GPUS for the new Radeon RX 6000 series which consisted of:
These GPUs directly compete with Nvidia's recent launch and boast high performance in 4K and everything below in the highest settings available.
The AMD Radeon RX 6800 comes with:
60 compute units
A game clock of 1815MHz
A boost clock of 2105MHz
A 128MB Infinity cache
16GB of GDDR6 memory
A total board power of 250W.
The AMD Radeon RX 6800XT comes with:
72 compute units
A game clock of 2015MHz
A boost clock of 2250MHz
A 128MB Infinity cache
16GB of GDDR6 memory
A total board power of 300W.
The AMD Radeon RX 6900XT comes with:
80 compute units
A game clock of 2015MHz
A boost clock of 2250MHz
A 128MB Infinity cache
16GB of GDDR6 memory
A total board power of 300W.
AMD Radeon RX 6000 Series: Performance
One thing we took from AMD's Radeon 6000 launch was they are going toe-to-toe with Nvidia's in-game performance. Now, until we can get hold of these and test them for ourselves we still don't know for sure but in any case, the results looked impressive.
Radeon RX 6800 vs. GeForce RTX 3070
The Radeon RX 6800 looks to be beating Nvidais RTX 3070 in both 4K and 1440p but this was with AMDs Smart Access Memory enabled, so what consumers with previous-gen AMD CPUs will get is unknown at this stage.
One thing to take away from the more affordable cards in both manufacturer's range is that the AMD Radeon RX 6800 features double the memory of the RTX 3070 and could hold up better in the future when playing in 4K.
Radeon RX 6800 XT vs. GeForce RTX 3080
The performance charts for the RX 6800XT were more impressive and this time without Smart Access Memory being utilized. At stock, the RX 6800XT pretty much matches or beats the comparable RTX 3080 in the majority of the benchmarks shown in 4K. When dropping the resolution to 1440p, AMDs card shows even more performance gains, due to Nvidais Ampere being unable to take full advantage of its shaders.
Radeon RX 6900 XT vs. GeForce RTX 3090
Here we are comparing the two enthusiast-level graphics cards and if it wasn't for the value of the Radeon RX 6900XT, the RTX 3090 certainly appears the better option.
We saw that the 6900XT ties with the 3090 but AMD's results were taking advantage of Rage Mode and Smart Access Memory, which could equate to anywhere between 2 and 13 percent.
AMD Radeon RX 6000 Architecture: RDNA 2 & Infinity Cache
AMD was looking for another 50% generational improvement from RDNA in perf-per-watt and with RDNA 2 they set an ambitious goal of leadership gaming performance.
RDNA 2 works off of the same 7nm process node as RDNA but has been refined to produce high performance compute units, a revolutionary Infinity cache, a breakthrough high-speed design, and new hardware features. A natural side effect from this enhanced performance, of course, is more power draw. The compute unit is the core of the new architecture, with the design getting a complete overhaul.
AMD deployed pervasive fine-grain clock gating, reimagined aggressive pipeline rebalancing, and redesigned data paths for efficient movement, making the compute units 30% more energy-efficient and allowing them to be pushed even faster.
Gaming at 4K requires more data to be brought into the chip and this is where AMD's revolutionary Infinity cache comes in to play.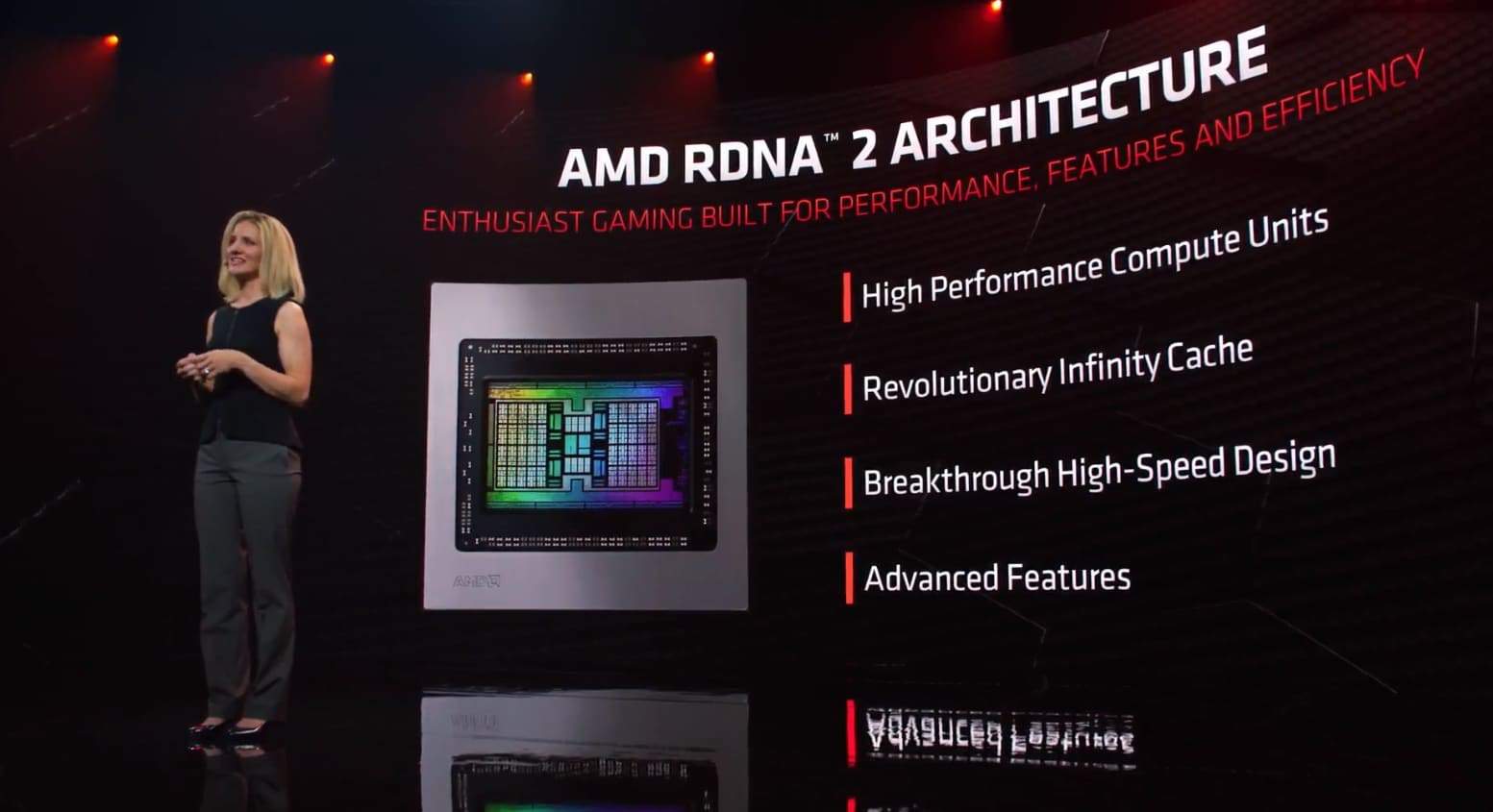 The more efficient the memory subsystem is, the higher fidelity the images are, and the higher you can push the frame rates. So, AMD deployed a graphics optimized, high-density, high-speed cache, based on Zen L3 cache named – Infinity Cache.
The Infinity cache minimizes RAM bottlenecks, latency, and power consumption and when combined with a 256-bit interface delivers more than twice the effective bandwidth of a 384b G6 solution.
RDNA 2 is built with custom libraries and high-speed design flows, maximizing frequency in 7nm. With RDNA 2, AMD's silicone improvements, and architectural design, they are able to deliver a 30% frequency increase on the previous generation.
RDNA 2 architecture beats AMD's performance per watt goal, achieving +54% and new hardware features have been brought in too.
AMD worked closely with Microsoft on DirectX 12 Ultimate features including DirectX RayTracing, Variable Rate Shading, Mesh Shaders, and Sampler Feedback. RDNA 2 will also decrease game asset load times thanks to supporting Microsoft Direct Storage API.
On average RDNA 2 delivers double the performance compared to the previous generation when running at 4K in certain games
AMD left a little teaser to RDNA 3 with Laura Smith, AMD's graphics chief engineer stating " The RDNA 3 team is well into execution".
AMD Smart Access Memory, Rage Mode, & Latency Reduction
AMDs Smart Access Memory unlocks the greater amount of high-speed memory from the AMD Radeon RX 6000 series GPUs to the AMD Ryzen 5000 processors, delivering additional performance in your games. When paired with 500-series chipset motherboards and enabled, the software allows the CPU to directly access the graphics card's full memory buffer, as opposed to the 256MB segments that we have been used to. To put it simply, Smart Access Memory means more efficient use of the combined memory of the CPU and GPU, reducing buffering and latency.
Alongside a plethora of newly equipped advanced features, the RX 6000-series GPU lineup also offers up a newly enhanced overclocking mode – cutely named, rage mode. Rage mode is a new addition to RADEON's software suite which allows you to unlock additional performance and overclock headspace. When rage mode is enabled, users will see a decent increase in performance in gaming scenarios – with an increase of anywhere from 2-13% in an abundance of AAA titles. That being said, to get the absolute highest level of potential from the new RNDA 2 cards, AMD is recommending that you pair a 6000-series GPU with a 5000 series CPU – enabling both rage mode and smart access memory simultaneously.
AMD strives to improve our gaming experience in more ways than just FPS and they highlighted the 2nd -gen latency reduction technology in the new RX 6000 series GPUs. AMD says this new technology will give competitive gamers a leg up over the competition but whether we are going to notice the subtle differences is unclear at this stage.
They have reduced latency by combining Radeon Anti-Lag with a Freesync monitor, showing results in DX 9 and DX 11 games.
When you pair all this with Radeon Boost, AMD boasts quicker responses to your input, with a reduction of up to 37% when running in 4K.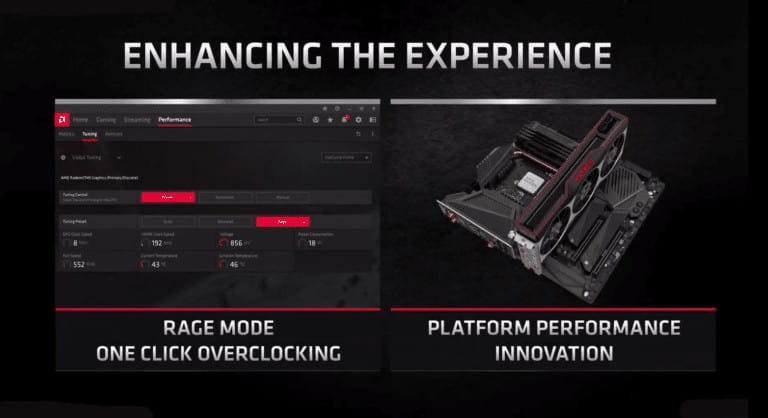 AMD Radeon RX 6000 Series: Release Date
AMD has finally announced the official release dates for the new Radeon RX 600o series and we don't have to wait long!
Below are the release dates for the highly anticipated Radeon RX 6000 series GPUs:
AMD Radeon RX 6800 – November 18th
AMD Radeon RX 6800XT – November 18th
AMD Radeon RX 6900XT – December 8th
AMD Radeon RX 6000 Series: Price & Pre Order
While it was impressive to see the performance of the new Radeon RX 6000 series graphics cards compete with Nvidia's latest batch, it was again the price that stole the show. When we look back at previous AMD launches, the manufacturing giant has always offered supreme value and offered gamers a tempting alternative.
Below are the prices for the highly anticipated Radeon RX 6000 series GPUs:
AMD Radeon RX 6800 – $579
AMD Radeon RX 6800XT – $649
AMD Radeon RX 6900XT – $999
After several years of what must have been painstaking work, it appears as though AMD is finally going to challenge Nvidia in the graphics card department and if the announcement is accurate, we can't wait! We will be benchmarking the Radeon RX 6000 series graphics cards as soon as we can get our hands on them to put AMDs claims to the test.
The launch really got us excited but will these GPUs meet our expectations? Will AMD's Smart Access Memory work better with the Ryzen 9 5950X over the 5600? Only time will tell but it is safe to say that 2020 is an incredible year to be a gaming enthusiast.