AMD's New Navi Lineup | Release Dates, Specifications & Comparisons
Updated: Mar 14, 2022 5:26 pm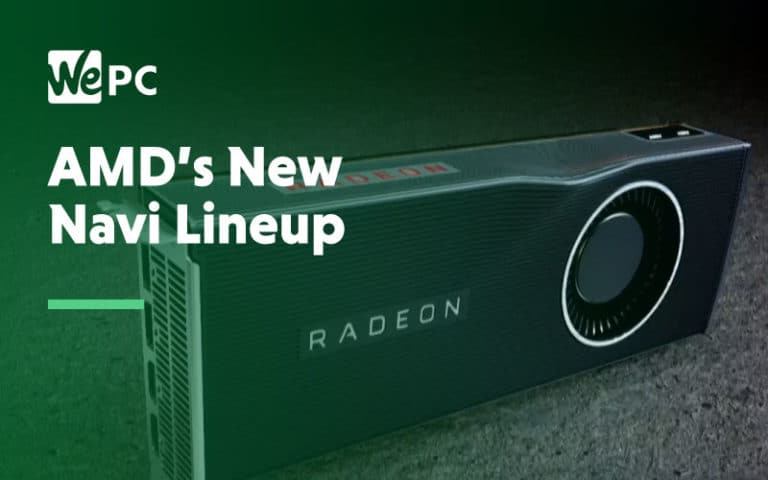 The new Navi GPUs have finally arrived and come to shelves boasting some very impressive performance figures. The new range currently hosts the RX 5700 XT, Rx 5700, and RX 5700 XT 50th Anniversary Edition but rumors are now spreading of potential 5600, 5800 and even 5900 cards in the making.
The three cards we know exist come representing the new RDNA GPU architecture and will be the first cards since 2012 to take over from the GCN design. Dr. Lisa Su says the new architecture is an entirely new look on graphics cards and will redefine their GPUs going forward just as Zen did for their CPU range.
AMD has been in headlines a lot of late thanks to the new CPUs which went live on the 7th of July. The new range of Ryzen chips has taken the market by storm and look set to knock Intel off the CPU hierarchy top spot for the first time in decades. If the Navi lineup – which also went live on the 7th of July – is anything like their new CPU range, expect big things to come out the AMD GPU cupboard.
This being said, we already know quite a bit about the new Navi GPUs and what they have to offer. In the following article, we're going to discuss everything we currently know about Navi and how the new cards will affect consumers looking to build a gaming rig in today's market.
Let's take a closer look at the recently released RX 5700 XT, RX 5700 XT 50th Anniversary edition, and the RX 5700.
RX 5700 XT 50th Anniversary Edition
The RX 5700 XT 50th Anniversary Edition, or 5700 XTAE as we'll call it, is the most powerful of the three graphics cards to be released under the new Navi lineup. As with all the Navi cards, the 5700 XTAE arrives on 7nm and accompanied by the new RDNA architecture. The architecture comes with a new instruction set which is better suited for rendering graphics effects more efficiently and a multi-level cache hierarchy for reduced latency for higher responsive gaming.
The 5700 XTAE comes uniquely designed with a gold trim shroud and Dr. Lisa Su's signature. It's the current Navi flagship card and comes clocked 75MHz faster than the 5700 XT. It comes with three display ports and a single HDMI input. Like the other Navi cards, the 5700 XTAE is a blower-style card which sucks air through the fan and expels the hot air out the back, helping reduce computer temps more effectively.
RX 5700 XT
The 5700 XT is pretty much a 5700 XTAE but a few Mhz slower, 75 to be exact. Some subtle differences do make a small impact, though.
At stock speeds, the 5700 XT has a 1,605MHz base clock and 1,905MHz boost clock. AMD has implemented a new metric, which is a 1,7555MHz game clock. AMD has stated that the actual real-life speed of the card when gaming will sit somewhere between the base clock and the game clock.
The design is very similar to the 5700 XTAE but doesn't come with the fancy gold trim or Su signature.
RX 5700
The last card in the current range is the RX 5700 which again, is a lesser powerful RX 5700 XT. The 5700 was released at the same time as the other cards and comes with the same fancy new tech and architecture.
The 5700 features 36 compute units, 2,304 stream processors and a boost clock speed of 1,725, almost 200MHz less than the XT. It also comes with 8GB of GDDR6 VRAM on a 256-bit bus with 65 render output units to boot.
The Navi 10 GPUs are the first RDNA graphics processors that have been equipped with the new AMD architecture. It really is exciting times for AMD fans right across the hardware board. We've gone over some of the specs above, but for those who want all the details, the charts below will showcase exactly what they have to offer.
As you can see, there's not a huge difference between the three cards, apart from the price anyway. The biggest difference is the clock speeds and most noticeable is the drop from the 5700 XTAE to the RX 5700 (1680Mhz – 1465Mhz).
All cards have been built using the Navi 10 architecture, all use the same 7nm process, and all have 10.3 billion transistors. All have 8GB of GDDR6 VRAM and have 256-bit bus width.
So, what does this all mean for the performance of these new cards? How will they truly handle real-world situations?
Let's take a closer look at that new Navi architecture we've heard so much about. If like me, you like to keep well informed on the latest tech, then you'll be fully aware of AMD's struggle to keep up with Nvidia's offerings. It's been this way for over half a decade now, AMD has always had to use 50-60% more power than Nvidia to achieve similar performance stats.
However, that might be about to change with AMD's big redesign. AMD has been quoted on numerous occasions saying the new architecture is truly unique and not a refinement of pre-existing GCN units. Whether that is true is a tough question to answer.
RDNA has a new Dual compute unit design with some shared resources, including L1 cache. Previous GPUs from both AMD and Intel camps have been equipped with L0 cache, L2 cache and VRAM acting as a large L3 cache. CPUs, for example, don't have L0 cache but do come with L1/L2/L3 caches. AMD says that the L1 cache helps dramatically reduce latency and throughput, which increases efficiency.
We will also be seeing improvements made to the wavefront and delta color compression (DCC), which will further reduce latency, improve efficiency, and boost overall performance.
AMD has also implemented its new 'Game clock' into the new range of Navi cards. This is a conservative estimation of what users might experience while playing games on this GPU. Saying that though, when announced at E3 and displayed to the masses, there were some computational performance issues when using boost clock. The Game clock is a more realistic assumption over the boost clock.
It's all gravy hearing about the great new technology implemented into these new cards, but ultimately, the people want to know how this thing performs in real-world situations.
Radeon RX 5700 XT Vs GeForce RTX 2070
I think it's safe to say the 5700 XT has been released in direct competition of the GeForce RTX 2070. The initial benchmarking figures would suggest that the 5700 XT has it's number as well. Similarly, the RX 5700 is in direct competition with the 2060, and again, beats it's rival quite considerably.
The single-thread performance of the Navi cards has undoubtedly seen the greatest improvement in performance. Not something you would usually talk about when referencing a GPU, which is more CPU territory. However, that being said, how fast a GPU processes its workload is vital for the overall multi-threaded nature of a GPU.
AMD is claiming a 25% increase in instructions per clock for the new RDNA architecture versus the last-gen GCN. They've gone as far as saying the new cards will have a 50% overall performance increase while still using the same power and general configuration too.
The figures displayed have been generated from a pc running Division 2 at 1440p, so there's no figure bodging this time.
Power consumption has also undergone improvement, and numbers now show a 1.5X increase in performance per watt when compared to the Vega 64 – even when using the most demanding GDDR6 VRAM.
For the gaming enthusiasts out there, AMD kindly ran a benchmarking comparison against the 5700 XT's close rival, the 2070. The resulting figures are quite something.
The 5700 XT only loses out to the 2070 in two games (Shadow of the Tomb Raider & Civilization 6). Everywhere else the 5700 XT comes up trumps, even on Battlefield 5 where it boasts a 22% improvement.
It's not just the 5700 that will be gracing the Navi badge though. Recently, news has leaked that we could see up to 20 more Navi branded cards to come. AMD's biggest add-in-board partner, Sapphire has registered 20 additional trademarks with ECC. The list below shows all newly registered trademarks:
RX 5950 XT
RX 5950
RX 5900 XT
RX 5900
RX 5850 XT
RX 5850
RX 5800 XT
RX 5800
RX 5750 XT
RX 5750
RX 5650 XT
RX 5650
RX 5600 XT
RX5600
RX 5550 XT
RX 5550
RX 5500
RX 590 XT
RX 590
Now, before we all get carried away, it's worth mentioning that not all of these trademarks will be used for actual GPUs. It's just a way the AIB can cover its tracks by registering all possible combinations in the 5000 series.
Final Thoughts
That's pretty much all we know about the Navi GPU range as it stands. We're currently in the process of compiling our own benchmarking figures to see how it handles itself against the 2070 in real-world situations.
This being said, what do the current figures mean for people looking to build a PC in today's market?
Well, it firstly makes your life much more interesting or stressful, depending on which way you look at it. Before you just had Nvidia, it was the go-to selection for GPUs. Now though, AMD has messed things up by giving us a real decision to make.
The 5700 XT is a brilliant card that seemingly knocks out its competition and is extremely well priced to boot. It's going to be really interesting seeing how the next 12 months pan out for Intel, especially with AMD seemingly coming out of the blocks swinging.
---