IPS vs LED Monitor: Different Screen Technologies Explained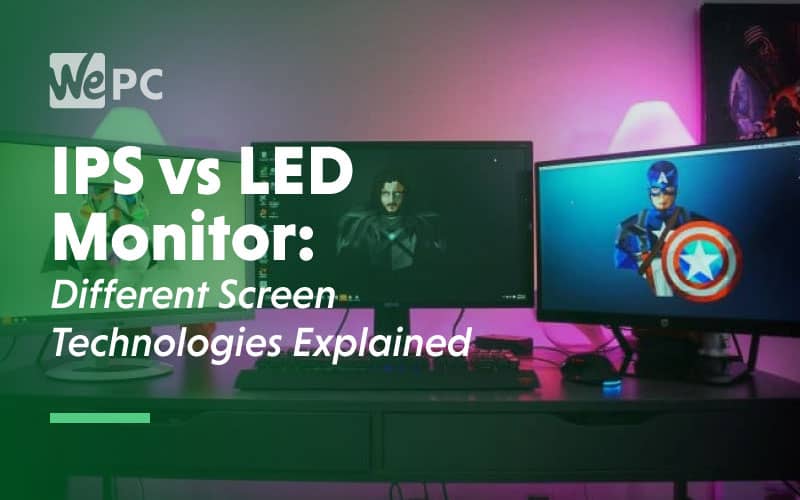 Upgrading to a new monitor is an exciting milestone. There are many things you need to check and these vary from resolution, panel technology, and backlight technology.
With all the differences between screen technologies, you are now confused.
Don't worry as this is what this article is for: to differentiate the major differences of IPS vs LED monitors. Before we go to the main comparison, let us first look at the basics of what IPS and LED are.
What is an IPS technology monitor?
IPS or In-Panel Switching monitor, are types of panel technology for LCD or Liquid Crystal Display. IPS shows the best image quality over its TN counterparts since it offers a variety of benefits, as well as noticeable downsides. More on this below.
High quality images and detailed graphics are what they are known for producing.
Below is our favorite monitor that utilizes the IPS technology.
Our Pick
Acer Predator XB271HU
Among the most popular types of high-end monitors are from Acer, especially their Predator series. The Acer Predator XB271HU is our personal favorite among the IPS gaming monitors we reviewed simply because this holds a whole lot more up its sleeves. It's a 27" gaming monitor that runs a 1440p resolution.
What is an LED technology monitor?
LED or Light Emitting Diode is a type of backlight technology or display technology that utilizes LED to light up each pixel content. A good example of another type of backlight technology is CCFL or Cold Cathode Fluorescent Lamps.
What makes LED technology ideal for monitor screens is the fact that they offer brighter screens but takes up less power.
This is where things get interesting as we talk about what makes them different from each other, regardless the differences in screen technologies.
For the best gaming monitor that utilizes the LED technology, here's our personal favorite…
Our Pick
Samsung UH750
Samsung has been known to produce quality products and the Samsung UH750 is no different. This is a 28" gaming monitor that has a very sleek design and a grey accent to compliment with most gaming setups and themes. It also displays 4K resolution. Since this is a TN panel monitor, it has a fast response time (1ms).
Pros and Cons of IPS Monitors and LED Monitors
Now that we have a better understanding of what IPS monitors and LED monitors are known for, let us look at the areas they differ:
Starting off with the main area they differ, IPS Monitors are types of Panel Technology. LED Monitors, on the other hand, are Display Technologies or Backlight Technologies.
Although they differ in technology, both can be compatible enough to work together. An explanation of this can be read below.
IPS monitors deliver specific quality images, which means they need more power to keep up with all the activity going on the monitor.
LED monitors may show brighter screens but they actually take lesser power as opposed to the IPS monitors. This is what makes LED monitors a common LCD backlight today.
A noticeable downside with IPS monitors is the fact that they have longer response time (about 10ms).
Now you might be wondering:
Is 10ms really that noticeable?
While it seems really small, fast-moving games like Battlefield, PlayerUnknown's Battleground, Fortnite, Overwatch, and other FPS games in general, will show noticeable differences. This is because the IPS monitor has to process the images accordingly before throwing them back to the monitor.
LED monitors don't have these issues. In fact, you could find LED monitors that have high refresh rates - as high as 144Hz!
It may be possible for you to find 144Hz IPS monitors today but you can still see differences in output, not to mention a really big difference in price.
No matter which angle you are looking from, IPS monitors allows you to see the monitor from wide angles (178° to be exact!), without seeing color shifting. This means you can look at the monitor anywhere and not worry about changes in color.
LED monitors may not have the advantage but in terms of getting a bright monitor screen, you can guarantee you get a brighter screen in all corners.
With the IPS technology delivering clear and crisp images through their vibrant colors, the battle of showing better image quality is not even a battle at all.
LED monitors can't top the image quality of IPS monitors in any manner.
Without a doubt, IPS monitors are expensive across the board. Compared to LED monitors, gamers find LCD LED monitors to be a great investment as a start.
On the other hand, if you are into content creation, video editing and image editing, it is advisable you need to invest in an IPS monitor to get clear and crispy images for an accurate edit.
IPS monitors require not just more power to deliver clear images but they also give off more heat than what LED monitors are able to deliver.
In fact, even with all the bright lights LED monitors are giving off, they still boast the least heat produced.
They may differ in technology but you can see a handful of combination of the two technologies:
LCD monitors that utilize IPS panels paired with LED lights as the backlight.

LED backlit displays in an IPS panel or a TN panel.

IPS panels that utilize either LED or LCD backlight technology.
IPS and LED are different types of technology to start with.
Regardless, IPS monitors are perfect for creating contents, professional image work, and video edits. The sharp image display and quality colors may be perfect for gaming but FPS games and other fast-action MOBA will surely notice longer response rates.
Make sure you check our Best Gaming Monitors of 2019 to give you an idea which monitors perfectly meets your budget and needs.
Read More: