Whether you are looking for a mechanical keyboard, wireless keyboard, or even an ergonomic keyboard, it can be tough to narrow down the list to find a product you want. What do you need to look for? What makes a good keyboard? These can be pretty tough questions to answer and your search may feel overwhelming.
Today, we're going to look at a great batch of gaming keyboards and we'll go through a couple of key things you'll want to look out for. We've chosen Logitech as our focal point for today's article, it's always easier to buy a keyboard when you've narrowed down the list to a manufacturer, and Logitech is a great brand to choose.
Having a gaming keyboard can work wonders for your setup. You'll soon find that going back to a 'standard' keyboard will never feel the same. Not only do gaming keyboards have extra functions that will help improve your gameplay, but they are also great to type on and have lots of interesting, RGB backlit designs to choose from.
Why Buy A Logitech Gaming Keyboard?
These days, you can find keyboards in all shapes and sizes with different brands suited to different people. If you are struggling to find a keyboard that you love when you're searching through online listings, a simple way to narrow down your search is to look towards a brand you trust.
If you take a look around your desk right now, we'd be surprised if you didn't already own something that Logitech has made. It's a brand that is simply everywhere these days, with products including steering wheels, mice, keyboards, and even gaming headsets.
Logitech offers a wide range of keyboards that vary from those you'd see in a professional environment to those which wouldn't look out of place at an esports tournament. There's also the choice of wireless keyboards for those who want to eliminate a bit of desk clutter.
Where Can You Buy A Logitech Gaming Keyboard?
If you want to see all the latest keyboards that Logitech has to offer, the best way to do this is to head on over to their official website. Here, you'll be able to filter through keyboards in a couple of different ways.
You can choose to look solely at gaming keyboards if you want and filter by lighting, connectivity, features, switches, and of course, price.
Another great way to find the perfect gaming keyboard is to expand your search to a couple of different websites. Online marketplaces such as Amazon will have hundreds of items that you can flick through. You'll be able to sort by price, features, and compare any models that pique your interest.
If you are looking at picking up a keyboard that you aren't 100% sure on, it's a great idea to take a look at your local stores to see if they have any on display. This way, you'll be able to get an idea of how they feel to type on and if the switches they are using suit your needs.
Which Logitech Gaming Keyboard Is Best For You?
Logitech G915
Tech Specs
Size – Full size, 475 x 150 x 22 mm
Switch – Low-Profile GL Switches
Connection Type – Wireless, up to 30 hours
If you are truly looking to splash out and want the best of the best, the Logitech G915 is a premium option that comes packed with features. This isn't a cheap keyboard, however, but it certainly is a quality one.
This wireless keyboard comes with two different methods of connectivity which really helps it stand out. You can switch between a standard Bluetooth mode or Logitech's own LIGHTSPEED wireless technology which allows for a super-fast 1ms connection. This is great for those who will be using this keyboard for gaming and really puts it on par with wired models in terms of response times. This will drain the battery, however, but with a 30-hour battery life and the option to switch to Bluetooth mode at will, we can't see this keyboard running out of juice very often.
This is a great quality keyboard that feels durable and definitely lives up to its price tag. It has a low profile design and the GL switches are great for both office use and gaming alike. While it may take a little adjustment to get used to, they offer brilliant performance.
You'll also get a host of macro G-keys that allow you to easily map commands for a greater level of control in your games. These settings can be easily stored in three onboard profiles and configured through the use of the G Hub which Logitech offers.
You'll also get dedicated media controls and a volume slider to give you control over your music at all times. This is a great feature to have and one that is sadly missing from a lot of premium products.
Logitech G613
Tech Specs
Size – Full size, 478 x 216 x 33 mm
Switch – Romer-G Mechanical
Connection Type – Wireless, up to 18 months
If the Logitech G915 is a bit on the pricey side for you, the Logitech G613 is a less expensive product that still offers some of the same great features. This is a great all-round keyboard that is well suited for both office and gaming use.
If you want to use this keyboard for gaming then you'll be happy to know that just like its bigger brother, the G613 also has the ability to connect using LIGHTSPEED. This gives it the same impressive level of responsiveness and reliability that you expect from such a high-quality product.
This laptop also offers a very impressive battery life of up to 18 months. While this impressive battery life could be down to the fact that this keyboard has no RGB lighting to speak of, this is a pretty good tradeoff if you're somebody who is worried about running out of charge.
Although this keyboard isn't the most 'gamer-oriented' on the list, it still comes with six programmable macro buttons for you to play with. You can manage these inside the G Hub software and you can map them to whatever you like. You'll also get a set of media buttons that you can use to easily control your music when needed.
Logitech Pro X
Tech Specs
Size – TKL, 361 x 153 x 34 mm
Switch – GX Blue / GX Brown / GX Red
Connection Type – Wired, 1.8 m detachable cable
If you are looking for something that has a smaller form factor for your desk, this TKL keyboard is a perfect choice. You won't be sacrificing any quality here for the smaller size and will no doubt be impressed with the features available.
Now, any product that puts the word 'pro' in the product name needs to back it up with some impressive features. This keyboard is available in one of three different key switches, the GX Blue is clicky, the GX Brown is tactile and the GX Red is linear. These switch styles are similar to what you'd expect in the Cherry MX line and can also be removed and changed out at will which is a great option for those who like to experiment.
This keyboard is definitely built with portability in mind. Although it isn't wireless, the small size, lightweight, and detachable cable make this a great option for those on the move. You will be sacrificing your media keys for this small size though as well as the loss of a dedicated macro key column you'd see on larger models.
You can configure the 12 function keys as programmable macros however you like, as well as use the alternate functions to grab back some of your media control. While this isn't the same as having a dedicated key, it's a perfect compromise between customizability and reduced size.
Logitech G213 Prodigy
Tech Specs
Size – Full size, 452 x 218 x 33 mm
Switch – Mech Dome
Connection Type – Wired, 1.8 m cable length
If you are looking for a budget option, then the Logitech G213 is a great choice. This is a full-size keyboard with a simple design that will look great in offices or gaming rooms. It's a fairly big keyboard, so that's worth bearing in mind if you have limited space.
As it's a budget option, the build feels a bit plasticky but besides that, it looks pretty good, particularly with the RGB lighting on. The keys are hybrid mechanical-membrane switches so if you're looking for a proper mechanical keyboard for gaming, you may be slightly disappointed here. However, the keys have good responsiveness, they may just feel a little bit spongy.
While this is a budget keyboard, it still has some great customization options thanks to Logitech's Gaming Software. This allows you to reassign keys, create macros, and play around with the RGB lighting. The keyboard comes with media keys including play, pause, skip keys, and volume controls.
Overall, it might not be the best gaming-specific keyboard in the world but if you're looking for a good all-rounder that will fare well in different situations, the G213 is a solid option.
Things to Consider
Price Range
When you are weighing up which keyboard to buy, things can start to get expensive pretty quickly. If you aren't looking to break the bank you'll have to forgo features such as RGB backlighting and wireless technology.
Generally speaking, you can pick up a great quality keyboard for around $50 if you're not looking for anything fancy. At this price point, you may still find some lighting but it may not be RGB and may not even be customizable.
As you move higher up the price range you'll start to find different key switches, individual key lighting, and extra features such as macro and media keys. Finding something that suits you doesn't have to be expensive but if you're looking for a specific key switch or a certain group of features, you'll have to pay a slight premium.
Mechanical vs. Membrane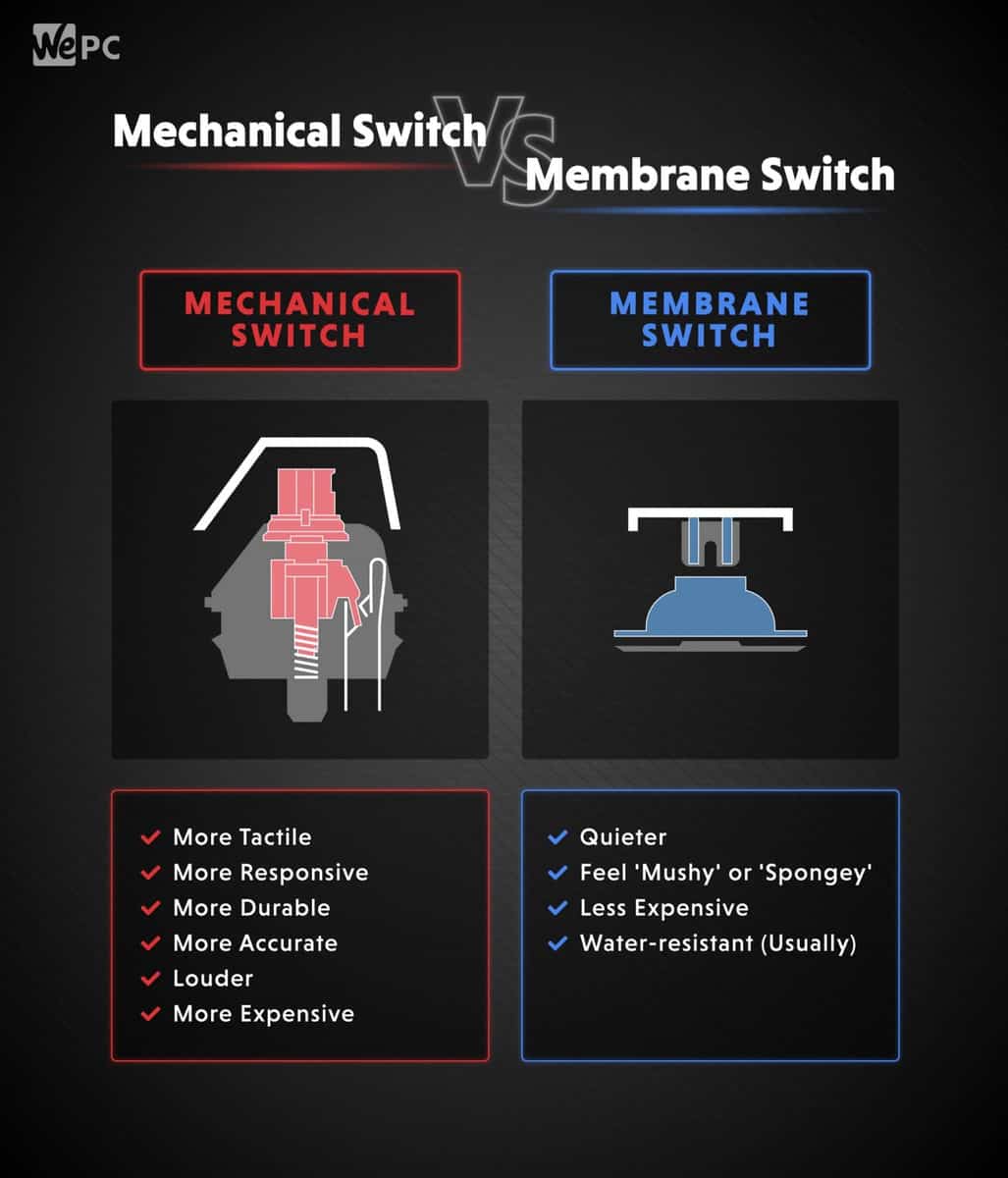 Although we haven't looked at any membrane keyboards today besides the hybrid G213, they are still out there. Most gaming keyboards these days have made the switch to using mechanical key switches rather than membrane ones.
While membrane switches cost a fair bit less than their mechanical counterparts, there is a bit of a tradeoff. Many gamers are so used to the responsiveness of mechanical switches in their keyboards these days that going back to a membrane keyboard can feel mushy in comparison.
However, although membrane switches are often labeled as mushy and spongy, they are a lot cheaper and in some cases, quieter than mechanical switches. Mechanical switches excel in the amount of flexibility they give users, you can pick up tactical keys, clicky keys, and even silent keys for your keyboard. These are often more durable and responsive than membrane switches but cost a bit more to purchase.
Design
One of the best things about gaming keyboards is that they look great. Their sleek, sharp designs are often highlighted with great RGB features that can be customized by ease. While these keyboards may not be suited to an office environment, they will make any gaming setup look great.
Size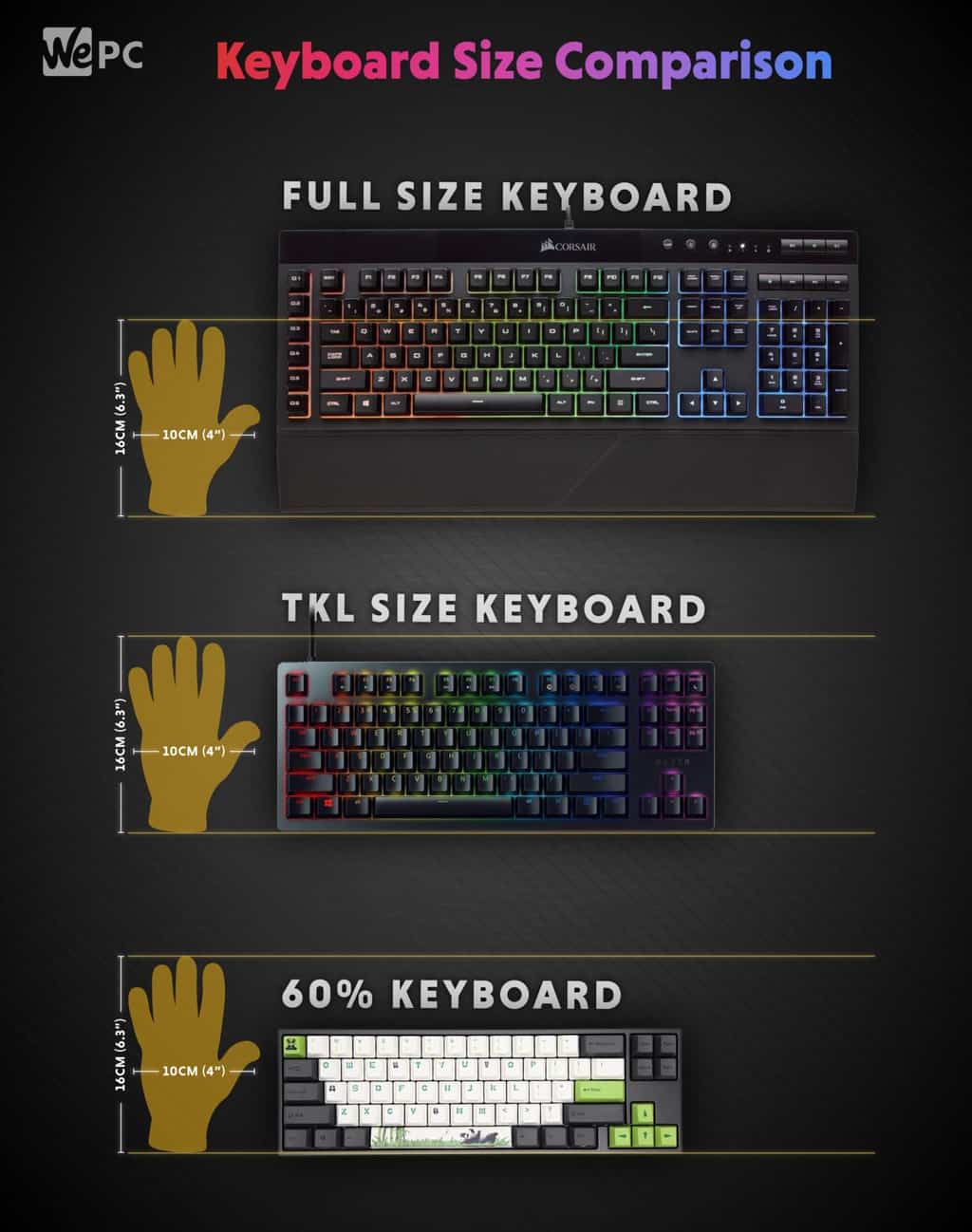 Not all keyboards are created equally, some are larger than others and some even offer fewer keys. This isn't always a bad thing though, if you don't need the extra keys, you can save a bit of money with a smaller keyboard.
There are three main sizes you can pick up when it comes to keyboards, full size, TKL, and 60%. Full-size keyboards offer exactly as you may think, a full-size keyboard. These will all be of a similar size and include a num-pad.
A TKL keyboard simply stands for Tenkeyless and allows for a smaller sized keyboard by omitting the Numpad. As the Numpad is something not often used in games, this isn't a huge deal for most gamers.
Keyboards can go even smaller though, 60% keyboards are probably the smallest you can get without them becoming tricky to type on. These keyboards usually only include the essential keys and will often squish together keys such as the arrow keys or even through the use of a smaller return or right shift key.
Comfort
While we haven't touched on it too much in this article, comfort is something that is very important in a keyboard. While most gaming keyboards aren't branded as ergonomic some do offer features that make them more comfortable to use.
Keyboards that had adjustable legs or even a removable wrist support can go a long way to making your gaming experience as comfortable as possible. While features such as wrist supports may increase the price a little bit, after a few hours of use you'll be happy you spent a bit extra.
Extra Features
Another great part about picking up a gaming keyboard is that they often have a bunch more premium features when compared to standard keyboards. RGB lighting, wireless technology, and remappable buttons are some great features to look out for.
With these keyboards being used for gaming, you'll find that there are often a few programmable buttons you can make use of. These are also useful for those who may be using their keyboard for creative applications as these keys can be customized however you see fit.
Wireless technology is great for those who are tired of having a gaming setup that is cluttered with wires. Also, due to the fact that these keyboards are used for gaming, the wireless technology included is now better than ever and offers rapid response times as well as great battery life – as long as you keep your flashing lights turned off of course!
Our Verdict
Shopping around for the best gaming keyboard can be quite a feat with so many options out there to choose from. However, choosing Logitech as your brand to focus on is a good move. They produce great gaming keyboards with a range of different options to suit various needs and budgets.
We have tried to pick a variety of options so you've got a good all-round picture of what's on offer. Of course, we couldn't list every single one so it's definitely worth doing your research.
What do you think of our Logitech gaming keyboard picks? Is there another one you think should have made the list? Let us know in the comments, we'd love to hear your thoughts. Or better yet, why not visit our Community Hub where you'll find like-minded people to chat about gaming hardware with?