BEST VPN KEYS- Where To Buy, Best Offers, Discounts, And Savings
Get the best VPN to protect your privacy and unlock geo-restricted contents. Find best offers and discounts on Avast VPN and HMA VPN.
Updated: Mar 27, 2023 9:04 am
SPONSORED POST
Best VPN: How do you find it?
Today we are going to talk about the best VPNs, introducing Avast VPN and HMA VPN. Have you heard about VPN's?! Of course, you have, who hasn't? There are so many around these days and all at differing prices to the extent that it gets extremely confusing trying to work out exactly what the Best VPN keys even are. That's where we come in. We're about to break down the best VPN keys that you can get and show where to find the best deals, the best offers, and the best savings. Formerly, we gave you tips on where to buy Windows 11 or get Microsoft Office cheap, buy antivirus software, and suggested keeping an eye on Black Friday software deals so as not to lose even more advantageous offers. Now strap yourselves in and get ready to rumble.
Today's cheapest VPN hot deals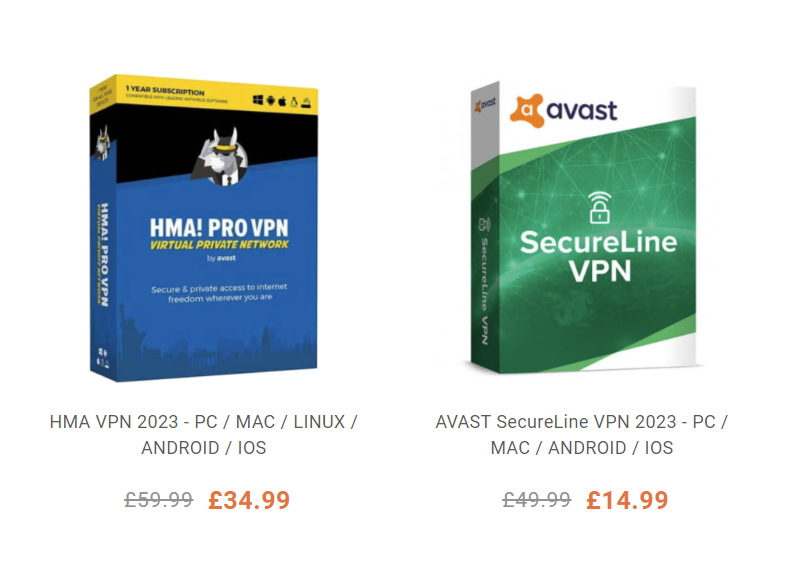 The Best Cheap VPNs: 2023
What is the best VPN? It should be a good compromise between the cheapest VPN and those that guarantee the best performance and ease of use – This is what you'll find in the list below
Avast VPN
Avast Secureline VPN offers one of the most reliable alternatives to the competition, but why should you choose it over the rest? Well:
Avast doesn't really take up much space on your computer
It offers peer-to-peer support for ease of access
You get pretty good privacy protection.
You spend only £15 for a full year
It is compatible with PC, macOS, Android, and iOS
If we are to look for faults, it's worth noting that £15 only covers one device though, that Avast Secureline VPN offers a lot less in terms of server options when directly compared to the competition, and that the service also keeps connection logs, meaning that you're able to be tracked if you're not incredibly careful.
Find the -50% offer on Avast Secureline VPN on Mr Key Shop and get an additional 8% discount by using the coupon: MRWEPC8
BUY NOW: Avast Secureline VPN
HMA VPN
If you're not feeling Avast VPN though, there are other options such as Hide My Ass VPN. This VPN offers the following:
Fast Speeds when connected and able to stream up to 4K video
Works On Netflix
Great Security Encryption
30-day money-back guarantee (and it's only £35 for a year and five different devices!)
Supported across Windows, macOS, Android, iOS, and Linux.
There are downsides to this VPN too though, with occasional slow servers, email support that can take a while to get sorted, and a complete lack of support in Chinese territories.
Find the -16% offer on HMA VPN on Mr Key Shop and get an additional 8% discount by using the coupon: MRWEPC8
BUY NOW: Hide My Ass VPN
VPN: Why using it is a good idea
A VPN encrypts your data and hides your IP address from the government which can be extremely useful for torrenting data without being harassed by various different systems. It'll give you a huge amount of security on public wi-fi, meaning that your security will remain secure while you're at say, a coffee shop or a train station. You won't have to worry about potentially having your passwords stolen, or the potential that your bank details are scraped away slowly and carefully by people who would use that information for nefarious purposes.
Another massive reason to get you're hands on a VPN download and get the best VPN you can is the fact that content is kept behind a gate by several leading streaming service providers. Places such as Netflix and Amazon Prime only have the license to stream content in certain countries, which can result in places such as the United Kingdom being completely left out of the equation. For example, you might not be able to access Brooklyn Nine-Nine Season 8 in the United Kingdom currently, meaning that you can watch the rest of the show but not the final batch of episodes. With a VPN hooked up and tuned in to a different server, you'll be able to access all the content that the region you're connected to can, allowing for a wider array of content.
Now that we've established that a free VPN will not guarantee all these perks, you should better invest a small amount and aim at the safest, easiest to use and fastest VPNs, like Hide My Ass VPN and Avast SecureLine VPN
VPNs are also capable of adapting across multiple different devices, allowing you to work across different systems with the same amount of security on each system.
VPN for Mobile
All the most relevant providers keep competing in research to develop the best VPN for mobile, as recent trend reports talk about hundreds million mobile VPN downloads in the last few years. While Apple and Google themselves are constantly evolving their mobile encryption, we still suggest independent VPNs for smartphones, as well as best paid VPN instead of free VPNs.
Mobile-friendly VPNs ensure higher speeds and greater data privacy, a more efficient use of memory and lower battery consumption. Whether you have an iPhone or Android device, check the easy-to-use mobile app options below to find your best VPN for mobile.
VPN for Android
If you own an Android device, using a trustworthy VPN for Android is the right way to protect and hide your data, online activities and apps usage. Your internet service provider, as well as apps' owners and Google, will be unable to see your browsing activity or app usage, nor your actual location, saving you from constant surveillance and personal data breaches.
Many users define HMA VPN as the best VPN for Android, particularly after the latest update. The esteem is based on concrete elements: Hide My Ass VPN makes the most of super-fast servers from over 280 locations worldwide, OpenVPN protocol, fast connections maintained when switching networks, short intervals in IP address change, Kill Switch, no-logs DNS servers, breach protection, Split Tunneling and other relevant features that you will not get from any free VPN for Android.
HMA VPN is compatible with all Android phones and tablets from Google Pixel, Samsung Galaxy, Oppo, OnePlus, LG and many other brands supporting Android Marshmallow (Android 6), Android Nougat (Android 7), Android Oreo (Android 8), Android Pie (Android 9), Android 10, Android 11, Android 12.
VPN for iPhone
Is it really worth installing VPN for iPhone? Apple devices ensure a good level of protection and security, but you should get the best VPN for iPhone from Mr Key Shop to increase your privacy, avoiding internet service providers to track your habits and hide your IP address to prevent sites from collecting it. An iPhone can't inhibit either of those things, the best iOS VPN can.
There are some limits to the privacy that VPN clients can provide to iOS devices, as your internet data may be sent to Apple anyway. Nevertheless, a good VPN for iPhone can offer protection from threats like trackers, cybercriminals and targeted ads. Avast Secureline VPN is considered the fastest and easiest one for iPhone, trusted by over 435 million users and based on a wide server coverage. Using a VPN app for iPhone will also hide your login details for banking, chat, email and payments services.
The Avast VPN is compatible with iPhone 3GS, iPhone 4, iPhone 4S, iPhone 5, iPod Touch (3rd generation), iPod touch (4th generation), iPod touch (5th generation), iPad and requires iOS 4.3 or later. This app is optimized for iPhone 5.
VPN for Mac
Is a VPN for Mac a must-have app as well? Mac is considered more secure than Windows and Mac users may have less to worry than others, but no one is totally safe from harmful activities while browsing online. So, if you avoid considering free vpn for Mac, the answer is affirmative. Installing a VPN for Mac OS is a good practice to take care of your privacy and data security.
While choosing the best VPN for Mac, you may look for a service including the same services we mentioned for other operating systems: wide coverage, high speed and kill switch at least. A VPN service that is a great product for iPhones will usually grant a trustful VPN for Macs too, as in the case of Avast Secureline VPN.
VPN for PC
Windows is considered somewhat less secure than Macs, as more malware runs on the Windows systems, but remember a VPN for PC is not built to protect against malware – that is the job of antiviruses. When you download a VPN for PC it will serve to protect your privacy and data, and to prevent being located while surfing the Internet. Just opt for a fast VPN service and be sure to get a secure one dodging even the best free VPN for PC.
You may rather consider an app granting to protect connections from multiple devices if you also use a smartphone or a tablet besides your PC. There are products like HMA VPN which allows up to five connections at the same time.
Free VPN Vs Cheap VPN
The difference between a free VPN and a cheap VPN is a matter of quality. Often a free VPN won't encrypt your data anywhere near as efficiently nor as well as a paid VPN will, and they tend to offer fewer options for connections. The free VPNs I've used have only offered a few different areas, and some only let you connect for a limited amount of time.
A paid VPN however won't have those drawbacks. Sometimes servers may be slow, and sometimes you'll find yourself struggling to connect to a system, but usually, it's pretty easy to do given the sheer amount of servers these things have. The speed of the VPNs is also usually completely incomparable, with paid VPNs offering up a much higher rate of speed.
Where can you get cheap VPN keys?
One of the best places to get cheap VPN keys is Mr Key Shop, which offers multiple different options for everybody to use. There are VPNs available over there, at incredibly low prices, meaning you can safely browse the internet without absolutely destroying your bank account in the process. Nobody wants to pay a hand and a foot for safety, and Mr Key Shop ensures that you'll never have to do that again. Mr Key Shop offers up multiple different lengths of subscription for VPNs, meaning that you can just choose whichever plan suits you best.
If you go over to Mr Key Shop now you'll be able to find exactly what you need. Check the thousands of positive reviews on TrustPilot to be sure that this is the most reliable reseller where to find the best software discounts, granting yourself a top-level service at the same time. Among the many software available on the store, besides VPNs you can find Windows Operating Systems, Microsoft Office, Antivirus, Server and Backup & Recovery software. Legit and durable licenses, fast digital delivery, full money-back refund in case of wrong purchase, and an experienced English-speaking technical support team that's free to contact for any needs: these are some of the benefits you get if you turn to Mr Key Shop to buy Windows 11 or get Microsoft Office cheap, buy antivirus software, or any of the myriad other software items available on the store.
---