Mighty Polygon's debut title, Relicta, releases today on PC via Steam, PlayStation 4, Xbox One, and Google Stadia. The small Spanish studio has cooked up a launch trailer to mark the occasion, highlighting a game that should tickle the fancy of The Talos Principle and The Witness fans. You can check it out just below to get a sense of what Relicta is all about.
Channeling some pretty overt Portal vibes, Relicta jumps into first-person physics-based puzzle genre swapping out portals for creativity, magnetism, and gravity as the main tools in the puzzle-solvers arsenal. In practice, this means utilizing blocks to trigger pressure plates while navigating a system of color-coded magnetic fields. Each has specific properties, attracting and repelling other blocks, while also limiting who and what can progress beyond them. Throw in the ability to turn off gravity, and Relicta produces some wild puzzle solutions like flying on a block by redirecting its trajectory thanks to tinkering with various magnetic fields.
While this may sound like a headache to some, Mighty Polygon says its managed to strike a balance between fun and challenge that will allow genre newcomers to grasp the mechanics thanks to a well-paced learning curve while introducing increasingly difficult puzzles gradually as the game progresses.
As Dr. Angelica Patel, an esteemed scientist, you'll venture through Chandra Base, a research facility on the moon. It's no ordinary moon though; it has been terra-formed to include verdant jungles, dusty canyons, icy caverns, and more out of place biomes.
As is so often the case, research goes awry thanks to a bizarre purple-hued meteorite-like object known as Relicta, a mysterious material endowed with these magnetic and gravitational properties powering the game's wild mechanics. Fellow researchers disappear, Patel's daughter needs saving, and the scientist is left to unravel the mess alone.
Mighty Polygon says the story played a significant role in Relicta's development with a goal to recount a compelling tale steeped in deeply personal emotions and rich lore framed within the context of future orbital politics.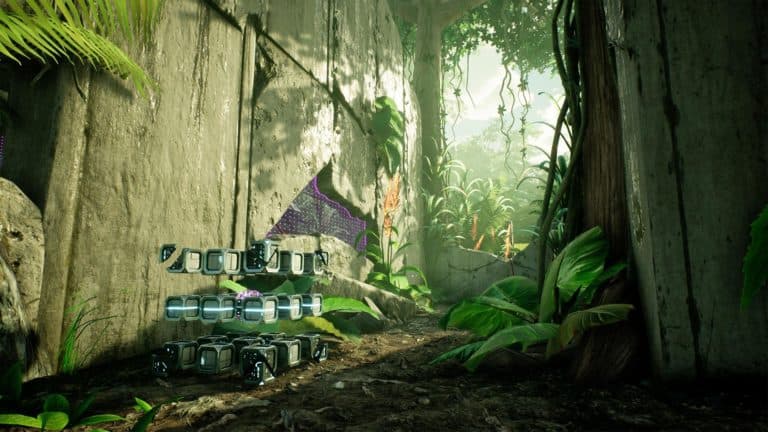 Here's how Mighty Polygon describes Relicta:
"Relicta is a first-person physics-based puzzle game where you need to creatively combine magnetism and gravity in order to unravel the secrets of Chandra Base. Alone in the treacherous depths of the Moon, your scientific mind is the only thing that can keep your daughter alive…Play as a top physicist stranded on an eerie, derelict Moon base. Find your way around the enigmatic, terra-formed craters by bending gravity and magnetism to your will in order to solve physical puzzles. Will you rush straight ahead and try to reach safety – or will you take your time to gather clues and unravel the intrigues of 22nd century orbital politics? Buried in the eternal darkness of the lunar craters lies a secret that might claim your daughter's life – or change the fate of humanity forever. Are you ready to face the ultimate consequences of your research?"
Relicta is available for PC on Steam today and will set you back a £15.99/$19.99/€19.99.