Video Game Industry Statistics, Trends and Data In 2022
The Video Gaming Industry is now estimated to be worth $178.73 Billion in 2021, which is an increase of 14.4% from 2020. This is a marked difference to what was predicted in 2016 predictions, forecasting a total worth of $90.07 Billion for the same period – a huge 76.8% difference between the two figures demonstrating that we could see a further acceleration in growth.
Recent forecasts are estimating the video gaming industry to be worth $268 Billion by 2025.
Asia leads the way in terms of the volume of gamers. In a recent study by DFC Intelligence in August 2021, they found that Asia accounted for 1.48 billion gamers out of a total of 3.2 billion gamers worldwide. Put another way 45% of gamers are based in Asia with gamers based in Europe taking place at 22% (or 715 million) of the total. 
Sources: Statista, NewZoo, Juniper Research 2021,  Statista / DFC Intelligence; 2021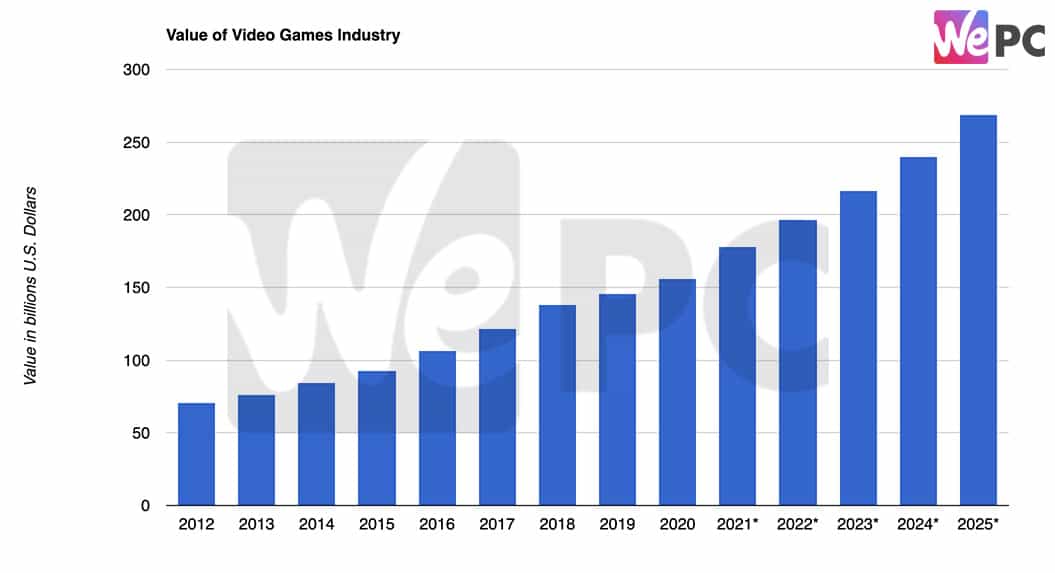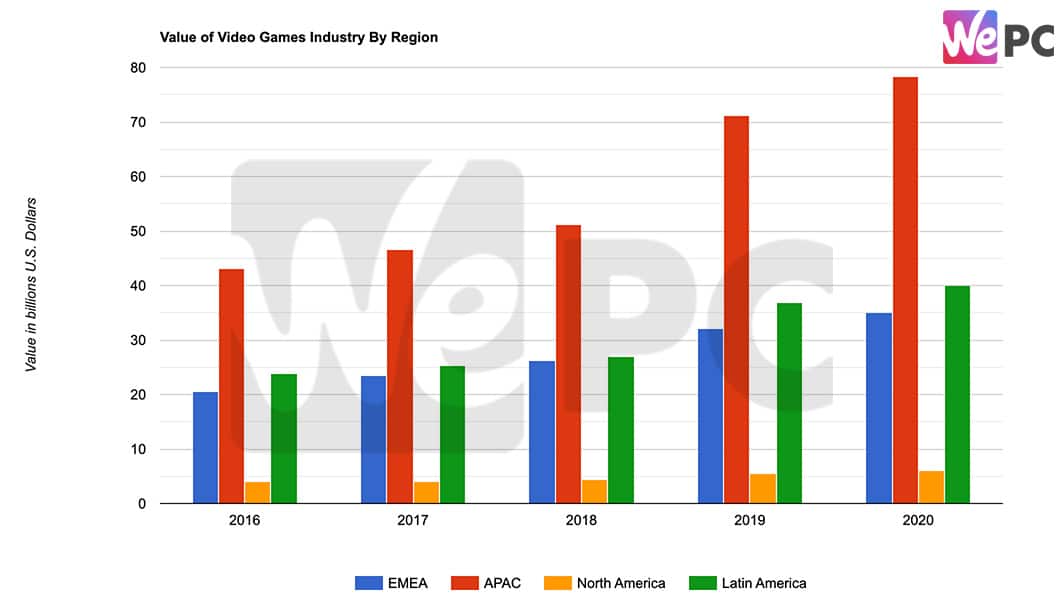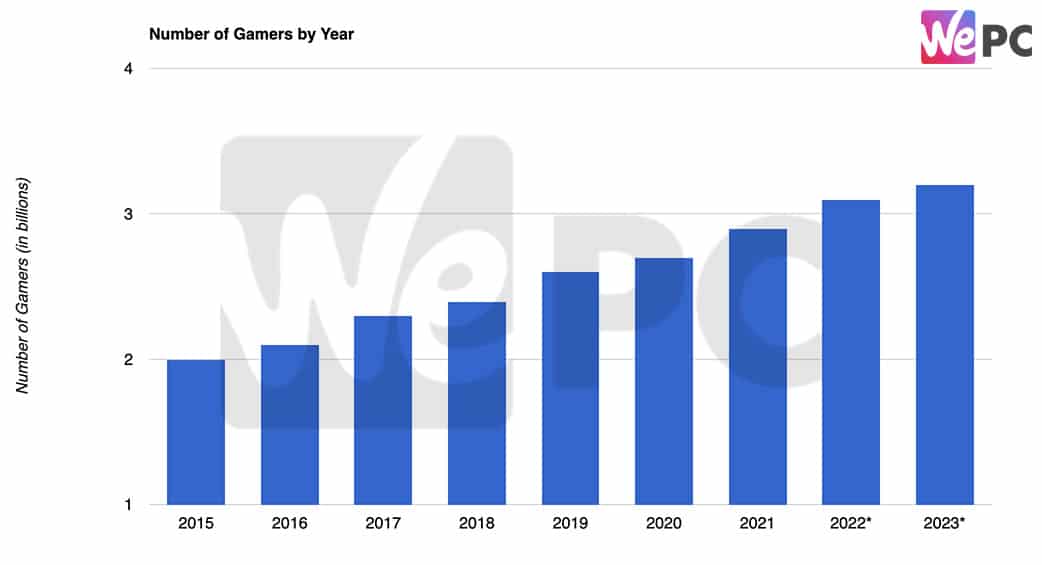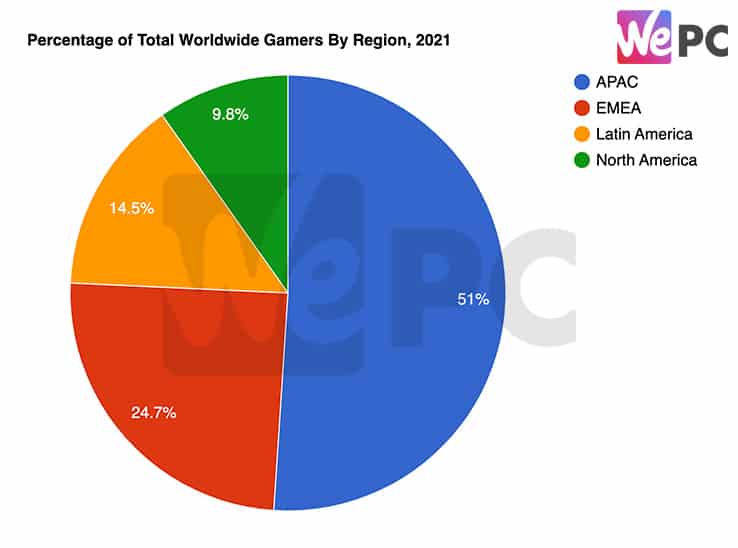 We explore how the COVID-19 pandemic has affected the gaming markets.
This section explores all the top regional gaming statistics.
Over the last decade, we have seen a clear upwards trend in sales of DLC in video games. In fact, the DLC market value increased by 121% between 2010 – 2017, and this trend is predicted to continue to rise. This has been further illustrated with the ongoing rise of gamers putting money into microtransactions, with almost 50% of gamers having done this in the last year. As the DLC market share rises, the package market falls alongside it; in 2011 it took a solid 80% of market share, falling to just 46% in 2017 and continuing to fall ever since. 
Sources: Capcom, The ESA, Statista
PC is still the most popular platform for game developers with 56% developing games for the platform in 2020. When it comes to consoles, Sony is still managing to beat Microsoft in terms of game development focus with 25% of developers focusing on the PS4 over 23% on the Xbox One. This trend continues when we look at next-gen consoles with 11% working on PS5 games over 9% working on Xbox Series X. Despite PC gaming coming top for developers, Mobile gaming is the most popular platform for users with 48% of players now regularly engaging in mobile gaming, and console gaming outperforming PC gaming in terms of the global games market.
Sources: NewZoo, GDC
If you're looking for the best game ever made, Legend of Zelda: Ocarina of Time still holds the title according to Metacritic having achieved a near-perfect score of 99/100, although 2020 did give it a run for its money. With a 95/100, Persona 5 Royal took the best game of 2020 title.
When we look at a genre breakdown of video game sales, we can see that Action games hold the top spot with a 26.9% market share followed by Shooters at 20.9%, and Role-playing games at 11.3%.
When it comes to the best-selling games of all time, the Pokemon franchise is still ruling the charts with an impressive total sales figure in excess of $90 Billion. Everyone's favorite plumber comes in second with a much lower $30.25 Billion followed by Call of Duty with $17 Billion.
Sources: TitleMax,Statista, ESA, Metacriti
More Industry & Companies Statistics