The 6 Best Gaming Headsets (PC, PS4, Xbox, Budget, Wireless)
Over the last couple of months, we've seen both Nvidia and AMD make huge advancements in technology with their impressive new product lines. The Ryzen 3rd Gen processors and the RTX Super series GPUs have recently hit shelves and are boasting some of the best performance/price figures we've seen in years. The new product lines have driven down hardware prices and are making gaming rigs more affordable than ever before. As you can imagine, this has been hugely popular with PC enthusiasts and future esports gamers alike.
It's not just hardware upgrades that gamers look for when trying to get the edge over their competition though. Peripherals also play a huge part in that battle. For this reason, we've decided to give you a comprehensive rundown of what we believe are the best headsets in today's market.
In the following article, we won't just be concentrating on the best headsets for PC users, we'll also be covering the best headset for console gamers, the best wireless headset, and the best value for money headset's as well!
Let's waste no further time and have a brief look at the best gaming headsets available.
Best Gaming Headsets in 2020
Product
Details

PC Headset

SteelSeries Arctis 7

wireless: Yes
headphone frequency response: 20 - 20,000 Hz

Check Current Price

Budget PC Headset

HyperX Cloud Stinger Headset

wireless: No
headphone frequency response: 18 - 23,000 Hz

Check Current Price

High-end Gaming Headset

ASTRO Gaming A50

wireless: Yes
headphone frequency response: 20 - 20,000 Hz

Check Current Price

Wireless Gaming Headset

SteelSeries Arctis Pro

wireless: Yes
headphone frequency response: 10 - 40,000 Hz

Check Current Price

Budget Wireless Headset

CORSAIR HS70 SE Wireless

wireless: Yes
headphone frequency response: 20 - 20,000 Hz

Check Current Price

Xbox/Playstation Gaming Headset

Razer Nari Ultimate

wireless: Yes
headphone frequency response: 20 - 20,000 Hz

Check Current Price
Whenever we decide to do a best-of guide, we always get asked the same questions: Why are these the best gaming headsets? How do you know these are the best gaming headsets? People want to know that our recommendations are well informed and legitimate. You can't blame the people for that.
Anyway, before writing an article, whether it be best gaming monitors or best gaming chair, our team usually spends a couple of days doing online research looking for the best products in their respective fields. After the research is complete, the team will usually chalk up a list of 10-12 products which we feel merit further onsite testing. At this stage, we will go out and buy (if the manufacturers don't send them first) every item on the list.
Once we have the shortlist on-site, we put the products through their paces to see which 5-6 come out on top. This article has been written off the back of that research.
Surround Sound, Do I Need It?
Surround sound is certainly not a new concept but is something worth noting when you're looking to purchase a new gaming headset.
One of the best things a gamer can have when playing at a high competitive level is crystal clear sound. I've played FPS for years now and can't stress enough the importance of having good spatial awareness when it comes to those tricky clutch situations.
Having the ability to know precisely where the gunshots are coming from is precisely the sort of feature that gives you an edge over your competition.
For me, it's a must-have on a pair of headphones. Just check when you're buying that the headset you're interested in has that feature, it will serve you well in some tough situations.
Wired VS Wireless, What's The Difference?
Modern headsets can be one of two varieties; wired, or wireless, with the latter being more costly. The two types of headset don't differ massively, but they certainly have their own set of unique pros and cons.
A wireless headset will connect to your console, device, or computer via Bluetooth or WiFi generally. Be aware that not all consoles have built-in Bluetooth (Xbox One original controller for example), meaning you might have to go out and buy an external dongle for Bluetooth connectivity.
The benefits of wireless are fairly obvious; having the freedom to walk around and sit where ever you please, and a cable-free gaming environment are the two most popular.
Wired headsets, on the other hand, have a different set of pros. Usually, they're a little less expensive, less latency and in most cases better value for money.
Like a wireless headset, the wired variety also comes with its own flaws. Not all consoles have straight forward audio jack connectivity, and some headsets required two ports instead of one.
I prefer a wireless headset, just because it makes life that bit easier. With that, let's discuss what you would need to install if you did decide to go wireless.
Do I Need To Install Drivers?
Most modern headsets use a simple mini-jack connection to work with your computer or console, meaning they don't require drivers to work. That being said, some microphones will require drivers to ensure they run efficiently.
It's usually pretty easy to know which devices need drivers. If you plug your headset in and it doesn't work, chances are, it needs drivers. Nine times out of ten, the manufacturer will include a CD with the relevant drivers inside.
However, if they haven't, you're PC should pick up the device and search for them manually. Either way, it shouldn't be a huge task getting things up and running.
Pro-tip: Usually, devices that connect via USB will need some form of driver to get up and running.
Our Best Gaming Headsets In 2020
SteelSeries Arctis 7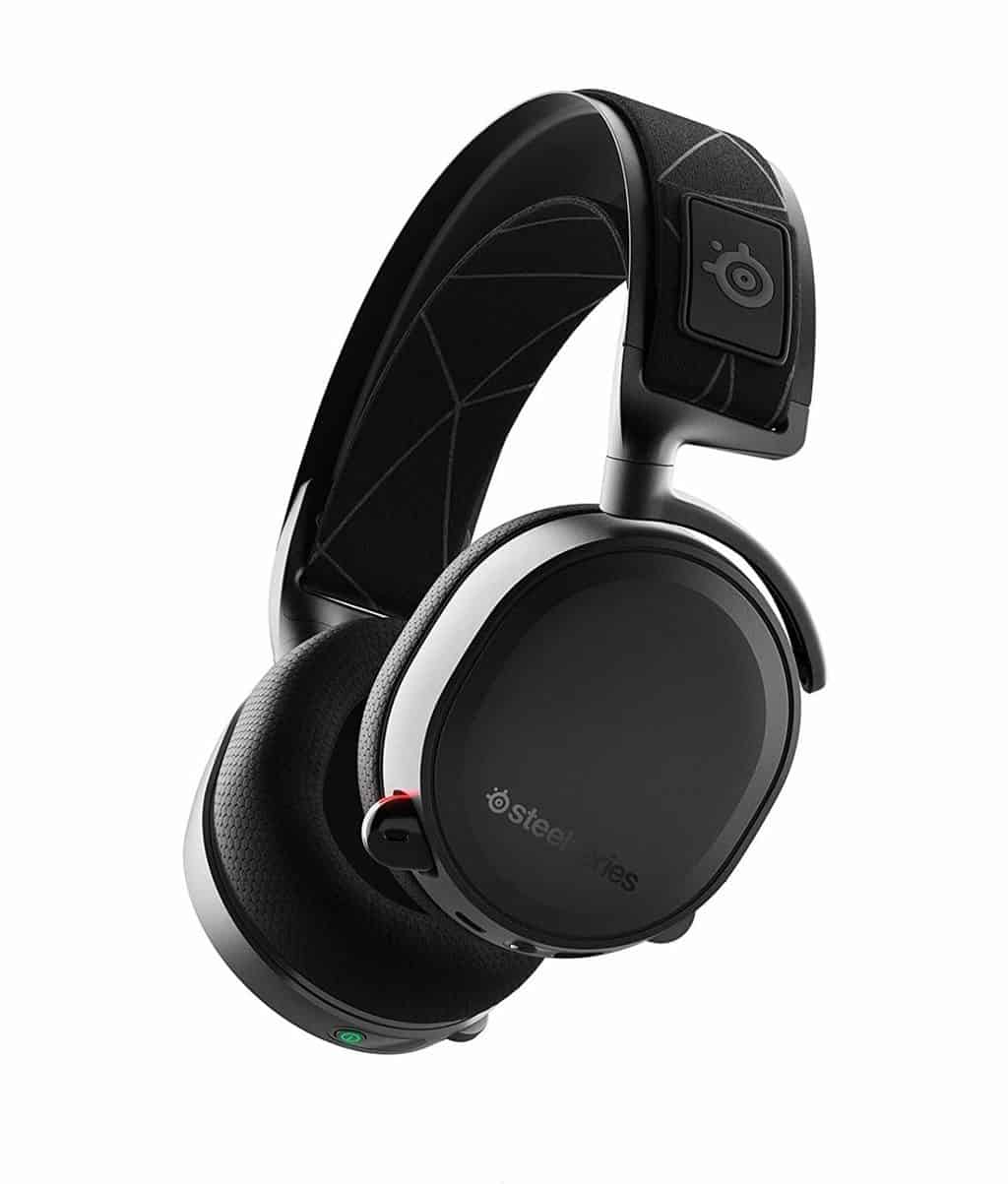 TECH SPECS
Weight

0.35kg

Wireless

Yes

Headphone Frequency Response

20 - 20,000 Hz

Headphone Impedance

32 Ohm

Colour

Black or White
PROS
Wireless headset allows for immersive experience
One of the best microphones in the headset market
Good value for money
We've chosen the Steelseries Arctis 7 gaming headset as our best PC gaming headset for a few reasons. The thing we like most, however, is the levels of immersion you can experience when using these headphones.
The sound quality is superb, especially for a wireless headset, and thanks to this, you, as a gamer, become immersed in whatever game you're playing. We've tested at least 12 headsets, and the audio output of these headphones was up there with the best we tested.
The battery life lasts for an impressive 20 hours right out of the box, which is pretty high from a usage point of view. Even when the battery does eventually die, don't worry, just plug the charger in and keep gaming.
Some of the build materials do become worn after time, but most are replaceable at a fairly reasonable price.
Overall, considering sound quality, microphone quality, comfort, and price, the Steelseries Arctis 7's were our number one selection. Choose these headphones, and you will not be disappointed.
HyperX Cloud Stinger Headset
TECH SPECS
Weight

0.275kg

Wireless

No

Headphone Frequency Response

18 - 23,000 Hz

Headphone Drivers

50mm with neodymium magnets

Colour

Black/Red
PROS
50mm drivers with neodymium magnets
Lightweight
Memory foam padding
90-degrees rotating ear cups
Excellent audio quality
Swivel-to-mute microphone
Convenient controls
CONS
Microphone is not detachable
Good old HyperX gives us our best budget option, and it comes in the shape of their popular Cloud Stinger headset. If you're looking for a decent experience but haven't got the budget to afford one of those expensive models, then look no further, HyperX have you covered.
The Cloud Stingers retail for under $50 making them, by far, the cheapest headphones on this list. Don't let the price fool you though, the headset from Hyperx still has decent sound quality and a reasonable microphone none the less.
Comfort levels of this headset are of the highest quality thanks to the super-soft ear cups, which are designed and made using memory foam.
This headset, like so many others, makes use of 50mm neodymium drivers and has an extremely handy swivel-to-mute microphone.
If what you're looking for is a headset that is packed with features at an affordable price tag, then the Cloud Stinger from HyperX might be the headset for you.
ASTRO Gaming A50
TECH SPECS
Weight

0.38kg

Wireless

Yes

Headphone Frequency Response

20 - 20,000 Hz

Headphone Driver

40mm Neodymium Magnet

Colour

Black/Blue or Black/Green
PROS
Superb sound quality
Wireless headset with increased immersion
Fantastic built-in mic
40mm Neodymium Magnet
Fantastic comfort levels
Next in our best-of guide comes the Astro A50 Wireless gaming headset and unlike the Cloud Stinger, the A50 headset graces the opposite end of the price spectrum with its presence. It is the most expensive on this list and offers all the features and benefits you'd expect from a high-end, luxury-level headset.
It offers superb sound quality, excellent microphone clarity, true comfort, and a fancy docking station for charging and storage. The design is very futuristic and offers excellent comfort thanks to the faux leather which is used on both earcups and headband. The overall weight of the headset is pretty light meaning you can game for hours without irritation to neck or head.
The left earcup houses a flip-down mic which is made from a rubberized, flexible arm. The mic is easy to adjust and picks up speech with excellent clarity.
The sound quality is excellent and provides high levels of bass and trebles alike. The balance of the sound is extremely good, and when playing FPS, I found listening for footsteps to be very easy and accurate.
The A50's come with their own docking and storage station which are connected via a micro USB port. It's a pretty sleek design and looks impressive when stowed at the end of your gaming session.
Ultimately, you're looking at a very high performing headset which, as you'd expect, has a price tag to match. They currently retail for just under $300, so they aren't going to be for everyone. If you are looking for a high-end pair of headphones, however, I would seriously consider these as a contender.
SteelSeries Arctis Pro
TECH SPECS
Weight

0.5kg

Wireless

Yes

Headphone Frequency Response

10 - 40,000 Hz

Headphone Driver

40mm Neodymium Magnet

Colour

Black
PROS
Incredibly good sound quality
Spatial awareness sound to help pin-point enemy
Crystal clear microphone
Certified Hi-Res Audio
Excellent comfort for hours of seamless gaming
The Arctis Pro Wireless headset is the second entry from Steelseries in this best gaming headset run down. The Arctis Pros, as we'll call them, take the best wireless gaming headset top spot, but only just.
It was a tough decision separating the Arctis Pros and the A50s from Astro, but on this occasion, Steelseires came out on top.
The first thing that struck me with this particular headset was the design. Even though they're basically the same as the 7s above, the fancy RGB just takes the whole aesthetic appearance to another level. Comfort is again, to the highest level. I personally used these headphones for a good couple of weeks and didn't experience any discomfort what so ever.
The hi-res audio which you get in this headset provides crystal clear sound. Bass and treble work in harmony to create a brilliant listening experience, especially when playing intense FPS single-player games such as COD and Farcry. You get immersed in the environment you're playing in thanks to quality sound, decent spatial awareness, and comfort.
This headset comes with a GameDAC which is a combination of a digital-to-analog converter (which gives your CPU one less job to do), a preamp, and a control center. You can fine-tune your entire headset via the GameDAC which is extremely handy for on the fly changes.
You can easily connect to console, phone, PC, or tablet with these headphones making them not just a gaming headset, but an all-round headphone option.
CORSAIR HS70 SE Wireless
TECH SPECS
Weight

0.33kg

Wireless

Yes

Headphone Frequency Response

20 - 20,000 Hz

Headphone Drivers

50mm neodymium speaker drivers

Colour

White/ Black & Cream/ Carbon
PROS
Excellent Value for money
Great audio output with good spatial awareness
Comfortable fit
CONS
Build materials probably won't stand the test of time
Microphone pretty average
The best budget wireless gaming headset comes in the form of Corsair's HS70s. Corsair, historically, hasn't been known for its high-quality headsets, quite the contrary. What we think of when someone says Corsair is top quality hardware components like RAM or cases.
However, that's no longer the case (apologies for the pun). Corsair has been designing and manufacturing gaming headsets for around five years now and has produced some quality headsets. The HS70s are certainly an addition to that list.
For the price tag, currently, sub-$100, I think the HS70s show excellent value for money. They have good quality sound output and a responsive mic to boot. The comfort levels are decent but do weigh on your head after a while. I certainly knew I'd been wearing them after a long gaming session on CS: GO.
If you're looking for a wireless headset that has a decent mic, good sound output, and are comfortable then look no further; the HS70s by Corsair tick all those boxes and more.
Razer Nari Ultimate
TECH SPECS
Weight

0.43kg

Wireless

Yes

Headphone Frequency Response

20 - 20,000 Hz

Headphone Drivers

50 mm, with Neodymium magnets

Colour

Black/Green
PROS
Brilliant spatial awareness sound
Quality microphone
Cool aesthetic design
Hypersense Technology
Lag free wireless performance
CONS
Considered on the expensive side
Finally, we come to our console pick, the Nari Ultimate Gaming headset by Razer.
Razer usually split the market down the middle. Some think they're overpriced cheap tat; others believe they're a cool brand that offers excellent peripherals. We're somewhere in the middle.
I really enjoyed using the Nari Ultimate for both console and PC gaming, mainly thanks to the cool vibrating earcups which we'll get to shortly.
The Nari is again, a wireless headset that offers excellent sound quality and comfort like most in this list. The headset from Razer offers brilliant spatial awareness, which was very convenient when playing FPS. The comfort is decent, but again, you can tell you've been wearing a headset after a long gaming session.
The standout feature, for me anyway, is the Hypersense technology Razer has equipped these headphones with. Hypersense, for those unaware, is a feature that interacts with your game scenario and will vibrate whenever necessary. I.e., when you get shot in the face, for example. It's a really cool feature and one I haven't experienced before, so kudos to Razer for that one.
We've chosen this headset as our best console gamer headset because it has extremely good connectivity, offers great audio, fantastic comfort, and aesthetics as well.
An excellent headset that has a bunch of cool features and comes to shelves at a very reasonable price tag, what more could you ask for?
What Makes A Good Headset?
Many things can make a gaming headset a great one. We've decided to split this section into PC and console gaming headsets as I feel they should offer slightly different pros. First, let's take a look at PC headsets
A PC gaming headset should have a number of core qualities that separate it from the bad and the ok. Let's start with the most obvious.
A good gaming headset has to have excellent sound quality and spatial awareness. If you want to get the edge over your competition, when regarding sound, you must have an accurate and clear understanding of where your enemy is. For that reason, a gaming headset must have the highest quality sound output.
It must be ergonomically designed and comfortable. Gamers are playing harder for longer thanks to esports popularity growth and monetary influx. What this means for your headset is that comfort is now key. You can't practice for hours using an uncomfortable headset; it's not practical.
The next quality is immersion. Your headset must be able to immerse you in the world you play in. If you are distracted by outside noises, then you aren't fully concentrating on gameplay.
For me, these are the three main factors which make all the difference in PC gaming headsets.
In fairness, a console gaming headset has to have all the same qualities as the PC gaming headset. However, to take it to the next level, it must also have excellent connectivity.
With most console gamers leaning towards wireless headsets, you really need to a headset that isn't affected by a Bluetooth connection. Sometimes you can experience latency and a drop in sound quality with Bluetooth.
Having a headset that keeps sound quality to a maximum is crucial for console gamers.
Related Gaming Headset Pages
Are you still struggling to choose the best gaming headset? If so, why not check out some of our more thorough guides to finding the perfect gaming headset for your needs.
So there you have it, our comprehensive breakdown of the best gaming headsets available this 2020. What we like to do here at WePC is not only give our best product recommendations, we also like to give our readers the information required to go out and find their own products.
Because ultimately, a headset comes down to personal preference and your favorite might be our worst. However, this being said, the recommendations we've gone for are high-quality products which offer decent user experience and show good value for money.
Let us know which one you use and what your experiences have been like by leaving a comment in the section below!