It can be quite a challenge to find the best wireless gaming headset, especially in today's market, where consumers have an endless list of quality products to choose from. How are you meant to find the time to troll through user reviews, product research, and everything else that comes with the tedious process of selecting a new hardware peripheral? Sometimes, there just aren't enough hours in the day.
Sound quality and reliability are key to any gaming headsets success and with wireless technology being as solid as it is, there has never been a better time to cut the cord.
We understand how important it is for competitive gamers to have crystal clear, accurate sound in-game. For that reason, we've decided to give you guys our comprehensive rundown of what we believe are the best wireless gaming headsets money can buy.
Let's take a brief look at some of the headsets that will feature in this best of guide:
The Best Wireless Gaming Headset
The Next Best Wireless Gaming Headset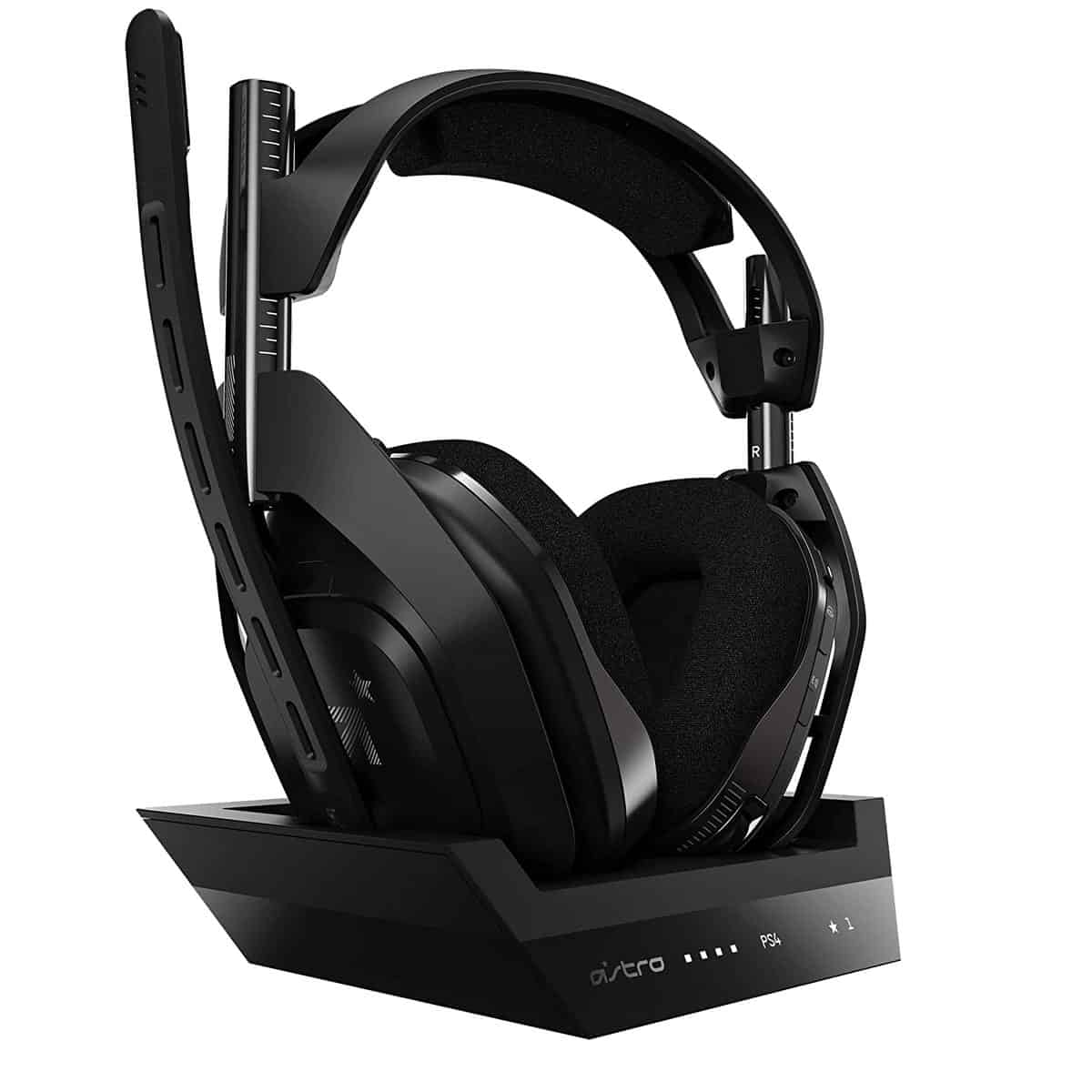 ASTRO Gaming A50 Wireless Gaming Headset
A Cheaper Alternative Wireless Gaming Headset
The Best Wireless Gaming Headset
The Arctics pro Wireless is one of the best gaming headsets out there at the moment. These come with excellent audio and mic performance, a unique design, and great comfort.
The SteelSeries Arctis Pro Wireless gaming headset is arguably the best we have ever seen. The sound profile is excellent, the microphone quality is crystal clear, and the features are fairly generous. What sets this apart from the competition isn't its supreme comfort, it's the versatility and unique design that we see with the wired Arctis Pros too. It is a shame the mic isn't removable but the headset looks so good you can use this on your commute as well as gaming, without fuss.
The Next Best Wireless Gaming Headset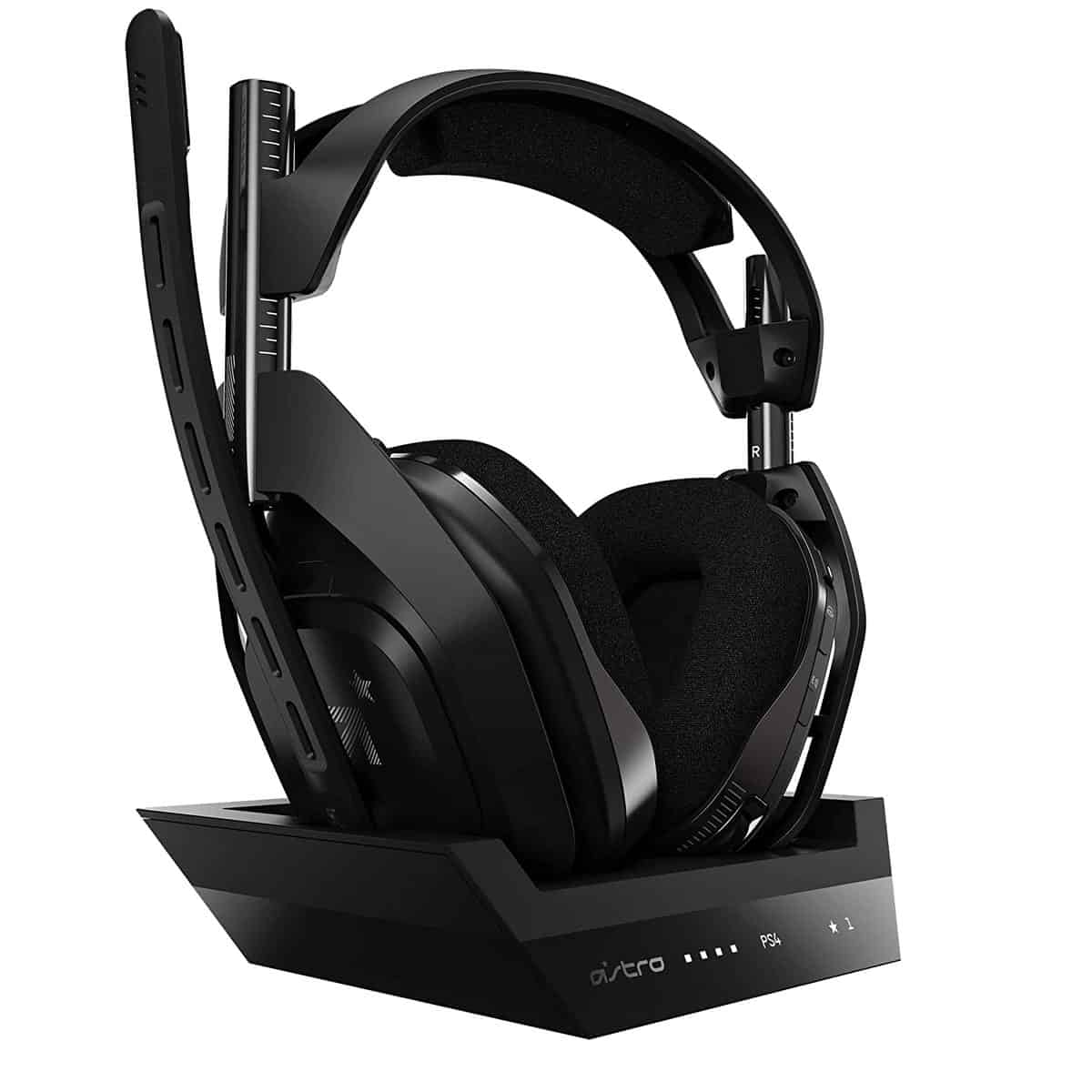 ASTRO Gaming A50 Wireless Gaming Headset
The latest generation of Astro A50's is outstanding for gaming. These perform similarly to the Arctis pro Wireless only with much more comfort. If it wasn't for the Arctis Pro's versatility, the A50s would be sitting at the top.
The Astro A50's only missed out as the best wireless gaming headset due to the Acrits Pros versatile design. The A50s are for use in the home only and while the design is bulky, I think it's rather nice. The comfort surpasses the Arctis Pro headset, making these the comfiest gaming headset currently available. Furthermore, the sound performance is exceptional. A great headset.
A Cheaper Alternative Wireless Gaming Headset
The Arctis 7's may not have the same amount of features as the top picks or the same level of comfort but the sound performance is stellar and the ClearCast mis is great for the price
The Arctis 7 wireless gaming headset is a great option for those who are put off from the high prices of our top picks. This more affordable model has great audio reproduction, a reliable and clear mic, and the same comfy design as the Arctis Pros.
The Best Wireless Gaming Headset For Mixed Usage
These may not offer the best in terms of comfort or sound performance but they are solid for the price. What is great about the HyperX Cloud Flight wireless gaming headset is the subtle design.
If you are on the lookout for a gaming headset with a more casual design, the HyperX Cloud Flights could be the wireless option for you. These may not feel as premium as the others but they have great connectivity, are very comfortable, and have excellent battery life.
The Best Budget Wireless Gaming Headset
The Corsair HS70 wireless gaming headset offers the best deals on our list. You get a plethora of features, good sound performance, and a stylish design.
For those looking to cut the cord with a budget in mind, the affordable Corsair HS70s are the perfect wireless gaming headset. The build quality with these is superb for the price, they feature a detachable mic, and the oval-shaped earcups accommodate for a wide variety of users.
Buying a new wireless gaming headset can be a little daunting, they cost more than their wired counterparts and have been deemed unreliable in the past. All this before having to sift through the minefield of options!
Making sure you get the right wireless headset for your needs is crucial, the last thing you want to do is waste your cash on a product that doesn't fit the bill. This process can often require a lot of research and time but this is where WePC comes in. We will sift through online comparisons, competitor and user reviews to narrow down our search.
Once we have our selections we bring them all into one place to make your life easier.
Testing the products we recommend is one of the most important aspects of our best-of-guides, and something the team and I take extremely seriously. We don't just want to recommend the most popular products; we want to recommend the BEST products, regardless of reputation or brand.
How we do this is by physically going out and purchasing the products we recommend. Once we've acquired a shortlist of recommendations, we start by doing our independent in-house tests to make sure they live up to our standards. We use the headsets in real-life scenarios, whether its gaming or music. We then whittle down our shortlist into a final five, which becomes our best in class.
Numerous team members will test each headset to provide a consensus instead of just one person's opinion. This will hopefully give a more rounded and accurate representation of what each headset offers.
The headsets get tested in gaming scenarios, music audio playback, microphone clarity, comfort, and price.
Things To Consider When Buying A Wireless Gaming Headset
It isn't a simple process creating a quality wireless headset; many have tried and failed attempting to do so. For me, a quality wireless headset comes down to some fundamental, wireless-specific, factors.
Battery Life
This is pretty self-explanatory, you don't want a wireless headset that runs out of charge after 2 hours. The average battery life for a modern headset is anywhere between 15 and 30 hours. Anything more, you're laughing. The lowest amount of charge on this list comes from the Arctis Pro Wireless headset, which features 10 hours of battery life. Don't worry though, the top pick also features a hot-swappable battery, giving you a total of 20 hours!
The last thing any gamer wants during crucial moments is their headset dying. If you are used to wireless you won't need reminding but those looking to cut the cord, just try your best to remember and stick your peripherals on charge.
Sound Quality
Sound quality is the number one aspect of any headset or audio device. The quality of your sound comes down to several contributing factors which we'll touch upon shortly. The best way of telling whether or not the sound quality is up to your standards, though, is by simply going out and testing it!
While sound quality from a wireless gaming headset is some way away from top open-back, audiophile-level headphones, they have certainly been improving over recent years. the best sound quality may cost you extra but for many the best is necessary.
Microphone Quality
This is something more catering towards the online, competitive gamers out there. If you just like to play single-player campaigns, then you don't really need a mic. However, for the competitive esports players out there, a quality microphone could be the difference between winning and losing.
Charge Time
Charging time basically means how long it takes your headset to charge from dead. This varies with all headsets, but the faster, the better. Most wireless headsets will take at least a couple of hours to reach a full charge, so prepare for this and make sure you stick your headset on charge when you are away from the PC. This way you won't have to miss out.
It is worth noting that some of our recommendations will work just fine in wired mode and while this is a bit counter-intuitive, it's better than no gaming audio at all!
Frequency Range
This is one of the more technical aspects of a wireless headset and roughly relates to pitch. At the lower end of the spectrum are your bass notes; the high frequencies are the high notes. So, if one headset can produce 10hz, and another can only produce 20hz, the first can theoretically produce lower sounds.
Take the frequency with a pinch of salt, though, because it rarely refers to how good the sound quality is.
Latency
Latency is a huge factor in headsets, especially wireless ones. Because you are connecting via a signal, the sound can be delayed if your connection isn't fast enough. A lot of modern headsets have at least 2.4GHz connection speeds; anything below this should require further research.
If you're looking for a wireless gaming headset, keep these key criteria in mind, and you'll not go too far wrong.
Are Drivers Required For A Wireless Gaming Headset?
Most modern wireless headsets come with a base station that plugs into a USB or audio jack port. Your wireless headset then connects via the base station instead of going directly through your computer's WiFi or Bluetooth.
Having this feature dramatically reduces latency and increases range, two things that are crucial in wireless headsets.
Wireless headphones, for the most part, are compatible with pretty much every electronic device you can think of. TV's, Laptops, PCs, Consoles, Tablets, Phones, you name it, it will probably be compatible with that product.
That being said, some devices may require your headset to have Bluetooth or a base station. If this is the case, you might want to be a little cautious when planning on which headset to go for. For example, the old Xbox One controller does not have Bluetooth. This means, if your wireless headset doesn't come with a base station, you're going to struggle to use them.
Wired Vs Wireless Gaming Headsets
The best wireless gaming headsets are generally always going to be more expensive than their wired counterparts. This is usually down to the extra technology involved to keep the headset as lag free as possible, much like a wired connection but you are mostly paying for convenience.
Some of the wireless headsets featured have multiple ways of connecting to devices, with some being out there being able to switch between the dongle and Bluetooth connectivity seamlessly.
A wired headset offers a consistent level of quality, with zero chance of interference, dips, or background hissing. Wireless headsets can fall victim to these things but modern wireless models are the highest quality we have ever seen and are easily viable for sports (as long as they are charged).
Despite some of the drawbacks you could face with a wireless headset, the convenience of losing that cable is fantastic and a massive selling point in my book. This is largely down to what you are happy with, if that cable keeps getting in the way or damaged, leading to audio leak, then upgrade to wireless!
Best Wireless Gaming Headset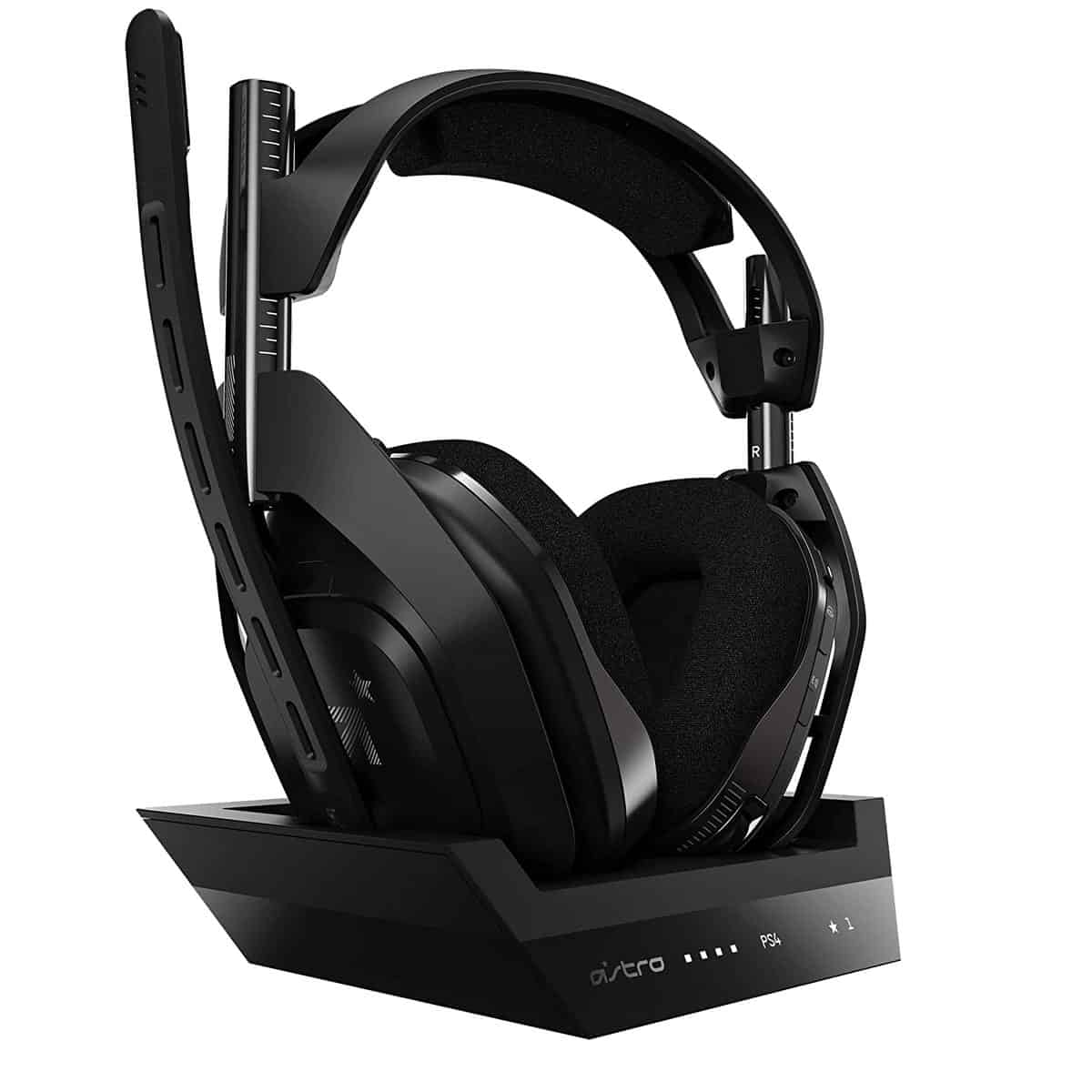 ASTRO Gaming A50 Wireless Gaming Headset
Incredibly good sound quality
Spatial awareness sound to help pin-point enemy
Excellent comfort for hours of seamless gaming
Just like our best gaming headsets page, it was a real struggle to choose between the Arctis pro headset and the Astro A50 for the high-end selection. We had to stay true to our word, though, and make the Arctis Pro the best high-end wireless headset available. They seem to offer that little bit more when it comes to reliability and brand confidence.
Anyway, that aside, the Arctis Pros come to the table equipped with excellent sound quality, superb microphone clarity, and cool aesthetics. Everything you desire from a top wireless headset.
Steelseries have designed the Pros with gamers in mind and have equipped the headset with batteries that last well in advance of 20+ hours. The frequency of the headphones ranges from 10Hz – 40,000Hz, branding the headphones as hi-res.
A cool feature of these headphones is the GameDAC that comes with them. This is the go-between from the headphones to the PC. You can physically change all the audio and mic settings via the GameDAC, making on the fly changes much more accessible.
The Arctis Pros might be the most all-around headset we have on the list, but be aware, they do come at a price. If you're willing to break the budget a little, though, you will not be disappointed.
We reviewed the wired version of this headset, you can read that in full here.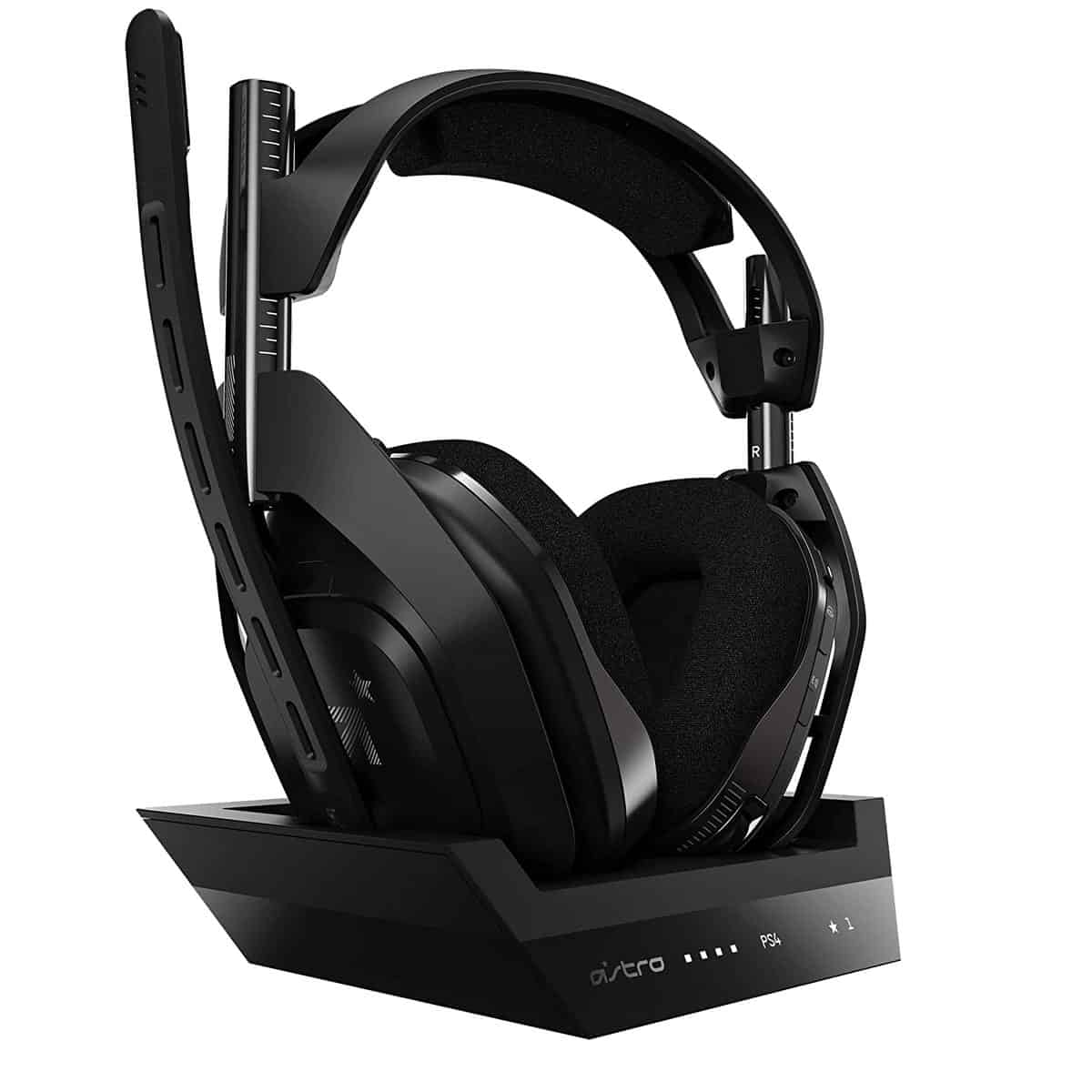 ASTRO Gaming A50 Wireless Gaming Headset
Excellent hardware controls
The Astro A50 wireless gaming headset is one of the best on the market. It may come with a hefty price tag but this is packed with features and is one of the best performing gaming headsets currently available.
This only missed out to the popular Arctis Pro Wireless due to its lack of versatility, the audio and microphone are amazing. The designs a bit bulky and screams  "gamer" but the comfort is unrivaled in the market, with these featuring a near-perfect clamping force, and some of the softest are cushions out there.
While being a top choice for gaming, they perform with generic use too. In-game sound is crystal clear and fully immersive, with gun crackle and explosions sounding very realistic. The bass was impressive and didn't overshadow the detail as some cheaper headphones do.
These are constructed with care and feature premium materials, making these a very robust gaming headset.
The design may be an acquired taste but I think these look superb and once you've tried these for gaming, you won't want to go back.
You can check out our full review of the Astro A50 Wireless Gaming Headset review right here.
Wireless headset allows for immersive experience
One of the best microphones in the headset market
Large heads may struggle to find a comfortable position
This is the second best-of-guide that the Steelseries Arctis 7 has taken the top spot for, and with good reason. They are simply the best, all-round headset currently on the market. Historically, wireless headsets have been criticized for below-par sound quality. However, this is most certainly not the case with the Arctis 7s. They have a superb 20+ hour battery life right out the box and have been ergonomically designed to reduce neck and head irritation.
The sound quality is the stand out feature of these headphones. However, Steelseries has equipped this headset with a fantastic microphone that provides crystal clear voice playback to your teammates in the heat of battle.
I found that my spatial awareness was heightened when using this headset. I could easily pinpoint enemies when playing intense FPS games such as CS: GO and PUBG.
Overall, a top-quality headset that provides everything you need for competitive gaming and at a very affordable price tag.
Have a read of our full review on the SteelSeries Arctis 7 gaming headset here.
Great headset that retails for around $100
Impressive 30hour battery life
2.4Ghz wireless connection for no loss in latency
Build materials could be better
What would a best headsets guide be without HyperX?
Our best wireless gaming headset under $100 goes to the Cloud Flight, a decent all-round, affordable gaming headset.
The design is classic of HyperX and comes in a cool black and red theme, as you'd expect. I used these headphones for a couple of weeks and really enjoyed the comfort, certainly one of the more comfortable budget headsets I've tested. You get memory-foam earcups with this headset and a very robust adjustable steel slider to get the absolute perfect fit.
Sound quality is pretty decent, and I could pinpoint enemies while playing FPS with considerable ease. I would say the bass is a little much, but for under $100, we'll let them off. The microphone sounded great, but I wouldn't count on it lasting the test of time; it doesn't feel incredibly robust if truth be told.
The wireless connection was good, and I didn't experience too many latency issues either – nothing that was noticeable anyway.
As far as sub $100 headset's go, you'll struggle to find anything out there that is going to produce similar levels of performance as the HyperX Cloud Flight does. A great, all-round headset.
Excellent Value for money
Great audio output with good spatial awareness
Build materials probably won't stand the test of time
Microphone pretty average
This might be one of Corsair's finest achievements to date, a high-quality wireless gaming headset at a low-end price tag.
When we think of Corsair, we usually think of RAM or cases. However, for over five years now, Corsair has been toying with side projects such as mice and headsets. The HS70 is one of those projects and a fine one at that.
The HS70's get the budget wireless headset nod and for good reason. They are by far the cheapest in this list and offer the best value for money respectively. Sound quality is superb, as is the spatial awareness of this headset.  Furthermore, the build quality on this headset is excellent, with it feeling like it's built to last.
The microphone isn't amazing, but for under $70 we will let Corsair off on that one.
If you're looking for a great budget headset that does the job then look no further, the HS70 is the best budget wireless headset on the market.
Check out our full review of the Corsair HS70 wireless gaming headset here.
It was a tough ask compiling this list of best wireless gaming headsets because there are so many different headsets to choose from. However, I feel the team did a great job of finding the best headsets in their specific categories.
For the best wireless gaming headset out there, with great comfort, audio and mic performance, plus all the versatility you'll need, the SteelSeries Arctis Pro Wireless gaming headset is the way to go.
A close second is the Astro A50 Wireless gaming headset, a high-quality audio treat. This is superb for gaming and is easily the comfiest headset on this list.
With the best wireless gaming headsets generally being quite expensive, the SteelSeries Arctis 7's offer a more affordable option. These perform excellently and have the same Arctis comfort as the more expensive model.
For a more casual looking gaming headset that you could easily wear out of the house, the HyperX Cloud Flights are the way to go. This pair has great comfort and sound quality, while also featuring a detachable mic and 90-degree rotating cups.
Our top budget option is the Corsair HS70 wireless gaming headset. This may not be the best but for such an affordable price you get a lot for your money. The build quality on these is superb and the performance won't let you down, a great headset.
Whatever the reason or budget, we like to think there's a headset on this list for your specific needs. From the budget to the high-end luxury headsets, this list has it all. Let us know which one you would go for and why. Or maybe you already have a headset on this list and feel we've missed some key information on them.
Let us know by leaving a comment in the comments section below, and we'll reply as soon as we can or head over to the WePC community!