5 Best Cheap Gaming Headsets Under $50 For PC, Xbox & PS4 (2019)
After spending 189 hours testing 21 gaming headset as of March 2019, we concluded that the HyperX Cloud Stinger is the best gaming headset under $50. Everything about this literally screams premium - steel slider, memory foam ear pads, easy-to-use built-in volume controls, and more. If you're only here for the best, here's your stop. Otherwise, read on if you want the best for Xbox and PS4.
Our Pick
HyperX Cloud Stinger
Best PC gaming headset under 50 with flip to mute mic
When it comes to gaming headset under 50 dollars, nothing can beat the HyperX Cloud Stinger. Like its name, it stings you if you choose not to get this if you only have $50 to spare. This is trusted not just by consumers but also by eSports companies.
This is by far the best gaming headset you can get for the price of under $50. A lot of you may think that this is just a cheap-o gaming headset aiming to make its way to the top… but no.
This is a headset for a billionaire but priced for those who are on a budget. The overall design and material aren't cut short - and if you do think it is, tell that to the Cloud Stinger's steel slider. On top of that, this has a 90-degree rotating ear cup with a memory foam.
Knowing this is made out of steel, you'll probably think this is heavy but you might be surprised at how light this is. Learn more about it in our review section below as we have everything covered there in detail.
Runner Up
SADES A60 7.1
A USB gaming headset under 50 with 7.1 surround sound
If you want a more surreal gaming experience for the price of under $50, get the SADES A60. This is a USB-type over-the-ear headset that supports 7.1 surround sound to make sure you hear the smallest of details from the exact location around you.
If you want the best 7.1 surround sound gaming headset for the price of $50, this is what you want to get.
The SADES A60 doesn't just provide a surreal audio gaming experience but it's also easy to use. This is a USB-type headset that you can easily plug and play with right away. It also comes with a controller with buttons that lets you easily adjust the volume settings or mute if you want to listen to something real quick.
Looking at the physical build of the headset, you'd mistake this as an expensive premium headset. But you'd be blown away further knowing what this really is capable of under the hood. Check the review we have covered below.
A Popular Pick
Logitech G430
A popular gaming headset with a 7.1 Dolby surround
Logitech has been successful with their G230. At a glance, you'd mistake them as the same headset but under the hood, the G430 actually packs a more powerful punch than the G230. One of the main features that the G430 has is the 7.1 surround sound.
The name Logitech is all about quality gaming peripherals and the G series of their headset is no exception.
While it's true that they almost share the same physical features, you will be surprised that the G430 is more surreal. Just make sure that you pay attention to what's inside the box since this comes with a USB dongle so you would hear the surround sound.
In general, this shares a very similar physical aspect to the G230 and even shares the same specs. But there's something that bothered us as we tested this out. We have it covered in detail down the review section so check it out.
The Xbox Pick
Turtle Beach Recon 50X
Best Xbox one headset under 50
The Recon 50X by Turtle Beach is truly an option you must consider if you're browsing for the best gaming headset you could grab under $50. All you need is to plug this into your Xbox controller 3.5mm audio jack and you're all set. This is very comfortable to use and it doesn't put pressure on your head, even if you use this for long hours.
This gaming headset is specifically designed for Xbox users.
The specifics of the headset is designed to meet the needs of Xbox users. It is convenient and doesn't really put pressure on your head like any other Xbox headsets out there. You also have the option to remove the microphone if you just want to immerse yourself in a single player game.
As per audio output is concerned, this has the same level as other more expensive options out there. Convenience, quality, affordability, and comfort - all you need as an Xbox user, found in the Recon 50X by Turtle Beach. Learn more about the entire details of the best Xbox on headset below.
Our Budget PS4 Pick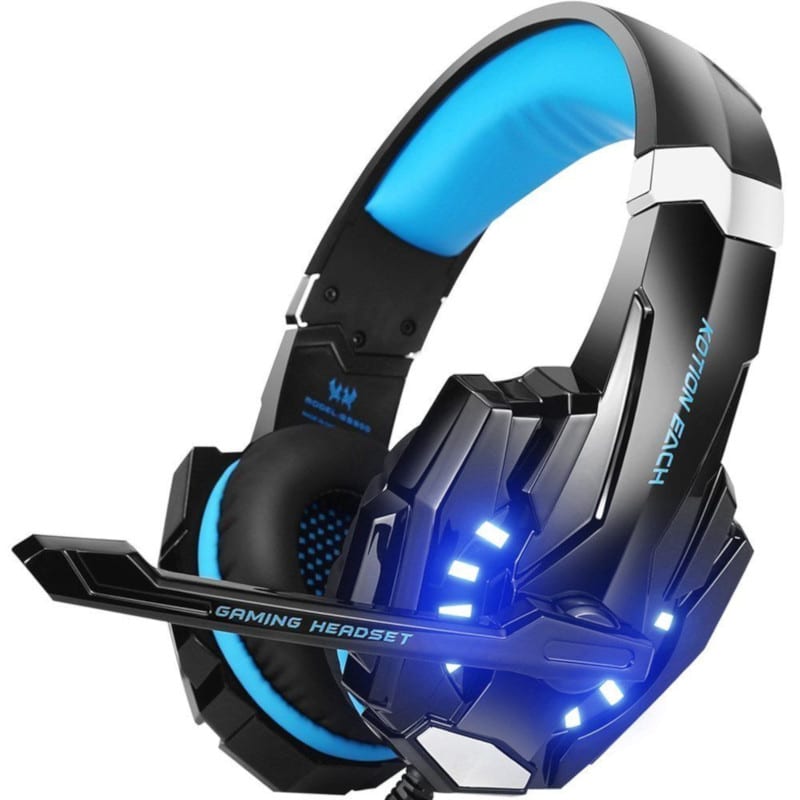 KOTION EACH G9000
Best budget gaming headset for PS4 (With Noise Cancelling)
The KOTION EACH G9000 isn't only tailored as the best affordable gaming headset here at WePC. It's also the best budget gaming headset for PS4 users. While it's a given that this doesn't give you a premium feel, it packs more punch than the rest of the competitors in the price range.
If you're an avid PS4 gamer looking to invest in the best cheap gaming headset you could find, save yourself from the hassle as we present you the best budget PS4 gaming headset. With a price of less than $25, there's nothing you could really ask for.
In this price range, it's a given that this has a plastic material. But compared to the rest of the headsets in this price range, this has the most decent audio output. On top of that, the mic can also pick up the audio fairly smoothly as we tested this out, even does a pretty good job if you're going to use it for streaming.
Overall, we recommend you get this if you're an avid PS4 player who wants only the best budget gaming headset under $50.
It's hard coming up with the list of the best gaming headset under $50. I know this because I did both extensive and intensive research to come up with the list of headsets we should try out ourselves.
In fact, I spent 33 hours just to compile the list of potential candidates for testing. I've literally gone through hundreds of gaming headsets and then checked which headsets both enthusiasts and professional gamers use when playing and doing scrims.
After compiling the initial 173 headsets, I then turned to professionals in the industry such as PCMag, Digital Trends, TechRadar, Tom's Guide, and checked a handful of forums to further filter the list of headsets.
From 173 headsets, we're now down with our final 21 candidates and tested them intensively. Check our How We Tested section to see the details of the tests.
Disclaimer: The gaming headsets we tested were purchased and were not sent or sponsored to make biased opinions or feedback.
Things to Consider When Choosing A Gaming Headset
Headsets aren't the easiest thing to narrow down. There are about a billion options on the market from tons of manufacturers, and a lot of the audio experience comes down to personal preference.
So, we put some criteria in place for evaluating the 5 best gaming headsets under $50.
Communication in-game is key, especially for higher competitive multiplayer titles. Because of this, the included microphone not only has to function at the highest levels but also has to be non-intrusive to the experience.
Because of that, we chose headsets that allow you to move the microphone around to some degree and position it perfectly.
When a match heats up, the last thing you need to worry about is a microphone getting caught in your mouth.
Of course, what would a good pair of headphones be without stellar sound quality? While much of audio quality comes down to preference, each of these headphones provides exceptional quality for the price.
Moreover, the stereo image needs to be excellent. Much of what happens in a game is contextual to the environment, so we chose headphones that have imaging that provides all of the environment that developers have built into their games.
Once again, looks do matter. While not everything in your rig needs to be flashy, your headset will literally be worn on, well, your head.
Because of that, they need to look pretty good.
Each of the options of this list was chosen, at least to a degree, based on the way they look. Yes, it may be considered shallow, but everyone loves some sexy gear and we're no different.
We specifically consulted to professionals in this industry to make sure we're not just testing the products based on what we think is the right process. So, we don't just listen to these for hours and then decide which is the best based on our personal experience.
We have 5 testing panels with a different head and ear sizes to ensure that the headsets are tested on different users. These are avid gamers who are also exposed to various types of game genres.
We initially intended to use gaming computers equipped with a headphone amplifier but decided to stick with a separate USB DAC (Creative Sound Blaster E5) headphone amplifier since not everyone has that kind of motherboard.
The purpose of this is to ensure that each headset that requires more power amplification gets the juice they need. Unfortunately, for the USB headsets, we solely relied on the motherboard's USB ports at the back.
Each of the headsets gets at least 8 hours of non-stop gaming testing - some are even tested up to 10 hours.
We specifically used Xbox One and PS4 Pro to test and determine which headset is best for the respective consoles.
We didn't just limit our test games within two or three games. In fact, we tried A LOT from MMORPG, eSports title games, Indie games, triple-A title games, action games, strategy games - even Minecraft.
We wish we could name all of them but for the most part, PUBG, Fortnite, Overwatch, and The Witcher III were among the games we spent most of the times testing these headsets with.
So that we compare all of the headsets right, we specifically rated them according to the following criteria.
What is gaming when you are not comfortable with the headsets? This is the very first thing that we put in mind as we test the headsets. Even before we tested these things, we specifically prioritized comfort when playing with these headsets on.
To make sure we're getting the right headsets, we checked to confirm that the headset is compatible with the platform. These headsets are specifically hand-picked to make sure they don't lead to any compatibility problems down the line.
This is why we have the best headset for PC, Xbox, and PS4, respectively.
We've played a lot of games with these headsets and we specifically focused on how crisp the audio details are.
It's true that a lot actually offer a 3D audio experience but the headsets we have in this roundup are those that showed really good audio experience. You can easily pinpoint which the direction of footsteps and where gunshots are fired from.
Lastly, communication is really essential when playing games.
It's great and disappointing at the same time to see a lot of gaming headsets under the $50 range go because of a crappy microphone. The audio pick up is just really bad that we had to remove them from the candidates right away.
Considering this price range, we expected that these aren't the best but it's still surprising that there are a few that performed really well in this criteria - and the list we have are those that showed the best mic picks up.
The 5 Best Gaming Headsets Under $50
Product
Details

Our Pick

HyperX Cloud Stinger

weight: 0.6 lbs
cable length: 1.3m
audio jack: 3.5mm
frequency response: 18Hz - 23kHz

Check Current Price

Runner Up

SADES A60 7.1

weight: 1.21 lbs
cable length: 2.2m
audio jack: USB
frequency response: 20Hz - 20kHz

Check Current Price

A Popular Pick

Logitech G430

weight: 1.37 lbs
cable length: 2.3m
audio jack: 3.5mm
frequency response: 20Hz - 20kHz

Check Current Price

The Xbox Pick

Turtle Beach Recon 50X

weight: 0.8 lbs
cable length: 1.2m
audio jack: 3.5mm
frequency response: 20Hz - 20kHz

Check Current Price

Our Budget PS4 Pick

KOTION EACH G9000

weight: 0.6 lbs
cable length: 2.1.m
audio jack: USB
frequency response: 15Hz - 20KHz

Check Current Price
PROS
50mm drivers with neodymium magnets
Lightweight
With memory foam padding
90-degrees rotating ear cups
Excellent audio quality
Swivel-to-mute microphone
Convenient controls
CONS
Microphone is not detachable
Out of all the headsets we tested, this is the clear winner. The HyperX Cloud Stinger doesn't have the usual menu.
It has everything aspect tagged with a premium name. Starting off with the overall design, this is a gaming headset that has a steel sliding, which guarantees nothing but durability. If you think that this is going to be heavy since it's made of metal, you're getting it wrong.
This weighs just like the rest of the headsets on the list and it even surprised us as we tested and compared the weight out. It may seem that this is something that might lead to headaches but you'd be surprised that it won't.
If durability is your main concern, then don't fret as this is without a doubt, stronger than a plastic - but we still don't recommend dropping it on the floor just to test its durability.
We read a lot of great things about the audio quality of the HyperX Cloud Stinger but we're still hesitant, really, considering the price. But to our surprise, it did perform well for its price.
After a couple of games with the headset on, you can right away distinguish that the bass packs a powerful punch - though not the best. But overall, the bass and the audio quality really is calibrated for gaming, regardless of the genre.
With these on, it's a guarantee you can hear the small audio details around you - especially footsteps.
Aside from the audio quality, you can also guarantee that your teammates will be able to hear you well. In fact, the microphone is something that is also considered an area of strength. On top of that, this is a noise-canceling microphone that will immerse you deeper into the game.
Also, you can easily mute your mic just by flipping it up since this has a flip-to-mute mic system for convenience. The ear cup doesn't only have a memory foam but this can also be rotated 90 degrees to make it convenient as you hang it around your neck.
You won't have to struggle to locate the volume adjustments since it's ergonomically attached below the right ear cup.
One thing that we wish this has is the option to retract or remove the microphone.
No matter the case, if you're all about finding the best, then you won't have to struggle too much, here's the best as of March 2019.
Which Gaming Headset is Best for You?
We did all the tests so you can just sit back and make an easy decision at the end of the line - with the guarantee that you're spending right.
So to sum up, if you wish to get only the best gaming headsets under $50 of 2019, you won't find anything better than HyperX Cloud Stinger.
But if you're all about very detailed surround sound system that vibrates in sync with the games audio, there's nothing better than the SADES A60 7.1.
The Logitech G430 also has a surround system that can also pick up small audio queues. Keep in mind though that this doesn't have a vibration system like the SADES A60. Nonetheless, it's still a great pick if you want a name you can rely on.
If you wish to get the best gaming headset for Xbox and Xbox One under $50, don't look back and get the Turtle Beach Recon 50X. It's a personal recommendation here at WePC for Xbox users.
On the other hand, the KOTION EACH G9000 should deliver the best performance and mic pick up if you're looking for the best gaming headset for PS4.
There are a ton of headsets on the market for $50. If you venture deep enough on Amazon, you'll find enough products to fully stock a store with just headphones at this price point.
However, top brands end up coming out on top for a solid sonic experience. While other inexpensive pairs may pack in some more features, these brands put the design where it counts - the audio quality when gaming.
Unsurprisingly, the HyperX Cloud Stinger still come out on top for their exceptional build quality, comfort, and price. For less than $50, you'd be hard-pressed to find a better pair of headphones despite their few weak points.
However, if true, unsimulated surround sound is important to you, then the SADES A60 is a great choice as well. The 7.1 surround sound makes the experience more immersive overall and is a novelty that never dies.
Despite all the options, these are our picks for the 5 best gaming headsets under $50.
Which among the best gaming headsets under $50 you think is best for you? Tell us down the comments.
Matt Elliott,  

HYPERX CLOUD STINGER GAMING HEADSET REVIEW

, IGN, January 5, 2018

Matt Elliott,

TURTLE BEACH RECON 50 GAMING HEADSET REVIEW

, IGN, December 29, 2017

Alex Cocilova, Logitech G430 Surround Sound Gaming Headset review: Surround sound on a budget, PC World, November 7, 2013