5 Best Gaming Mice 2019: What is the Best Gaming Mouse to Buy?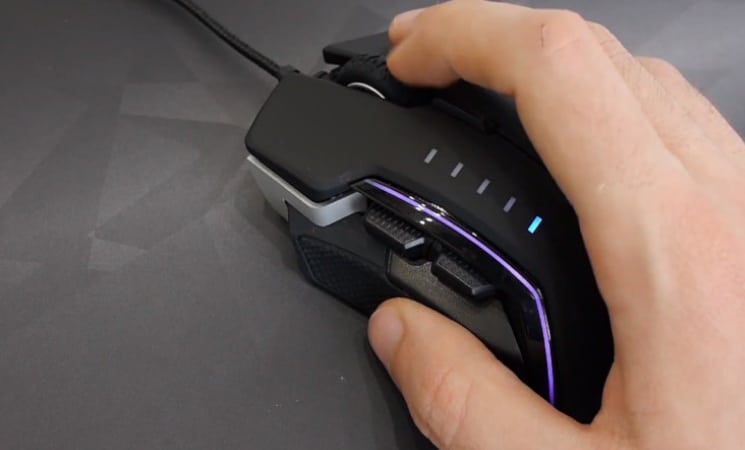 Here at WEPC, we have tested over 50 mice to find the ultimate gaming mouse. Every mouse we recommend we have purchased, unpacked and used extensively with various grip styles and game genres. We are constantly testing new mice upon release to see where they fit in with our current best gaming mice list for 2019.
After spending more than 15-20 hours using each of the different mice we concluded that the Logitech G Pro is the best wireless mouse money can buy. Under the shell sits the HERO sensor which is essentially a more efficient PWM3360 and it's housed inside one of the comfiest ambidextrous shapes we have ever used.
If all this talk of grips, sensors, and shapes is a little confusing, don't worry. In this article, we are going to break down what a good gaming mouse actually is.
The Logitech G Pro Wireless is equipped with an advanced HERO sensor which is basically the PWM 336x. This sensor is regarded as one of the best you can get in a mouse and that is down to the fact it consumes less energy without compromising on accuracy.
Other than the advanced sensor the mouse boasts Logitech's Lightspeed technology which essentially gives the user unlimited power when paired with the Logitech G Powerplay mousepad.
The BenQ Zowie EC2-B Divina is basically the EC2-B with an upgraded sensor in either baby blue or baby pink.
It may sound lazy for a mouse manufacturer to just release a mouse with an updated sensor but the shapes from Zowie are some of the best available and do not need changing, so we love this updated sequel.
The old PWM 3310 has been replaced with the highly accurate PWM 3360 optical sensor. This now gives you a feeling of complete control with those wild flick shots all the way down to the tiny micro adjustments.
You get the added benefit of the mouse being ready immediately, just plug it in and play without the need of drivers or logging into any software.
One thing we noticed when testing MMO mice was the build quality of the G600. The mouse is reasonably old now yet still holds up as one the best MMO mice money can buy.
The Logitech G600 may feature a laser sensor but it is highly reliable and when you factor in the value of this mouse it makes it a really sensible option.
It's accurate, responsive, and has 12 thumb-buttons with a distinct design for a smooth no-look combo.
Razer comes to the table with a mouse that has a PWM 3389 implemented, that's right no more lasers.
The sensor is highly accurate and the Deathadder Elite is a lot lighter than its predecessor, weighing just 96 grams. The shape of the Deathadder is unchanged which isn't surprising seeing how comfortable this shape has been for over a decade.
The list is highly populated by Logitech thanks to the various shapes, sizes and price points they offer.
The Logitech G203 Prodigy is essentially a more affordable G Pro Wired but with a slightly less bulky cable and a Mercury optical sensor.
The list below is composed of 5 gaming mice that we consider to be the best in their respective categories. We list out the key points and features that matter to gamers in each category based on our own experience of using mice for different games over the years. 
To choose the best gaming mouse we need to identify what consumers are looking for. Being gamers ourselves this made the process much easier as we could ask a variety of gamers who play a wide selection of games. We also mixed our own knowledge and opinions with online communities such as Reddit's MouseReviews along with several other publications.
Key Points to Check Before Buying a Gaming Mouse
It is important to familiarise yourself with the key aspects of what makes a good gaming mouse and also what factors can affect your gameplay. Whether you're interested in buying a gaming mouse under $50 or you want the best of the best, knowing what to look for will always go a long way.
We found that the following characteristics are important when looking for a gaming mouse:
Technically speaking, CPI (Counts Per Inch) is the same as DPI (Dots Per Inch).
DPI is used to measure the distance traveled by the mouse by counting the "dots" within the span of one inch it traveled. DPI is better used in reference to the printing world and CPI is actually the correct term to use. 
Despite this, manufacturers use DPI for marketing purposes as DPI is more widely known.
When choosing a gaming mouse, choose one that fits your hand size. Depending on your grip you can get away with a slightly bigger/smaller mouse but it is worth measuring your hand and looking at comparisons to see if a mouse will fit your hand nicely.
Gaming mice have 2 types of mouse sensors: Optical or Laser.
The main difference boils down to the illumination source. It's also the reason why some mice work fine on smooth surfaces while others don't. The optical sensor uses LED light as the source of illumination while the laser sensor uses, well… a laser.
Although they differ in terms of the illumination source, they both use a CMOS image sensor, a type of low-resolution video camera that you can find in smartphones. This image sensor captures images of the surface it is on and uses it to determine how movement reflects in real-time use.
The majority of modern gaming mice include good sensors such as the Pixart 3366, there are very few gaming mice with poor sensors on the market these days.
Most gaming mice have some programmable buttons, but you are going to need Software that lets you re-map them.
The vast majority of mice will come with software to help you assign macros, change your DPI, lift off distance,  and in some cases customise your RGB lighting. Gamers now expect mouse software to save custom profiles for easy on the fly changes, custom polling rates and compatibility with both Windows and Mac OS.
Polling rate is the rate of data transfer and response from the mouse to the computer. It is measured in hertz and ranges from 250Hz to 1000Hz.
A mouse with a 500Hz rate means that the computer receives updates about its position every 2 milliseconds. While 1000Hz is technically twice as fast at only 1ms, it still is very hard to determine the difference, especially to most average gamers. Despite not being able to see this difference most gamers will prefer the more responsive 1MS unless they are saving battery while working.
The weight might be a highly subjective part of a mouse, but it can greatly affect accuracy.
Weight is largely down to preference and any gamer will eventually get used to the weight of a new mouse after a bit of usage. A huge concern when shopping for a wireless gaming mouse is the weight, unfortunately, the majority of wireless gaming mice are quite heavy due to the additional hardware the mouse includes for wireless connectivity and battery power. While wireless technology in mice advances this means lighter mice for us gamers. For example, take the Logitech G Pro which only weighs in at 80 grams (that is lighter than a lot of wired mice).
A gaming mouse can be made out of plastic, metal, or even glass. Some mice could feature a matte-like coating and others a silky smooth plastic coating, so it is important to know your preferences on the material before you buy.
Durability and material usually go hand in hand but isn't always the case, because it also depends on the manufacturer. You can see we have three Logitech mice in our roundup and this is largely down to the brand's fantastic build quality.
It is also worth noting that mice are rated for the number of clicks they're projected to perform before breaking. 
Regardless, if you're wanting a durable gaming mouse, then you usually can't go wrong with most premium options!
When it comes to comfort there are a few key areas to look at as hand sizes and grip[ styles differ significantly from gamer to gamer. A mouse being comfortable is highly important whether you are using it for a short or long amount of time. If you don't get a comfortable mouse this could negatively impact your gaming performance so chose wisely!
Battery Life (for wireless gaming mice)
The technology behind wireless gaming mice has gotten to the point where you can almost totally rely on a lot of different mice at e-sport level.  Gone are the days where lag plagues your gameplay or your gaming comes to an end as you have to re-charge the extremely heavy battery.
Mice now come with a rechargeable lithium battery compared to affordable wireless mice such as the Logitech G305 which uses a single AA battery.
Different people hold the mouse in different ways and different mice shapes are made to accommodate this. Don't just pick a mouse because they're popular or because all your friends are using it. Instead, pick whatever fits your playstyle and gripping preference.
There are three main types of mouse gripping:
Palm Grip

- Entire hand rests on the mouse. This lets you move the mouse fast since your actions come from your arm. However, clicking can be slower and using your arm means it's not always the most precise.

Claw Grip

- Palm rests on the back of the mouse while fingers are arched to make the index and middle fingertips perpendicular to mouse buttons. Because of this, the mouse is easily picked up and moved, but it's can sometimes feel more precise compared to the palm grip.

Fingertip Grip

- Hand hovers in the air with only the last digit of the fingers in contact with the mouse. Since your palm doesn't rest on the end, this gives you the most precise control. Despite this grip offering accurate control, it's also the hardest to learn, the most arduous on your hands, and generally requires a smaller mouse since your hand can feel further away.

The 5 Best Gaming Mouse
Product
Details

Logitech G Pro

dpi: 16,000
sensor: HERO (optical)
buttons: 7
color: Black

Check Current Price

BenQ Zowie EC2-B Divina

dpi: 3200
sensor: 3360 (optical)
buttons: 5
color: Pink

Check Current Price

Logitech G600

dpi: 8200
sensor: Avago S9808 (laser)
buttons: 20
color: Black

Check Current Price

Razer DeathAdder Elite

dpi: 16,000
sensor: 3389 (optical)
buttons: 7
color: Black

Check Current Price

Logitech G203 Prodigy

dpi: 8000
sensor: Mercury (optical)
buttons: 6
color: Black

Check Current Price
PROS
Lightspeed wireless technology
One of the best sensors on the market
Truly ambidextrous (removable side buttons)
Infinite power when paired with G Powerplay mousepad
Super light weight (80g)
The Logitech G Pro is one of the best all-round wireless gaming mice available in 2019, with Logitech spending two years working with E-sports pros designing this.
although the G Pro may look like a simple generic mouse it is actually the ultimate wireless gaming mouse. The first thing to mention has to be the HERO sensor that was installed. HERO stands for 'high efficiency rated optical' and it is as accurate as the 3360 sensor we saw in older Logitech mice. The HERO, however, has been tweaked for maximum efficiency which in turn saves battery life.
you would expect a wireless mouse to compromise on weight with most often weighing much more than their wired counterparts but Logitech has managed to keep this mouse to 80 grams! That weight makes this one of the lightest mice on the market, nevermind lightest wireless mice.
The craftsmanship is teetering on perfection and the high-quality materials give you something quite elegant to use whether it's day-to-day tasks or playing those games. The seven buttons share this quality with the clicks feeling and sounding better than most.
The sensor isn't the only thing to rave about though, with the G Pro, The lightspeed technology gives this mouse the potential to never run out of battery when paired with the Logitech G Powerplay mousepad. Without a wireless pad though the mouse will hold 40 hours of charge which is enough for a few weeks gaming.
This sturdy mouse offers the best in tracking and comfort for an ambidextrous mouse and as long as the price doesn't put you off it is a must-have.
#2
BenQ Zowie EC2-B Divina
PROS
Ergonomic shape
Flawless sensor
Responsive primary buttons
CONS
Coating best suited to dry handed gamers
The EC2-B Divina is popular amongst quite a few different FPS professionals and after using one for a small amount of time it is easy to see why.
The build quality as we expect from BenQ Zowie is flawless with there being absolutely zero rattle coming from this peripheral. The ergonomic shape is often compared to the brilliant Razer Deathadder with the weight distribution also being fantastic.
The mouse feature Huano switches underneath the two primary buttons and although they are part of the top shell the force required to actuate them is consistent.
Zowie are a favourite amongst the gaming enthusiast community and this is down to the variety of shapes and sizes they keep bringing us!
As far as mice go in general you can't go wrong with Zowie in 2019. The design is minimal, yes, but they are constructed to the highest quality with high performing innards to boot. Being a Zowie mouse you don't need any software with this, just plug it and off you go. You can change the polling rate and DPI on the button with some preset options perfect for any gamer.
It doesn't matter what game you pay, this mouse will serve you well but it is especially great for the FPS players out there.
PROS
20 buttons
G-shift doubles button functionality
RGB LEDs under each button
CONS
Plastic construction
Bulky
MMORPGs are loaded with tons of skills, abilities, and spells, and being able to cast these efficiently requires a mouse as reliable as the Logitech G600.
Aside from the fact that you can scroll horizontally with the mouse wheel, this has 18 more MMO-tuned buttons for a grand total of 40 button combinations.
The G-shift button is one of the more exciting of the buttons as it acts as your keyboard shift button and doubles the function of each programmable button (20). It's located on the right of the mouse where your ring and pinky finger sit and it can be re-assigned if you preferred.
On the left side of the mouse where you would normally find two thumb buttons, we find 12 which can all be completely re-programmed to whatever command you desire. The buttons are curved in such a way that makes them more ergonomic than your standard side buttons. The side buttons also feature RGB lighting which can be customised in LGS (Logitech Gaming Software) and can reflect certain mouse profiles to give you an indication in-game.
The right side of the mouse has a nice texture to it allowing for a tighter grip and more control when moving at pace. The overall shape accommodates for most playing styles and grips with the G-shift buttons being great to rest your unused fingers.
While the Logitech G600 may have an aged laser sensor it is actually highly accurate and reliable, plus when you factor in the insanely low price it makes for a perfect MMO mouse.
#4
Razer DeathAdder Elite
PROS
Fantastic ergonomic shape
Very durable construction
Customization is easy with Razer Synapse 2.0
Great value
The Razer DeathAdder Elite is a no-frills peripheral that features high-quality materials and solid construction.
The first thing that sticks out is the classic, understated, Razer aesthetic. The clean curves of the mouse look sleek and would add style to almost any gamer's arsenal.
The PWM3389 sensor may not be the best currently out there but that doesn't make this a slouch.  The mouse tracks accurately at all times and performs well in the most testing of situations. 
The mouse doesn't require you to download the software and drivers but it is recommended and with synapse, it is made simple. You can customise the RGB,re-map buttons and set macros using the software too os it is well worth downloading.
the mouse is geared more towards FPS players and this largely comes down to the comfortable shape that is regarded as one of the best across the gaming community worldwide.
If the low price doesn't sway you with the Razer Deathadder Elite then maybe the reliability, performance, and shape will!
PROS
Extremely Cheap
Reliable sensor
Lightweight
With the Logitech G203 currently at its lowest price ever it's easy to see why this veteran is one of the best budget mice you can find on Amazon.
You find a lot of cheap and unreliable mice on the market at this price but Logitech breaks that mould. The G203 Prodigy features an excellent sensor with a solid long lasting chassis surrounding it. The quality of materials is high and the mouse is seriously reliable making us question why it is so low in price.
The ambidextrous shape is really comfortable, with the slope towards the front giving your primary button fingers a natural place to sit.
It doesn't matter if your an avid FPS player or into your MOBAs, this mouse won't let you down with its dated sensor being absolutely flawless in every way. The mouse supports up to 8000 DPI without any noticeable jitter or acceleration occurring.
It is difficult to find anything wrong with this mouse. It is extremely solid and lightweight and should be more expensive for what it is.  It comes with the Logitech software and quality assurance, which are excellent, and ticks most if not all boxes for most game types.
Now Which Gaming Mouse Best Suits You?
To be able to choose the right gaming mouse for you, try to evaluate and list down the types of games you play.
When choosing a gaming mouse, Measure your hand, figure out your grip style, think about what games you are going to play with this mouse, and lastly what materials do you prefer. 
As we mentioned, most mice have great sensors these days and if it's a premium mouse you can be sure the construction will be solid, so don't settle for cheap tat.
Have you had any experiences with the mice on our list? We would love to hear about your mouse experiences down below.