5 Best Wireless Gaming Mice in 2019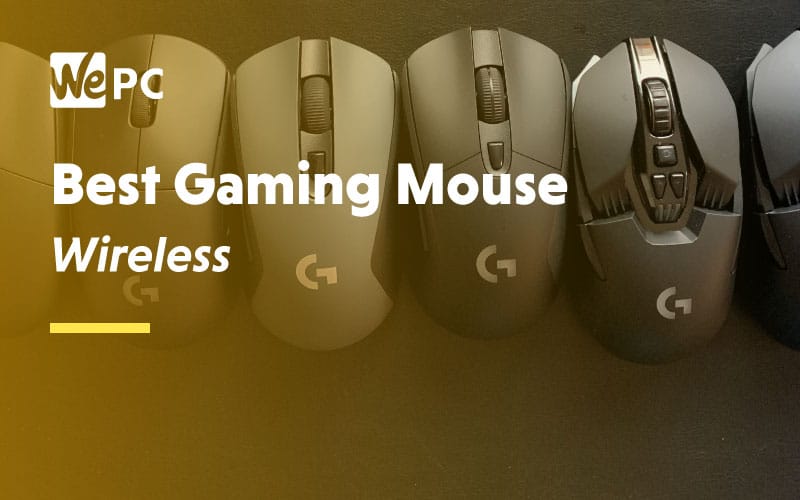 The team at WePC have tested well over 50 different mice, both wired and wireless, to find the best of the best. Everything we recommend for the best wireless gaming mice we have personally used and tested after purchasing ourselves. The team has various hand sizes, grip styles, and game preferences making for a complete look into what it takes to be the best.
It comes of no surprise to see our best overall gaming mouse, the Logitech G Pro being the best wireless gaming mouse too. Under its lightweight shell, it has the unrivaled HERO sensor which is paired with the effective Lightspeed technology. The finished article is a very comfy ambidextrous mouse that outperforms a lot of wired mice.
If all this sensor and hand size talk has you scared, don't worry, we will guide you in your quest for the best wireless gaming mouse.
The 5 Best Wireless Gaming Mice
Product
Details

Logitech G Pro

dpi: 16,000
sensor: HERO (optical)
weight: 80 Grams
size: Medium (125 x 63 x 40 mm)
battery life: 60 Hours

Check Current Price

Razer Mamba

dpi: 16,000
sensor: PMW3389 (Optical)
weight: 106 Grams
size: Medium (125 x 70 x 43 mm)
battery life: 50 Hours

Check Current Price

SteelSeries Rival 650

dpi: 12,000
sensor: TrueMove3+ (Optical)
weight: 121 Grams
size: Medium (131 x 69 x 43 mm)
battery life: 24 Hours

Check Current Price

Logitech G703

dpi: 12,000
sensor: PMW3366 (Optical)
weight: 107 Grams
size: Medium (124 x 68 x 43 mm)
battery life: 32 Hours

Check Current Price

Logitech G305

dpi: 12,000
sensor: HERO (Optical)
weight: 98 Grams
size: Small (116 x 52 x 38 mm)
battery life: 250 Hours

Check Current Price
When it comes to our mouse selections, we first need to identify what you, the consumer, would like. Here at WePC, we are gamers ourselves and frequently looking for our own peripherals too. We have a mixed bunch of gamers who play a wide selection of games. We don't just follow our own opinions though; we also check online communities such as Reddit's MouseReviews to see what the general consensus is.
When picking, we look at different factors like comfort, weight, battery life, charging time, sensors, and of course, price.
We purchase all the products we recommend just like you would. We then use the products for extended periods of time, testing them both in-game and for everyday use.
We make sure everyone here in house tests the mice to give us a better understanding of how good they actually perform for different people's preferences. We discuss the findings and provide feedback to ensure we give well-rounded feedback.
Key Points to Check Before Buying a Gaming Mouse
The key points you should check before purchasing your mouse are similar to what we look for before making our selections for this list.
The following characteristics are important when looking for a wireless gaming mouse:
To be honest, DPI (Dots Per Inch) should technically be CPI (Counts Per Inch)when referencing mice.
DPI is used to measure the distance traveled by the mouse by counting the "dots" within the span of one inch it traveled. DPI actually references the printing world, and CPI would be the correct term for mice if it weren't for marketing. 
A mouse has to fit in your hand; otherwise, it's pretty useless/ uncomfortable. When choosing make sure it fits in your hand quite snuggly depending on your grip style. If you are unsure about what size mouse to buy, then measure your hand and check your findings against a hand size guide.
The two main types of sensors are Optical and Laser.
Now technically, they are very similar in how they work, with only the illumination source being different. Optical sensors use an LED light source for illumination and a laser, of course, uses a laser.
Most mice these days have moved away from the unreliable laser sensor and the majority feature high-end optical sensors. It is genuinely hard to find a poor sensor these days, making the selection of mice a little less scary.
Polling rate is the rate of data transfer and response from the mouse to the computer. It is measured in hertz and ranges from 250Hz to 1000Hz.
A mouse with a 500Hz rate means that the computer receives updates about its position every two milliseconds. While 1000Hz is technically twice as fast at only 1ms, it still is very hard to determine the difference, especially to most average gamers. Despite not being able to see this difference, most gamers will prefer the more responsive 1MS unless they are saving battery while working.
Just like size, weight can negatively impact your gaming experience. It may seem subjective, but if a mouse is too light or too heavy, you will miss shots and generally have a mare in the gaming arena.
Of course, weight is down to preference, so it is good to know what you prefer. Some mice come with extra weights for you to add/ take away and allow you to customize your mouse to your desired weight.
It is worth noting that no matter what you pick, you will always get used to the new weight of your mouse over time, so don't worry too much.
The material is normally responsible for how durable your mouse actually is. This isn't always the case though, as the manufacturers track record should also factor into this equation.
You will find on most mouse product pages they list the durability of the mouse buttons and give you an estimated click life span. This click life span is always going to be more than you need, but it is nice to know that it shouldn't break.
Comfort mostly comes down to the ergonomic design of the mouse, but in some cases, the materials used to. Gamers will be using their mouse plenty, so it is of high importance that it is comfy.
Wireless technology in gaming mice is getting more and more impressive year by year. You no longer have to worry about your mouse cutting out (unless you forget to charge it) and the battery weight seems to be on the decline.
Wireless gaming mice use 'lithium rechargeable batteries; however, the budget mouse featured in this list uses AA batteries. Battery life varies from mouse to mouse, but you will want to pick a wireless gaming mouse that can last at least 20+ hours.
Charging time is negligible for most if you don't forget to do it. You can always charge it when you the mouse isn't in use via a charging cable, dock or charging mouse pad.
Grip styles are something that comes to us naturally after playing for a while, and it is something you learn. Everyone holds the mouse differently, and this largely affects what mouse we pick.
There are three main types of mouse gripping:
Palm Grip

- Entire hand rests on the mouse. This lets you move the mouse fast since your actions come from your arm. However, clicking can be slower, and using your arm means it's not always the most precise.

Claw Grip

- Palm rests on the back of the mouse while fingers are arched to make the index and middle fingertips perpendicular to mouse buttons. Because of this, the mouse is easily picked up and moved, but it's can sometimes feel more precise compared to the palm grip.

Fingertip Grip

- Hand hovers in the air with only the last digit of the fingers in contact with the mouse. Since your palm doesn't rest on the end, this gives you the most precise control. Despite this grip offering accurate control, it's also the hardest to learn, the most arduous on your hands, and generally requires a smaller mouse since your hand can feel further away.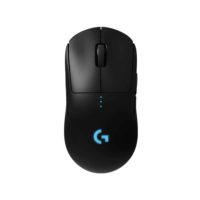 TECH SPECS
DPI

16,000

Sensor

HERO (optical)

Weight

80 Grams

Size

Medium (125 x 63 x 40 mm)

Battery Life

60 Hours

Color

Black

Buttons

7
PROS
The worlds best sensor
Lightspeed technology for wireless charging
ambidextrous design
Fantastic ergonomic hand design
Super light weight (80g)
The Logitech G Pro is one of the best all-round wireless gaming mice available in 2019. Logitech spent two years working with E-sports pros when designing the mouse to make sure it was good enough for enthusiasts and pros alike.
Although the G Pro looks fairly modest and generic, it's ergonomic design has been so well designed that it is by far on the comfiest shapes we've tested. More importantly, however, is the sensor that Logitech has armed this mouse with. It's the HERO (High-Efficiency Rated Optical) sensor and is widely considered the best gaming sensor currently available.
One of the stand-out features of this mouse has to be its weight, or lack of should I say. Historically, wireless mice have always been heavier than wired ones thanks to the wireless technology it's built around. This being said, Logitech, thanks to the ever-advancing technological universe we live in, has managed to design a wireless mouse - equipped with the best sensor in the world - which weighs 80grams. It's one of the lightest mice on the market and our top pick respectively.
The materials are nothing short of superb and the craftsmanship is equally as impressive. It has the look of a classy mouse and has the performance to boot. Nothing about this mouse has disappointed me so far making it the first, and only, mouse to achieve this feat.
Pair the Logitech G Pro with the Powerplay Mousepad and you will never run out of battery. It makes use of Logitech's Lightspeed technology and can charge on the go without the use of a wire. I know, impressive. If you aren't looking to splash out on all the fancy extras then fear not, the G Pro has an cool 40 hour life time when fully charged.
Ultimately, if you're looking for the best mouse for gaming and everyday use, which has a pin-point accurate sensor, superb aesthetics, cool features, and is lightweight, then look no further. The G Pro is the one for you.
TECH SPECS
DPI

16,000

Sensor

PMW3389 (Optical)

Weight

106 Grams

Size

Medium (125 x 70 x 43 mm)

Battery Life

50 Hours

Color

Black

Buttons

7
PROS
Sleek aesthetics
A high quality optical sensor
Brilliant ergonomic design
50 hours battery
Lightweight
CONS
Occasional tilt slam can cause unwanted cursor movement
The wireless version of the Razer Mamba came out back in 2018 with little changes to the wired version. They stripped the RGB lighting back to conserve energy and kept that fantastic shape too.
The previous iteration would give you around 20 hours of battery, but this new and improved version gives you a whopping 50 hours! Other improvements on the new model include a very accurate and precise PMW 3389 optical sensor whereas the old version had a laser. The appearance and feel to the mouse is very much like the Razer Deathadder and although it does feel like a premium mouse you are paying an awful lot for the wireless technology here.
The performance is excellent with this mouse and it will make you once and for all forget cables even exist. One thing to note is the battery life though as if your game solid every day for a few hours it most likely won't make it to 50 hours unless you have completely switched off the lighting.
Whether you chose this mouse or not is of course down to preference. If you don't mind charging your mouse up then this is a solid choice and with a shape close to the Deathadder it won't steer you wrong. Aside from the superb ergonomics, the sensor is good quality and the mouse barely weights a thing at just 107 grams.
I would recommend this to any FPS player who is sick of cables.
TECH SPECS
DPI

12,000

Sensor

TrueMove3+ (Optical)

Weight

121 Grams

Size

Medium (131 x 69 x 43 mm)

Battery Life

24 Hours

Color

Space Grey/ Black

Buttons

7
PROS
Unique design
Comfortable shape and materials
Lift off sensor
Weight customisation
Fantastic RGB
The SteelSeries Rival 650 turned a few heads on its release and whos surprised, I mean, just look at it.  It is essentially the heavier twin brother to the Rival 600 only it features SteelSeries Quantum wireless technology.
The sleek Rival 650 is 25 grams heavier than its older brother (121g) and a whopping 40 grams heavier than the Logitech G Pro. The mouse splits into segments to allow for weight customization and the segments are beautifully split by RGB veins.
SteelSeries teamed up with PixArt to create the TrueMove3+ sensor which is mostly similar to the PWM 3360. The sensor performs amicably as you would expect with improved raw tracking. The quantum wireless technology is high-quality and runs at a speed of 2.4GHz, allowing for low latency gaming.
The design and performance of this mouse are excellent. The unique shape looks futuristic and draws your attention. The one thing I'm not sure about is the lift-off sensor and if it actually improves your experience or just adds unnecessary weight.
TECH SPECS
DPI

12,000

Sensor

PMW3366 (Optical)

Weight

107 Grams

Size

Medium (124 x 68 x 43 mm)

Battery Life

32 Hours

Color

Black

Buttons

6
PROS
Comfy ergonomics
Good build quality
Quality sensor
Wireless performance
The Logitech G703 is a bit of a wireless gaming dark horse. It isn't your go-to mouse when you think of a decent wireless mouse, yet it outperforms many.
The mouse features the same Lightspeed technology we see in the wireless G Pro and it only weighs 107 grams. The G703 is ergonomically designed for the right hand and it fits like a glove, with excellent curves running down the sides. This mouse was the first from Logitech to work with the G POWERPLAY mouse pad which wirelessly charges the mouse even while playing!
The sensor inside this little demon is the PWM 3360, a highly regarded and respected sensor from the guys at PixArt. The tracking is truly excellent and it makes snapping between targets easy. It didn't seem to matter how quickly I move d the mouse it always remained reliable and a pleasure to use.
Overall it's a high-quality mouse that can be used for a multitude of games and if you want stellar performance with impressive wireless capabilities then this right-handed monster could be one to consider.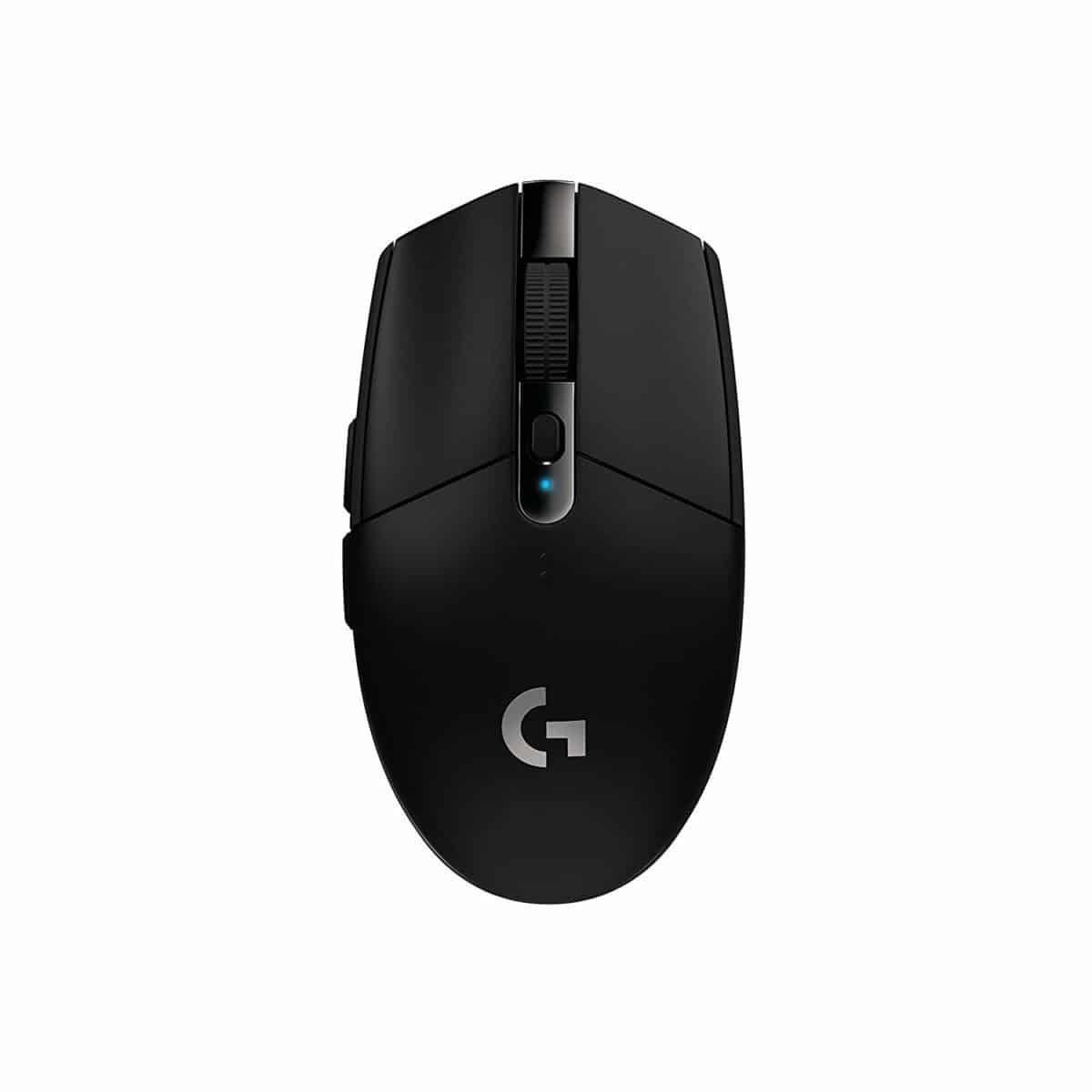 TECH SPECS
DPI

12,000

Sensor

HERO (Optical)

Weight

98 Grams

Size

Small (116 x 52 x 38 mm)

Battery Life

250 Hours

Color

Black

Buttons

6
PROS
Affordable
250 hours of battery life
Great sensor
CONS
A bit on the small side
Requires AA batteries
The G305 is a great little bargain and not a mouse to be taken lightly. This budget gaming mouse doesn't let you down for performance and weighs very little.
Any gamer looking for an entry-level mouse with top quality components then the G305 needs to be considered. The design is rather bland but the specs pack a mighty punch. This comes as a great alternative to the Logitech G Pro and will save you a vast amount of cash for similar performance.
The Logitech G305 uses the HERO (High-Efficiency Rated Optical) sensor, which is basically a more efficient PWM 3366. The low power consumption of the HERO sensor offers makes it perfect for wireless gaming mice.  There is no noticeable angle snapping, smoothing or acceleration in this mouse and the sensor is very unlikely to spin out.
If you are looking to cut the cord and switch to wireless gaming then the G305 is a solid ambidextrous choice. This mouse will save you a fortune over the G Pro and is a worthy budget contender.
Before you go buying a mouse, give your hand a little measure and find out roughly what size you need. The mouse needs to accommodate your grip style and should be coated in your preferred material.
All the mice on our list have excellent sensors that have performed well under rigorous testing. You don't want any audible rattling from the mouse, and it should feel solid in your hand.
Happy fragging folks!