We take a look at the best wireless gaming mice available in 2021, all featuring top optical sensors, flawless connectivity, and durable build quality.
The team at WePC have tested well over 50 different mice, both wired and wireless, to find the best of the best. The team has various hand sizes, grip styles, and game preferences, helping us narrow down our search in our quest to find the best wireless gaming mouse.
What makes a wireless mouse the best wireless gaming mouse? Well, it needs to feature top components, not be too heavy, and have a decent amount of battery life to ensure you never miss a click.
In our search for the best wireless gaming mouse, we have ensured every recommendation (including budget) offers high-quality performance, with accuracy and reliability being priorities. These are the best wireless gaming mice, so they feature strong ergonomic designs, durable materials, and superb battery life too.
If all this sensor and hand size talk has you scared, don't worry, we will guide you in your quest for the best wireless gaming mouse in 2021.
The Best Wireless Gaming Mouse
Next Best Wireless Gaming Mouse
Best MMO Wireless Gaming Mouse
5 Best Wireless Gaming Mice: First Look
The Best Wireless Gaming Mouse
The Razer Viper is the king of the wireless mice. This ambidextrous beast features Razer's latest top optical sensor, the Focus+ and it comes with their new optical switches.
The Razer Viper ultimate is our best wireless gaming mouse for several reasons. The Focus+ is a top optical and when paired with the new optical Razer switches, you've got an incredibly reliable and responsive mouse in your hand. The design is top drawer and the split trigger primary buttons look superb. This mouse fits in the hand like a glove and is one of the best ambidextrous mice I have ever used.
Next Best Wireless Gaming Mouse
The Logitech G Pro wireless was considered the best wireless gaming mouse for some time. It narrowly misses out to the Viper Ultimate but that doesn't mean this isn't still one of the best!
The Logitech G Pro may have just been knocked off top spot but this is still one of the best gaming mice currently available. This features the incredible HERO sensor, responsive switches, and one of the best shapes to ever grace ambidextrous mice. This is truly ambidextrous with changeable side buttons to cater for both right and left hands, a solid runner up.
Best MMO Wireless Gaming Mouse
The Logitech G604 offers a supreme level of comfort with its impressive ergonomic design. This features the highly regarded HERO sensor and comes with 15-programmable buttons for MMO lovers.
The Logitech G604 is a versatile mouse with 15 programmable buttons, making it the best wireless mouse for MMO games. It features low latency and can be used with Bluetooth if you needed.
Best Ergonomic Wireless Gaming Mouse
The Logitech G703 wireless gaming mouse is still regarded as one of the best for right-handers. The ergonomic shape is incredibly comfortable and the components elevate this to one of the best wireless gaming mice on the market.
The G703 from Logitech comes with top-level specs and a reasonable weight. This is 20-30 grams heavier than our top picks, so if you prefer heavier mice this could be for you. The right-handed ergonomic shape is one of the more comfortable out there and the sensor is never going to let you down. Great wireless gaming mouse.
Best Budget Wireless Gaming Mouse
The Logitech G305 offers a lot for a budget wireless gaming mouse. this ambidextrous champion features a safe, comfortable shape and comes with the flawless HERO sensor.
The Logitech G305 earns its place was one of the best wireless gaming mice on the market thanks to its top optical (HERO), safe shape, and affordable price. This is a truly great ambidextrous wireless mouse that the masses can enjoy.
To choose which wireless gaming mice we would test, we needed to identify what consumers are looking for in a wireless gaming mouse, being gamers ourselves this was made much easier by using our own network of gaming friends. However, we also used communities such as Reddit's MouseReviews and several publications to help ensure we were only reviewing the best of the best wireless gaming mice.
First off, we purchase the products just as you would (usually from Amazon) then we use the products and test them both in-game and in everyday office use (whilst we are working on these guides). Typically speaking, we will have 10-20 hours of testing with each gaming mouse we purchase.
You may be wondering who tests the gaming mice, the majority of the time it will be one of our in-house team, currently 15 people all of which are gamers and we usually play a variety of games including CS: GO, PUBG, BF5 & Apex Legends. The great thing about how we test is that each of our team gets time to test each mouse, this means our feedback is well-rounded, we discuss and provide feedback together.
Wireless Gaming Mouse: Considerations
The following are several factors that need to be considered before you purchase a wireless gaming mouse, we've tried our best to explain each and give you some good and bad examples of wireless gaming mice which cover each point.
Weight & Mouse Size
The weight and size of gaming mouse you choose are massively subjective to the individual, hand size and mouse grip factors into this significantly. In an ideal world, we would test every single wireless gaming mouse with a panel of expert gamers each having their own mouse grip, play style and totally different hand sizes. We've done our best to take the guesswork out of this by providing information based on our own in-house tests, alongside the usual specifications for you to compare. We have a variety of different hand sizes and grip styles in the office so we feel confident we can provide a compelling overview to help you with your decision. Measure your hand and check out our hand size guide to see what mice could be the best for you.
The graph above will help you to understand the size differences in our wireless mouse collection, the sizes are in cm and we've split the graph into length, width, and height.
On average wireless gaming mice tend to fall between 80-120 grams with the odd exception, such as the Logitech G603 which uses AA batteries. What will be a large factor is the shape of the mouse. You may tend to favor a claw grip, palm grip or fingertip grip. Although it's possible to adapt your style to suit that of the mouse, the more natural it feels, the better you'll do while competing – and let's not lie – it's all a competition otherwise we wouldn't want the very best we could afford.
From the graph you can clearly see how light the Logitech G Pro is compared to its competitors, it is truly a fantastic wireless gaming mouse, but it is extremely pricey and many other mice, whilst they might be 20 grams heavier, still feel extremely comfortable and lightweight (due to having no cable to drag across the desk).
Charging Time & Battery Life
Although there was a time when professional gamers would only consider a wired mouse, new technology has birthed a whole new creation of wireless models that are nothing short of spectacular. While even our favorite battle arenas can lead to infuriating moments, it's best if those tantrums aren't caused by the equipment we use. Three quarters through a multi-hour tournament isn't the right time for your mouse to run out of juice.
Most of the high-end models use built-in rechargeable lithium-polymer batteries. These are typically expensive (such as the Logitech G Pro), but allow manufacturers to fit them into the dense and shapely profiles of their products. You'll see very few high-end gaming mice like the G603 that use old fashioned AA or AAA batteries which are typically reserved for less expensive gaming mice.
Battery life will vary depending on the model you choose, as well as what features are available. However, you'll want to choose a model with at least 20+ hours of continuous use – the more the better. It may be possible to adjust the mouse to extend the battery life such as by turning off RGB lighting and lowering the polling rate.
Charging time is negligible for the most part as this will be done overnight or during periods when you're not at your station. Most wireless mice will use a standard USB cable for charging while still in operation. Others may contain a dock. If charging simply isn't an option, Logitech has released its Logitech G PowerPlay charging system which is essentially a wireless charging pad that can charge your mouse while you play without the need for any wires. Corsair offer Qi charging which uses similar technology to mobile phones and means you can cross-device charge on your new PC mouse pad! Likewise, Razer launched the Firefly Hyperflux mouse pad which also allows features wireless charging capabilities. This is just an inkling into where the wireless gaming market is heading.
DPI / CPI – What is it? Why is it important? Dots per inch/Counts per inch
The terms DPI and CPI are often seen as interchangeable when discussing mice. As you can see above, DPI stands for dots per inch and should really only be referred to in the printing/graphic design world, as it indicates the number of dots per inch that can fit in a straight line. For some reason it's coined as a marketing term by gaming mice manufacturers instead of CPI which is more appropriate and refers to counts per inch – i.e. a CPI setting of 1600 moves your cursor 1600 pixels per one-inch movement. So when you see DPI listed in the specifications, rather think of it as CPI.
Now, you may think that the more CPI the better as that means you can aim quicker. The truth is that the majority of professional gamers prefer a setting of around 400 – 1,600 even though many gaming mice offer a 'DPI' of 12,000-16,000. While you can spin around quicker with a higher setting, it's far more difficult to be accurate so more isn't always better. Fortunately, the majority of gaming mice have DPI buttons located on the top (usually behind the scroll wheel) or on the bottom of the mouse to quickly change DPI from 2-5 preset settings. The most common settings for the DPI button are 400, 800, 1600 and 3200, however, through most brand's gaming software, you can customize the DPI presets to whatever you fancy, either at increments of 50 or in some cases (Razer) increments of 1!
IPS & Acceleration
Following on from CPI, you'll often find IPS and acceleration specified. IPS refers to inches per second and refers to the maximum speed the mouse's sensor can track the movement accurately. If you have fast reflexes, but choose a wireless gaming mouse with a low IPS then you'll never be able to play at your highest potential. Try to choose a fast IPS rating of 240 or more and you can have confidence the mouse will track fast movements accurately on different surfaces.
The next part of this important gaming equation is acceleration – in relation to 'DPI' and IPS. It's measured in G's and refers to how quickly the 'cursor' moves based on how quickly you move your hand (not simply the distance). A gaming mouse with an acceleration rating of 30-40G's is what most manufacturers offer these days but in reality, humans can't really produce speeds of over 8g.
Click Lifespan
The computer industry is always evolving, and this is especially true in the gaming world. As a result, it's not atypical that you'll replace a piece of hardware long before your current hardware stops working. The durability of a gaming mouse is really something to consider as users are likely to spend hours at a time during a session, clicking several thousand times in that same period.
When looking for a gaming mouse that will last, make sure to compare the click lifespan. This will usually be in the millions (i.e. 50 million clicks for instance) and should mean the right mouse can last several years. To be honest, the majority of wireless gaming mice we tested used Omron switches which had click lifespans of 40 – 50 million clicks which should be sufficient.
Polling Rates Measured In MHz
There was a time not too long ago when folks played Solitaire on Windows 95 with mice that contained rubber balls. These rubber balls interacted with mechanical rollers to let the OS know where the cursor was heading. Those days are long over and now we have optical and laser mice. When they hit the gaming scene laser mice were considered superior to optical mice, but that's not really a factor anymore as optical technology has advanced rapidly.
Typically, when a mouse has moved the light emitted (whether LED or infrared) is measured by a camera or sensor and relays this data to the computer so it knows what position the cursor is in. Modern mice use the latest sensors (the current leading sensor being the HERO based on popular opinion). Regardless of whether you choose optical or laser, it's smart to be able to adjust the polling rate (just like the CPI/DPI) to your own taste – or simply what you're used to.
The polling rate refers to how often the sensor on the mouse reports the position to the computer. Most gaming mice are around 500-1000Hz (i.e. 500 times and 1000 times per second respectively).  A higher rate means your mouse is reporting where it is more often to the computer which should bring more accurate movements from the cursor and give you a better all-around experience. Most people won't notice much of a difference with either and the majority of mouse manufacturers don't really specify this as a result – though believe us when we say they've taken it into account. You can still usually adjust it in the included software. It's worth mentioning that a higher polling rate can drain the battery quicker but even this small issue is going to become a thing of the past as sensors become more and more efficient.
Polling rates can sometimes be referred to as response times and are measured in milliseconds.
1000Hz = 1 ms
500Hz = 2 ms
250Hz = 4 ms
125Hz = 8 ms
Jitter
Not to be confused with angle snapping which is a deliberate way of predicting movement, a mouse jitter refers to the cursor suddenly making unexpected movements without your input. It is rare but can happen. If you've just bought a new gaming mouse and experience this, then send it back for a replacement or refund as it really shouldn't happen with the most modern gaming mice. However, if you are unlucky enough to find yourself in this situation and it's not caused by dust or dirt on your mouse's sensor, then the issue could be one of the following (or others not mentioned).
Your game is using too much of your CPU load
An outdated mouse driver
Frequency interference in your home (i.e. a smartphone's hotspot nearby could be the issue for instance)
Interference with a wireless mouse and keyboard combination
Surface type
Angle Snapping
A monitor display is made up of thousands of pixels and some mice feature angle snapping which will lock cursor movement into a straight line. While this may be useful for certain graphic design applications (try to draw a perfectly straight line with your mouse), it's not desired for those moments when you want to go for that perfect headshot and your mouse automatically shifts the cursor above their head. The vast majority of gamers want to perfect their aim and software jumping in to correct you is a red flag as your target will rarely be directly on a horizontal or vertical line. The good news is that most if not all professional-grade gaming mice don't have this feature, or at the least allow you the option to toggle it on or off.
Mouse Acceleration
It is best to start by saying mouse acceleration generally speaking is a big no in games. Specifically worse in FPS titles because playing without acceleration removes all variability in cursor movement and provides a more consistent and stable behavior overall. Some gamers may have been playing with mouse acceleration on for years and have become used to it and it's worth noting you can use acceleration effectively if you tweak your settings, but its a lot more work and it's best to keep the mouse raw. Mouse acceleration is hard to adapt to and will bring inconsistency to your aim if you aren't already used to it. We recommend keeping acceleration off as it just adds another variant for your muscle memory to get used to and can be frustrating when making aim adjustments.
Lift-Off Distance
The lift-off distance or LOD refers to the distance you can lift your mouse off your desk or pad before it stops tracking. LOD is measured in millimeters and is easily tested by determining the number of CDs it takes where the mouse stops tracking (1CD ~1.2mm). Most high-end mice come with an optimal LOD already set but you can often adjust it in the included software with certain manufacturers. Ideally, you want it as low as you can get it so if you need to reset your mouse position on your pad during a battle, you can lift it and place it back down without moving the cursor. Some people do like a little higher LOD as it can allow them to continue tracking if they go off the pad. Sometimes the LOD can vary depending on what surface you have but what works for you will come down to experience and preference, but again, usually the lower the better.
Weight Adjustable
While not all wireless gaming mice offer this option, many provide additional weights that allow you to reduce or increase the weight, such as the Logitech G703, 903 and G Pro as well as the SteelSeries Rival 650. The weights are usually only a few grams each and can be placed either within or around the mouse so you can find the perfect balance for your comfort and playing style.
Depth Sensors
We saw the implementation of a depth sensor with the launch of the Rival 600 which was SteelSeries' new groundbreaking technology. The sensor provides gamers with some extra customization as you can change when the sensor starts and stops tracking during liftoff. It eliminates extra movement when the mouse is picked up and can be set as low as 0.5mm. A depth sensor isn't typically needed as a top of the line sensor seems to cope with depth pretty well already.
Customizable Buttons
The majority of wireless gaming mice come with 7-10 buttons, most of which are customizable using the brand's gaming software. However, if you are a MOBA player you may want to look at more traditional wired gaming mice for now, as the options are limited to mice such as the Razer Naga wireless otherwise its back to wired options such as the Corsair Scimitar.
Grip Styles
Grip styles are something that comes to us naturally after playing for a while, and it is something you learn. Everyone holds the mouse differently, and this largely affects what mouse we pick.
There are three main types of mouse grip:
Palm Grip

– The entire hand rests on the mouse. This lets you move the mouse fast since your actions come from your arm. However, clicking can be slower, and using your arm means it's not always the most precise.

Claw Grip

– Palm rests on the back of the mouse while fingers are arched to make the index and middle fingertips perpendicular to mouse buttons. Because of this, the mouse is easily picked up and moved, but it's can sometimes feel more precise compared to the palm grip

Fingertip Grip

– Hand hovers in the air with only the last digit of the fingers in contact with the mouse. Since your palm doesn't rest on the end, this gives you the most precise control. Despite this grip offering accurate control, it's also the hardest to learn, the most arduous on your hands, and generally requires a smaller mouse since your hand can feel further away.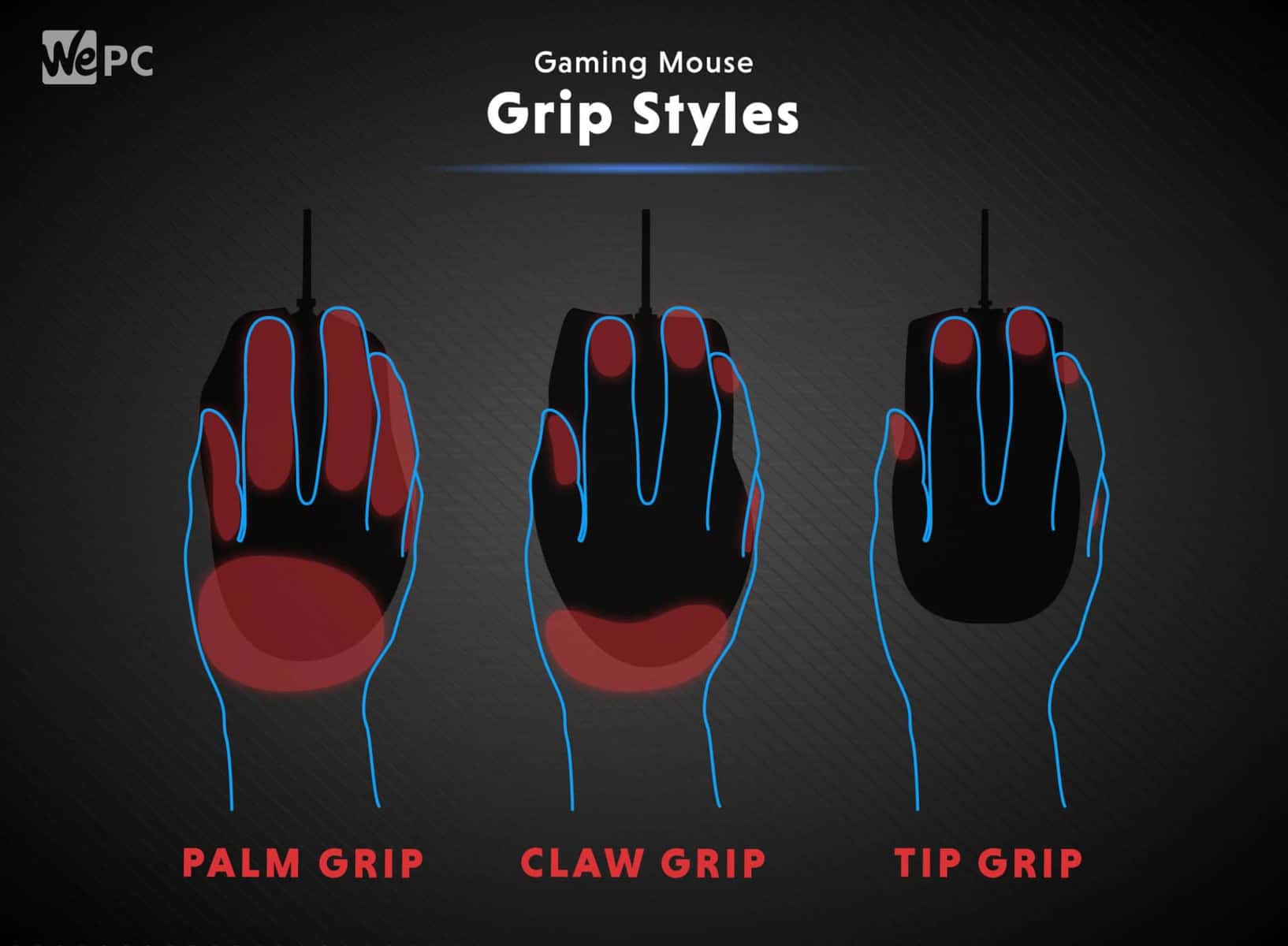 Who Is This For?
If you've landed on this page, you are probably aware of the importance of a good gaming mouse, they can significantly improve your performance in-game and help you go from zero to hero. You can't really compare a gaming mouse to an ordinary computer mouse, with their precise sensors, thoroughly researched ergonomic designs built for the three main mouse grips and the ability to customize the mouse to your specific needs via the software. Gaming mice are not just useful for gaming though, I am sat here doing research, writing this guide on wireless mice whilst using my gaming mouse to do a range of activities, investing in a gaming mouse isn't just a good investment for your gaming but in everyday life too.
Simply put, if you are serious about gaming, then you need a gaming mouse.
5 Best Wireless Gaming Mice in 2021
Medium (126.73 x 66.2 x 37.81 mm)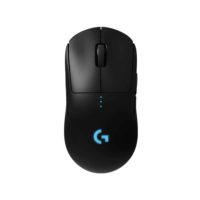 Medium (125 x 63 x 40 mm)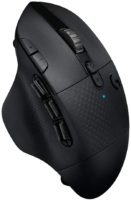 Medium (130 x 80 x 45 mm)
Medium (124 x 68 x 43 mm)
Medium (126.73 x 66.2 x 37.81 mm)
Very light for a wireless mouse
Super responsive optical switches
The Razer Viper Ultimate wireless gaming mouse is truly one of the best ever, it's versatile, reliable, and features top-level components.
This is an ambidextrous design but it doesn't feature modular side buttons like the Logitech G Pro, meaning this favors the right-hander a bit more. The design is much more ergonomic than the G Pro wireless, with shape angles giving you a superior grip.
The shape is excellent on the Viper and really comfortable, with textured sides that provide all the grip you need without the chance of peeling off like previous Razer mice. This comes equipped with Razers adapted PMW3399 optical sensor- the Focus+. this is a top optical that remains reliable and accurate regardless of your flicking speed or occasional tilt slam.
What is most impressive from the team at Razer is the cut in weight this mouse has seen. this is a wireless model that only weighs in at 74 grams! That is a superb design, with this even beating the G Pros lightweight.
The materials and build quality surpass most mice I have tested, the shell on this is very durable with no flex at all. I couldn't hear any rattling and the split trigger primary buttons are incredibly responsive. The switches are now Razer's new optical ones and while you can't really notice a difference, they are without a doubt more responsive and the way to go when compared to mechanical. The battery life is yet another top feature, with this giving you around 70 hours of continued usage.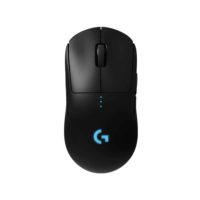 Medium (125 x 63 x 40 mm)
Lightspeed technology for wireless charging
Fantastic ergonomic hand design
The Logitech G Pro is one of the best all-round wireless gaming mice available. Logitech spent two years working with esports pros when designing the mouse to make sure it was good enough for enthusiasts and pros alike.
Although the G Pro looks fairly modest and generic, it's ergonomic design has been so well designed that it is by far one the comfiest shapes we've tested. More importantly, however, is the sensor that Logitech has armed this mouse with. It's the HERO (High-Efficiency Rated Optical) sensor and is widely considered the best gaming sensor currently available.
One of the stand-out features of this mouse has to be its weight or lack of should I say. Historically, wireless mice have always been heavier than wired ones thanks to the wireless technology it's built around. This being said, Logitech, thanks to the ever-advancing technological universe we live in, has managed to design a wireless mouse – equipped with the best sensor in the world – which weighs just 80 grams. It's one of the lightest mice on the market and our top pick respectively.
The materials are nothing short of superb and the craftsmanship is equally as impressive. It has the look of a classy mouse and has the performance to boot. Nothing about this mouse has disappointed me so far making it the first, and only, mouse to achieve this feat.
Pair the Logitech G Pro with the Powerplay Mousepad and you will never run out of battery. It makes use of Logitech's Lightspeed technology and can charge on the go without the use of a wire. I know, impressive. If you aren't looking to splash out on all the fancy extras then fear not, the G Pro has a cool 40 hour lifetime when fully charged.
Ultimately, if you're looking for the best mouse for gaming and everyday use, which has a pin-point accurate sensor, superb aesthetics, cool features, and is lightweight, then look no further. The G Pro is the one for you.
Check out our full review of the Logitech G Pro Wireless here.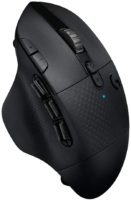 Medium (130 x 80 x 45 mm)
Impressive 240 hour battery life
Not the best for FPS gaming
The Logitech G604 is a versatile wireless gaming mouse that will suit the needs of many.  This ships with low latency, wireless technology, features an ergonomic shape for the right hand, and performs flawlessly.
The ergonomic design is superb from Logitech here, the mouse is slightly slanted and provides a nice base for palm grip users. The thumb buttons are easy to access and press. The mouse's design is closer to an office mouse really but don't let the shell fool you, this is optimized for top-level gaming.
Then G604 features Logitech's highly regarded HERO sensor at its core, proving accuracy at all times without any dips in performance. The double metal scroll wheel is a personal favorite and the 15 programmable buttons make this a superb option for MMO players.
The mouse weighs 130 grams and is powered with AA batteries. Like other Logitech mice, this features an impressive battery life of up to 240 hours when using the Lightspeed wireless mode. If you switch it over to Bluetooth you can get up to 5.5 months of usage!
The materials used are excellent, the performance is flawless and while this may be a bit long for some, it's truly an amazing MMO mouse.
Medium (124 x 68 x 43 mm)
The Logitech G703 is a bit of a wireless gaming dark horse. It isn't your go-to mouse when you think of a decent wireless mouse, yet it outperforms many.
The mouse features the same Lightspeed technology we see in the wireless G Pro and it only weighs 107 grams. The G703 is ergonomically designed for the right hand and it fits like a glove, with excellent curves running down the sides. This mouse was the first from Logitech to work with the G POWERPLAY mouse pad which wirelessly charges the mouse even while playing!
The sensor inside this little demon is the PWM 3360, a highly regarded and respected sensor from the guys at PixArt. The tracking is truly excellent and it makes snapping between targets easy. It didn't seem to matter how quickly I move d the mouse it always remained reliable and a pleasure to use.
Overall it's a high-quality mouse that can be used for a multitude of games and if you want stellar performance with impressive wireless capabilities then this right-handed monster could be one to consider.
Take a look at our full Logitech G703 wireless mouse review here.
250 hours of battery life
The G305 is a great little bargain and not a mouse to be taken lightly. This budget gaming mouse doesn't let you down for performance and weighs very little.
Any gamer looking for an entry-level mouse with top quality components then the G305 needs to be considered. The design is rather bland but the specs pack a mighty punch. This comes as a great alternative to the Logitech G Pro and will save you a vast amount of cash for similar performance.
The Logitech G305 uses the HERO (High-Efficiency Rated Optical) sensor, which is basically a more efficient PWM 3366. The low power consumption of the HERO sensor offers makes it perfect for wireless gaming mice.  There is no noticeable angle snapping, smoothing or acceleration in this mouse and the sensor is very unlikely to spin out.
If you are looking to cut the cord and switch to wireless gaming then the G305 is a solid ambidextrous choice. This mouse will save you a fortune over the G Pro and is a worthy budget contender.
With wireless technology becoming more reliable year on year, the wireless gaming mouse has a chance at more than just casual use. More sports professionals are using wireless gaming mice than ever, with them featuring top optical, switches, and losing weight.
Hopefully, our thorough guide to finding the best wireless gaming mouse has helped make your decision a little easier. As we've discussed, our overall favorite is the Razer Viper Ultimate, an ambidextrous, lightweight gaming mouse, that is also light and highly accurate, this is one of the best wireless gaming mice we've tested.
The runner up was the champion of wireless gaming mice until recently, the Logitech G Pro Wireless. This mouse is one of the few truly ambidextrous shapes on the market, with interchangeable thumb buttons. Furthermore, it features the powerful HERO sensor, a mere 80grams of weight, and never needs charging when paired with Logitech's Powerplay mousepad.
For any MMO players out there looking for wireless operation, look no further than the Logitech G604 wireless gaming mouse. This comes with 15 programmable buttons, a top optical sensor, and an ergonomic shape. This is a versatile gaming mouse with 240 hours of battery life!
The Logitech G703 offers wireless gaming with an ergonomic right-hand grip. This is a high-quality wireless mouse, with a top optical sensor, highly responsive buttons, and one of the best shapes in the game.
Lastly, if you are looking for a budget wireless gaming mouse, then the Logitech G305 is the best of the best. It's definitely not for those who prefer large mice, but it's very affordable and features the highly regarded HERO sensor.
There we have it, the best wireless gaming mice out there. Have you already cut the cord? Or are you planning on changing to a wireless gaming mouse? Let us know what model you went for over at the WePC community.