The Logitech G Pro is an absolute beast of a gaming mouse, it doesn't just outshine its wireless competitors but also beats many wired alternatives. Armed with the Hero optical sensor and weighing in at just 80 grams the Logitech G Pro is one of our best recommendations for gamers in 2021.
The G Pro Wireless is Logitech's pièce de résistance, it's ultimate gaming mouse built for competitive gamers. It combines their latest HERO (high efficiency rated optical) sensor and Lightspeed wireless technology into a sleek and simplistic design that has just a hint of RGB lighting.
Wireless mice now champion functionality and battery life so the fact Logitech has stripped this mouse down is great. Its simple smooth finish paired with ambidextrous qualities make this a superior wireless mouse for all. It is very expensive but compatible with the Logitech Powerplay mouse pad which would see your G Pro never run out of battery. The G Pro has Logitech's innovative Lightspeed Wireless technology which has improved the latency, connectivity, and power of the mouse. With the mouse getting a 1ms report rate the G Pro has the same responsiveness as wired mice.
I was slightly skeptical of the Logitech G Pro at first, whenever a gaming mouse or any product, in general, has a largely positive influence across the web I become very hesitant to jump on board the bandwagon. So, when the mouse arrived at my door, I already knew it was going to have to shine extra bright to get into my good books, and it did. The Logitech G Pro is a sleek beauty that performs above and beyond what you would expect, but it does come with a price and a considerable one at that.
[mks_col]
[mks_one_half]
Pros
Lightweight – the Logitech G Pro comes in at just 80 grams
Comfortable & Ambidextrous – fantastic design and shape
Great sensor performance – the hero sensor works wonders
[/mks_one_half]
[mks_one_half]
Cons
Expensive – at more than £100/$100 it won't fit everyone's budget
Medium size – some people will find the G Pro Wireless too small for their hands
[/mks_one_half]
[/mks_col]
[mks_col]
[mks_one_half]
Mouse Stats
Sensor: Hero Optical
Weight: 80g
Size: Medium (12.5 x 6.35 x 4.0 cm)
Game Types: All
Option: Bottom plate (- 3g)
[/mks_one_half]
[mks_one_half]
Hand Size Guide
[/mks_one_half]
[/mks_col]
If you've purchased a Logitech mouse in the past you would have noticed the no-fuss style packaging they normally feature. With the high-end G Pro though you are getting something a bit more sleek and stylish.
Inside as standard, there is:
Warranty and User Guide.
Charging Cable.
USB adapter.
2 Extra Buttons.
2 Extra Button Covers.
Weight and size are undeniably important when it comes to high-end mice. Logitech has done some excellent work to shave off as much weight as possible with the G Pro. They have stripped some features back and produced a 1mm thin outer shell, which is extremely lightweight but still solid. They achieved this structural strength with an innovative ladder-chassis under the cover. The total weight is approximately 80 grams, which would be light for a wired mouse nevermind wireless! The G Pro is considered to be a medium-sized mouse and for me is slightly too small sitting at 12.5 x 6.35 x 4.0 cm. That being said I can still comfortably use a palm or claw grip effectively while gaming with this mouse.
The majority of serious players who use this mouse find the weight and symmetrical shape to be ergonomically engineered for long gaming sessions. I personally have large hands (19 x 11 cm) and the G703 is the Logitech mouse that fits in my palm the best. Despite the size of this mouse though it's very nice to use and its ergonomic design is better than other ambidextrous mice on the market.
Logitech g Pro is one complete plastic shell and feels like a similar material used for the G603. It's smooth all over and for the price, I'm not sure why.  I think a slightly more grippy texture on the sides like the G703 would have been a nice feature to add as it's smaller than most medium-sized mice. Its simplistic design is elegant but the ambidextrous shape didn't feel as satisfying as the G903. The G Pro has been streamlined and you can see why some are calling it the 'Logitech FK'. It's fairly narrow, has a low profile body, and barely requires any force to move around the pad.
The Logitech G Pro has a few extra buttons other than your left and right buttons. It has removable left and right 'thumb' buttons that can be customized making the mouse truly ambidextrous. Logitech also provides you with magnetic covers to replace the buttons if you prefer.  There is a scroll wheel button located front and center of the mouse as normal. This gives tactile feedback, unlike the G900 and G903. Lastly, the mouse features a DPI button on the bottom of the mouse rather than being behind the scroll wheel like others.  Logitech worked with a lot of E-Sports professionals when considering the design and moving this DPI button to the bottom was a preferred option for a lot of them. This is a welcomed change as it completely prevents any accidental clicking/random DPI switching.
As gamers, we are always after greater performance from our peripherals and it would seem Logitech had this in mind when putting together the G Pro. With the arrival of next-gen sensors like the HERO 16k, you can have extra confidence in fast movements. This sensor tracks seamlessly at speeds of over 400 IPS without spinning out. The sensor claims 10x less power than previous ones like the PMW3366 helping with its battery life.
Aside from lag and battery issues we try to avoid, the responsiveness of a mouse can really make the difference between consistently coming out on top, and losing those aim duels/ team fights. Although for a long time wired mice were preferred due to having better response times, Logitech has made this a redundant factor with their Lightspeed wireless technology. Logitech boasts a report rate of 1000 Hz or 1ms and it would be impossible for anyone to notice any difference in response between wired and this mouse.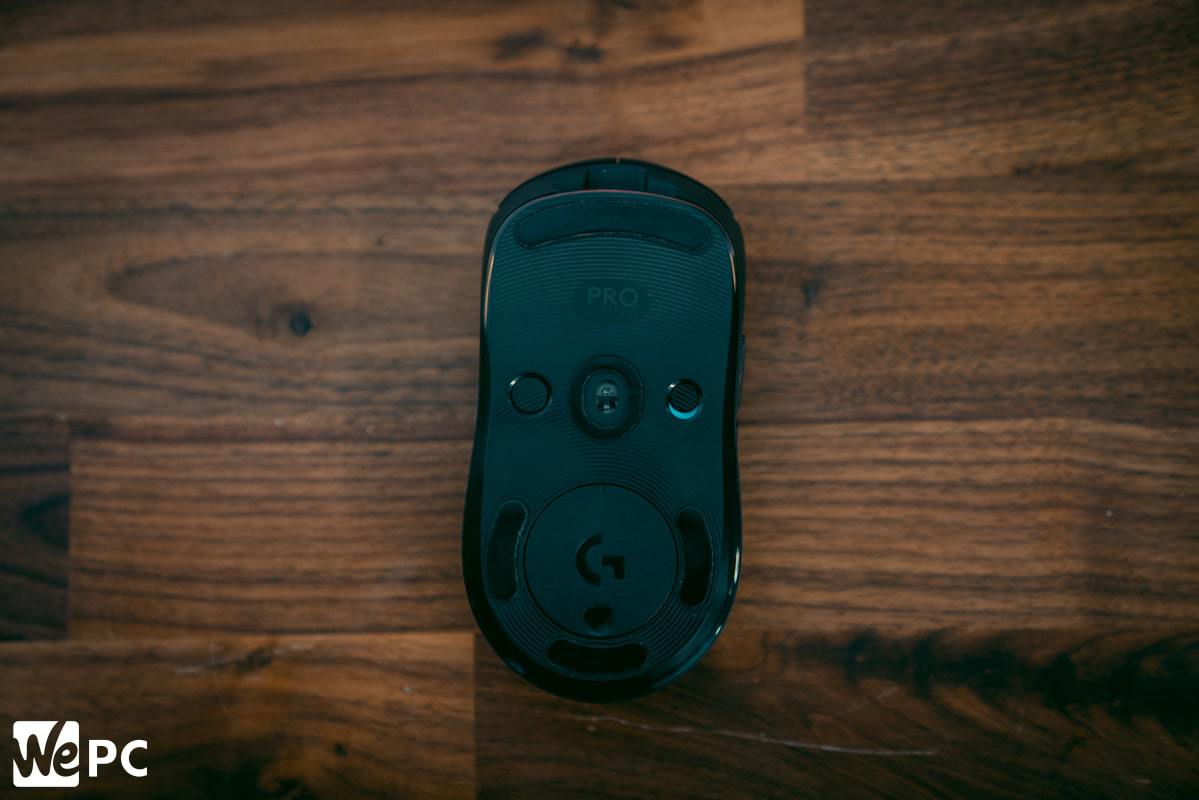 The bottom of the mouse has minimal LOD (1mm), 4 feet around its perimeter, and one looping around the sensor. It didn't matter if I used this on a textured or smooth pad the speed this mouse across the pad was immense. This model has the newly engineered Omron D2FC-F-K switches, which are durable enough to withstand 50 million clicks.
The mouse comes with 5 preset DPI values you can change quickly using the button on the bottom. The preset options aren't for everyone though and the DPI is easily customized in Logitech's software where you can change the values from 100 to 16000.
The Logitech G Pro uses a lithium-ion polymer (LiPo) rechargeable battery that is lightweight and has a staggering battery life of 48 hours with the default lighting. However, gamers have the choice of turning off the RGB lighting to extend this to 60+ hours. The mouse contains onboard memory which means you can store your profiles on the mouse its self, making the transition from home to arena less hassle.
The G Pro comes with a USB cable to charge which can be used while playing if necessary. There is also a dongle receiver stored in the compartment at the bottom of the mouse that can either go straight into your machine or the desktop USB extender if you prefer. Now if you hate wires don't worry the G Pro is compatible with Logitech's Powerplay wireless charging mat. When plugged in, charging time may take around 30 minutes but it essentially offers endless power. It's worth noting that the mouse will automatically stop charging, so you can plug it in when you're away from your computer or between gaming sessions. You can also monitor the progress through the software.
Logitech G Hub is their new and improved software but you can use Logitech Gaming Software still if you wish to. It has some great customisation features that allow you to create macros or just tinker with the RGB lighting.
Other software features:
RGB lighting effect customisation
DPI Customisation
Device Synchronisation
Remap Buttons
Create Macros
The Logitech G Pro Wireless is a supreme bit of technology indeed. You get a meticulously thought out design with arguably one of the best sensors made. You have an elite gaming mouse that would satisfy the masses without question. The G Pro has the best battery life on the market for a 'rechargeable' wireless mouse and when you pair this with its minuscule weight and its high-end performance you're getting a fair amount for your buck! Now this mouse is expensive but it's highly recommended for a reason and with its insane wireless capabilities it has to be considered.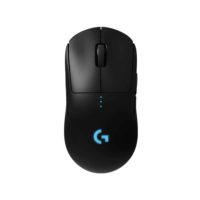 Medium (125 x 63 x 40 mm)
The Logitech G Pro is an absolute beast of a gaming mouse, it doesn't just outshine its wireless competitors but also beats many wired alternatives. Armed with the Hero optical sensor and weighing in at just 80 grams the Logitech G Pro is one of our best recommendations for gamers in 2020.