01
Editor's pick
Best graphics card for gaming and ray tracing
MSI Gaming GeForce RTX 3080 Gaming X Trio 10G
02
Runner up
Best AMD graphics card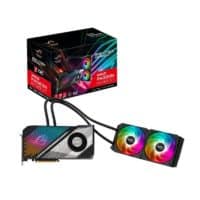 ASUS AMD Radeon RX 6800 XT ROG Strix LC OC 16GB
Best graphics cards: first look
Best graphics card for gaming and ray tracing
MSI Gaming GeForce RTX 3080 Gaming X Trio 10G
TRI FROZR Cooling Solution
For gamers playing at 4K or utilizing ray-tracing, the GeForce RTX 3080 is the best graphics card available, offering superb performance improvements over the previous generation.
The GeForce RTX 3080 inches ahead of the competition, offering the best of the new Ampere architecture outside of workstation graphics cards like the RTX 3090. Its DLSS AI-enhanced graphics and improved real-time ray tracing over the older Turing GPUs, as well as superior 4K performance mark it out as something special. With high frame rates across the board.
Best AMD graphics card
ASUS AMD Radeon RX 6800 XT ROG Strix LC OC 16GB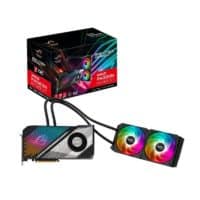 HDMI x 1 DP x 2 USB Type C x 1
AMD's true flagship gaming GPU, the Radeon RX 6800 XT is a close contender for the best graphics card for gaming and has the edge over Nvidia at 1080p and 1440p resolutions.
Although not quite up there with the RTX 3080 on the highest resolutions, the 4K performance of this AMD graphics card is still very impressive. Besides the advantages of the new RDNA 2 architecture, the card comes with 16GB GDDR6 VRAM and a boost clock of between 2155 – 2360 MHz depending on which AIB you go with.
Best budget graphics card
ASUS GeForce RTX 3060 TI ROG Strix Gaming OC
The Nvidia RTX 3060 Ti is the best mid-tier graphics card currently available, offering great value for money for those looking to play at 1080p and 1440p.
Despite the relatively low number of CUDA cores at 4,864, the card has very respectable boost frequencies of between 1,665-1890 MHz depending on the AIB, which makes it punch above its weight in silicon terms – not too far behind the more expensive RTX 3070.
04
Best cheap graphics card
The best GPU under $300
ASUS ROG Strix Radeon RX 5600 XT
The AMD Radeon RX 5600 XT is a great value graphics card that offers good performance at 1080p for significantly less than the competition.
The AMD card offers near RTX 2060 levels of performance for a fraction of the price of its Nvidia rival. If you're looking for a graphics card that RRPs at under $300, then the RX 5600 XT is the best GPU you'll get in the current market.
Best graphics card for a workstation
MSI Gaming GeForce RTX 3090 Gaming X Trio 24G
TRI FROZR Cooling Solution
The Nvidia GeForce RTX 3090 is the most powerful GPU on this list, and indeed currently available, however, it's a hugely expensive card that's only really worth it if you're a content creator that requires a great deal of visual rendering power, for whom quicker rendering equals more work and more money.
This graphics card has the most impressive VRAM capacity, speed, and bandwidth you will find, and AMD doesn't really have an answer to it. Ultimately though, for gaming, it's not that much better than the much much cheaper RTX 3080 Ti.
Best 1080p graphics card

EVGA GeForce GTX 1660 Ti XC Gaming
If you're looking for great performance at a reasonable price tag then look no further. It mostly takes over from the 1060 but with 15% better performance benchmarks, all this for a very affordable price makes it our top value for money card.
While more expensive than the 1080p pick, definitely the most value-oriented pick overall. Straddling the line between perfect 1080p gaming and strong VR/1440p gaming, the 1660Ti is easily the most value-tailored GPU out there right now.
Best cheap graphics card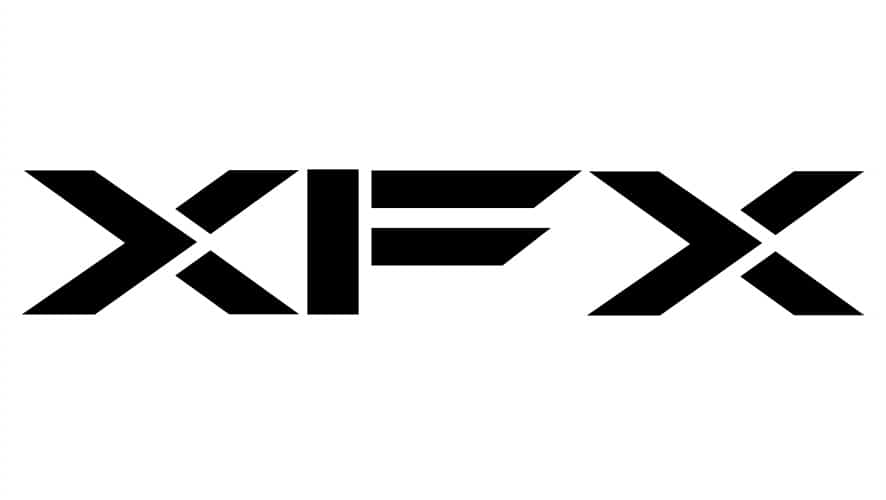 XFX AMD Radeon RX 590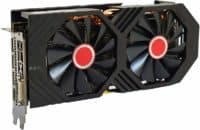 The price of the 590 for what you get is outstanding. This GPU lets you enjoy 1080p gaming without the need for investing thousands!
The perfect companion for that budget build, the RX 590 offers high FPS counts in glorious detail too! Whilst being an absolute workhorse this GPU goes a long way to give you a great experience for less.
Best cheap RTX graphics card
ASUS Dual GeForce RTX 3050 OC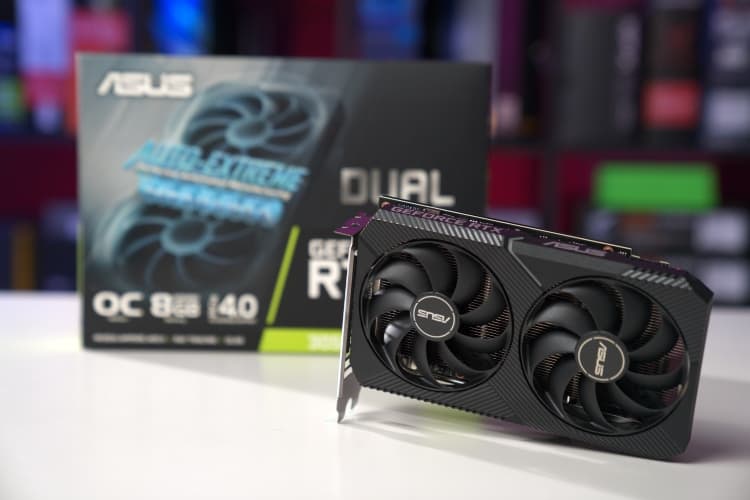 1852 MHz OC, 1822 MHz gaming
200 x 123 x 38 mm (7.87 x 4.84 x 1.496 inch)
If you're looking for a simple 1080p but also want the benefits of modern Nvidia hardware then the RTX 3050 is for you.
Coming in at such a low cost with excellent performance at 1080p it is great for an entry card. It will also allow you to benefit from Nvidia's software to get more out of it too.
Cheaper flagship graphics card
ROG Strix GeForce RTX 3080 OC Edition 12GB
1890MHz boost, 1860MHz Game
318.5 x 140.1 x 57.78mm (2.9 Slot)
Looking for the performance of the RTX 3090 but without the full cost, then the RTX 3080 Ti is a good alternative.
A few hundred dollars cheaper it still has the performance but lacks the VRAM capacity. But for gaming, it doesn't have much impact keeping it on top.
What is graphics card stock like right now?
The biggest news plaguing GPU releases has been the GPU shortage. It has meant that it's been impossible to buy graphics cards firsthand directly from retailers. It has also led to graphics cards becoming very expensive, mainly from the shortage and those who take advantage of that.
However, more recently graphics card prices have been continuing to decrease. As reported, the stock levels have been increasing greatly along with plenty of new GPU releases. But also possibly from the crypto crash causing miners to sell off their GPUs or hold off buying more. Meaning the increased availability and lower demand are seeing closer to MSRP prices.
If this trend continues it is possible we will see prices come close to what they should be. Seeing as stock is already there in most places it is the price we'll be waiting on.
How we choose the best graphics card
With so many GPUs out there it's hard to pick out just one for the best graphics card in 2022. So it's not an easy job to find which one is the best one with many hours going into the research and testing.
We test the performance and benchmarks of the graphics card to find which performs best under load. Take a look at reviews when possible to see what the user experience is like for the particular cards.
Alongside our expert knowledge of the market and constantly keeping up with new releases, we can gather the best choices. With tried and tested cards we know what makes the good cards stand out and avoid the bad solutions. Along with a wider variety of choices to make sure to provide something for everyone.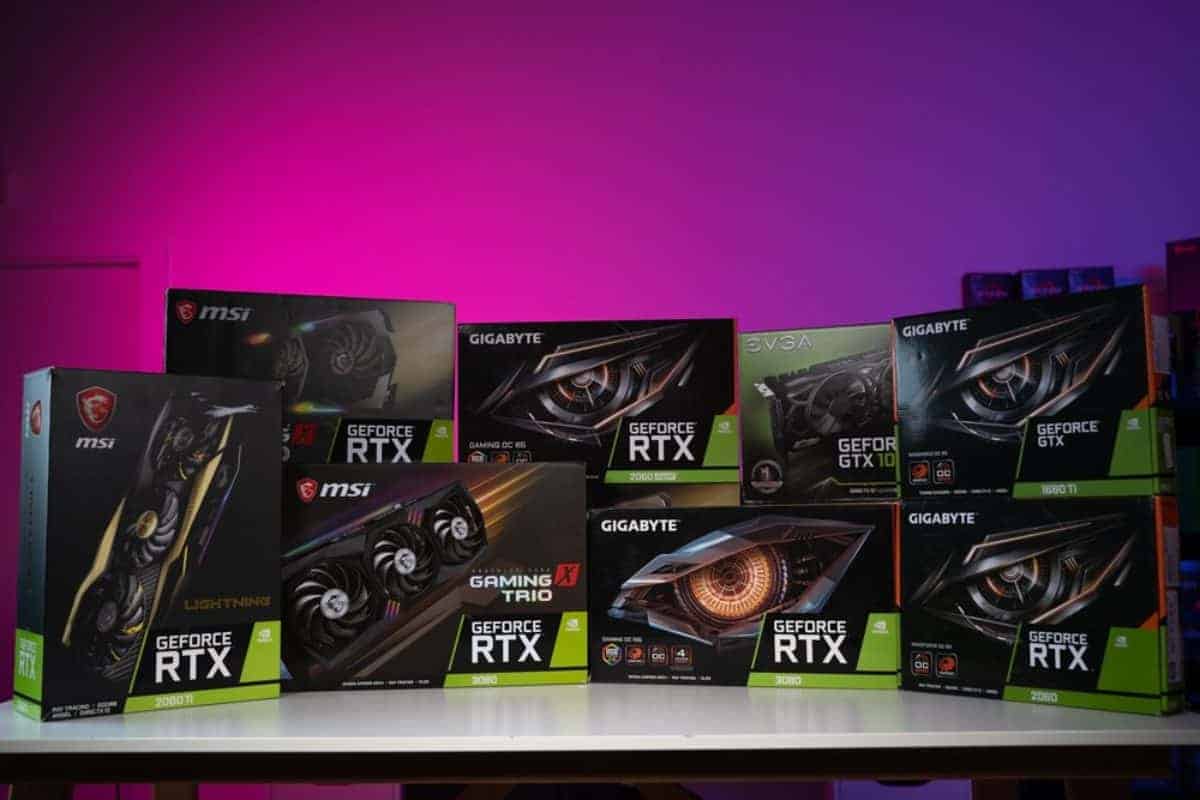 How we test
Testing the products we recommend is a huge part of the overall selection process in our best of guides. It's a way to make sure what we recommend is, without a doubt, the best option in its specific category.
To be sure a product is "the best," it must show excellent performance in our tests, and display better qualities and features than the competition it faces.
Most of the products we recommend here at WePC have gone through a strict testing process that involves everything from the price and performance, to build quality, efficiency, and aesthetics. Each product is pushed to the limit to see how it performs under intense stress to make sure it warrants our coveted top spot.
Doing this enables us to provide you with the most accurate review of how the product performs and, ultimately, whether it's worth your hard-earned cash.
Best graphics card: buying tips
Ultimately, it comes down to your requirements and specific needs. We take a look at some of the key factors that affect decisions about choosing the best graphics card in 2022.
Budget
If you're on a budget and can't buy tech often, you'll likely be looking for either the best value pick or the best budget GPU you can find. In this situation, we recommend going for value, even if it's a bit more expensive than entry-level. That way you can make the most of your purchase and enjoy it for the longest time.
If budget isn't a concern, you should still probably be smart and do your research. You wouldn't want to drop $1K on a last-gen or overpriced GPU, for instance. You also wouldn't want to buy super high-end when there's a new generation of GPU around the corner.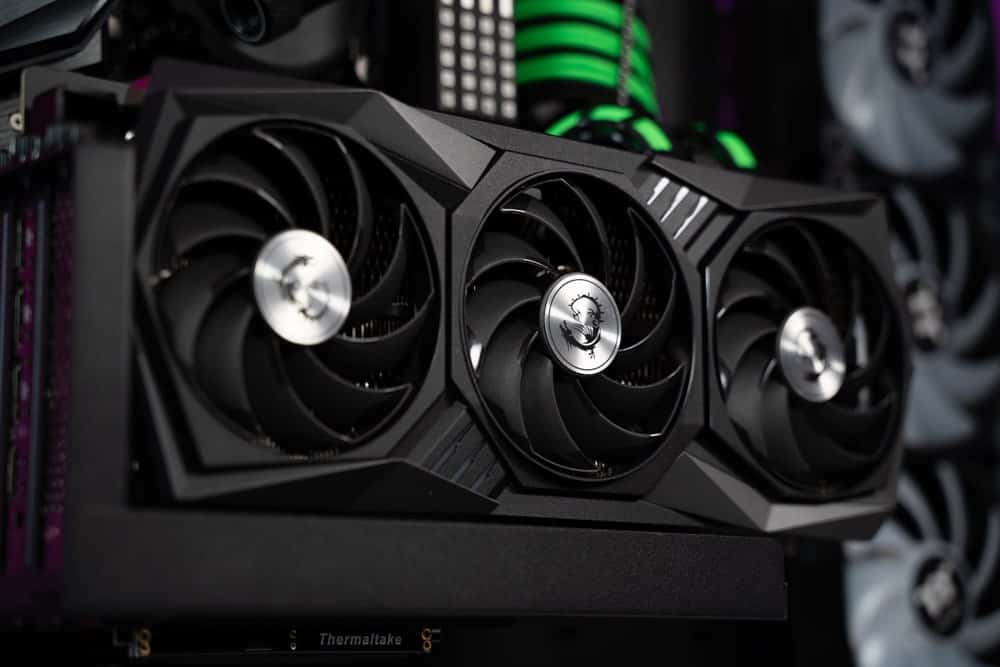 Your needs
If you're somewhere in between, just make sure your needs are being met.  If you only game at 1080p, for instance, you're best with going for a mid-range card that will satisfy your needs. If you need to push a high refresh rate or high resolutions, you may want to consider a higher-end option. Make sure you can achieve what you need without overspending or missing out on those targets.
Resolution
The resolution you want to play at has a major impact on the graphics card you should choose. Because higher resolutions utilize more pixels, you are increasing the demand that's put on your GPU by increasing the resolution. If you currently play on 1080p but want to increase to 1440p, you will almost certainly need a much more powerful GPU.
Refresh Rates
The monitor's refresh rate is measured in hertz (Hz) and tells us how many times the monitor refreshes the image it's displaying per second. The refresh rate has a major impact on the quality of your gaming experience and requires similar (if not higher) frame rate output to see the best results. There's no point in getting a 144Hz monitor if your GPU can only push 60FPs.
Cooling
Depending on what you're doing, the graphics card's cooling can be very important. If you plan to overclock or use a case with poor airflow, you're going to want the best possible cooling you can afford. Cooling solutions come in many forms, so choosing the right one for your needs is essential.
Remember, a hot GPU will work less efficiently than a cool one. It will also run the risk of having a reduced lifespan too. So a cool GPU is key and there are many ways to lower GPU temperatures to help out.
Understanding the specifications
Taking a look at what makes up the best graphics card there can be a lot of confusing terms. We take a look at some of the key specs that will affect how it performs.
Clock Speed – Measured in MHz, clock speed represents the cycle rate of the silicon core within the graphics card. How fast it processes instructions along doesn't determine relative performance, but boosting your core clock speed via overclocking can give you some free performance bonuses.
VRAM – Stands for video random access memory, also known as video RAM, and acts as a frame buffer between your CPU and GPU. The more VRAM your GPU has the more efficiently it can process graphics. Also able to store the high pixel counts of higher resolutions.
GDDR6X – The latest VRAM available, it has more capacity and increased bandwidth making it the most powerful VRAM on the market.
GDDR6 – The most common modern VRAM standard. Decently fast, shouldn't bottleneck in most situations.
Memory Bus – In massively-simplified terms, the wider the memory bus, the faster the core and VRAM are able to communicate with one another. Higher-end cards utilize these with higher VRAM for a better advantage.
Cores – these make up the GPU die itself and each manufacturer has different architectures to get these to work. Different cores have specializations to work on particular processes, like ray tracing or shading.

RT Cores – for specific cores, we take a look at ray tracing cores. This specialized hardware allows for accelerating ray-traced graphics in real-time.
Tensor Cores – another set of specific hardware is tensor cores. Also a recent addition, they work on upscaling featured in Nvidia's DLSS.

TDP – this is the thermal design power of the GPU. It is a measure of how much energy it can output as heat and how much power it takes. Consideration for the cooling solution to handle and how power-hungry your machine will be.
Best graphics cards in 2022
In-depth Review
Pros
Superb performance compared to the previous gen
Ray tracing and DLSS support
The Nvidia GeForce RTX 3080 is quite simply the best gaming GPU on the market right now for 4K gaming. AMD's competing card, the 6800 XT, has slight advantages at 1080p and 1440p, but it doesn't come with the features of the RTX 3080. Although both the AMD RX 6900 XT and Nvidia's own RTX 3090 are more powerful cards than the RTX 3080, the former card is $300 more expensive with inferior ray-tracing performance, and the latter card is geared more towards high-end workstation users with a price tag to match (expect to pay at least $800 more for the RTX 3090). In some cases, the RTX 3080 can actually compete with these higher price cards on certain games and at certain settings, particularly the AMD RX 6900 XT which does not justify such a big markup.
At an RRP of at least $699, the RTX 3080 is not cheap, but when you consider that it can beat the older gen RTX 2080 Ti by a substantial margin (around 30% in some cases), and that card originally retailed for $1,200, then this shows the superb generational uplift that this card represents on power to price basis.
Besides the raw power generated by the 8,704 CUDA cores, with a boost clock of between 1,710 – 1,815 MHz depending on the AIB you go with, the thing which just about separates this card from the competing AMD RX 6800 XT is the superior ray-tracing and DLSS technology. With their latest 30-series GPUs, Nvidia has really nailed ray-tracing technology, and the RTX 3080 is capable of running games at a better FPS performance with ray-tracing turned on compared to what the 2080 Ti could do, even with the feature switched off! The only real downside of all this gaming power is the high electrical power required to run it – the GeForce RTX 3080 requires an 850W PSU at a minimum.
All in all, if you have a definite interest in playing games that come with ray-tracing, and you can handle the additional $50 price markup over the competing AMD RX 6800 XT card, then the RTX 3080 is the best gaming GPU currently available. We've selected the MSI Gaming GeForce RTX 3080 Gaming X Trio 10G as our favorite AIB of this model card, though you can have a look at our best RTX 3080 GPU page to see if there's a different variant you might prefer.
Pros
Superb performance compared to the previous gen
The best 1080p and 1440p performance
Cheaper than the competition
Cons
Inferior ray tracing compared to Nvidia
For the first time in years, 2020 saw AMD try and take on Nvidia at not just the middle range of GPUs, but also the higher end of the price and performance spectrum. With big Navi and in particular the Radeon RX 6800 XT they almost, but not quite, succeeded in knocking Nvidia's RTX 3080 off the top spot, nevertheless, for certain consumers, the 6800 XT may actually be the better option.
AMD's ray tracing functionality exists but it doesn't yet match Nvidia's at all, but if this isn't a feature you particularly care about (it is after all still limited to a relatively small amount of games), then the $50 cheaper RX 6800 XT might be a better choice. Although it depends on the title, overall the RX 6800 XT actually performs slightly better than the RTX 3080 on 1080p and 1440p titles, but the RTX 3080 has the edge on 4K performance.
Equally, if you've got one of the latest AMD CPUs, the Smart Access Memory feature which synergizes the performance of the two might also sway the RX 6800 XT in your favor. In reality, the much-vaunted Smart Access Memory has been fairly underwhelming – on some titles making no difference, on others actually reducing performance – however, there are certain games you can get a 10%+ FPS uplift on, so if you identify these titles you can easily switch on the feature as and when it is needed.
Although the RTX 3080 might have the edge in terms of software features and pull ahead slightly in 4K gaming performance, the RX 6800 XT has its advantages on lower resolutions. Ultimately the fight between the AMD RX 6800 XT and Nvidia RTX 3080 is a close race, and whichever card you pick you will end up with one of the best on the market. It may be that the cheaper price of the AMD Radeon RX 6800 XT and its somewhat greater availability makes it more favorable for your needs. We have picked the ASUS AMD Radeon RX 6800 XT ROG Strix LC OC 16GB variant for this article, but check out our guide on the best RX 6800 XT to see which AIB of this card would be right for you.
Pros
Superb performance For The Price
Solid 1080p and 1440p performance
Ray Tracing and DLSS support
Cons
Not powerful enough for 4K
The Nvidia RTX 3060 Ti is below the RTX 3070 in the GeForce hierarchy as you'd expect, but shares many features with the more powerful card, including the same 8GB of GDDR6 VRAM and the same 256-bit memory bus. Despite having a lower core count than the RTX 3070, depending on the game you can expect FPS to fall behind the more expensive card by only around 15%-1% less. Considering the RTX 3060 Ti has an RRP of $399, $100 less than the RTX 3070, this is a great value.
In fact, we'd say that the RTX 3060 Ti currently offers the best power-to-price of any card on this list. It actually beats the previous-gen 2080 Super across all resolutions, despite retailing for less money. The card offers respectable FPS at 1080p and 1440p, making it a great option for those with a 1440p monitor not looking to break the bank, although 4K gaming is beyond its power (unsurprising at this price point).
Finally, the RTX 3060 Ti comes with the same ray-tracing technology as the more expensive cards in the series, giving it an edge over similarly priced AMD cards.
If the RTX 3060 Ti seems the right card for you, have a look at our guide on the best RTX 3060 Ti variants to see which AIB of the card would suit you best. Here we have listed the ASUS GeForce RTX 3060 TI ROG Strix Gaming OC but a cheaper variant might suit you better.
Pros
Relatively power efficient
Before the recent price hikes are driven by supply shortages, the RX 5600 XT had an RRP of $279. This compares very favorably to Nvidia's GeForce RTX 2060, which barely inches ahead of the Radeon card in most titles, but has a retail price of $339. Although the RTX 2060 has an advantage in terms of coming with ray-tracing, the capability of the technology in 20-series cards leaves something to be desired – leading to significant FPS drops unlike with later 30 series models. On balance then, the RX 5600 XT is a much better value card.
Although the VRAM is limited to 6GB GDDR6 the card still comes with a respectable 2,304 stream processors and a boost clock of 1,560 MHz. Ultimately this translates to a very solid performance at 1080p on medium-high settings on the latest games, though at 1440p you'll potentially need to turn things down a notch on the presets, depending on the title.
All-in-all the RX 5600 XT is a great value graphics card from AMD. See our best Radeon RX 5600 XT guide to find the right variant of the card for your needs.
Pros
The most powerful GPU available
Despite the 'GeForce' prefix, the Nvidia GeForce RTX 3090 isn't really a GPU designed for gamers, and it should be seen more as akin to the earlier Titan series. Built for use by creative professionals, 3D visual artists, and others in need of a powerful and fast graphical rendering machine for their particular line of work, and who can afford the $1,499 RRP.
That being said, if you fall into this category but also enjoy gaming – the Nvidia GeForce RTX 3090 will certainly give you more FPS on any game, at any resolution (though especially 4K), compared to any other retail graphics card on the market. However, the $300 premium you would pay for the RTX 3090 over the next most powerful Nvidia GPU currently available, the RTX 3080 Ti, is a big markup for what amounts to not that great a difference in gaming performance.
The closest competitor to the RTX 3090 is AMD's RX 6900 XT, which is $500 cheaper but ultimately doesn't have the memory capacity, speed, or bandwidth to compete as a high-level workstation graphics card. The 6900 XT is essentially a gaming GPU only, one which is overpriced relative to the RTX 3080. The RTX 3090 therefore basically has no real competition in its specific workstation niche.
So, if you're a person for whom quicker rendering means a quicker working output, and you can pick one up for as close to RRP as possible, then the Nvidia GeForce RTX 3090 may be the right graphics card for you. Have a look at our best RTX 3090 page to see which AIB of the card you should go for.
Pros
Excellent performance at 1080p
For us, the 1660 Ti has been one of the most exciting cards we've got our hands on in a good while. You're probably wondering why an entry-level card is so exciting to us when we have access to the best cards on the market. Well, we like to give consumer advice and a product which houses excellent value for money is always very exciting to us!
The 1660 Ti slots nicely into the space vacated by that of the GTX 1060, providing roughly 15% better performance at a lower price. Nvidia made sure 1660 took full advantage of their Turing architecture which has been implemented in the RTX range whilst only housing GDRR5 memory.
However, this is not a bad thing as it comes to shelves much cheaper than anything on this list whilst still boasting excellent 1080p and 1440p performance. Ultimately this card is considered our top budget pick for 2022 so far and would be a great purchase for a mid-range build.
Pros
Outperforms the RX 580 and GTX 1060
Great for the budget builder
The RX 590 is a worthy upgrade to its older brother the 580 and is considered an excellent choice for the budget builder.  This is an excellent card for gamers that operate with 1080p resolutions and gives builders the chance to create a special gaming rig at very low prices. This GPU surpasses the likes of Nvidia's GTX 1050 Ti and 1060 and even has a small amount of 1440p potential.
Of course, the price is the most attractive feature of the card with it offering some great value for an 8GB GPU. The card has filled the gap between AMD's 580 and VEGA 56 cards, with its 8GB of memory. This is an older card now though with the next lot of entry-level cards getting GDDR6 memory and higher base clock speeds.
Despite this card's drawbacks, it serves a purpose, especially for those price-conscious gamers out there. Not long ago we would have suggested the RX 580 as the better value in the budget category but with how much the 590 now costs, it's a great option.
Pros
Cheap option for RTX family
Benefits from Nvidia software boosts
The Nvidia GeForce RTX 3050 is a great budget graphics card along with the other selections. One of the newer cards from its selection it offers great 1080p performance consistently. It is able to achieve 60FPS in all our benchmarks at max settings as seen in our RTX 3050 review.
It will also not break the bank when you're trying to buy it, as long as you can find it close to MSRP. Its launch price is $249 (£239) and so is a very cheap option compared to some of the more powerful selections. Especially when compared to its $199 (£179) counterpart in the RX 6500 XT, which is more limited when trying to use at higher bandwidths.
Along with the low cost, it is part of the RTX family giving it the ability to benefit from Nvidia's great software features. With the ability to use DLSS and RTX. Ray tracing gives you the ability to experience much better lighting by being traced in real-time but at a high-performance cost. However, the RTX name also gives you access to DLSS. It gives you an extra performance boost by rendering the game at lower resolutions but upscaling it and applying AI filters on top. So keeping up the quality but giving much better framerates.
Pros
Equal performance to the 3090
For the top-tier performance at a slightly lower cost, the RTX 3080 Ti is a good alternative to the RTX 3090. When you compare the 3080 Ti vs 3090 you find very little performance difference where it matters. In gaming performance, there isn't much need for the 12GB extra VRAM the 3090 has on offer. So benchmarks show there is nothing between them, possibly there will be some running multiple 4k monitors but in the normal cases, there isn't.
The launch price of the 3080 Ti is set at $1,119 (£1,049) which is still expensive but $300 less than a 3090 ($1,499/ £1,399 MSRP). Which does give it a better price per performance for the majority of use cases. So it does offer the current best performance on the market at a slightly lower cost.
The great specifications of the card also allow for fantastic ray tracing performance. Along with DLSS, it does offer the peak of technology with games becoming much more difficult to run it does offer a long-term solution.
Best graphics card frequently asked questions
What is graphic card in computer?
The graphic card in a computer is an add-in component in your PC that outputs the graphics to the display. Also known as a GPU the graphics processing unit, is a processor not too dissimilar from a CPU but solely focused on image and graphics creation.
What is graphic card used for?
A graphics card calculates instructions with the units that make up the die and stores those in the VRAM. This frame buffer allows there to be a build-up between the CPU and GPU and produces graphics quicker. Solely focused on graphics means the card can work hard to produce much better graphics and take on more work.
Do graphics cards help?
Yes, they very much do. With the card being a separate component they can be much bigger than onboard graphics. Allowing bigger parts to be used and better cooling solutions can be used on them. This means they can have many more powerful components that work much better than onboard graphics. These perform much better than onboard graphics found in CPUs.
Can PC work without graphics card?
If your CPU has onboard graphics then your PC can work without a graphics card. This is since you need a video output from your PC to your monitor for it to work and be useful.
For AMD CPUs the G SKUs have onboard graphics. Whereas for Intel any non-F CPUs will have the ability to display. So these will allow PCs to work simply without a GPU but they don't have the power of discrete graphics cards.
Will there be new graphics cards in 2022?
Yes, there is likely to be a selection of new graphics cards releasing in 2022. Intel is joining the battle with its ARC Alchemist GPUs in Q2. As well as AMD releasing some more competition with an RDNA2 refresh with the RX 6X50 XT GPUs as well as the new RDNA3 cards likely to launch in the second half of the year. And lastly, Nvidia is also likely to bring the next generation RTX 40 series cards towards the end of the year.
Final Word
That's the lineup for the best graphics card in 2022. With options ranging from best-performing GPUs to best budget graphics cards, you can be sure to find your next card. We make sure to keep these pages updated to bring you the latest and greatest with any new entrants to the market. Especially with the likes of the RTX 4000 series round the corner, there is always plenty to keep on top of.
Best of pages
For a wider selection of options, check out our best of pages for a bigger selection of graphic cards