Best 144Hz monitor 2023 (4K, Mini-LED, esports)
Our list of the best 144Hz gaming monitors currently available
Updated: Nov 21, 2023 3:14 pm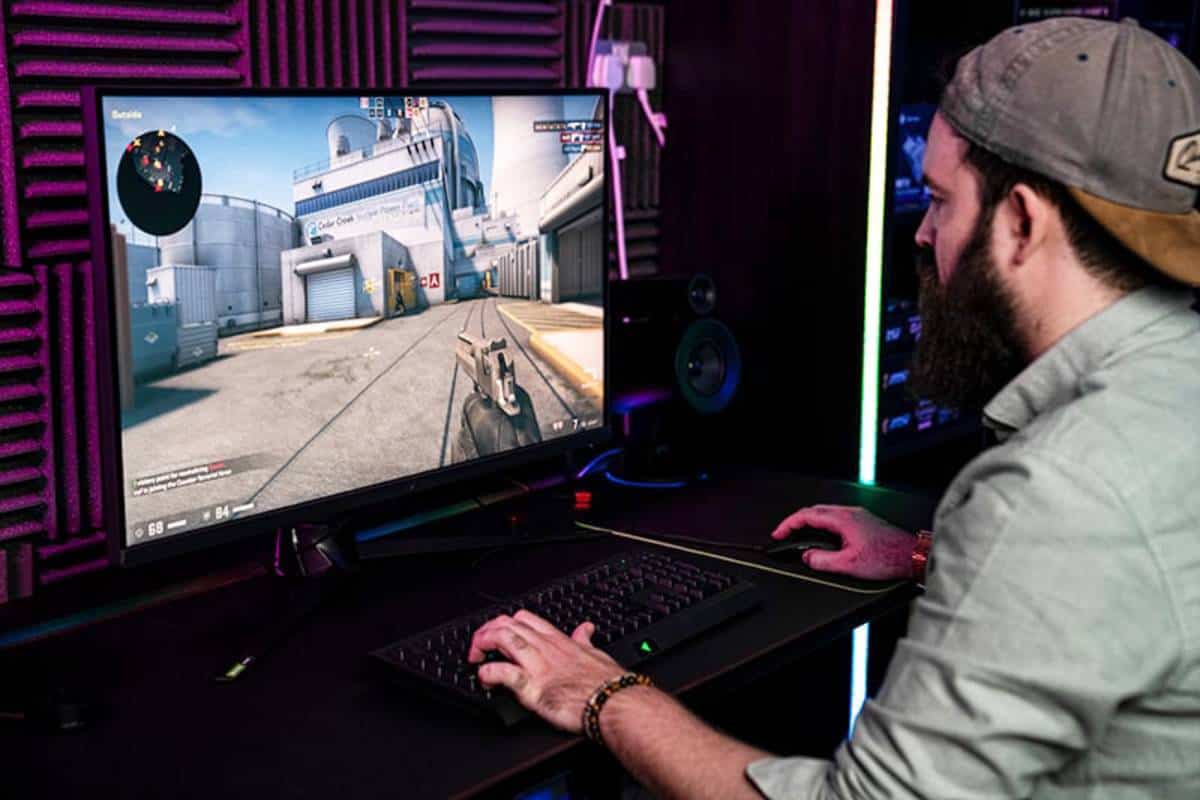 We take a look at the best 144Hz monitor on the market right now. Gamers are constantly trying to increase the quality of their gaming experience through more powerful hardware and better peripherals. However, achieving silky-smooth gameplay isn't just about the quality of your system anymore. Having one of the best gaming monitors is also essential in achieving a smooth, immersive experience. Two monitors that do that for you include the ASUS ROG Swift PG32UQ or ASUS VG279Q, both of which feature a 144Hz refresh rate.
One of the most important specs in a great monitor for gaming is the refresh rate, which will allow you to play games at high frame rates. A higher refresh rate will result in the motion of your gameplay being both smoother and clearer – especially when used in conjunction with FreeSync or G-Sync technology. We've got a whole list of 144Hz monitors worth your time, and we keep this guide up to date with the latest and greatest for your convenience.
01

Best 4K 144Hz

ASUS ROG Swift PG32UQ

02

Best 1440p 144Hz

ASUS TUF Gaming VG27AQ

03

Best 1080p 144Hz

BenQ Zowie XL2411K 24 Inch
Last-minute Cyber Monday monitor deals
Best 144Hz monitor 2023 : in-depth review
Anyone upgrading from their outdated 60Hz display should know that 144Hz is a big step up, and pretty much the base level for gaming displays these days. Once you figure out which cable you need for 144Hz and what kind of resolution you're looking for, you're good to go with our selection below. We talk all about their pros, cons, and everything in-between.
ASUS ROG Swift PG32UQ
Pros
Quantum Dot Technology
155Hz refresh rate (via overclock)
Excellent image clarity
Fantastic build quality
Decent value for money
Cons
Local dimming feature is buggy
Some stand limitations
Now, we have the 4K 144Hz monitor pick. It's the ASUS PG32UQ – quite simply one of the best monitors we've had the pleasure of using. You can read all about our experience in our PG32UQ review.
The PG32UQ comes to shelves with a textbook ASUS design, showcasing all the usual traits we've come to expect from the ROG SWIFT range. The large 32-inch screen offers up thin bezels that promote excellent levels of immersion when gaming. The stand and general build quality also feel absolutely rock solid – not to mention stylish. A chrome logo found on the bottom bezel works nicely with the base of the stand to produce a very premium feel.
From a performance standpoint, this monitor does it all. It comes equipped with a 4K resolution, a 144Hz refresh rate, 1ms GTG response time, HDR 6000 certification, and a 160% coverage of the sRGB color gamut. This is all wrapped up in a stunning 27″ IPS Quantum Dot display, which offers excellent viewing angles and realistic color recreation for the most immersive experience.
The only downside to this monitor, and it is a downside, is the price. It is by far one of the most expensive monitors on this list and comes in at over $900 at the time of writing this. That being said, when you compare this to other similarly spec'd monitors, it still offers a very competitive price point. However, if you have the cash to splash on a luxury-grade monitor like this, we feel this is the best in class.
ASUS TUF Gaming VG27AQ
Pros
Up to 165Hz – supports 144Hz too
G-Sync compatible
Rich visuals with IPS panel at 1440p
1ms response time is a must for gaming
Cons
Built-in speakers are sub-par
Now for something that sits below full 4K, but offers an upgrade for anyone wishing to upgrade from 1080p. We're of course talking about the 1440p resolution, often known as 2K or QHD (or sometimes WQHD). This is a great spot to be in if you want the best of both worlds. Those worlds being excellent gaming performance and high-fidelity visuals. If you don't have a monster gaming PC, or simply want to push high framerates across more titles, then 1440p is an ideal middle-ground.
This ASUS TUF monitor is one of the best 1440p monitors you'll find to feature a 144Hz refresh rate. In fact, it can even support up to 165Hz if you want a small step up. It's QHD resolution is backed up by a sizeable 27″ screen size, with built-in speakers to use for media consumption if you wish. The ergonomic stand allows you to adjust the height, tilt, swivel, and pivot – while also being wall mountable with the VESA standard.
Gaming specs won't disappoint either. As we said, up to 165Hz gives it the one-up against other displays in this guide. It also comes with a 1ms response time to help eliminate ghosting or motion blur. Finally, it features a premium IPS panel which is great for accurate colors and wide viewing angle. A hard monitor to beat if you want a fantastic all-rounder.
BenQ Zowie XL2411K
03
Best 144Hz Monitor for esports
BenQ Zowie XL2411K 24 Inch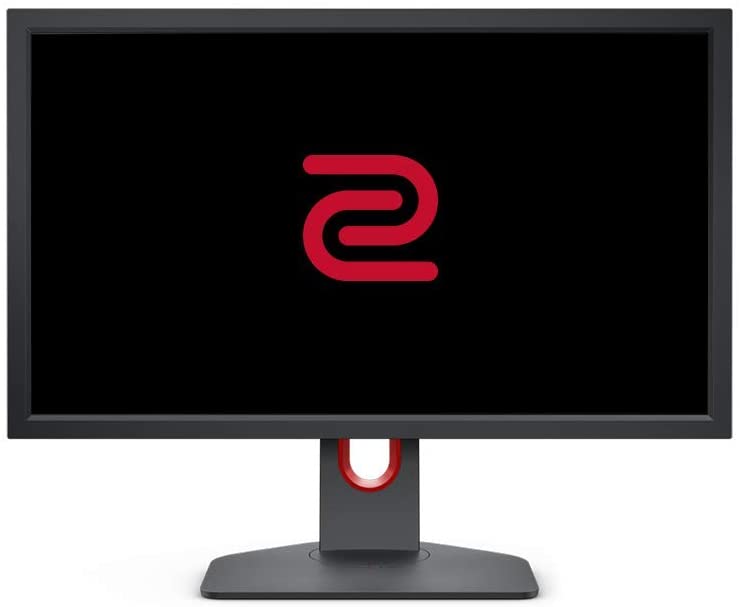 Response Time (stated by maufacturer)
Pros
Features tailored towards esports
Very low response time
Fully adjustable stand
Great overall gaming performance
Cons
Leaning towards expensive
TN panel
Although we haven't personally tested this model, we did put out a BenQ Zowie XL2411P review, which is a very similar monitor. With that in mind, this revised version is a superb monitor when it comes to gaming. Before we go into gaming performance, though, let's discuss the design.
Let's be honest; the guys at BenQ haven't spent a great deal of time in the design department for this monitor. It's pretty basic. Even though the stand is fairly basic, it does have height, swivel, and rotational adjustments – and the smaller base is a space saver. With an all-black theme, the monitor certainly doesn't scream "gamer," either.
The monitor has solid gaming specs – offering 144Hz refresh rate and a 1ms response time, which seems to be the go-to these days. Other features of this monitor include BenQ's Black Equalizer, which helps highlight dark areas of gaming maps. DyAc tech is also built-in to reduce blurriness during action. It also offers in-game color modes, which allows users to swap between preferred tones and gradients. That being said, the XL2411K doesn't excel in the color recreation category. Being a TN panel, the XL2411P does struggle with color accuracy and viewing angles. Despite that, competitive gamers should be more concerned with the smoothness of gameplay, and that's an area it excels in.
Ultimately, if you're looking for a superb esports gaming monitor, look no further. However, if you enjoy more creative workflows, you might want to consider something else.
ASUS VG279Q
04
ASUS VG279Q Gaming Monitor
Pros
Versatile stand
Excellent value for money
Highly responsive
Great gaming performance
Supports AMD FreeSync Technology
Next up is our 1080p 144Hz monitor pick – and once again, ASUS takes the crown for this one. The VG279Q is their FreeSync 1080p gaming monitor that comes equipped with cool aesthetics, a 144Hz refresh rate, 1000:1 contrast ratio, and a 1ms response time all wrapped up in a stunning IPS panel — a superb monitor when you consider the price.
It offers the same color theme and basic design as many other ASUS gaming monitors – great for most backdrops. That is where the similarities end, though. The stand is much less versatile, and it doesn't have ROG branding. However, it does keep the red LED ring around the base of the stand, so, swings 'n' roundabouts.
We were pretty impressed when we used this thing for gaming, delivering a smooth visual experience thanks to the fast 144Hz refresh rate and low 1ms response time. We didn't experience any visual artifacts like screen tear and motion blur as the monitor came with pretty effective FreeSync support (G-Sync compatible). We also found the color recreation to be similiar to that of the Swift – we can thank the IPS panel for that.
While this was once considered a relatively expensive panel, in today's market, it resides at the lower end – showcasing excellent value for money. Overall, a superb monitor if you want IPS quality without a premium price tag.
Samsung Odyssey G5
05
Best 144Hz Curved Monitor
Samsung Odyssey G5 (LS32AG550)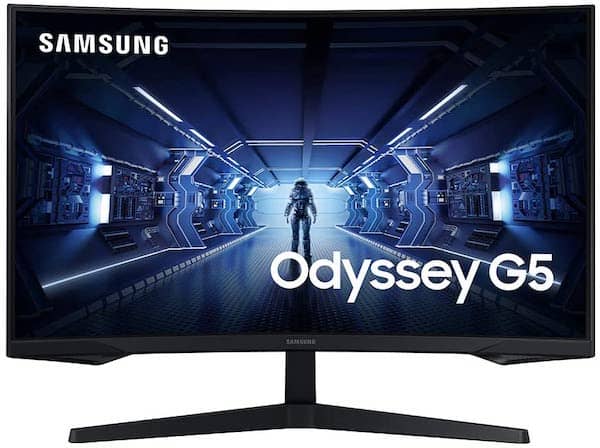 Pros
Immersive 1000R Curve
Quick 165Hz refresh rate
1440p picture clarity
Decent 2500:1 contrast ratio
Cons
Peak brightness isn't great
Build quality is very poor
The best 144Hz curved monitor comes in the shape of Samsung's budget-tailored G5. While Samsung has been better known for TVs and mobiles, recent years have seen them create some of the best gaming monitors the market has to offer. Their Odyssey G-series was a breath of fresh air when it first hit shelves, with the latest iterations packing the same impressive feature list as the originals.
Looking at the design, this thing looks utterly superb. With a sleek and stylish design, the Samsung G5 is right up there as far as aesthetics go. That being said, it doesn't offer the best build quality and does feel a little on the flimsy side. When you consider its price, however, that's pretty much what you'd expect. It also features no RGB, giving it a more understated style.
That said, with a ton of premium features, I'm surprised this monitor isn't more expensive. It offers a stunning 27inch VA panel equipped with a crisp 1440p QHD resolution. With high-dynamic-range (HDR) support, a wide color gamut, and some great gaming specs, this thing pretty much does it all. While the color recreation is good, it's nothing to write home about. More importantly, however, is the gaming-tailored specifications that pair together for a smooth, immersive gaming experience.
As far as nit brightness, it's not up there with the very best, but it does pack an impressive contrast ratio that should bring most games to life.
If you want to experience the immersion that comes with a curved display, we think the Samsung G5 is a great place to start. It offers brilliant all-round performance at a price point that won't break the bank.
LG 34GN850-B
06
Best 144Hz ultrawide monitor
Pros
Impressive 21:9 ultrawide aspect ratio
IPS panel type means wider viewing angle
1ms response time perfect for gaming
G-Sync compatible
Cons
Contrast could be improved
Now let's show off one of the best ultrawide gaming monitors at the 144Hz refresh rate. Ultrawide monitors are becoming much more commonplace for both work and gaming, and the latter definitely benefits from the smoother refresh rate on board. The LG 34GN850-B sits at a resolution of 3440 x 1440, which works out at the 21:9 aspect ratio. Not quite super ultrawide at 32:9, but it is certainly a sizeable display coming in at 34-inch. Although this is more towards the lower end as far as ultrawide monitors are concerned.
Either way, you're benefitting from many of the great points we've seen already, with a little extra screen space to work with. This IPS panel is great for providing a wider viewing angle, while the curved display makes it easier on the eyes. The monitor is compatible with G-SYNC and can even be overclocked to 160Hz with the Variable Refresh Rate (VRR) technology supported. There's a wide color gamut of DCI-P3 98% for stunning visuals and accurate colors, while the typical brightness sits at a comfortable 400 nits.
So overall, it's a fantastic gaming monitor for better immersion, and its ideal for productivity while working too. Not many downsides, though some users and reviewers complain of a lack of swivel customization and average contrast ratio. It does however have VESA DisplayHDR 400 tech on board.
---
How we choose
Whether we're reviewing new monitors or the best GPU on the market, choosing the right hardware can always be a tricky task. It requires hours of product research, performance benchmarking, and reviewing user feedback to get anywhere close to a definitive conclusion on what to recommend.
If you aren't tech-savvy and struggle to put the time aside to go through the above requirements, you may end up purchasing a GPU that simply isn't right for you. Fear not though, friends! Here at WePC, we like to take the stress of research away, and transform the whole process into an easy-to-follow, complete buyers guide. That's right, our team of PC enthusiasts has done all the hard work for you!
How we test
Testing the products we recommend is a huge part of the overall selection process in our best of guides. It's a way to make sure what we recommend is, without a doubt, the best option in its specific category. To be sure a product is "the best," it must show excellent performance in our tests, and display better qualities and features than the competition it faces.
Most of the products we recommend here at WePC have gone through a strict testing process that involves everything from the price and performance, to build quality, efficiency, and aesthetics. Each product is pushed to the limit to see how it performs under intense stress to make sure it warrants our coveted top spot. Doing this enables us to provide you with the most accurate review of how the product performs and, ultimately, whether it's worth your hard-earned cash.
---
Things to consider
So, you've found your way to our page, but you still aren't sure whether our recommendations are right for your specific needs! Well, don't worry, below are the most important questions you need to ask yourself before your next monitor purchase. Make sure to explore the following factors and you'll ensure your next monitor is the right one.
With that in mind, let's dive into the things to consider before buying a 144Hz monitor;
Is a higher refresh rate better for gaming?
If you've been playing on a budget PC for a while, you understand the frustration that comes with in-game lag and FPS drops. It's infuriating. Well, when you finally decide to upgrade your PC to a high-performance gaming rig, you might find that those lag issues haven't actually gone away. That's because your monitor might be holding you back.
A monitor comes to the table with a plethora of different specs, however, one of the most important (when it comes to gaming) is the refresh rate. The refresh rate refers to how often the picture physically refreshes per second. It is measured in hertz (Hz) and has a direct impact on the smoothness of your gameplay.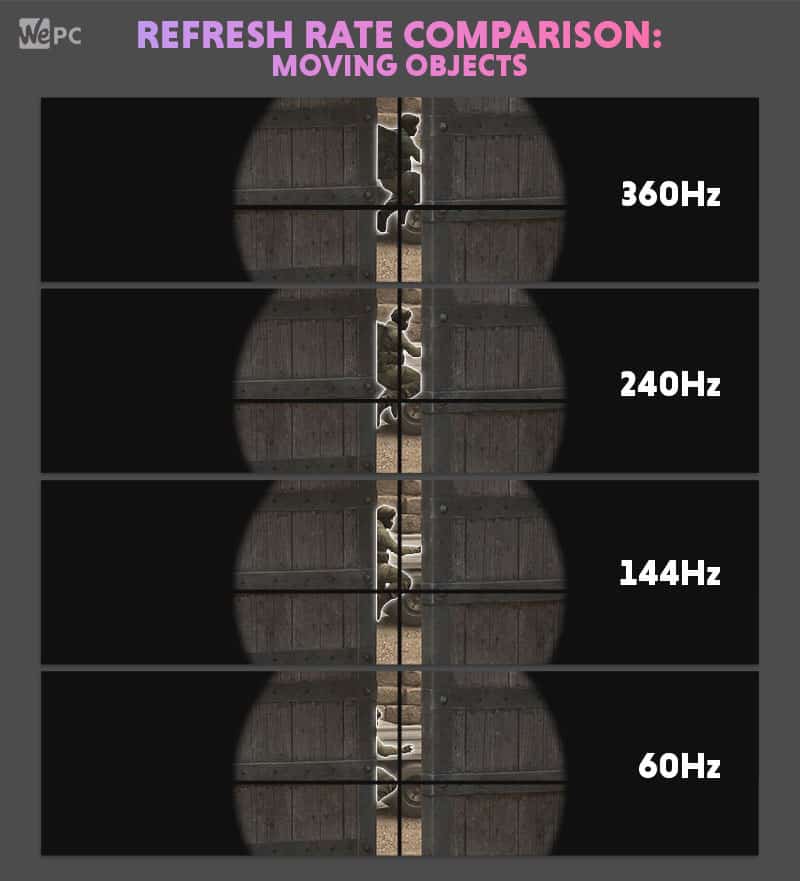 Refresh rates can vary dramatically from budget monitors to high-end ones, so finding the right middle ground for your needs is essential.
Below are the most commonly used refresh rates today:
60Hz
75Hz
100Hz
120Hz
144Hz
240Hz
The higher you get up the "refresh rate ladder", the smoother your gameplay is going to be.
For us, 144Hz is the sweet spot for fast-paced FPS games without costing a fortune. Be aware though, to be able to make use of a high refresh rate, your PC must be able to produce equal or higher frame rates – something we will touch upon shortly!
So, to answer the question, yes. Yes, it is.
Ports
Many 144hz monitors are great for gaming, but it's always worth checking what the port situation is and if it aligns with what you're connecting it to.
For instance, you may want to connect your gaming PC to it via Displayport, which you'll more often than not find with practically every monitor. But if you're planning on connecting multiple devices to your display, you'll want multiple ports. Finding a display with multiple HDMI ports, especially HDMI 2.1 if you're playing on console, is important if you don't want to keep messing around with your cables when switching between devices.
If you're planning on charging devices or connecting compatible laptops with one wire, you'll want to check out what USB ports it has too. A USB-C port is the one to look out for, but you will find that these tend to be more expensive and are typically present with some of the best graphic design monitors over gaming-orientated displays.
Monitor size
When it comes to monitor size, it's worth considering pixel density. Put simply, each resolution has the same amount of pixels, so if you take a 1080p resolution and stretch it to a 43″ display, it won't look very good. The great news is that on a smaller screen, because the pixels are 'denser', even 1080p can look great.
For 1080p, we'd say go smaller, around 24 – 27 inches max. For 1440p, we'd say go for 27 to 32 inches, although you could go wider if you're looking for an ultrawide monitor. For 4K, which generally start at 27 inches, you can really go as large as you want.
What are FreeSync and G-Sync?
AMD FreeSync and Nvidia G-Sync are adaptive sync technologies that help smooth out the motion of your gameplay, namely, reducing screen tearing. To carry on what we were talking about above, for the smoothest possible gameplay, you want your frame rate and your refresh rate to be in complete synchronization.
Obviously, that is hard to achieve when your frame rates bounce around like crazy for the most part. However, adaptive sync technology is a tool that helps lock these to figures together. Whether it's FreeSync or G-Sync, the technology will match your FPS to the monitors refresh rate – ultimately creating an even smoother visual experience.
What is the best response time?
Response time is probably the second most important thing to consider when buying a gaming monitor. It's a measure of how long it takes the pixels of a monitor to change colour – usually in the grey-to-grey transition.
This is, however, not to be confused with low input lag, which is the time it takes for an input to be registered. This confusion is common, and in some senses, marketing material around monitors (much like TVs) tends to muddy the waters here.
A lot of modern-day monitors come to the table boasting at least a 5ms response time, however, gaming monitors can go much lower. Several monitors in this guide have response times of well below that and for good reason.
If you're playing a fast-paced FPS game on a monitor that has a high response time, you will experience screen ghosting or motion blurring. That's when the image has changed faster than the pixel can.
Overall, if you're buying your next monitor for gaming, always aim for one with a response time under 4ms.
Getting a cheap 144Hz monitor
Price should always be high on your list of considerations when building setups. Even more so when looking for the best 144Hz monitor though.
Why? Because there are hundreds of 144Hz monitors to choose from and the difference in price can be exponential – as you'll see shortly.
Luckily, there is a pretty large market for budget 144Hz monitors and we've been smart enough to recommend a few in our guide.
144Hz and 4K screen resolution
On the other end of the price-spectrum lie the 4K 144Hz monitors. Even though they're only a few of these, they all come to the table boasting an array of high-performance specs, excellent features, stunning aesthetics, and of course, amazing picture quality.
If you do plan on looking into the 4K 144Hz monitor market, you first need to ensure your PC has the relevant performance power to push the frame rates needed in 4K.
Playing 4K (in any setting) is extremely taxing on your system. Like we mentioned above, to get the most out of a 144Hz monitor, you need to be producing 144 FPS. To produce that in 4K requires the most powerful graphics cards to do so – I'm literally talking 2080Ti… and probably in SLI.
So, the main thing to take away from this is, graphical performance is absolutely essential when using a 144Hz monitor – and even more so in 4K.
---
Best 144Hz gaming monitor FAQs
Is a 144Hz monitor worth it?
Generally speaking, a 144Hz monitor is mostly considered to be best-suited to pro-gamers or competitive gaming, so if you fall into either of those categories, then a 144Hz monitor is absolutely worth the investment. Not only will the addition of a 144Hz monitor be able to offer you a more immersive and responsive gaming experience, but you'll also have a distinct advantage over opposing players who are using a regular monitor.
144Hz monitors also offer impressively high refresh rates, which caters perfectly to the needs of professional gamers, or competitive first-person shooter and multiplayer games, who benefit from a higher refresh rate because it means they move data more quickly, allowing for a slightly faster reaction speed. However, despite becoming a hot commodity over the past few years, they're not the cheapest of monitors out there and are almost always unnecessary for casual or recreational gamers.
Will 144Hz monitors increase FPS?
No, a faster refresh rate will not mean that the monitor will be able to provide you with extra frames. If the hardware you're playing on can only offer you, say, 70 frames per second, then that's all you'll be able to get. On the contrary, a monitor with a faster refresh rate won't be able to necessarily increase the performance, but it will be able to make the overall gaming experience feel more smooth and immersive.
Can the human eye see 144Hz?
Interestingly enough, human eyes aren't actually able to see anything past 60Hz. This means that we can only visibly see up to 60 frames per second, anything more than that our eyes are simply unable to process quickly enough. However, some people do argue that the figure is much higher, though, at this time, there is little evidence to support that the human eye can process anything higher than 60Hz.
This begs the question, then, why 75Hz and 144Hz monitors are all the rage. If you've been asking yourself this, then the answer is quite simple: monitors that offer a higher refresh rate are able to provide you with on-screen data faster than standard monitors. This essentially means that, though you may not be able to process the frame rates, you will be able to see the images on-screen more quickly, as the monitor will be able to update the screen at incredibly high speeds. This is why 144Hz monitors are so great for competitive play because they are able to improve reaction time.
Is 144Hz worth it for casual gaming?
If you're a casual gamer, then we don't recommend investing in a 144Hz monitor. This is because 144Hz monitors are specifically designed to be able to benefit a professional gamer or someone who regularly spends time playing competitive multiplayer/first-person shooter games. For these types of gamers, a 144Hz monitor is a dream come true, because the higher refresh rates are able to provide a distinct advantage over their opposing players. The reason being that a higher refresh rate ensures that the monitor is able to process and update on-screen data ultra-fast, which helps the player strategize and react quicker within the game than if they were playing from a standard 60Hz monitor.
With that being said, if you're a casual player or someone who only plays from time to time, then you would be wasting your money by investing in a 144Hz monitor. Not only will it set you back hundreds of dollars, but you'll also find that you don't make use of its full potential because you simply won't need to, which is why we recommend considering a slightly slower monitor such as a 75Hz monitor.
Final word
So, there you have it, our comprehensive guide to the best 144Hz monitors in 2023. Hopefully, this guide has made choosing your next 144Hz monitor a little less stressful and has given you options you didn't know existed. These days there is plenty of choice for 144Hz monitors, with even some of the best cheap 144Hz monitors slowly being phased out in favor of their 165Hz counterparts.
144Hz is pretty much the entry-level for gaming monitors as of late, with lower refresh rates designed for office or designer use. If you're a gamer looking for only the smoothest visuals, then maybe our best 240Hz or best 360Hz guides can help you out.
---