Best MMO Gaming Mouse in 2020 – Wired & Wireless Mice Selections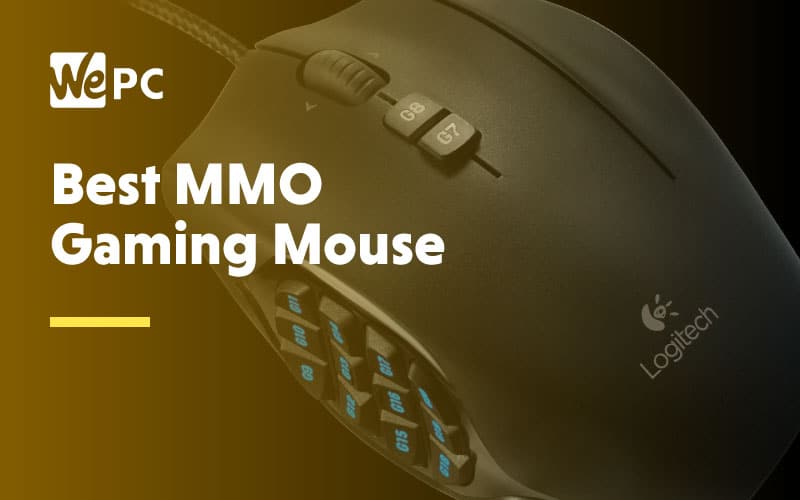 If you're one of those hardcore MMO/MOBA players who enjoy slaying orcs on the reg, you will already have a vast understanding of the important role a good MMO mouse plays. Having the best mouse possible can make the difference between winning and losing. For MMO players, it basically comes down to needing a mouse that accommodates a large number of different buttons that can be bound to in-game commands. MMO players usually look for ergonomically placed buttons, a robust design, and a good sensor to try and give them the edge over their strict competition. We feel like all of the mice in our list have adhered to these strict criteria.
The following article is a list of, what we believe, are the absolute best MMO gaming mice currently available. Each mouse has its own unique set of pros and cons, which we will discuss further down in the product review section. We're going to explain everything you need to know about MMO mice and what you should be considering when looking to purchase a new one.
Let's jump straight into it!
The 5 Best MMO Gaming Mice
Product
Details

Corsair Scimitar Pro

dpi: 16,000 DPI
weight: 147g
buttons: 17
sensor: PMW3367 Optical

Check Current Price

Razer Naga Trinity

dpi: 16,000
weight: 120g
buttons: 19
sensor: 5G Optical

Check Current Price

Logitech G600

dpi: 8,200 DPI
weight: 133g
buttons: 20
sensor: Avago S9808 (Laser)

Check Current Price

ROCCAT Tyon

dpi: 8200 DPI
weight: 128g
buttons: 14
sensor: Pro-Aim Laser Sensor R3

Check Current Price

SteelSeries Rival 500

dpi: 16,000 DPI
weight: 129g
buttons: 15
sensor: PMW3360 Optical

Check Current Price
How We Choose The Best MMO Gaming Mouse
It was a tough job compiling this list of the best MMO gaming mice. Usually, when we decide to build a best-of-guide, we start by creating a long list of contenders which after time gets whittled down to our shortlist of 10 or 12.  At this point, we would normally go out and buy the shortlist for more advanced onsite testing. Luckily, we already had all the mice in the office. This meant that instead of testing just 10, we ended up testing around 50. Granted, some of the mice were almost immediately out of the running due to lack of versatility and buttons. It still left us with a hefty list of products, though.
After numerous hours of testing and reviewing, we finally managed to carve out what we believe are the best five MMO gaming mice we could find.
Each mouse went through strict testing of not one, but several testers to make sure our results were not biased in any way.
Best MMO Gaming Mouse Considerations
Whether it's a budget mouse or the latest monitor, all our products receive the same amount of careful consideration. Each of the testers had to take the following aspects into consideration when reviewing and testing each mouse. These criteria have been carefully thought out to make sure each of the mice had an equal chance of being in our final list.
For me, the sensor is possibly the most important part of any gaming mouse; it's the core feature of your mouse and something that, ultimately, dictates what the mouse is capable of. You need to know that in the heat of battle you aren't going to be let down by your sensor.
The two main types of sensors are laser and now optical, with the latter being more sought after. Laser sensors can still work well, but if you want unparalleled accuracy and responsiveness, an optical is the way to go. The HERO sensor is probably the world's best, but anything above a PMW 3360 and you're doing quite alright.
That being said, a lot of MMO players don't consider the sensor as the most important aspect.
For many, a good button layout will outshine a sensor every day of the week. I can certainly see how that might be the case for MMO players. No disrespect to the MMO players out there, but, their style of gaming requires a large amount of button bashing. This means, having the most optimized button layout is right up there in terms of importance.
Another extremely important aspect of any mouse is the ergonomic design. Many modern-day gamers put in hours of practice in the hope of becoming the best version of their gaming self. However, if you don't have an ergonomically designed mouse, your hand can end up experiencing high levels of stress and pressure.
If you want to game for longer, get a mouse that has been designed with ergonomics in mind.
Moving away from the in-game performance, one of the highest priority areas is how durable your mouse is. It's all good having a superb mouse, but what if it breaks after 6months. Build quality is one of the prime areas worth considering when buying any mouse.
Probably overlooked by a lot of people, is the software that each mouse uses. The software is the main hub which allows you to utilize the mouse's main features. If the software isn't up to scratch, then you aren't going to be able to get the most out of your new killing machine.
Even though this is last on our list, it's still one of the most important areas to consider when buying a new mouse. The budget plays a huge role in all our decision-making processes, and the same goes for MMO gaming mice.
The difference between a top-level mouse and a budget mouse can be close to $100. Decide beforehand how much you want to spend in order to save a great deal of time in the long run.
The Best MMO Gaming Mouse
Corsair Scimitar Pro
TECH SPECS
DPI

16,000 DPI

Sensor

PMW3367 Optical

Weight

147g

Size

11.9cm X 7.7cm X 4.2cm

Colour

Black/Yellow

Buttons

17
PROS
Fantastic Aesthetic design
Customizable number pad position
Superb build quality
Mechanical buttons
High end optical sensor
Corsair is renowned for bringing you some of the most reliable, hardy, sought after hardware products your money can buy. That's the sort of pedigree you get when you look to purchase from Corsair. The Scimitar Pro is their flagship MMO gaming mouse which comes to shelves with superb build quality and fantastic in-game performance.
Firstly, let's talk about design. This thing looks cool. I'm not usually a huge fan of the MMO mouse style. However, this one actually looks pretty good. I think that's down to the metal chassis which sits under the plastic shell. It almost looks like some kind of racing car. Corsair has designed the Scimitar Pro with ergonomics in mind, giving you a number pad that is curved inwards to allow you thumb to sit more freely. The shell is shaped in such a way that allows your palm to sit comfortably for long periods of time, but also gives you enough grip in those moments where accuracy is required.
The sensor is a custom, gaming-grade, PMW3367 optical sensor which offers superb accuracy and responsiveness. The mouse has also been custom designed to work on almost any surface. It comes with an impressive 17 buttons which are all mechanical meaning they aren't going to fail on you anytime soon. Uniquely, the number pad can be moved by up to 8mm allowing gamers to find the absolutely perfect position.
This mouse has a tonne of different features all geared towards MMO players. If you're big into your MOBA/MMO games, this mouse should be high on your considerations list.
Razer Naga Trinity
PROS
Great Aesthetic design
Interchangeable button panel
Excellent build quality
Razer, once again, has an entry into one of our best-of mouse guides. This time, it's the Razer Naga Trinity. This mouse features 19 buttons and some newly improved rubber grips on the side for increased accuracy and stability. It comes to shelves weighing a mere 120grams, making it one of the lightest mice on offer in the MMO category. An impressive feat when you start to understand how many features this mouse has to offer.
The unique feature of this mouse, and the reason it's been branded the "Trinity", are the three interchangeable button panels on the left-hand side of the mouse. It comes with a two-button layout, perfect for FPS, a circular seven-button configuration, and a more popular MMO number pad option. All of the buttons are customizable via the Razer Synapse software, as are the RGB light zones.
The Naga Trinity comes with a 5G optical sensor that offers 16,000 DPI and fantastic accuracy to boot. Meaning, if you do decide to opt for the two-button, FPS friendly, button layout for FPS gaming, the sensor is going to give you excellent accuracy for in-game performance as well.
As with all Razer products, the design and aesthetics of this mouse are extremely attractive. However, price is something that certainly needs to be considered.
Logitech G600
TECH SPECS
DPI

8,200 DPI

Sensor

Avago S9808 (Laser)

Weight

133g

Size

11.8cm X 7.5cm X 4.1cm

Colour

Black

Buttons

20
PROS
20 buttons
G-shift doubles button functionality
RGB LEDs under each button
CONS
Might be too big
Made out of plastic
Logitech always seems to feature in our best mouse guides and for a good reason. They are one of the most reputable brands in the peripheral game. They constantly provide us with new hardware offerings that reach and exceed our user requirements. The Logitech G600 is the perfect example of this.
The G600 comes to the table with 20 buttons, all of which can be customized in the Logitech Hub. It's the ideal mouse for MMO players that require large, complex commands to be input rapidly. The buttons do take a bit of time to get used to, especially if you aren't used to MMO mice. More impressive though, is the easy-shift button the G600 is equipped with. This allows you to toggle with a secondary button profile, meaning, you technically have up to 39 buttons at your disposal. Think of all those orcs you'll be slaying.
The sensor in this mouse is the Avago S9808 laser sensor which, even though now outdated, still does a superb job at giving you pinpoint accuracy whilst in-game. One of the great features this mouse is armed with is the onboard memory, which allows users to access their button profiles without the need for software — a great little plug-n-play feature.
The design of this mouse is fairly simple, yet it holds some level of elegance thanks to the gentle slopes and contours. The ergonomics of this mouse feel pretty good. However, it is on the large side. If you have particularly small hands, you might struggle to make full use of the number pad. Saying that though, the matte finish provides decent levels of grip, no matter how moist your palm gets on balmy summer nights.
Overall, I really enjoyed using the G600. Regardless of the few flaws this mouse has, I still think it showcases some good value and is, ultimately, a top MMO mouse respectively.
ROCCAT Tyon
TECH SPECS
DPI

8200 DPI

Sensor

Pro-Aim Laser Sensor R3

Weight

128g

Size

12.6cm X 8.0cm x 4.5cm

Colour

All black

Buttons

14
PROS
Nice tactile mouse clickers
Versatile buttons
Great aesthetic design with RGB
Strong braided USB cable
CONS
Some buttons are not optimally positioned
Quite expensive
ROCCAT are no strangers to versatility; they seem to have a peripheral for every possible scenario and background. The Tyon is their flagship MMO gaming mouse and one of the better products to come out of their extensive crop.
The first thing that struck me about this mouse was the design. It's very ROCCAT. It has the classic swaying shape when looked at from above, however, that changes when you start to check this thing out from other angles. The buttons protrude from the shell of the mouse quite considerably giving the Tyon a much more angular appearance. Ergonomically, the design feels great in my hand. I have quite large hands, and it seems to fill my palm quite easily. It's definitely a mouse for the larger handed gamers out there.
The Tyon has 14 programmable buttons which can all be used for in-game commands and binds. That's not enough, you say? Well, ROCCAT has equipped the Tyon with an easy-shift button that can toggle between mouse button profiles. What this means is each one of the buttons can have two different functions, fundamentally giving this mouse 27 buttons.
The sensor in this mouse is the laser sensor R3, which is pretty good considering its laser and starting to become outdated. As most will know, the best sensors currently available utilize optical technology; however, for MMO, this sensor does a cracking job.
The Tyon comes with an extremely robust, 5.9 foot braided USB cable and some well-designed skates to allow the mouse to work on almost any surface. It has an onboard 576KB memory which can save your button profiling and other functions. It also has some subtle RGB which takes the aesthetics to the next level.
All-in-all, not your ordinary MMO mouse, but one that does the job extremely well.
SteelSeries Rival 500
TECH SPECS
DPI

16,000 DPI

Sensor

PMW3360 Optical

Weight

129g

Size

11.8cm X 7.8cm X 4.3cm

Colour

Black

Buttons

15
PROS
Next-gen button layout
One of the best sensors on this list
Excellent build quality
Cool aesthetic design
Ergonomic design
Steelseries is one of the biggest names in the peripheral gaming sphere. They have some of the most well-known mice within their ranks, mice that include the Rival 650, Rival 310, and Sensei 310. That being said, their Rival 500 is the closest thing to an FPS, MMO hybrid we recommend on this list. It actually offers excellent performance in both, something you rarely see these days.
The guys at Steelseries say that the button layout of the Rival 500 has been custom designed with ergonomics in mind. They have scrapped the ever-popular 12 button grid layout for something that is more suited to your thumb's natural resting position. Each button is easily accessible and can be pressed with little actuation force. The Rival 500 has an impressive 15 buttons, more than enough for any bidding MMO player. The buttons have been designed in such a way that promotes both MMO and FPS gaming. Impressive.
Steelseries have equipped the Rival 500 with a cool tactile alert feature which actually vibrates to specific in-game actions. You can alter the intensity of the alert and how frequently they occur. The switches are rated at 30million clicks which, as far as switches go, is pretty decent. The mouse offers excellent grip along with cool RGB, which can all be customized in the user-friendly software.
The Rival 500 isn't our best MMO mouse but is certainly a top recommendation for someone who wants a more, all-round product.
At this stage, you might be asking yourself, what exactly is the difference between an MMO mouse and other mice available in today's market? Do I really need all of those buttons? And the answer is yes, yes, you do. Well, if you play MMO/MOBA's you do anyway.
Because when you play MMO's you need to make use of input commands, binds, functions and so forth, additional buttons really do make all the difference in the heat of battle. The ergonomic position of those buttons is something that more competitive players worry themselves with but should also be considered.
Annoyingly, however, using an MMO mouse for other forms of gaming can be a real pain because they are usually bulkier, heavier, and packed with buttons that simply get in the way. This is definitely something to keep in mind when purchasing an MMO mouse; they're a bit of a one-trick pony.
So, that's the breakdown of the best MMO gaming mice currently available and what each has to offer.
It's always a difficult process trying to buy any new hardware component, however, with this simple-to-follow guide, we feel we have given you all the tools you need to go and get your dream mouse.
Let us know what you thought of our recommendations in the comments section below.