Best Gaming Keyboard and Mouse Combo
Having the right keyboard and mouse is more important than ever, especially with the esports industry now being at the height of its global power. Choosing the wrong keyboard, or the wrong mouse, can not only cost you a few bucks in the pocket but can also stunt your gaming growth.
In this article, we're going to go through some of the best keyboard and mouse combos for everything from hardcore gaming, to everyday use. Whether you're looking for a startup combo on a budget or wanting to upgrade your current setup to the next best thing, you'll be pleased to hear that this article has it all.
A big question that we get asked all the time is, how do we choose the best components or peripherals for our best of guides? I ask the same question all the time when taking advice. You need to know the source is credible and well informed. This being said, whether we're recommending a new monitor or the latest GPU, the process behind our recommendations is always the same.
Starting a best-of guide begins with extensive research. Research that starts with a long list of products which are worthy of, not only our consideration but more importantly, yours too. We whittle that list down to around 15 items, at which point we will either go out and purchase the products or get them sent to us directly from the manufacturer.
Our team then spend hours testing the products in several different backgrounds and scenarios until we have a greater understanding of what the hardware is capable of. At this stage, we will start to compose the final shortlist, which will eventually become our best-of lineup.
Each product is tested by numerous team members who have different gaming/general usage requirements so we can achieve a more well-rounded understanding of how that product stands up across the board. Whether you're an MMO player who likes a bit of video editing or someone who is all-out FPS, you can rest assured that someone with similar requirements has tested each product at length.
Furthermore, each product is scored on a number of different criteria categories. This allows us to recommend a product to a specific type of user with much more accuracy.
That list is below.
Best Gaming Keyboard and Mouse: Things to Consider
As I mentioned above, to obtain a better understanding of what each product has to offer, we've compiled a list of key criteria that will be used to test each product.
The products will be scored against each criterion, which will allow us to recommend a particular product to a specific kind of user.
First and foremost, you need to consider what kind of budget you're looking to spend on your peripherals. A mouse and keyboard combo can range anywhere between $25 right up to $150. Figuring out the budget at the start will save you a lot of time in the long run.
That being said, it's always nice to look at more luxury level items in case you want to scrap the budget altogether.
Once you've figured out your budget, you next need to ask yourself what you plan on using your new gaming keyboard and mouse combo for. Is it going to be an all-out gaming setup or more of an everyday combo? You might even be looking for a work keyboard which you'll use for some light gaming in the evening.
It's important to have a clear idea of what you need before jumping into the keyboard and mouse market because there are hundreds of options to choose from.
Mechanical or membrane? It's something you need to be asking yourself from the start. If you have your mind set on a mechanical keyboard, you might need to re-think your budget pretty sharpish.
That being said, if you don't know which one would suit your needs best, the following should give you an idea of what to expect:
Mechanical Keyboard pros:
Better durability
More accurate switches
Nicer sounding clicks
Higher responsiveness
Membrane Keyboard pros:
More affordable
Better water resistance
Quieter
This is something for serious gamers to consider. If you're a gaming hobbyist or someone whos looking for a mouse that's going to serve you well in a day-to-day type scenario, you probably won't utilize an optical sensor to its maximum potential.
However, if you're seriously into your gaming, and want to try and get every last bit of advantage over your opposition, you really need to consider an optical sensor.
Optical sensors, like mechanical vs. membrane keyboards, are more responsive and have higher accuracy than their laser counterparts. The optical sensor is just a better sensor in almost every department. And you know what that means, right? It means a much higher price tag.
Durability is a pretty obvious area to consider when looking to purchase a keyboard and mouse combo. You don't want to be replacing them after six months when the switches go or the sensor faults.
That being said, buying into a reliable brand can usually have a knock-on effect in the price department. If you're new to gaming, you can probably get away with buying a cheaper combo until you find your feet. After which you can splash out on something a little more suited to your requirements.
All the gaming keyboard and mouse recommendations we have chosen have excellent durability. You won't need to worry about an upgrade for quite some time.
Best Gaming Keyboard and Mouse combo
Product
Details

Razer Gaming Keyboard and Mouse Combo

sensor: PMW-3360
add ons: Razer Goliathus Chroma mousepad
mechanical membrane: Membrane

Check Current Price

Corsair Gaming K55 + Harpoon

sensor: PMW-3320
add ons: Ergonomic wrist rest
mechanical membrane: Membrane

Check Current Price

Cooler Master MS120 Gaming Keyboard & Mouse Combo

sensor: PMW-3360
add ons: No add-ons
mechanical membrane: Membrane

Check Current Price

Havit Mechanical Keyboard and Mouse Combo

sensor: N/a
add ons: Ergonomic wrist rest
mechanical membrane: Yes

Check Current Price

Redragon K552-BA Mechanical Gaming Keyboard and Mouse Combo

sensor: Unknown
add ons: Gaming mousepad
mechanical membrane: Mechanical

Check Current Price
Razer Gaming Keyboard and Mouse Combo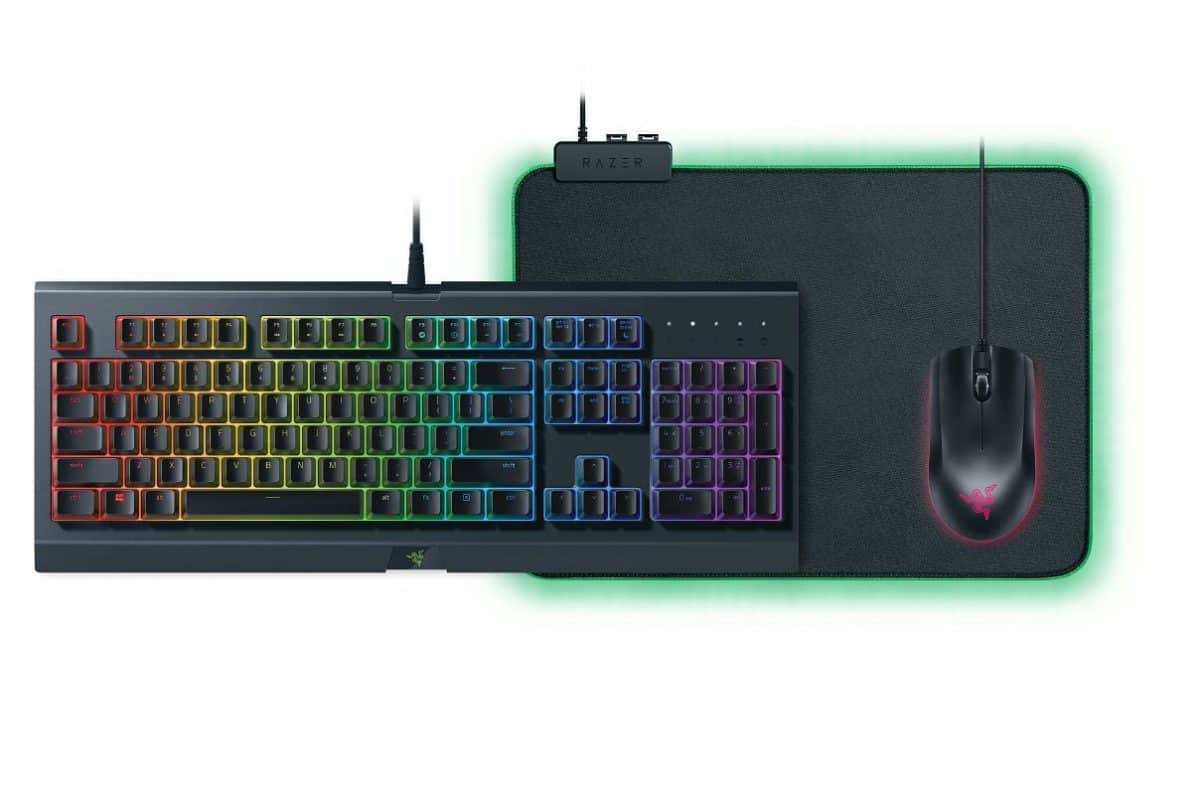 TECH SPECS
Keyboard

Razer Cynosa Chroma Keyboard

Mechanical/Membrane

Membrane

Mouse

Razer Abyssus Essential

Sensor

PMW-3360

Add-ons

Razer Goliathus Chroma mousepad
PROS
Highly powerful gaming setup
A fantastic, responsive mouse
Great RGB across the three products
Very attractive aesthetic design
CONS
The most expensive in this list
Not mechanical
It's probably no surprise to anyone that the Razer bundle is not only our number one choice for the best gaming keyboard and mouse combo but the most expensive as well. As with most things in the technology universe, you do get what you pay for with this one.
The combo is made up of the excellent Razer Abyssus Essential and the Razer Cynosa Chroma keyboard. In the past, Razer has been slated for its below-par build quality. However, I feel that's something they've addressed in the last couple of years. The build quality of this three-piece seems very robust, and I could see this setup serving someone well for quite some time.
The Cynosa Chroma keyboard is not mechanical, unfortunately, but don't take anything away from this thing. It still feels great when gaming. I used this setup for a good few weeks and found the keyboard to be one of the best assets to the combo. The dome switches feel responsive and require low-medium actuation force.
The mouse is something I'm very familiar with. It was my everyday mouse for a good few months after Christmas. Ergonomically, it's superb. It fits into my hand nicely and has a soft shape, which seems to work with my hand nicely. Anyway, let's discuss how it felt in-game. The mouse is quite light, something I'm not a huge fan of. But, I got used to it very quickly and definitely saw an improvement in reaction time and agileness.
The mousepad was pretty impressive if I'm honest. Not just because it comes with cool customizable RGB surrounding it's entirety, but because it gives you the perfect gaming platform for your hand and mouse. The material used for the pad seems to work in perfect harmony with the PMW-3360 sensor to help achieve the highest levels of responsiveness and accuracy.
Ultimately, this is the best gaming keyboard and mouse combo you can get your hands on currently. At a shade over $100, we also think it's pretty good value as well.
Corsair Gaming K55 + Harpoon
TECH SPECS
Keyboard

Corsair K55

Mechanical/Membrane

Membrane

Mouse

Corsair Harpoon

Sensor

PMW-3320

Add-ons

Ergonomic wrist rest
PROS
Almost silence key-cap actuation
Extremely responsive keyboard
Showcases great value for money
High quality mouse includes PMW-3320 sensor
CONS
Keyboard isn't mechanical
Mouse is considered entry level
We couldn't have compiled a best-of list regarding peripherals and not included Corsair, right? Well, we probably could have done, but in this scenario, we've decided the K55/Harpoon combination is an excellent choice. An excellent choice, indeed.
At the heart of this combo is the ever-popular Corsair K55, a keyboard that displays fantastic value for money and superb performance in a plethora of different gaming scenarios. Unfortunately, the K55 isn't a mechanical keyboard; however, it certainly feels like one. The membrane dome switches are super responsive and have a pleasing actuation feel. The RGB only boosts the already cool aesthetic look of the keyboard further. It isn't as bright as the Havit keyboard, but it certainly does its job nicely.
The mouse, is the entry-level Corsair Harpoon, a mouse that we tested extensively over at GamingVerdict with surprising results. When you consider the price, you soon start to realize what excellent value for money this mouse displays. It comes to the table with the PMW-3320 sensor which, even though outdated, is still a worthy contender for any budget range mouse. Even though Corsair decided to put RGB in the name, I wouldn't get too carried away with your expectations. It's a modest amount of RGB with two zones customizable. The mouse does feel pretty nice, though, especially from a less intensive standpoint. I wouldn't want to play long FPS or MOBA sessions with this thing, but everything else seems pretty kosher.
All in all, a pretty decent little intermediate level gaming keyboard and mouse combo. It offers a bunch of cool gaming features, and all at a price that isn't going to rip your wallet a new one.
Cooler Master MS120 Gaming Keyboard & Mouse Combo
TECH SPECS
Keyboard

MS120 Gaming Keyboard

Mechanical/Membrane

Membrane

Mouse

MASTERMOUSE MM520

Sensor

PMW-3360

Add-ons

No add-ons
PROS
Great in-game performance
Improved claw-grip mouse design
Comes with hybrid Mem-chanical switches
Anti-ghosting and ultra responsive keyboard
CONS
Quite expensive
Not mechanical
Cooler Master are no strangers when it comes to making some of the best computer components available. This, one of their flagship gaming keyboard and mouse combos, is another fine example of that very aspect.
The keyboard is Cooler Masters MS120. It has been custom designed for gamers and comes to the table with a bunch of handy features to make your in-game life that little bit easier. The stand out feature of the keyboard has to be the hybrid Mem-chanical switches, as they like to call them. They have been custom designed to sound and feel like professional-level mechanical keyboards. After extensive usage, I have to conclude that that is very much the case. Didn't think I'd be saying that. How robust and durable they will be is another question, but they certainly feel the part.
The mouse is the Mastermouse MM520, catchy name I know, and comes equipped with the PMW-3360. The sensor is, again, extremely responsive, and pixel accurate when in-game. The mouse is custom-designed for claw-grip gamers, this, in turn, makes this bundle pretty user-specific. Saying that though, I use a hybrid grip and found it was OK. I mean, it wasn't my MX510 Legendary, but it wasn't half bad.
What we have here is another decent offering from Cooler Master in the peripheral market. The keyboard and mouse are pretty good on the performance side of things, but also look cool as well.
Havit Mechanical Keyboard and Mouse Combo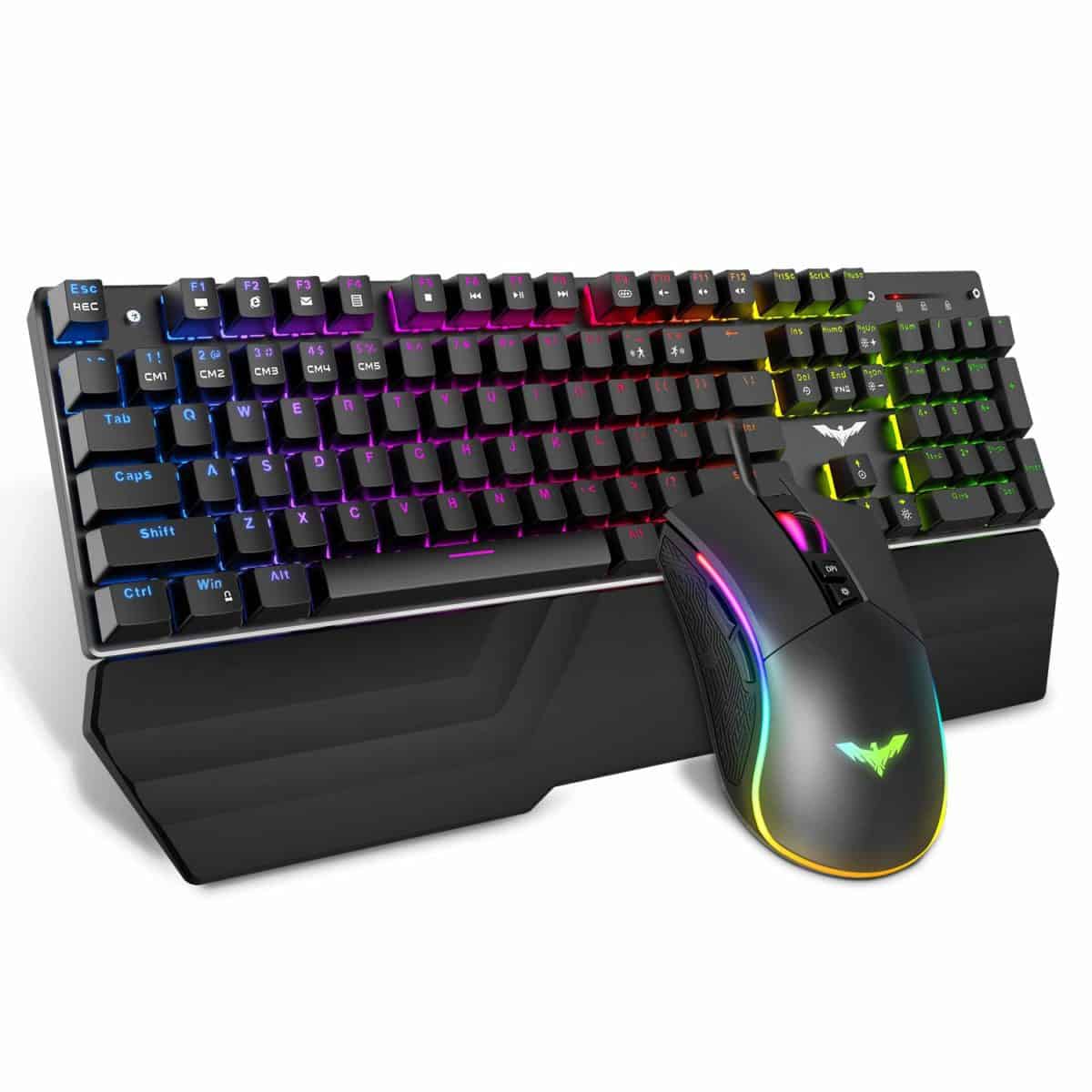 TECH SPECS
Keyboard

Havit Mechanical Keyboard

Mechanical/Membrane

Yes

Mouse

Havit Gaming Mouse

Sensor

N/a

Add-ons

Ergonomic wrist rest
PROS
Very Affordable
Both mouse and keyboard include RGB
Nice build quality for price
Mechanical keyboard with Outemu blue switches
CONS
Mouse sensor is unknown
Mouse DPI doesn't go lower than 800
Havit bring us one of the few mechanical keyboards on this list and one of the most affordable, too. That being said, it leaves me a little confused.
Historically, mechanical keyboards are pretty expensive, just take our best keyboards page, for example. All the mechanical keyboards on that list are far more expensive than this combo. It leaves me asking the question, why is this so cheap then!? Well, I'm not sure, but what I do know is that this keyboard feels great and the Oumetu blue switches are responsive and sound great, too. The build quality is great, and it feels fit to last. The RGB is some of the best I've seen for that price range. It's extremely bright and has some cool side RGB that you don't usually see.
Moving onto the mouse. It was hard to find any facts regarding the mouse's sensor, which was a shame. However, after using it for a while, I can confirm that it had decent responsiveness and held up great when playing FPS. It feels, and looks, like a cheap copy of a Razer Mamba but without the build quality. You can't really grumble though when it comes to shelves for under $40.
The additional wrist rest has been designed with ergonomics in mind. It offers great support and puts your hand in a position ideal for most gaming scenarios.
Overall, it's not the greatest gaming keyboard and mouse combo you're going to find. However, what it does offer is some OK gaming performance at a very affordable price. If you're looking to get into gaming more seriously, this could be the perfect entry-level option for you.
Redragon K552-BA Mechanical Gaming Keyboard and Mouse Combo
TECH SPECS
Keyboard

Redragon K552

Mechanical/Membrane

Mechanical

Mouse

Redragon Gaming Mouse

Sensor

Unknown

Add-ons

Gaming mousepad
PROS
Extremely affordable
Great mechanical keyboard
Very responsive key actuation
Comes with additional mousepad
CONS
Mouse is extremely basic
Very loud key clicks
The most affordable gaming keyboard and mouse combo comes to the table in the form of Redragon K552-BA mechanical pairing. Not only is this thing extremely affordable, but it also comes with an additional gaming mousepad to get you started. That being said, don't be getting too carried away. There is a reason why this thing retails for under $35 and comes with freebies.
Firstly, let's discuss the pros. The keyboard is actually pretty nice. It's fully mechanical and comes with Outemu blue switches which feel built to last and robust. One downside, however, is how noisy they are. Like I said in our best gaming keyboards for under $50 article, the key-clicks really do remind me of Boris' keyboard in the classic James Bond film, Goldeneye. If you plan on using this at work, expect some daggers in your direction.
The mouse, if truth be told, is not the best thing to ever come out of Redragons locker. For $33 though, what can we really expect? I used it for a week, and I wasn't a huge fan. That's probably because I've had the privilege of using some of the best, most expensive mice on the market. What I will say regarding Redragons, though, is that the sensor feels very similar to other budget mice we currently have in the office. It felt very similar to the Corsair Harpoon, which we reviewed above.
Very little can be said about the mousepad. I mean, it's not very big and comes with some Redragon decoration. For a beginner gamer, I suppose it's not bad though.
This truly is the budget pick. If you want to get your foot on the ladder and need something to get the ball rolling this is going to be your best bet at a very low price.
And there you have it, our comprehensive breakdown of the best gaming keyboard and mouse combos currently available. For me, I'd struggle to choose between the Razer combo and the Redragon combo.
Even though the Razer showcases MUCH better performance across the board, the Redragon is a fully mechanical combo that comes in at under $35. Unbelievable value for money. If you're looking for the best all-rounder, then I would steer you towards the Corsair K55 combo. Corsair is an extremely trusted brand and one that has been offering top quality components and peripherals for as long as I can remember. The Redragon and the Havit combos decide the all-out budget pick.
In any case, whatever the budget, whatever the need, we feel like one of our gaming keyboard, and mouse combos will be precisely what you're looking for.
Let us know what keyboard and mouse combo you currently use in the comments section below, we love to hear your feedback!