Best Gaming Mouse Under $50 Of 2022
We Take You Through The Best Gaming Mice Available On The Market Right Now
Updated: Nov 29, 2022 11:31 am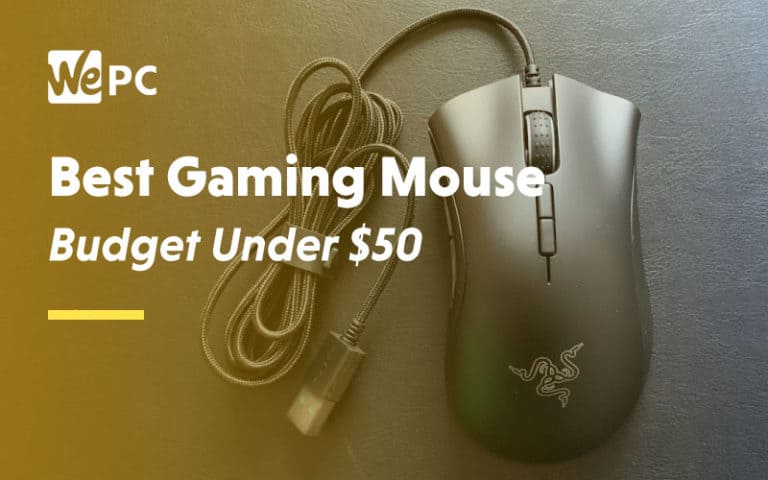 Finding the perfect mouse isn't always easy, especially if you're new to PC gaming and have just built your first computer. While the mouse marketplace is currently flooded with a sea of affordable, high-quality offerings, the $50 price bracket does offer a less frightening purchasing process. At $50 there are only a few stand-out performers that we believe are worth your money.
Having a decent mouse is just as important as the system you run your games on and can literally be the difference between winning and losing – not to mention the gaming keyboard, and gaming headset too. As mentioned, the $50 budget is quite forgiving, offering up a multitude of good quality options in this category. You don't always need the best gaming mouse money can buy to still be effective in games – as you'll soon find out.
Here at WePC, we buy what we recommend, and the mice are no different. We have tested well over 50 different mice to not only bring you an informed recommendation but to educate ourselves as to what is the best gaming mouse out there.
So let's get into it and find out exactly what cuts the mustard for under $50.
Our Top Picks
01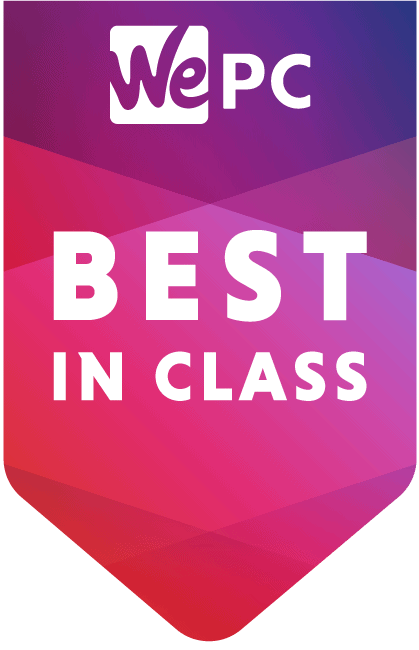 An Ergonomic Legend
Razer Deathadder Elite
02
A Lightweight Wireless Wunderkind
CORSAIR Harpoon RGB Wireless
03
Low Cost Ambidextrous Gaming
SteelSeries Sensei 310
How We Choose
Before we buy any product here at WePC, we first do our research. It doesn't matter if it's newly released mice or older models, we need to find out the general online consensus and find out which are more popular than others and why.
Aside from the price, which had to be under $50, we specifically evaluated and went for gaming mice that performed highly in the following areas:
Buttons
Comfort
Sensor
Aesthetics
Construction
How We Test
Every mouse we recommend goes through rigorous testing and is used extensively. These extended sessions with particular mice help give us a good general impression as to how it stands up in the current market.
During our tests, we check how the sensors perform first and foremost. The accuracy and tracking of each mouse need to be impressive with little deviation or jitter.
Spinning out and tilt slamming can cause a headache when gaming so we check our mouse recommendations aggressively to reveal any flaws. Testing the IPS of a mouse to the limit, we move the mouse from point A to B as fast as possible and record the results.
You can test a mouse on all the programs and testers you can find, but we all really want to know how it performs in-game! It's for occasions like this why WePC has a huge Steam games library, meaning we can test mice over several different gaming genres and platforms.
Among the games we played to test all the mice were the following:
Our tester's abilities and techniques vary greatly – they also differ in terms of gripping styles. This makes it easy for us to pinpoint which gaming mouse is best-suited for specific gamers.
Unfortunately, we don't have any fingertip grip styles here in the WePC office, so I cant honestly say which of our selections is best suited for that style.
At the end of the day, it all boils down to how comfortable you are with the mouse regardless of your gripping style.
Things To Consider When Buying A Gaming Mouse
There is a rather mixed bunch of recommendations here on this list for the best gaming mouse under $50, but they all offer a certain standard of quality and performance.
Buttons need to be reliable so any mice we found had lackluster primary or side buttons were removed from our list. All the selections on this list have an excellent shelf life with some boasting up to 50 million click life span.
At this price category, it is easy to find a variety of mice with brilliant sensors, specifically, with variants around the Pixart 3360 sensor. On top of that, our list also boasts a variety of DPI rates ranging from 12,000 DPI to 18,000 DPI (not that you'd need it).
For those who don't know, the DPI, or Dots Per Inch, is the distance the mouse will cover when moved. Simply put, a mouse with a high DPI setting will be very sensitive even to the smallest of movements.
Mice get beat up just as much, if not more, than keyboards. Because of that, they need to be built rigid and feel solid in the hand.
While only the M65 comes out with aluminum construction, the rest of the mice are constructed to last, using high-quality plastics that will stand the test of time.
Sure, looks aren't everything, especially when we are talking about mice but the picks in this list offer some form of aesthetic quality. From unique designs to attractive coatings, there is something for everyone in this list.
The The 5 Best Gaming Mice
In-depth Review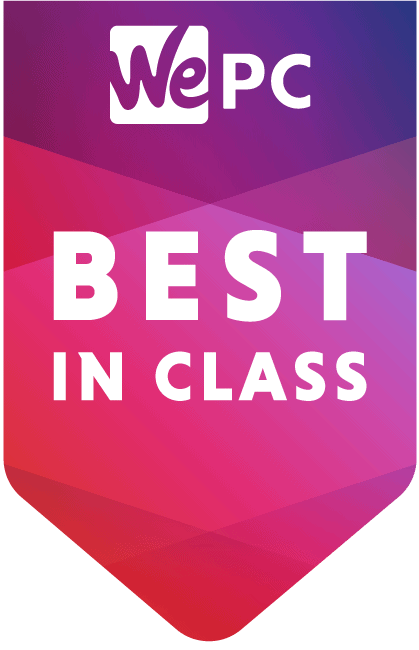 01
An Ergonomic Legend
Razer Deathadder Elite
Size
Medium (127 x 70 x 44 mm)
PROS
Fantastic ergonomic shape
Very durable construction
Customization is easy with Razer Synapse 2.0
Great value
If you were to ask a wide variety of FPS gamers what they thought was a great mouse for the genre, you would struggle not to hear the word "Deathadder". The Razer Deathadder is an iconic mouse that has been providing us with one of the best ergonomic shapes for over a decade.
The first thing to note on the Razer Deathadder Elite is the new and improved sensor. Razer has binned the laser sensors of old and chucked in a PWM 3389 optical sensor. The sensor is a 3360 variant and is a great move from the peripheral giants as this provides more accuracy and more consistency to their mice and our gameplay. Backing up the sensor is a couple of Omron switches underneath the primary buttons. These switches are good for 50 million clicks and feel very responsive.
The design of the Razer Deathadder is a bit more flashy than a Zowie mouse albeit still pretty simplistic. I guess you can call the Razer Deathadder classy as it isn't slapping you in the face with crazy angles or RGB lighting. The gentle curves feel fantastic in the palm and the overall shape screams comfort.
While Razer gets a bit of a bad reputation for overpriced products, the Razer Deathadder Elite certainly is not one of them!
02
A Lightweight Wireless Wunderkind
CORSAIR Harpoon RGB Wireless
PROS
Nice compact shape
Aesthetically pleasing design
A good sense of control when using it
Intuitive and versatile software package
Impressive battery life
CONS
Bit small for large handed gamers
Does not offer 16,000 DPI unlike rivals
When we think of Corsair we normally think of their leading memory kits or their impressive range of AIO coolers. What we don't normally think of, is their collection of mice. But maybe we should start to…
The Corsair Harpoon RGB is a wireless, RGB riddled gaming mouse that is suited to almost every need. Coming to the table equipped with a powerful PMW3325 sensor and an ergonomic design, the Harpoon slots nicely into a market that is currently flooded with quality alternatives. With its lightweight design and small form factor, it might not be suited to everyone's requirements, but for those that love the Logitech G Pro, this is a really close match.
It comes with an array of customizable buttons that can be altering using Corsair user-friendly software, iCUE. The software is extremely easy to navigate and allows users to change between preset's and custom options for both button mapping and RGB settings.
The best thing about this mouse, of course, is the wireless functionality it comes with. It can connect via Bluetooth or a 2.4G wireless connection that, after extensive usage, gives an excellent account for itself.
Overall, a fantastic all-round mouse that is certainly going to turn a lot of heads at this extremely low price point.
03
Low Cost Ambidextrous Gaming
SteelSeries Sensei 310
Sensor
TrueMove3 (Optical)
Size
Medium (125 x 61 x 39 mm)
PROS
Lightweight
Well designed ambidextrous shape
Highly accurate sensor
Satisfying click on the split trigger buttons
Great build quality
CONS
Main Chassis material feels a bit on the cheap side
The SteelSeries Sensei 310 is a bit of a fan favorite and many that used this mouse have stuck with it through the years. The Sensei 310 is the ambidextrous brother to the Rival 310 but with the same specifications.
Inside we see the incredibly reliable TrueMove3 optical sensor, which is essentially an adapted PWM 3366. SteelSeries boast an esports performing sensor that offers one-to-one tracking and it delivers. Tracking enemies was a breeze and thanks to an IPS of 350 flick shots will regularly hit the mark without any deviation or spin-outs.
For the price, the quality and construction are impressive, you are really getting a premium mouse for little here. The mouse looks excellent and its shape is very inviting. The side grips are a little bit ugly but they do offer some excellent control and SteelSeries split trigger buttons look fantastic as ever.
With a well-thought-out design, jitter reduction and highly intuitive software, the Sensei 310 will never let you down.
04
A Wired And Weighty Ambidextrous Mouse
Logitech G Pro Wired
PROS
One of the best sensors on the market
Comfortable ambidextrous shape
Light (86g)
The Logitech G Pro Wired has a lot to live up to thanks to its name. The wired version (if you can call it that) of the G Pro packs similar features under its hood to the wireless version but costs nearly half as much.
The Logitech G Pro's design is very simple and reminds us of the G203 Prodigy more than a G Pro. The ambidextrous shape is very comfortable and accommodates the hand nicely. The body features gentle slopes to fit in most palms and tapers in towards the primary buttons. Unlike the G Pro wireless, I don't think they spent a few years designing this with professional esports players.
Despite the generic-looking design and modest price this mouse still packs a punch. At the heart, we see the HERO sensor featuring on these newer models which is just an efficient iteration of the PWM 3360. The PWM 3360 features in older models and is well worth a look as it is a highly recommended sensor for gaming, the HERO, however, has been tweaked for maximum efficiency.
The build quality is great from Logitech and they always favor functionality over how a mouse looks. The buttons feel satisfying to click and despite weighing more than the wireless version it only comes in at 86 grams!
This mouse narrowly comes over budget but is one of the best ambidextrous mice you can buy for around this price. Accurate tracking and a comfy shape rolled into one mouse.
05
A Quality, E-Sport Ready, Budget Mouse
Roccat Kone Pure Ultra
Sensor
ROCCAT Owl-Eye Sensor (3389)
Size
Medium (117 x 60 x 38mm)
PROS
Attractive design
Light
Accurate sensor
Grippy texture
The Kone Pure Ultra is ROCCAT's latest edition to its ever-growing library of quality gaming mice. This one is a refresh of the classic Kone Pure, only this one has been equipped with a betters sensor, a lightweight design, and cool RGB too.
The Kone Pure Ultra offers up an almost identical design as its predecessor, only this time sporting a nicely positioned RGB zone at the rear. The shape is pretty identical as well, fitting into medium-sized hands very comfortably.
The sensor in this mouse is probably the stand-out feature, closely followed by the ergonomic shape that has been a hit amongst ROCCAT fans for several years now. The OWL-EYE sensor, a variant of the flawless 3389, is the most noticeable change from the original. It offers up flawless in-game performance whether you're playing FPS or MOBA game titles. Inside the mouse, we find Omron switches rated at over 50million clicks. They offer up a tactile feel which is great for in-game binds and on-the-fly DPI changes. All-in-all the ROCCAT Kone Pure Ultra is a very efficient gaming mouse, even without taking the ultra-lightweight design into consideration.
The mouse weighs in at a mere 69 grams that puts it at the lower end of the weight spectrum. This is great for people that play fast-paced games that required agile movements and quick reflexes. The skates offer smooth, non-abrasive movements that only further increase the user experience further.
Ultimately, if you're looking for an alternative mouse that offers a lightweight design and pinpoint accuracy, you can't really go wrong with the Kone Pure Ultra. It really is an excellent FPS gaming mouse.
The 5 Best Gaming Mice frequently asked questions
Are gaming mice worth it?
Yes, gaming mice are certainly worth purchasing. They are far better for gaming in comparison to a regular mouse. While they are more expensive to purchase, this is because they are created with gaming in mind.
They not only have the best specifications but they are built in such a way that they will elevate your gaming experience, rather than hindering it. A gaming mouse is such an important aspect to gaming, that it is worth spending some extra dollars to purchase one that it is gaming specific.
They are worth it because they feature specifications that will allow your gameplay to be easier on the whole. Even if you do not utilize all the extra features it has, it is still useful to have the option of using them.
What is the difference between a mouse and a gaming mouse?
When it comes to differentiating a gaming mouse from a regular mouse, there are a few different fundamental differences that you will need to take into consideration.
The main difference between the two is dots per inch, which is more commonly abbreviated to DPI. A gaming mouse will feature around 4000 DPI in total, whereas a regular mouse will typically have up to 1000 DPI. This is a large difference.
The DPI is important as the higher the DPI, the more accurate your mouse will be, and the better it will perform overall. In addition to this, a gaming mouse typically has a higher CPI.
In addition to this, gaming mice tend to have a better grip to make gaming easier, and buttons on the mouse to allow you to access different settings with ease.
The overall response time of a gaming mouse is faster, and the weight can be adjusted. These are all additions that regular mice do not tend to have.
Is Logitech better than Razer?
When it comes to choosing a gaming mouse, there are two popular contenders to pick between – Logitech, and Razer. While some gamers will choose Logitech, other gamers will go for Razer. Really it is just down to personal preference.
The differences between both are minimal, and they are both reliable companies that produce great quality gaming mice. The main difference between the two brands is that Razer tends to focus specifically on creating mice for gaming purposes. However, Logitech does produce a plethora of different mice.
If you had to choose between the two for gaming, it can be argued that Razer produces the best mice overall. Their mice tend to respond slightly quicker, and they also often feature more button options in comparison to Logitech.
They are both great choices. Ultimately, it is down to personal preference.
Why are gaming mice so expensive?
Gaming mice are more expensive in comparison to a regular mouse because they are designed specifically with gaming in mind. Even the less expensive gaming mice tend to be more expensive in comparison to a regular mouse.
They are more expensive because they have better specifications, such as the DPI, and CPI. The response time and grip of gaming mice is better, and the buttons that are featured allow your gameplay to be improved.
When it comes to gaming, a gaming mouse vastly improves how well your gameplay will be. You are certainly paying for the increased specifications and how well the mouse responds in-game.
Can I use a normal mouse for gaming?
Yes, you can use a normal mouse for gaming if you already own one, or are on more of a budget. However, your gameplay will be limited to an extent. While it will work fine, it will not have the extra specifications that make gameplay easier than a gaming mouse has.
The features of a gaming mouse allow it to be optimized for gaming, whereas, a normal mouse will have limitations when it comes to its overall functions and speed. It will likely be a lot less responsive in comparison to a gaming mouse.
For example, gaming mice typically have additional buttons which allow you to have quick access to different features. Whereas, a regular mouse does not feature this, and will likely slow your gameplay to an extent.
Related mouse pages
If you're on the hunt for other mouse-related content, check our related pages below.
Gaming mouse best of pages
Gaming mouse reviews
Final Word
So, there you have it, with all that considered, these have been our top 5 picks for best gaming mice under $50. We hope this article makes finding your next gaming mouse a little easier. See the recommended articles alongside this page for additional Buyer's guides and other articles on gaming mice.
If you have any questions regarding the mice we recommended, feel free to drop us a comment in the section below.
---