DDR5 release date and price – where to buy next-gen RAM
Here's all the details you need to know about DDR5 release date and price
Updated: Nov 18, 2021 3:03 pm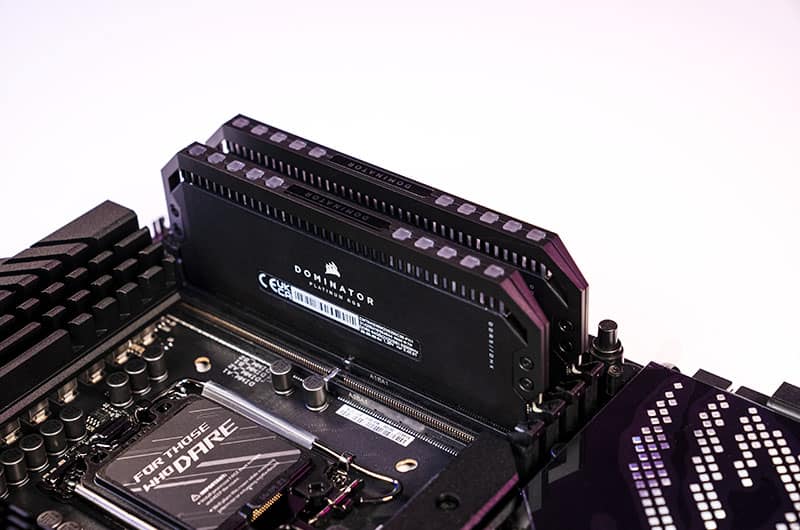 DDR5 memory has been simmering under the radar for years now, promising next-gen speeds, lower voltages, and more efficient chip designs. While many enthusiasts have been eagerly waiting for its release, DDR5 has been relatively elusive since its initial announcement around 4 years ago. Until recently, very little information was actually available regarding DDR5 release dates, pricing, pre orders, and specifications.
However, thanks to a slew of recent announcements made by large memory manufacturers, that is no longer the case. Alongside rumors, leaks, and official announcements, we can paint a pretty decent picture of what's in store for next-gen memory modules.
All being said, the following article will be all the latest information regarding DDR5 release dates and pre orders. We'll be keeping this page bang up to date so remember to bookmark it for the latest pre order details.
DDR5 Release date – When can you get DDR5?
Everyone has been keeping any information about the DDR5 release date close to their chests, but with retailers now starting to have active product pages for various kits from all sorts of manufacturers. As expected, the release of DDR5 will coincide with the all-new 12th gen processors from intel, Alder-lake. This is a critical time for the hardware nerds of the world.
The DDR5 release date is November 4! As of today, you will be able to get your hands on this new generation of extreme clock speeds and gaming performance. DDR4 might still be worth your while, as the early adopter price is going to be pretty heavy as we can see from the product pages starting to crop up.
DDR5 Price – How much will DDR5 cost?
As expected, the DDR5 Price is considerably higher than that of DDR4, owing not only to the increased performance for gaming and productivity but also because of the dreaded early adopter tax. we are beginning to see kits from the likes of Kingston and G.Skill that are priced upwards of $400! If you have the money to spend on this exciting new technology, we've collated many of the kits for you below and split them into regions so wherever you are in the world, you'll be able to see the price and decide whether it's worth your hard-earned cash
Where To Buy DDR5 – US
We've taken the time to list all the DDR5 memory where to buy links for the major retailers in the US below. As demand will be fairly high for the new DDR5 standard, stock levels will likely be underwhelming for the first few quarters of 2022.
Amazon US – DDR5 memory listings, pre order, & prices
Best Buy – DDR5 memory listings, pre order, & prices
Where to buy DDR5 – UK
All major UK retailers will stock the 12th gen Alder Lake processors and we will be continually updating this list with all the links we find.
Amazon UK – DDR5 memory listings, pre order, & prices
Scan – DDR5 memory listings, pre order, & prices
Overclockers – DDR5 memory listings, pre order, & prices
Ebuyer – DDR5 memory listings, pre order, & prices
Currys – DDR5 memory listings, pre order, & prices
Novatech – DDR5 memory listings, pre order, & prices
Where to buy DDR5 – Canada
Just like everywhere else, major retailers in Canada are yet to post Intel 11th-gen listings live yet. However, you can rest assured that when they do, we'll have all the best places linked below.
Amazon CA – DDR5 memory listings, pre order, & prices
Where to buy DDR5 memory – France
Where To Buy DDR5 memory – Germany
Where to buy DDR5 memory – Spain
Where To Buy DDR5 memory – Italy
DDR5 Specs
DDR5 is set to make a huge leap over its predecessor, DDR4. With some incredible clock speeds available, it's hard to get exact statistics but several manufacturers have released measurements from their top-tier kits. Take them with a pinch of salt however –
| Feature | DDR4 | DDR5 | DDR5 Advantage |
| --- | --- | --- | --- |
| Data rates | 3200Mhz | 4800-6400mhz | Increased performance and bandwidth |
| VDD/VDDQ/VPP | 1.2 | 1.1 | Lower power |
| Device densities | 16GB Max | 64GB | Larger monolithic devices |
| Prefetch | 8n | 16n | Keeps the internal core clock low |
| CRC | Write | Read/Write | Strengthens system RAS by protecting read data |
| Burst length | BL8 | BL16, BL32 | Allows 64B cache line fetch w/only 1 DIMM subchannel. |
DDR5 Preorder
It's unlikely that DDR5 kits will sell out, but given the last year and enduring shortages of PC components, it might be worth pre-ordering just so you can ensure that you enter the next generation of memory on time. Many of the links we have collated below will give you options to pre-order if you wish so have a browse and see what takes your fancy.
---