Last Updated:
If you're shopping for great deals this Cyber Monday, then Amazon should probably be one of the first places you check out. This online retailer is so huge that they can offer some of the best prices anywhere during Cyber Monday sales. Not only that, because the company sells such a huge range of products, from TVs to tennis rackets, you can get these great deals on anything your heart could possibly desire. Of course, this amount of choice can be a bit overwhelming. If you're finding yourself in this exact position then this is the list for you. We've found all of the best deals across a huge variety of different products to ensure you get a great deal this November.
Black Friday and Cyber Monday weekend deals are now live! Get huge savings on the best PC components at Best Buy, Samsung, HP and Amazon.
*Prices are subject to change
ViewSonic VX3268-2KPC-MHD 32 Inch 1440p Curved 144Hz 1ms Gaming Monitor with FreeSync Premium Eye Care HDMI and DP
Acer Nitro XV322QU KVbmiiphzx 31.5″ WQHD 2560 x 1440 Agile-Splendor IPS Gaming Monitor
Acer ED273U Abmiipx 27″ 1500R Curved WQHD 2560 x 1440 Monitor
Acer XG270HU omidpx 27-inch WQHD AMD FREESYNC (2560 x 1440) Widescreen Monitor
Sceptre 27 inch QHD IPS LED Monitor
Thermaltake Arctic i360 Liquid-Cooled PC (Intel i5-11600K, RTX 3060, 16GB RGB 3600Mhz DDR4 ToughRAM RGB Memory, 1TB NVMe M.2, WiFi, Win 10 Home) Gaming Desktop Computer P3WT-Z590-A36-LCS
Razer Blade Stealth 13 Ultrabook Gaming Laptop: Intel Core i7-1165G7 4 Core, NVIDIA GeForce GTX 1650 Ti Max-Q, 13.3″ 1080p OLED Touch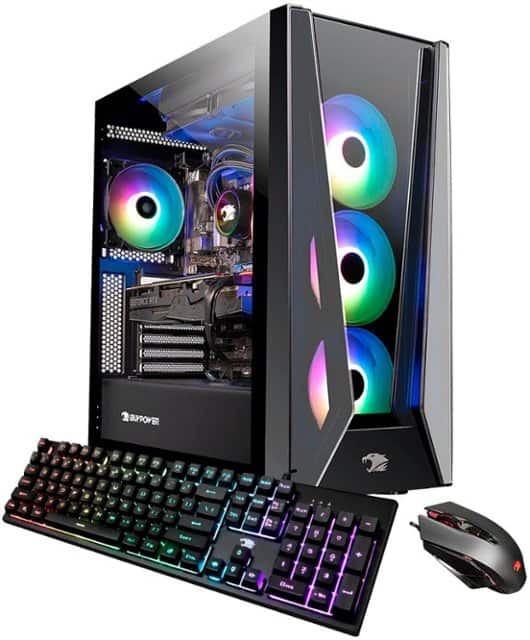 iBUYPOWER Pro Gaming PC Computer Desktop TraceMR 224i
What products will be discounted on Amazon this Cyber Monday?
Amazon has a huge variety of products available, but they're likely to discount specific items. The focus of Cyber Monday tends to be on electronics and gadgets, so you can probably expect these products to see the biggest savings. TVs are always a favorite discount item, so Amazon will probably have a variety of different models available. You should also look out for home appliances, like microwaves and blenders. These products are popular and definitely fall under the remit of Cyber Monday. Of course, it doesn't stop there. Video game consoles are another huge item that should be heavily discounted. This also holds true for laptops, PCs, Tablets, and Phones.
How much will Amazon products be on Cyber Monday?
Obviously, there is a huge variety of products on Amazon, so the price depends heavily on what you'll want to buy. Some of the best discounts are on Amazon's own products such as the Echo Dot. Last year the new Dot came down as far as $30, a reduction of over 50% on its list price. Similarly, products like Shark Vacuums came down by hundreds of dollars, hitting $150 at its lowest. You can be sure that there will be plenty of deals like this across a lot of products that are sold by Amazon.
Amazon Cyber Monday Deals
Amazon Cyber Monday is due to hit on November 30th 2021 Deals will be flying around all Monday and this will last until midnight most likely. You can expect some lightning deals for a few hours on the day too if last year is anything to go off.
We are going to be scouring the marketplace to find you the best tech deals on the day and conveniently provide you with a wide selection, right here. If you are looking for a new gaming PC, peripherals or maybe a new speaker then you should definitely take advantage of these Amazon Cyber Monday deals.
You can expect a lot of different tech being discounted over the event from many big-name manufacturers. Look out for popular peripheral companies and system builders for those looking to get some new gaming bits. We can also expect discounts on gaming monitors, PC components, and gaming laptops.
So sit back, relax, and let the links roll in.
Best Amazon Cyber Monday Deals 2021
Amazon Cyber Monday is approaching but unfortunately, the deals are kept close to their chest until the event begins. When the deals go live, we are going to be updating this page to feature the best tech deals available.
Amazon often discounts its products during Black Friday, Cyber Monday and of course Amazon Prime Day. This year will be no different with the latest Alexa gadgets, such as the Echo, more than likely to be discounted. As mentioned last year's top seller was the Echo-Dot so expect discounts on Kindles, Fire Sticks, and tablets.
Pre-Built Computers
Pre-made computer manufacturers like CYBERPOWERPC will have selected deals come Cyber Monday, so you may be able to pick up a new gaming rig on the cheap. It might not just be CyberpowerPC, we could also see other brands like iBUYPOWER enter the fray.
SSDs/HDDs
Storage devices almost always receive large discounts over Black Friday and Cyber Monday. So why not grab some extra space for your media, games or work? From speedy SSDs to large capacity HDDs, you can b sure to see a discount.
Graphics Cards
The graphics card is often the most expensive component in any gamers PC build, so any money off is always a bonus. Look out for specific brands slashing prices on old and new GPUs alike.
Televisions
TV's are one of the most popular electronic items that sell like hotcakes over Black Friday and Cyber Monday. TV's will often receive heavy discounts over the sales event, some of which have already gone live.
Gaming Monitors
If last year was anything to go by, there will be a wave of differently priced gaming monitors up for grabs at incredibly low prices. Check back here for the latest and greatest 4K, 1440p, 144Hz, and budget gaming monitor deals.
Gaming Peripherals
With a wide variety of peripheral manufacturers selling on Amazon, you can be sure of some excellent Cyber Monday deals. That's right it won't just be Logitech offering price cuts no, watch this space for some of the best gaming gear deals we can find.
Headphones
Looking for a new pair of headphones? well with Cyber Monday finally here, you can be sure to get money off in-ear and over-ear sets! It doesn't matter if you are a gamer or just a music lover, there are deals to be had.
Smart Watches
Smartwatch deals are very popular, especially with Christmas just around the corner. So make sure you pick up a new watch with a decent discount this Cyber Monday!
Speakers
Looking for a great deal on desktop speakers or maybe a new soundbar for your TV? Well, Cyber Monday brings deals to almost every item and speakers are no different. Reduce the cost of your new entertainment setup and grab a bargain!
Logitech
Last year some of Logitech's gear came with a whopping 50% discount. We can hope for more of that as they will no doubt be slashing prices for Black Friday and Cyber Monday. So if you are on the look for a new gaming mouse or keyboard, then stay tuned.