The popularity of Mini-ITX PC cases, mini gaming PCs, and the smaller form factor components that go with them have been gaining popularity in recent years. With the inherent risks or potential problems such as temperature performance and noise, it is important to find the best Mini-ITX case for your building needs.
Most builders looking to create the ultimate compact system are drawn in by the aesthetics of these cases, whereas others are looking for pure convenience. Mini-ITX PC cases take up significantly less room and make transporting your PC a doddle.
Despite the smaller stature of the Mini-ITX build, that hasn't stopped building enthusiasts from achieving some impressive results, with water-cooling support still very much in play here.
We came to the conclusion that there is more than one potential case that can hold the accolade of "best Mini-ITX PC case" depending on your specific needs. However, the Thermaltake Core V1 offered decent cooling performance while also being the most versatile.
Let's take a look at our top five recommendations.
True To Mini-ITX Form Factor
Best Silent Mini-ITX Case
The Best Mini ITX Case: First Look
The Thermaltake Core V1 is rather boxy and certainly isn't the "smallest" but its overall versatility and budget price tag make it our number one pick for Mini-ITX cases.
With the Thermaltake Core V1, you may not be getting a case with premium aluminum panels or tempered glass but you get a small form factor bargain.
It doesn't have any flashy features or bright blinking lights, but that doesn't mean the case isn't any good. This case offers the budget builder something functional and compact at a very low price.
Our top pick comes with a 200mm fan mounted on the front, pumping in vast amounts of air to cool the system inside. This huge fan does a great job but I'd still advise a rear exhaust fan to go with it.
The case feels a bit flimsy but after building in this and testing it out, it's reliable with little flex and the perfect Mini-ITX case to shave those extra pennies off your system build.
True To Mini-ITX Form Factor
The SG13 is one of the best out there for Mini-ITX builds. Again, we see a non-flashy, box-like chassis in our recommendations and this is largely down to its small form factor (being the smallest on our list) and cooling performance.
Cable management can be a bit tricky inside this case and it only lost to the Thermaltake Core V1 due to the V1's versatility. Regardless, the SG13 Mini-ITX case performs quite well with thermals, despite its size.
While this may not be as easy to build in as the Thermaltake above, it still accommodates large GPUs and everything else hardware wise you would want inside of this chassis, with surprisingly good airflow.
Best Silent Mini-ITX Case
The Fractal Define Nano S is a mini tower with a very spacious interior for simple building and great airflow. This case may not be "true SFF" but it does support some full-sized components and comes with two fans.
The Nano S looks just like its bigger brothers and reminds us of the Fractal Design Define R6/ Define 7. It comes with all those nice touches from Fractal, like easy drive mounting and fantastic cable management options. You get dust filters and of course great airflow for such a small case.
The main draw for this mini-ITX case isn't just the quality, it's the sound dampening ability too. You can now get a silent PC at a fraction of the size and that is thanks to the carefully designed Define series being able to run powerful systems quietly.
The NZXT H210 is a refresh of the highly regarded H200 and part of NZXT's successful H-series. This is our "big" Mini-ITX pick as it is technically closer to some mid-towers than true SFF. Either way, this comes packed with features, including water-cooling support!
NZXT seems to frequently provide some fantastic little cases and they almost always have high build quality with performance to boot.
The H210 is the smaller iteration of the NZXT H510, with its all-steel construction and impressive build quality. It may be a large mini-ITX PC case but this brings about special features that look amazing such as tempered glass, included fans, a PSU shroud, and water-cooling support.
Not only do you get some savvy places to mount your storage devices but if you get the 'i' series, it comes with a fan controller mounted on the back panel. The performance of this case will not let you down and is highly recommended!
The Node 202 is still one of the best slim form factor PC cases on the market, with a logical layout and high-quality build. Its versatile design makes it ideal for the living room or computer desk.
The Fractal Design Node 202 comes with its "home-theatre" aesthetics and can be used horizontally or vertically.
Fractal has done well to ensure the effective use of space with Node 202. This case comes with dust filters at all major intakes, keeping the dust at bay, ultimately assisting the small form factor of the case.
This will work great in the living room or as part of your desktop setup. Furthermore, you can fit large GPUs inside and there is a little bit more room to cable manage than with some of the others on our round-up.
This mini-ITX PC case may not offer the best thermal performance but its unique design earns it its place amongst the best.
All of the computer cases on this list are here for a reason – we didn't just pick them out of thin air. First and foremost, we conducted a search to discover which PC cases gamers are into while trying to balance those with the highest reviews against those with the lowest price tags.
Reviews from various manufacturers were taken into account, as well as reviews from others in the PC gaming industry.
Next, we get our hands on as many of our recommendations as possible so we can see the build quality up close, test how easy they are to build in, and see how they effectively cool components.
When building a Mini-ITX gaming PC, there are many factors to take into consideration before buying your case.
Firstly, be aware of the size of your components (form factor). Motherboards, GPUs, and PSUs form factor can vary in size so it is important to check it will be compatible! Before jumping into a build, it is worth considering how many fans you will be mounting, how many hard drives you require, and what size radiator your cooler has!
Don't worry – we will go into these different factors in some more detail below.
Motherboard Form Factor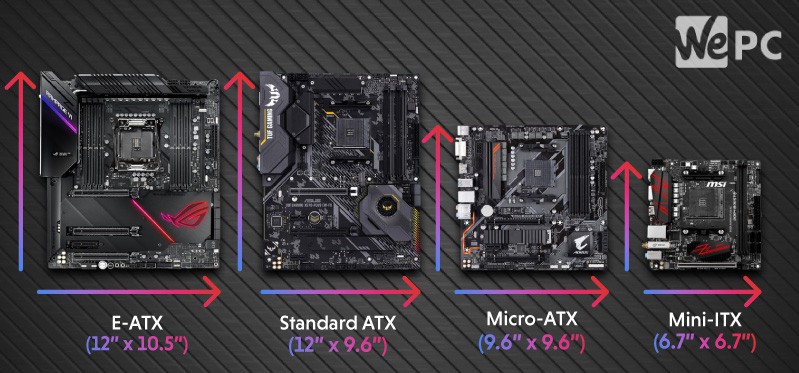 As you are looking for the best Mini-ITX PC case, you only need to worry about buying an mITX board. Most, if not all, Mini-ITX cases are not compatible with the larger mATX or ATX motherboards, so make sure you get the right one!
Smaller boards will have less room for your components and will generally have fewer features too. This isn't bad if you don't need a lot, but if you're making a high-end gaming build, or even a mid-range build you intend to upgrade in the future, then you might want to consider classic ATX boards with a mid-tower.
Your Case
You will normally find the motherboard compatibility labeled in the name of the case or very easily in the specs and this outlines the maximum sized motherboard you can fit into the case. As you can see from this list of cases they are all labeled 'mini-ITX' which indicates you will be needing components of similar form factor.
There are three prominent types of computer cases (although there are more) and each is compatible with different types of motherboards:
Full-tower cases are the largest cases and can work with E-ATX, ATX, Micro-ATX, and Mini-ITX. Their large size is geared towards high-end gaming PCs, with extra components rather than exceptionally larger motherboards.
Mid-tower cases are the most popular and can also work with motherboards that are as large as ATX.
Mini-ITX cases sacrifice the larger ATX boards and while some can still support Micro-ATX, Mini-ITX boards are their primary focus.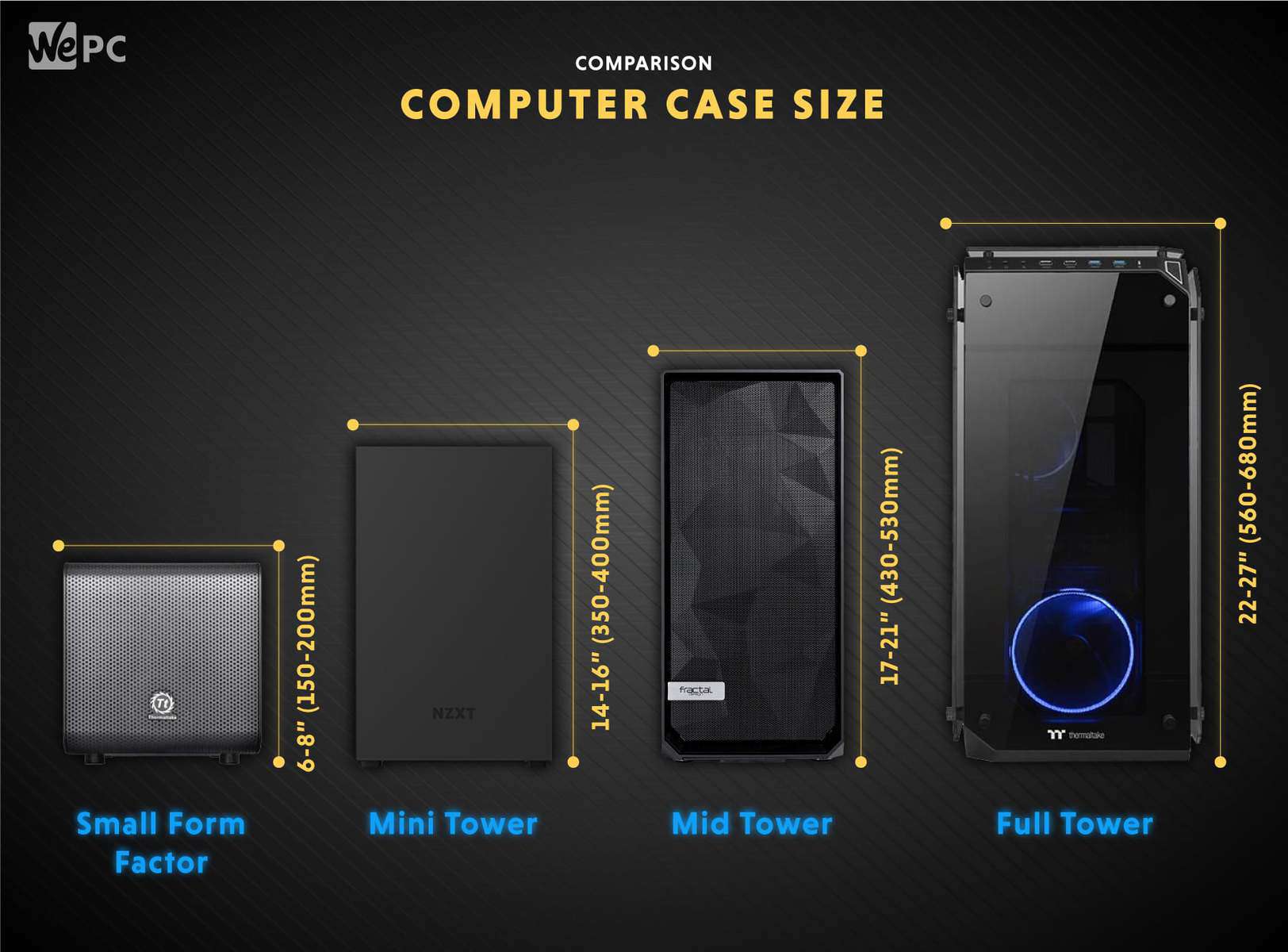 It is worth noting that your mini-ITX build will only look great in a mini to mid-sized tower and this is down to the cable length often struggling to reach a mini-ITX board from a larger case. Some cases may have taken this into consideration but you may struggle to make your build look as clean as possible when it comes to cable managing your front panel, as they can sometimes be stretched.
Cable Management Is A Must
Cable management is highly important but often forgotten about when you get into building a mini-ITX system because sometimes there just is no extra room to properly manage cables. Cable management is more important than ever due to the decreased airflow in your mini-ITX case, which often has fewer cooling options and space in general. So keep those cables routed properly around the system to maximize cooling performance, and keep your system happy.
Now it is time to look at each Mini-ITX case, examine the pros and the cons, discuss the cases' design, and any notable features, to determine what makes these "the best".
Our 5 Best Mini-ITX Cases
1 x 140mm, 1 x 120mm fans
Straightforward to build in
Limited space for AIO solution
This budget mini-ITX case from Thermaltake is functionally brilliant, especially when you consider the low price tag that comes with it.
The Core V1 is actually pretty tough once it's built-in and although airflow isn't the best, it comes with a huge 200mm fan on the front panel to pump through that air! The fan runs at 800RPM and actually only produces around 13dBa, which is pretty quiet.
There is also space on the rear panel for an outtake fan but we think its best to mount your liquid CPU cooler on this if you consider getting an AIO cooler.
The front panel is comprised of 2 x USB 3.0 ports with your audio jacks just below. The panel with your power button etc is located on the side which helps aid cable management as they are closer to the bottom of the case, which is where you will be running a lot of cables.
You get an acrylic window on this case to view the system from above and its located on the top panel which can be removed independently from the side panels. You can also interchange these panels to improve your configuration. You also get a lower 'chamber' underneath where your motherboard will be mounted and this gives you some extra room to hide a few cables and improves airflow around your components.
For the performance, price, and versatility, the Thermaltake Core V1 is still one of the best Mini-ITX cases available.
Good cooling performance for size
The Silverstone SG13 is a bare-bones box, that is incredibly compact and offers a surprising amount of cooling performance.
There is little to talk about in features and design aside from the mesh front, with uniformed indentations. The outer shell is made of thin steel and hooks into place on each side.
Cable management is a little tricky due to the space limitations but I doubt Mini-ITX builders will be too concerned. You can fit an AIO inside with a 120/140mm fan, which is advised from Silverstone themselves to keep temps down. You will also want to stick to using an SFF PSU as ATX will actually partially block the right vent.
This may not be as versatile as the Thermaltake Core V1 but it is much smaller and does surprisingly well for its low price tag.
1 x 140mm, 1 x 120mm fans
Great for cable management
If you are looking for a quieter mini build then the Fractal Design Nano S is the perfect case for you. Not only does Fractal cram this with ATX case features but it also keeps the noise lower than the rest, with its noise dampening materials.
The case is literally a mini looking version of the Define R5/R6 and even though it is smaller, you still get great airflow in a spacious interior. There are no compromises on cable management options either, with ample room to route cables and rubber grommets for a more aesthetically pleasing build!
This case isn't the smallest mini-ITX case you will find but it's certainly one of the best overall for silent operation. Inside, you can fit an ATX PSU if you required which is great and you can easily mount a custom water cooling solution in the Nano S too.
This is built for peace and quiet and it delivers on that promise!
NZXT's amazing aesthetics
Premium materials and build quality
Pricey due to its form factor
Bigger than other ITX cases
The NZXT H210 PC Case may not be the best Mini-ITX or the smallest, however, it offers amazing quality for the price. The aesthetics are as pleasing as the bigger models in the H-series range and it basically looks identical to the H510, despite the size of course.
This Mini-ITX case is feature-packed and ships with two 120mm Aer fans that are pre-installed. The fans at the back and top of the case work together to provide you with a negative air pressure setup and good cooling performance out of the box. You also get a great looking cable bar to cleverly hide cable management and give you an extra mounting point for a reservoir you wanted to build a water-cooled system. We also see a PSU shroud and USB 3.1 Type-C.
This may not be as compact as the SG13, Core V1, or Node 202, but its unique size in this category earns it its place as the best "big" Mini-ITX pick.
Can be stood horizontally or vertically
Not the best for out of the box GPU cooling
Could be a tricky build for some
The Fractal Design Node 202 is the brand's slim case offering and the smallest Mini-ITX case they produce. Its design makes it ideal as a media center style HTPC or just another chassis for gamers with a small space to work with.
This ITX case can hold a full-sized GPU, and while the cooling isn't as good as some of the others on our roundup, it certainly offers a unique system build.
The case can stand vertically or lay down horizontally with included feet, making it ideal for the living room, among other environments. Like most cases of this form factor, cable management is compromised but at least you get that Fractal Design quality and a logical layout to ease the process.
A great case for casual gamers looking to spice up the living room gaming and finally remove the console altogether.
The importance of a PC case cannot be overstated. Your case protects the rest of your components and provides them with airflow to ensure they're running at a stable temperature. Due to the smaller form factor with a mini-ITX case, you may not get the best temps inside, however, you get convenience and some real space-saving solutions that look fantastic!
Stuck for ideas with your next Mini-ITX build? why not check out our build recommendation here. have you already got a Mini-ITX PC case? Or are you currently speccing for your next build? Either way, we would like to know what case you went for and also if you have any alternate suggestions we should look into, so head over to the WePC community and share!