Best Alienware laptop 2023: Our picks for gaming & creative work
The best Alienware 17in laptop & 15-inch Alienware gaming laptops
Updated: Aug 23, 2023 4:52 pm
If you're looking to buy the best Alienware laptop in 2023. then look no further, because we've done all the work for you, collating the best of the Alienware X-series, m-series, and older-gen devices, with a mini-review of each to talk you through their features.
Whether you're considering buying an Alienware gaming laptop or creative machine then each of the picks here are high-quality items. We've selected a range across the different sub-lines within the Alienware brand, covering different display sizes and budgets.
Best ASUS gaming laptop 2023: products at a glance
Alienware X17 (360Hz, RTX 3080)
Intel Core i5-11400H / i7-11800H / i9-11900H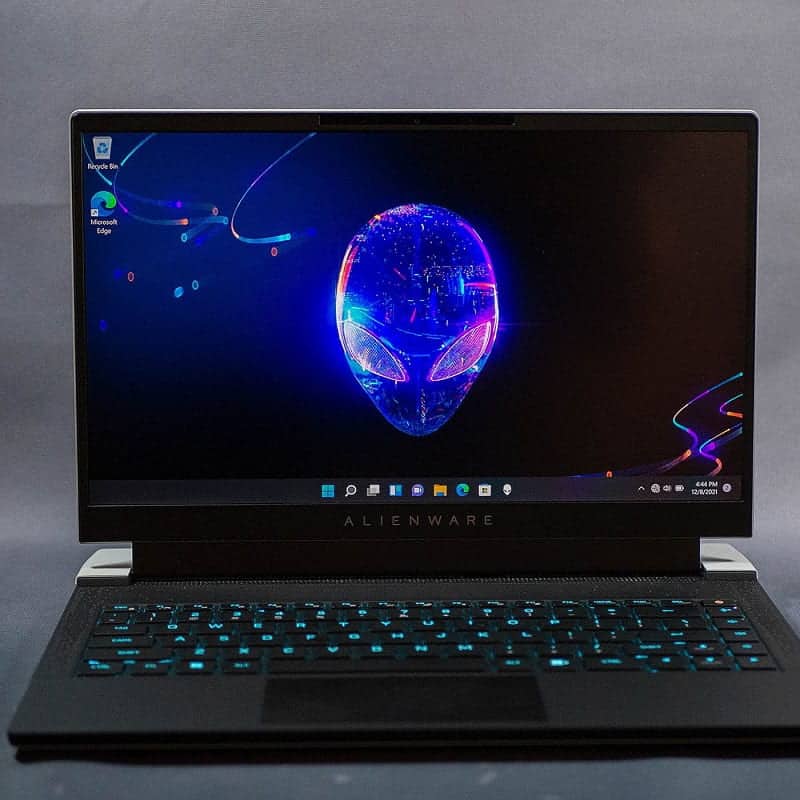 Intel Core i7-12700H / 12900H
Nvidia RTX 3050 (65W) / 3050 Ti (65W) / 3060 (85W)
Alienware Area-51m R2 (300Hz, RTX 2080 SUPER)
NVIDIA GeForce RTX 2080 Super
Are Alienware laptops good?
Alienware laptops are almost always premium-grade machines, with some of the best build quality around. The quality of the display on an Alienware laptop is usually always top-notch in terms of color gamut, brightness, and contrast, and most have good response time too, though this depends on the specific model. Alienware gaming laptops usually come with some of the highest model graphics and CPU hardware, capable of churning out high frame rates in the latest games, though these aren't necessarily the highest TGP options available compared to the best of the competition. You can always be sure of a good quality product when you buy Alienware, though not necessarily that it's the best value for money.
In each of our selections below we'll tell you everything you need to know about whether they're worth your hard-earned cash. If you want more information on the brand, have a read of our Things to consider when buying an Alienware laptop section below.
---
Best Alienware laptops 2023
Best premium Alienware laptop
A superbly designed, slimline, 17-inch Alienware gaming laptop
Alienware X17 (360Hz, RTX 3080)
Pros
good cooling despite thin size
great color replication
great response time
advanced G-Sync
thin and portable
looks great
decent battery life
nice mechanical keyboard
microSD slot
Cons
very expensive
massive powerbrick for RTX 3080 option
flipped motherboard makes upgrading difficult
Out of the new Alienware X15 and X17, we've gone for the larger X17 with its 17.3-inch display for our premium pick of the best Alienware laptops, and the key reason is the high power limit of its core components. The X17 packs either a RTX 3060 with a 115W TGP + 15W with Dynamic Boost, an RTX 3070 with 125W + 15W, or an 150W + 15W RTX 3080, which are all very respectable for a laptop of this thin, practically unheard of in fact. By contrast the Alienware X15 is hampered by its smaller size, and the performance of the CPU and GPU options can't match up to the larger version. This is not to say the X15 is a bad laptop, but it suffers compared to the competition in FPS performance in-game, whereas the X17 is a heavy hitter.
The other advantage of the X17 of course is the greater immersion in-game that you get with a 17.3" display, and given the light and thing design, the increased size disadvantage doesn't hamper the portability of the X17 too much, although the large powerbrick of the RTX 3080 version does somewhat. In terms of color gamut, the 1080p display variant has 100% sRGB coverage, high contrast and peak brightness, making it suitable for any color-based workflows in this space. The 1440p option has superior Adobe RGB color replication, but at the cost of response time and refresh rate.
Of the different resolution options: the 1080p 360Hz version that should be the priority for those interested in squeezing out the maximum frames. The 360Hz refresh rate is more than high enough for any kind of competitive gaming, and the stated 1ms response time (whilst likely significantly higher in practice) is absolutely superb. This is also the only version which comes with G-Sync and most importantly a MUX switch. For the 1440p option, 120Hz is quite sufficient for both single-player titles and online first-person shooters, as long as you're not playing at the competitive level; the slower stated 4ms response time is also still pretty damn good, but given the lack of MUX Switch we'd only recommend this to people interested in using their laptop for creative workflows.
In terms of other features, the mechanical keyboard of the X17 is a nice inclusion and feels great to use, though it doesn't come with a numpad which may bother some. The different colored trackpad is also great and responsive. The selection of ports is good and includes a microSD card slot. The motherboard is of the flipped variety, making it more difficult to upgrade the GPU and CPU should you wish to, but at least the RAM can be upgraded.
For the battery life, you can expect around 5 hours of general, non-game usage for the RTX 3070 version at least (with brightness set to mid-settings and battery saver one) which isn't amazing but its about average for a gaming laptop of this power, and certainly better than most older Alienware laptops.
Everything considered, this is the best slimline 17-inch gaming laptop on the market. Although other, more powerful 17-inch laptops exist (Like the ASUS Zephyrus 17) they don't have the thin body and portability of this sublime-looking Alienware X17. The only real issue (and it's not a small issue) is the very high asking price. If you want the pinnacle in mobile gaming tech though, this is it.
Best 15-inch Alienware gaming laptop
A high-end Alienware laptop, but at a slightly more affordable price
Intel Core i5-11400H / i7-11800H / i9-11900H
Pros
good gaming performance
360Hz refresh rate
superb response time
MUX switch accessible via BIOS
great color replication
good contrast & peak brightness
nice mechanical-like keyboard
lots of upgrade options
Thunderbolt support
fairly thin
Cons
plastic chassis despite the price
runs hot & loud
heavy
At one point the premium option in the Alienware range, the 'm' series of Alienware laptops has been replaced by the new 'X' line as the highest quality laptop that the company produce. This means the Alienware m15 R6 is a bit more affordable, but with this comes a slight reduction in build quality, with the majority of the chassis being composed of plastic as opposed to the metal body of the X15 or older m15 iterations. That being said, in terms of gaming power, the m15 series still takes the top spot for the 15-inch Alienware laptops, as the power limitations imposed by the thinner design of the Alienware X15 that limit the FPS performance of that machine by comparison.
Something to note though is that the m15 R4, the older version of this laptop but which still comes with a 30-series Nvidia GPU, actually performs slightly better on average in FPS terms than the m15 R6 does if you equip both with an RTX 3080. This is because of the comparatively low 125W TGP (115W with a 10W boost) for the newer R6. You get less of a performance discrepancy as you go down the graphics card SKUs as the TGP cap becomes less onerous. Either laptop offers about average performance compared to competing laptops with the same GPUs, and can definitely churn out FPS in the most demanding games without much issue, but if you want those extra FPS, you may which to go for the m15 R6.
Despite the above, we'd still lean towards the m15 R6 over the m15 R4 because of its superior display. If you go for the 1080p option (which we'd recommend) the choice of 360Hz screen means you won't get any kind of effective cap on your FPS like you would on the 144Hz m15 R4 in titles like CS:GO, COD Warzone, R6 Siege, or other games where squeezing out the maximum FPS is paramount. The 360Hz option also comes with a superb real 3ms grey-to-grey response time, which is more or less the best you can get for a gaming laptop at the moment. Color replication is superb at around 100% sRGB and 76% Adobe RGB, making it definitely suitable for color accurate work in the sRGB space. The contrast ratio is solid and the peak brightness is good at around 360 nits.
The AMD CPU version of the m15 is designated the Alienware m15 R5, and this is a viable alternative, giving slightly improved battery life and better workstation performance. Of the two though we'd opt for the R6 Intel variants for their slightly improved gaming performance and Thunderbolt support, but mainly as they're a bit cheaper.
The Alienware m15 R6 battery life varies significantly depending on which specced option you go with. If you opt for the 360Hz 1080p version with RTX 3080 then the most you'll get is a measly two or three hours of non-strenuous, non-gaming usage unless you turn down the refresh rate. If you do a bit of fiddling though, using the Nvidia control panel to set the laptop to use integrated graphics only and also set the display to 60Hz, you can squeeze 6 hours or more out of the machine, which is relatively okay for a gaming laptop.
Generally, the machine runs hot yet still has quite loud fans despite this. This is the sacrifice that's been made in terms of the more slimline body of the machine compared to previous generations of the m15, but it's still a heavy unit. In terms of the other features, you get a good array of ports with this laptop, including the aforementioned Thunderbolt support. The 720p webcam and mic are about average, and the onboard speakers are loud but around what you'd expect from a gaming laptop in terms of quality (i.e. not great with limited bass).
Best 14-inch Alienware gaming laptop
The new 14″ Alienware laptop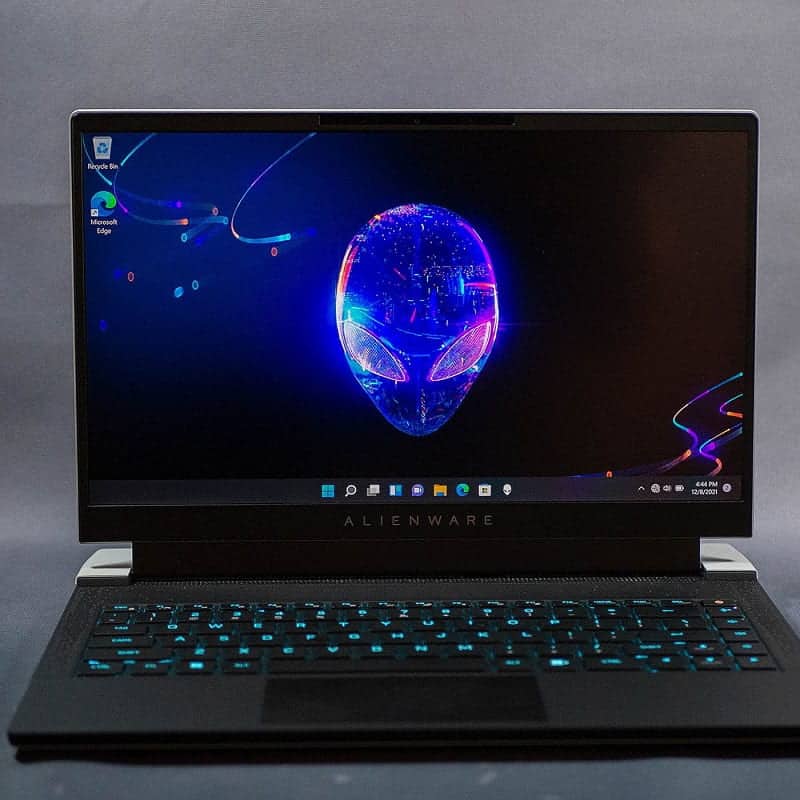 Intel Core i7-12700H / 12900H
Nvidia RTX 3050 (65W) / 3050 Ti (65W) / 3060 (85W)
Pros
G-Sync
comes with a MUX switch
superb color replication
good contrast & peak brightness
lots of upgrade options
Cons
expensive
response time is worse than competitors
It should be emphasised that the Alienware X14 is not out yet, its expected release being late January 2022, so any score is subject to change once the machine has actually been tested, but from the specifications alone we can draw some conclusions.
With the max power GPU coming in the form of the RTX 3060, this laptop won't compete with the likes of the Razer Blade 14 for the title of most powerful 14-inch gaming laptop, instead presenting more of a rival to the ASUS Zephyrus G14. Fully boosted, the X14's RTX 3060 comes with a TGP of 85W, which is slightly ahead of the existing 2021 version of the ASUS Zephyrus G14 with 80W RTX 3060. Like the new versions of the Zephyrus G14 and Razer Blade 14 due in 2022, the X14 comes with a MUX Switch to disable Optimus, which should give it a further boost in performance.
In terms of the display we have a 1080p IPS panel with a maximum refresh rate of 144Hz, which matches the refresh rate of the upcoming Zephyrus G14, but with the more conventional 16:9 aspect ratio, instead of the 16:10 screen of the ASUS machine. The 7ms stated response time is not as good as the 3ms claimed by ASUS, but the real response time for both these machines is likely to be significantly different, so we'll have to wait for testing to find out. As far as we're aware though, only the Alienware X14 will come with G-Sync, which is great to see in a laptop of this size.
Another area the X14 might have the edge in is its color gamut: Alienware claims a whopping 100% DCI-P3 coverage, which is very impressive if accurate, though we'll have to wait until testing is done to confirm this. The stated 400 nits peak brightness will similarly be impressive if true, and we can expect a good contrast ratio to boot.
All in all, the multitude of different spec options for the Alienware X14 might give it the edge over the competition, with the RTX 3050 and 3050 Ti options giving more budget friendly Nvidia options, particularly with the new Zephyrus G14 being equipped with AMD CPUs. One of the major potential downsides we see is the pricing: Alienware laptops don't come cheap and it will be interesting to see how competitive they manage to be.
Best older-gen Alienware laptop
An older, but still powerful 17.3″ Alienware gaming laptop
Alienware Area-51m R2 (300Hz, RTX 2080 SUPER)
NVIDIA GeForce RTX 2080 Super
Pros
good gaming performance
good speakers
good membrane keyboard with numpad
nice aesthetics
great color replication
good response time
microSD slot
Cons
older gen components
still expensive unless you buy one on sale
massive powerbrick
300Hz option doesn't come with G-Sync
Although Alienware laptops typically target the very high end of the price spectrum, older variants can often be found on offer for decent reductions. The Alienware Area 51m r2 with RTX 2080 SUPER and Intel Core i9-10900K is one such machine. The 10th gen Intel CPU is actually of similar power to the 11th gen i7 11800H in the X17, and though it doesn't have the latest generation of Nvidia graphics card, it can still push out an impressive amount of frames in games. You can expect performance around that of an X17 equipped with an RTX 3070, though with less impressive Ray Tracing support.
The screen of the 51m r2 is impressive in both its color gamut and speed. Covering 100% of the sRGB space, you could definitely use this for color-accurate work alongside gaming if you wanted. Of the different variants of the IPS display, the 300Hz iteration has the best stated response time of 3ms, so this is the one we'd suggest you go for, though there is a slight downside in that it does not come with G-Sync, whereas the 9ms response time 144Hz display does.
Though it doesn't look as good as the likes of the X17, the Area 51m r2 is still an aesthetically pleasing machine, well ahead of most gaming laptops. It's got more girth than the newer slimline models, but we've seen thicker machines; nevertheless the power brick does have some heft which reduces its portability somewhat.
You don't get a mechanical keyboard with this model unfortunately, but as far as membrane keyboards go it's still a pleasure to type on and to game with. You also get the added bonus of a numpad, which is missing off the newer models. The standard of the speakers are significantly above average, certainly better than those on the X17, and you get a microSD reader as well as a good range of other ports and sockets.
At full price this laptop is still not cheap, despite not being the latest in tech anymore, but it is often on sale and well worth buying if you have your heart set on an Alienware machine but can't quite afford the latest models.
---
Things to consider when buying an Alienware laptop
Are Alienware laptops expensive?
In a word: yes, though this doesn't mean some models aren't good value. Alienware laptops don't really cover the low or middle price ranges, only offering high-end products that cost a pretty penny, though older models do sometimes make good mid-range options once the price has come down. One of the main critiques of Alienware laptops is that they are overpriced compared to the other options in the high-end gaming laptop market, which can perform to the same standard for less money, though this isn't always the case, and often these competing machines skimp in areas such as build quality compared to Alienware.
Alienware laptop battery life
Alienware laptops have historically been well known for being very demanding in terms of voltage use, usually resulting in low battery life even when not gaming, requiring them to be plugged in most of the time. 'Desktop replacement' is a common adjective used to describe Alienware laptops for this reason, however recent models have bucked this trend. The Alienware X17 for instance, has very respectable battery life, despite being both a slimline and high powered machine.
Best Alienware laptop FAQs
Are Alienware laptops the best?
It's difficult to say any one brand of gaming laptops is 'the best' – generally certain models in a company's line-up perform very well compared to the competition, others less so.
Alienware are however a premium brand, representing the high-end of the gaming laptops that Dell produces, so one can say with some certainty that you're unlikely to find a bad Alienware laptop. They have a unique aesthetic design, and are invariably very well made laptops with top-quality screens. The main drawback of Alienware devices is that they usually have a high price tag relative to similarly powered laptops, but you do get devices of exceptional quality.
Which are the top variants of Alienware laptops?
The Alienware 'X' series represent the most premium Alienware devices overall – designed with both creators and gamers in mind, these are powerful, yet slimline, and beautifully designed laptops.
The Alienware 'm' range are more pure gaming laptops. Prior to the x-series they were the top dogs, but the latest generation has sacrificed some of the more premium features for a slightly cheaper price tag.
Best Alienware laptop 2023: Final Word
This has been our guide to help you find the best Alienware laptop for your needs. Hopefully, you have found the right model for you, but if not, why not check out our other gaming laptop brand guides listed above or see our best gaming laptop guides for different price ranges under Custom Gaming PC > Gaming Laptop in the main site menu. Finally, be sure to have a read of our main best gaming laptop page for the best models across all price ranges and brands.
---